Disney's Hollywood Studios®
Hours:
9:00 a.m. – closing times vary
Best Time to Visit:
Sept. 8th – Nov. 15th
Peak Time Frames:
June 20th – September 7th, December 20th – January 3rd, March 1st – April 30th
---
Lights, camera — action! Head to Walt Disney World Resort's Hollywood Studios in Orlando, and you'll have the starring role in a world built on incredible movies, blockbuster entertainment and beloved characters.
The experience begins at Hollywood Boulevard, featuring its own take on Hollywood's famous Walk of Fame. (Keep an eye on the ground so you don't miss any of your favorites!) For even more Hollywood history, head to the right for Sunset Boulevard, which features two of the park's most popular rides: The Twilight Zone Tower of Terror and Rock 'n' Roller Coaster Starring Aerosmith.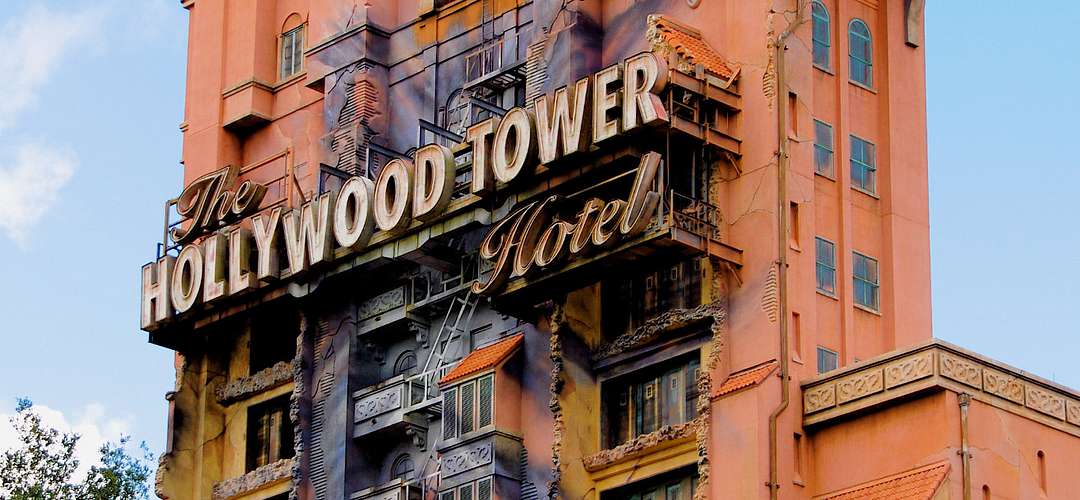 While awaiting the debut of Star Wars: Galaxy's Edge in 2019, Jedi and Sith alike can feel the Force at the park's Echo Lake section. Here, themed shopping, photo opportunities and attractions like Star Tours — The Adventures Continue and Star Wars: Path of the Jedi will transport you to that famous galaxy far, far away.
Pixar's blockbuster Toy Story animated films have long had a presence at this park courtesy of Toy Story Mania! at Pixar Place. And now, Hollywood Studios will shrink you to the size of a toy and deposit you in Andy's backyard at Toy Story Land, an expansive new area featuring the Alien Swirling Saucers and Slinky Dog Dash rides, plus related shopping and dining.
Traveling with a diehard Disney fanatic, or curious about how Disney's incredible Orlando theme parks came to be? Be sure to visit Walt Disney Presents at the park's Animation Courtyard. This self-guided attraction will take you through 100 years of Disney history, focusing on the life of Walt Disney, his famous creations and how the Walt Disney Company stays true to his vision of innovation and excellence to this day.
More than a tribute to its namesake city, Disney's Hollywood Studios pays homage to the power of creative imagination in all of its forms, and you'll only find it in Orlando. See below for details on the excitement, shows, shopping and dining waiting for you here, and make your own movie magic the next time you're in Orlando!
Learn more: Discount Tickets to Disney's Hollywood Studios
Ticket Types
Customize your Disney experience with a ticket plan that works best for you.
Disney Fast Pass+
A complimentary Disney FastPass+ allows you to bypass the line for participating rides, shows and character greetings at all Walt Disney World theme parks. FastPass+ lines offer shorter wait times than regular lines, and you'll be able to select up to three attractions each day at a single park prior to your arrival.
If you're a planner, then you'll be happy to know you can choose your FastPass+ options up to 30 days in advance with a ticket and up to 60 days with a Walt Disney World Resort hotel reservation. Upon using your three FastPass+ attractions, you'll still be able to secure FastPass+ experiences one at time on your mobile device or at an in-park kiosk for the remainder of your day.
Participating attractions, rides and shows:
Disney's Hollywood Studios Group A (choose 1):
Toy Story Mania!
Beauty and the Beast - Live on Stage
Fantasmic!
Rock 'n' Roller Coaster
The Great Movie Ride
Disney's Hollywood Studios Group B (choose 2):
For the First Time in Forever: A Frozen Sing-Along Celebration
Disney Junior - Live on Stage!
Voyage of the Little Mermaid
Indiana Jones Epic Stunt Spectacular!
Star Tours- The Adventure Continues
Muppet*Vision 3D
The Twilight Zone Tower of Terror
Attractions & Ride Guide
The Great Movie Ride
Enter a soundstage themed in Hollywood's golden era and board a tram that leads you through a fantastic tour of Grauman's Chinese Theater, where you'll be a part of the most memorable movie moments. Action, intrigue, adventure and romance await as you experience some of Hollywood classics with over 50 audio-animatronic celebrities on hand. This ride is eligible for Disney Fast Pass+.
Muppet*Vision 3D
Be a part of the hilarity of the Muppets in 3D. Join Kermit, Miss Piggy and the gang as they set off to discover the Muppet Labs. Jokes, pranks and mishaps make this a madcap adventure. Guests might even find themselves in the middle of a dreamy bubble shower. And, of course, things go haywire when the Swedish Chef takes over the projector. This ride is eligible for Disney Fast Pass+.
Rock 'n' Roller Coaster Starring Aerosmith
Zoom through the dim streets of Los Angeles on this luxe stretch limo themed coaster at a super charged speed of 60mph as you head to a legendary Aerosmith concert. Roll by iconic Hollywood landmarks, swerve past traffic and whiz through rollover loops to catch the concert just in the knick of time. This ride is eligible for Disney Fast Pass+.
Height restrictions – 48 inches (122 cm)
This indoor rollercoaster is set in the dark and features big drops and loud music.
Be prepared to be propelled into outer space as you voyage through the galaxy of Star Wars- The Force Awakens during this motion simulated flight with high tech 3D. Battle Darth Vadar and face off with Boba Fett as R2D2 works on your intergalactic vehicle. Journey through the epic oceans of Naboo then to the ominous Death Star as you jet through space and time. This ride is eligible for Disney Fast Pass+.
Height restrictions – 40 inches (102 cm)
Star Wars Launch Bay
Be transported into a galaxy far, far away. Hobnob with your favorite characters and explore an incredible collection of authentic replicas of Star Wars movie props and models from Star Wars: The Force Awakens.
Star Wars Photo Bay Theater
Star Wars fans will go crazy over the vast collection of phenomenal props and costumes from all the Star Wars movies. It's the perfect opportunity for snapping photos for posterity or posting to your social media account.
Star Wars: Path of the Jedi
Flashback to the beginning of the Star Wars saga and journey through to recent movies. Whether you're a diehard fan or a need of a refresher, this 10-minute compilation of the most exciting Star Wars moments is a must-see. It's an epic retelling of the Jedi's fall and return.
Star Wars Photo Opportunities
Spot these perfect locations for a group photo or selfie with Star Wars characters and props:
Shrink in size as you stand next to an enormous AT-AT walker towering over an Ewok Village.
Location – In front of Star Tours–The Adventures Continue
Check out a replica of a speeder bike nestled between the trees of Endor.
Location – In front of Star Tours–The Adventures Continue
Pop into an outer space cantina inspired by Mos Eisley Cantina. Pretend you're a sketchy alien or play a game of holographic chess.
Location – Star Wars Launch Bay
Star Wars Characters
Meet up with Wookie warrior, Chewie, while formidable Kylo Ren grows more surly by the minute at Star Wars Launch Bay.
Toy Story Mania!
Descend into the magical world of a toy treasure chest. Mix it up with your favorite Toy Story characters as you blast moving targets. Play five virtual carnival games: toss rings on to Little Green Men, throw baseballs at plates, pop balloons with darts near a bubbling volcano and more! This ride is eligible for Disney Fast Pass+.
The Twilight Zone Tower of Terror™
Launch upward into the Twilight Zone as you step into a haunted hotel elevator. Prepare for unexpected drops and plummets as you plunge into the darkness of the Hollywood Tower Hotel, inhabited by unruly ghosts from 1939. Take this terrifying ride into the fifth dimension if you dare. This ride is eligible for Disney Fast Pass+.
Height restrictions - Riders must be at least 40 inches (102 cm) to board this ride.
This ride is set in the dark and features big drops and a scary theme.
Character Encounters
Disney Visa® Credit Cardmember Star Wars Experience
Located at Star Wars Launch Bay, it's your best chance to interact with the likes of Chewbacca and Kylo Ren. Prepare for spontaneous interactions.
Celebrity Spotlight
Olaf, the adorable snowman from Frozen, seems to be smitten with the beach and all things involving summer. Come give Olaf a big hug, snap a photo and get his autograph before he melts away.
Meet Buzz Lightyear & Woody @ Pixar Place
Head inside the Pixar Studios Camera Dept., where you'll hang out with Buzz Lightyear and Woody for your very own photo shoot.
Meet Chewbacca at Star Wars Launch Bay
Socialize with your favorite Wookie at a secret hidden rebel base set in an ancient temple. Enjoy getting to know Han Solo's widely adored side-kick in a top secret location.
Meet Disney Junior Pals in the Animation Courtyard
Kids will be smiling from ear-to-ear when they meet the whimsical TV stars from Disney Junior like Doc McStuffins, Sofia the First and Jake and the Neverland Pirates for a special meet-and-greet.
Mickey and Minnie Starring in Red Carpet Dreams
Smile as you witness Mickey and Minnie hit the red carpet as they set off to make their Hollywood dreams come to life. Minnie looks dazzling in her star-debut attire and performs a show-stopping dance routine while Mickey fulfills his celebrity dreams in the starring role in Fantasia.
If you'd like to spend more time with Disney's Hollywood Studios characters, schedule a character dining option for a meal you'll never forget.
Dining
Dine Hollywood-style and make memories along the way. You won't want to miss out on hitting a Hollywood hotspot for steak or going retro at meal time. One thing is for sure–it's not just a meal––it's a memory.
Brown Derby and the Brown Derby Lounge
Feel like a celebrity as you dine at one of the most historic Hollywood "it" restaurants. Be sure to try the Cobb salad named after the original owner or a delectable grilled filet of beef. Check out Hollywood memorabilia and enjoy fine dining all in one fell swoop.
50's Prime Time Café
Bebop your way into Mom's kitchen at this vintage eatery. Old-fashioned, savory pot roast and Aunt Liz's fried chicken are just a couple crowd pleasers for the comfort food set. Satisfy your sweet tooth with a homemade chocolate peanut butter layer cake or stick your fork into a pineapple upside down cake, a retro classic.
Mama Melrose
Everyone's family as they step into this classic family-style Italian restaurant. Casual and kitschy (think red-checkered tablecloths and décor hanging from the ceiling), this spot makes you feel right at home with traditional classics like chicken alla parmigiana and saltibocca. Adults will enjoy the selection of Italian and Californian wines and kids won't want to share their delicious flatbreads.
Pizze Rizzo
Rizzo the Rat from the Muppets and his lovable gang are the proprietors of this two-story, family-style pizzeria. Pizza pies are delicious and varied. Traditional Italian desserts like tiramisu and cannoli are full-proof favorites. Be sure to hit the second story. It's aptly named Rizzo's Deluxe Supreme Banquet Hall since it's themed after a wedding reception complete with a disco ball and a catchy play list. Of course, it's the place to see and be seen.
Sci Fi Dine In
Hop into a 50s style drive-in designed with parked cars that serve as restaurant booths all facing a movie screen. Clips from sci-fi movies' heyday include menacing mummies, dangerous robots and aliens in attack mode. If you can peel your eyes away from the movie screen or your plate, then you'll notice the ceiling is a star-filled sky. St. Louis-style ribs and the vegetarian Shepherd's pie are two moviegoer favorites. Quirky is good here, so feel free to order the TV dinner. Leave room for dessert and nosh on a house made sci-fi candy bar!
Entertainment
Enjoy dynamic and engaging entertainment inspired by everything from fairytales to Star Wars sagas to action adventure flicks to the scary villains and adored characters from Disney classics.
Beauty and the Beast- Live on Stage
Revel in the romantic fairytale of Belle and the cursed Beast in this live musical. Fall in love again as all the entertaining scenes unfold. Get caught up in this beloved tale about the unstoppable power of true love. This ride is eligible for Disney Fast Pass+.
Citizens of Hollywood
You never know when you'll be discovered! Participate in the action as this spirited improv acting troupe wrangles unsuspecting guests as performers. Unpredictable audience participation gives this show added punch and spontaneous humor, making it a definite must-see.
Disney Junior – Live on Stage!
There's always plenty of happy dancing, clapping and singing on hand when the characters of Disney Junior TV hit the stage. Preschoolers will be over the moon when whimsical toddler-sized puppets perform skits. Look for Doc McStuffins, Jake and the Neverland Pirates and Sofia the First. This ride is eligible for Disney Fast Pass+.
Encounter Kylo Ren at Star Wars Launch Bay
Confront First Order warrior, Kylo Ren, dreaded across the galaxy for his ferocious combat skills. Don't fall prey to his allure though. Undoubtedly, he'll try to persuade guests to join his quest to eliminate the Resistance.
Fantasmic
A great way to end a fantastic day at the park, enter enter Mickey's vivid imagination when his dream sours into a nightmare. Cheer Mickey's bravery as he summons his magical power. Watch him overcome the forces of evil as he confronts Disney's most notorious villains––Ursula, Cruella de Vil and Malificent. Dancing waterfalls, fireworks, multi-colored lights and other terrific surprises add to the show's appeal. Be mesmerized as Mickey wields his sorcerer powers to prove good guys do finish first. This ride is eligible for Disney Fast Pass+.
For the First Time in Forever: A Frozen Sing-Along Celebration
Who doesn't adore an old-fashioned sing-a-long? Yes, you're happily invited to join two royal historians as they retell Anna and Elsa's fairytale while watching the most fantastic moments from Disney's, Frozen. Onscreen lyrics help the whole family break out in song to popular tunes like "Let it Go." This ride is eligible for Disney Fast Pass+.
Indiana Jones® Epic Stunt Spectacular
Nothing beats the action and thrills of an Indiana Jones Adventure. Watch Indy and Marion wage battle against villains in their daring quest to get their hands on the golden idol first during this live action show. Epic stunts and special effects will leave you on the edge of your seat as vehicles burst into flames, and surprise explosions put you in the middle of all the action. Members of the audience are picked as movie extras and given costumes and direction. This ride is eligible for Disney Fast Pass+.
Jedi Training: Trials of the Temple of Doom
Feel the force and sharpen your Lightsaber skills in a highly immersive show. Recruits will learn the ways of the Jedi and prepare to do battle with Darth Vader and the deadly Seventh Sister.
A sparkling holiday extravaganza that pulls out all the stops: fireworks, Christmas songs, high-tech projections, twinkling lights, a "Florida snowfall" and an incredible red and green laser light show. Enjoy cameos from Lady, Tramp, Belle, the Beast, Sleeping Beauty and more. Santa's gone missing but surely someone will save the day.
March of the First Order
Stand back and make way for Captain Phasma, the infamous and ruthless commander, as she leads a battalion of Stormtroopers down Hollywood Blvd. Once at Center Stage they'll be watching and waiting for guests to step out of line.
Star Wars: A Galaxy Far, Far Away
Stormtroopers march in to kickoff this special Star Wars live action show. Some of the best scenes featuring Kylo Ren, Chewbacca, BB-8 and many more are showcased. Also, catch a glimpse of a scene from Rogue One – A Star Wars Story.
Marvel at the 180-degree fireworks surrounding you as you traverse across the galaxy soaking in the most epic Star Wars movie moments. It's a spectacular finale to an action-packed day at Disney's Hollywood Studios.
Voyage of the Little Mermaid
Follow Ariel's adventure as you dive under the sea and immerse yourself into the musical talents of the beloved characters from The Little Mermaid. Cringe when Ursula comes on the scene and sing along when Sebastian bellows out the popular tune, "Under the Sea." Feel a part of Ariel and her friends' special world with vibrant puppetry, clips from the movie, multi-sensory special effects and live performances that bring Ariel's ocean world to life. This ride is eligible for Disney Fast Pass+.
Shopping Hot Spots
Shop Hollywood style at Disney's Hollywood Studios, where shopping is inspired by memorable movies and TV shows.
Tower Hotel Gifts
Do you dare step foot in this store after the scariest elevator ride ever? Of course, if you want to get your hands all the terrifying Tower Hotel essentials like hotel desk bells, bell caps and other Tower Hotel related merchandise. Guests can outfit themselves with comfy Tower Hotel bathrobes and sip coffee out of Tower Hotel monogrammed mugs once they return home.
Reel Vogue
Tinsel town trinkets and more are waiting to be scooped up at this fabulous shop dedicated to the golden age of Hollywood. Guests will be smitten with the glamorous early Hollywood vibe. Find a mixture of Hollywood and Disney related merchandise: Mickey ears, candy, apparel, gifts, toys and even housewares. Be sure to check out the popular display of the Siamese cats, Si and Am, from Lady and the Tramp.
Stage 1 Company Store
It's more than a store––it's an attraction all on its own. Decorated by the Muppets, of course, guests will spy clashing colors and paint splatters on the building's exterior. Once inside, you'll discover Muppet-themed decor inspired by the Happiness Hotel featured in The Great Muppet Caper, along with comical gags, props and Muppet signage. Fans of all ages will be in awe of all the different types of Muppet merchandise available. Also, be sure to view the gorgeous Disney cels and artistic sketches. Warning: you may be in here a while!
Tatooine Traders
Enter into a strange dome inspired by the desert planet, Tattoine from Star Wars. It's the ideal place to pick up an assortment of intergalactic goodies. Action figures, apparel, books, gadgets are just some of the items guests will find well-stocked showcase of Star Wars related merchandise. There's even a station where you can design your own Lightsaber.
Special Offers/Discount Tickets
Add value to your Disney's Hollywood Studios experience with special offers and discount tickets. Plan for your best vacation while saving time and money. Purchase Disney's Hollywood Studios discount tickets here.
Unique Experiences
There's more alluring opportunities to experience VIP access and uniquely created events for guests at Disney's Hollywood Studios.
Star Wars Guided Tour
The force will be with you as you jet off on a 7-hour Star Wars adventure. A guided tour into the galaxy with VIP access includes:
Reserved seating at Star Wars: A Galaxy Far, Far Away and March of the First Order
Blasting off on an intergalactic voyage aboard a Starspeeder 1000 on Star Tours – The Adventure Continues
A Star Wars-inspired dinner at Backlot Express
Guided access at Star Wars Launch Bay
Special sweets at Star Wars: A Galactic Spectacular Dessert Party and much more!
Star Wars Half™ Marathon – The Dark Side
Get charged up with the power of the force as you run in Darth Vader's territory. The Emperor's white uniformed Stormtroopers will be cheering you along the road race. Weekend events also include a Star Wars 10K, Star Wars 5K and the Disney's Kids' Race. Mingle with Darth Vader, the Galactic Empire Sith Lord and others in this fun-filled weekend. May the force be with you.