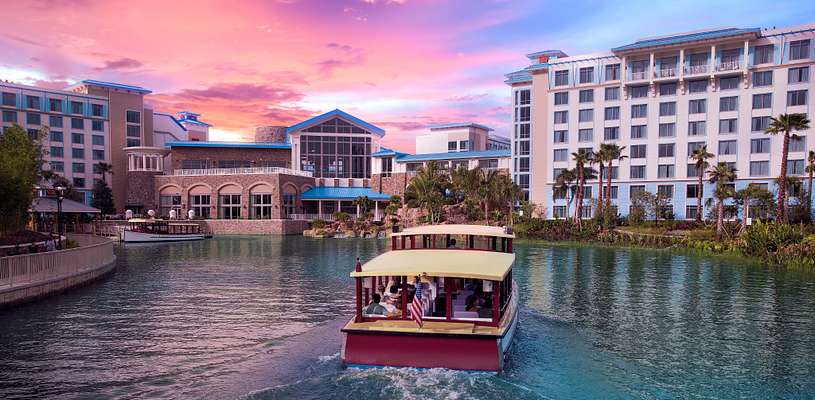 With more than 450 hotels and resorts to choose from, you'll find the perfect place to stay in Orlando. And that's on top of thousands of vacation-home rentals and vacation-ownership properties, not to mention local campgrounds! Whether you want an affordable rental close to the theme parks, a hotel with a swimming pool (or even its own onsite water park!), luxury accommodations loaded with amenities, or any other preference you can dream of, it's waiting for you in Orlando.
Personalized Experiences
If you prefer unique accommodations, look no further than Orlando's lifestyle and boutique hotels. For instance, the B Resort & Spa Orlando at Disney Springs features child-friendly rooms with bunk beds and gaming consoles, and the gorgeously decorated Bohemian Hotel Orlando offers immediate access to downtown Orlando's dining and nightlife. These and similarly stylish lodgings also boast personal attention that's hard to beat.
Onsite resorts at Orlando's theme parks also pull out all the stops to make you feel like royalty. At Universal Orlando Resort, standouts include Loews Portofino Bay Hotel and Loews Sapphire Falls Resort. The Four Seasons Resort Orlando and Walt Disney World Swan and Dolphin Resort will leave you feeling properly pampered at Walt Disney World Resort.
Welcoming Water
Orlando is home to numerous water parks, but did you know that many of our hotels and resorts also offer aquatic adventures at no additional cost to guests? Throughout the area, you can opt for lodging that invites you to frolic at onsite water slides and flumes, lazy rivers, lush landscaping and white, sandy beaches, and some even have full-fledged water parks! Prime examples of the latter include The Grove Resort & Spa, Renaissance Orlando at SeaWorld and Holiday Inn Resort Orlando Suites, to name a few.
Homes Away From Home
If you're traveling to Orlando with a large group, or just want all the comforts of home during your visit, numerous vacation home rentals and sales offer the perfect place to stay. Ranging from relatively simple affairs with kitchens and laundry facilities, to more upscale experiences with private pools and Jacuzzis, to deluxe dream homes with video-game arcades and movie theaters, these locations are ready to make you wish you were a full-time resident.

Last but not least, it's worth noting that many Orlando hotels and resorts offer free shuttle services to popular destinations or easy access to our public transportation. Use the search tools below to narrow down accommodations by location, price and other features, and refer to each hotel's listing for complete details on everything it has to offer!