Discover extreme thrills and breathtaking views on Orlando's highest-flying attractions outside the theme parks.
---
Orlando's theme parks aren't the only places where you can enjoy skyscraping excitement and panoramic views of the destination. Ranging from massive slingshots and swing rides to our iconic observation wheel, balloon rides and more, there's a high-flying thrill for everyone in Orlando's tourism district — no theme park admission required!
SkyCoaster at Fun Spot America
Fun Spot America actually has two SkyCoasters to choose from. Standing 250 feet tall, the world's second-tallest version can be found at the family amusement park's location on International Drive, aka I-Drive. The world champion, which rises to 300 feet, is located at Fun Spot's Kissimmee location near Walt Disney World® Resort.
Learn more: Orlando's Tallest Attractions
Both versions are described as "the closest thing to jumping out of a plane besides jumping out of a plane." Experience freefall, flight and fantastic views, but be warned: The worst part is having to pull the release cord yourself!
Restrictions: Guests must be at least 42 inches (both versions).
Orlando StarFlyer at ICON Park™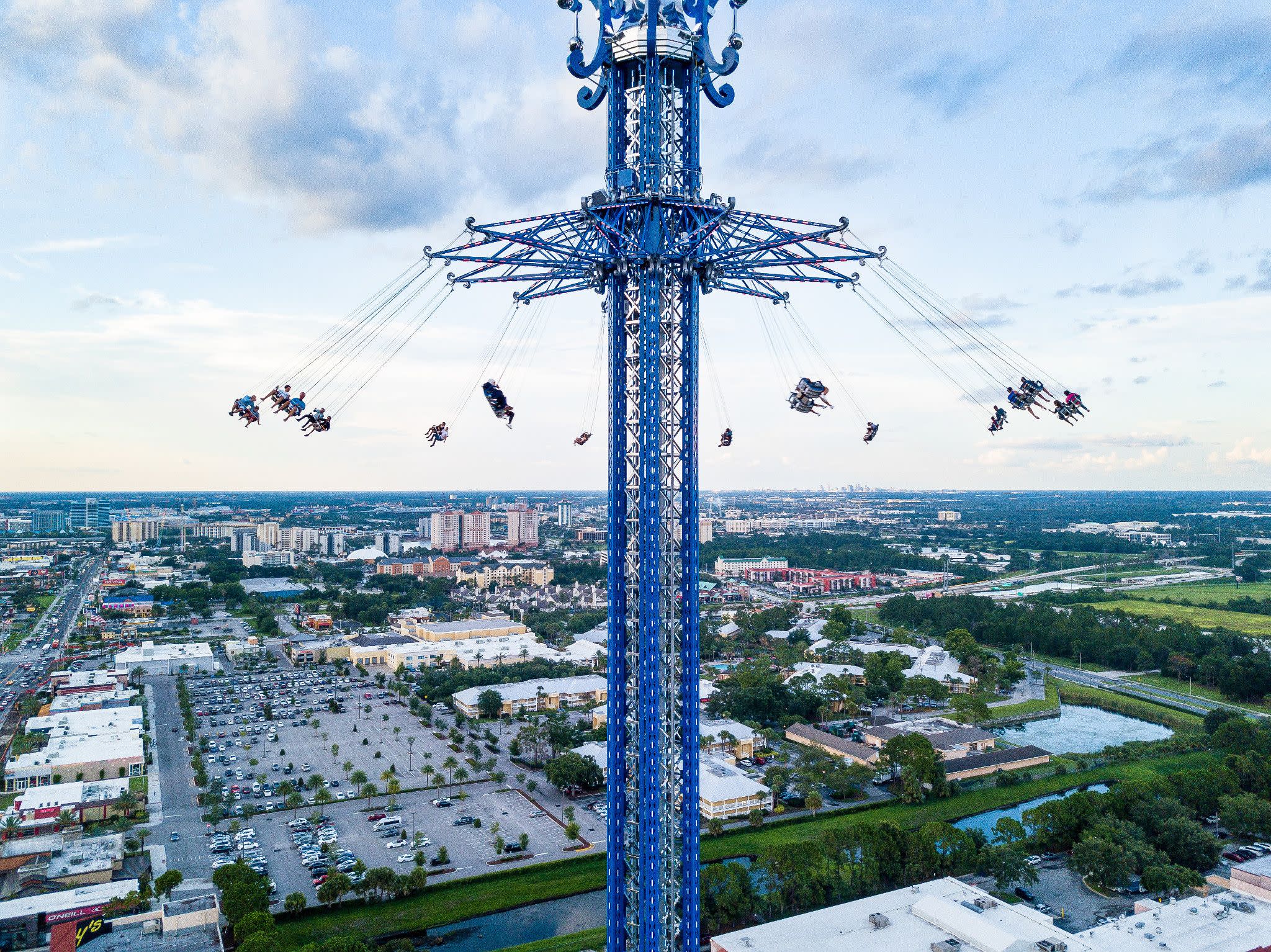 Orlando StarFlyer at ICON Park
Orlando's tallest attraction and the world's tallest swing ride, the Orlando StarFlyer stands 450 feet tall, making it even taller than its ICON Park™ neighbor, The Wheel. (More on that one in a bit!) It's also one of our most affordable experiences, with rides costing just $14.08 in person and $11.27 when purchased online. Repeat rides are $8.45 each.
Learn more: Orlando StarFlyer
The StarFlyer's two-person swing seats will spin you 360 degrees at speeds reaching up to 60 mph. Sound easy? Keep in mind you'll be doing it from a height of 425 feet up!
Restrictions: Guests must be at least 44 inches.
Sling Shot and Starflyer at Magical Midway
An Orlando classic, and located at Magical Midway on I-Drive, this Sling Shot attraction will vault you 390 feet in the air with 360-degree flips, making it the tallest ride of its kind in the world. (At least until 2020, when ICON Park is scheduled to debut an even taller Sling Shot that will catapult you 450 feet up!) On the way down, you'll enjoy clear views of I-Drive, but be prepared to move fast when you're launched: Riders are released at speeds between 3 to 5 Gs!
Magical Midway also has a Starflyer similar to the one at ICON Park, although this version tops out at a height of 230 feet with speeds reaching 50 mph.
Restrictions: Guests must be at least 44 inches (both rides).
The Wheel at ICON Park

The Wheel at ICON Park in Orlando
If you don't want to test your mettle against high speeds and G-forces, there's still an option to see Orlando from above: The Wheel at ICON Park. Aboard this 400-foot-tall observation wheel — the tallest on the United States' east coast — you can take your time enjoying the scenery, including iconic features at Universal Orlando Resort, SeaWorld® Orlando and other landmarks.
Learn more: Observation Wheels & Ferris Wheels in Orlando
Once you're done riding The Wheel and Orlando StarFlyer, make time for ICON Park's other attractions, which include Madame Tussauds Orlando, SEA LIFE Orlando Aquarium, 7D Dark Ride Adventure and Arcade City Orlando.
Restrictions: None
Wallaby Ranch Hang Gliding Flight Park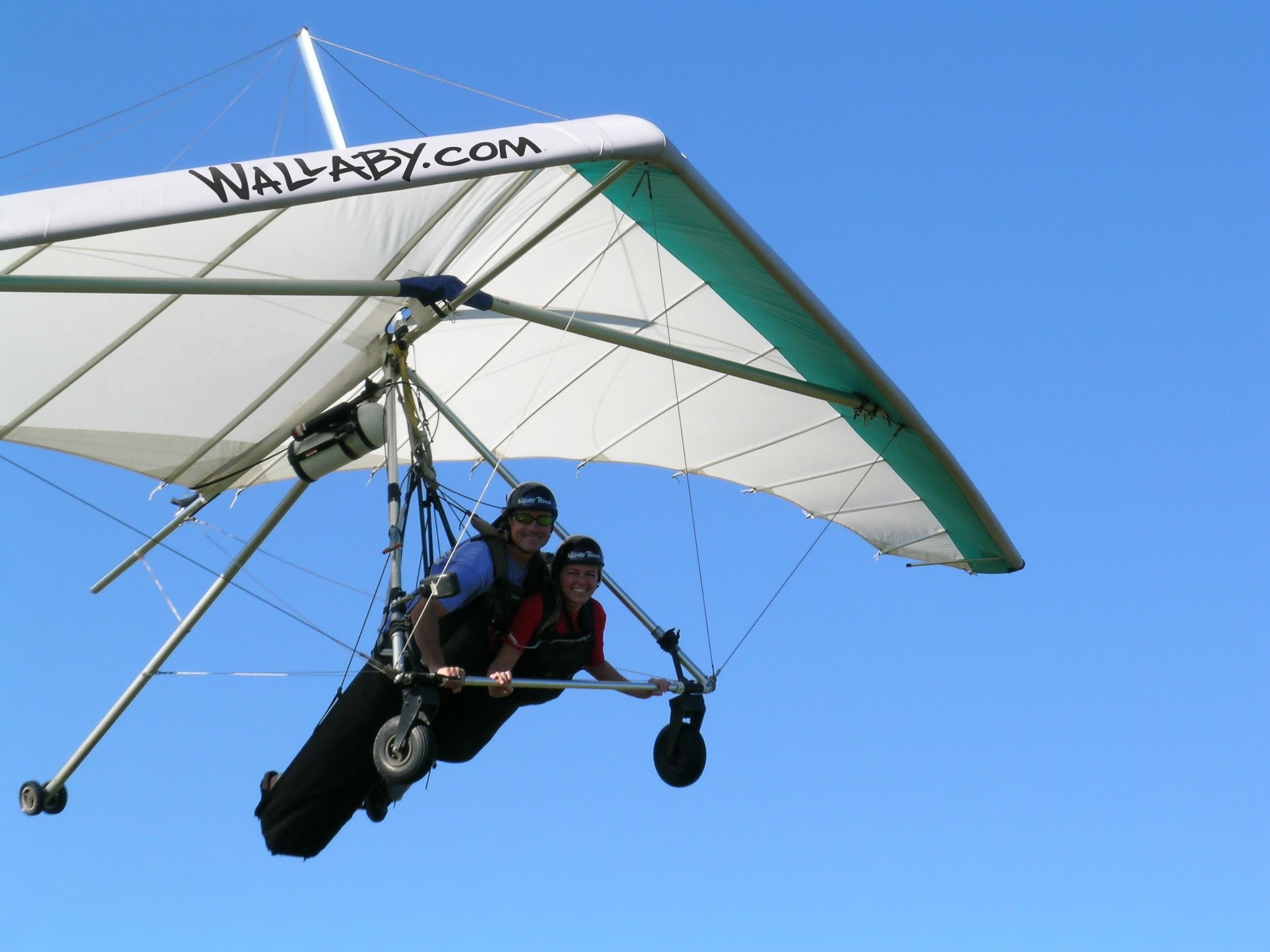 Wallaby Ranch Hang Gliding Flight Park Near Orlando
While the preceding options will take you as high as 450 feet, head to Wallaby Ranch Hang Gliding Flight Park if you really want to go up, up and away — 2,000 feet up, to be precise! Their tandem flights will pair you with an experienced instructor, freeing you to enjoy the views without having to sweat the details.
Also featuring a pool, a climbing wall and a children's playground, plus nature trails, Wallaby Ranch is located in Davenport, about 30 minutes southwest of Walt Disney World.
Restrictions: Guests must be at least 4 years old.
Balloon Rides
Last but not least, Orlando has numerous balloon ride operators, starting with Aerophile at Disney Springs®. With room for up to 28 passengers, this custom-built helium balloon will treat you to an 8- to 10-minute ride that provides views as far as 10 miles away.
Learn more: Orlando Balloon Rides
Hot-air balloon operators in the Orlando area include Aerostat Adventures, Bob's Balloons, Orlando Balloon Adventures, Orlando Balloon Rides and Painted Horizons, with some options going as high as 2,500 feet above ground.
Restrictions: Varies; check with your preferred operator.
Cover image courtesy Fun Spot America.