Disney's Animal Kingdom®
Hours: 9:00 a.m. – closing times vary
Best Time to Visit: Sept. 8th – Nov. 15th
Peak Time Frames: June 20th – September 7th | December 20th – January 3rd | March 1st – April 30th
At Walt Disney World® Resort's Animal Kingdom® theme park, you can explore the wonder of amazing rainforests, African savannas and Asian jungles in an immersive, incomparable wildlife experience — all without leaving Orlando.
Upon entering the first of Animal Kingdom's six lands, Oasis, you'll be transported to hauntingly gorgeous worlds you've only dreamed of seeing. In this area alone, you can enjoy a self-guided tour at the Oasis Exhibits, which features fauna such as wallabies, giant anteaters, exotic boars and even barking deer.
Your next port of call is Discovery Island, the nexus of Animal Kingdom's other lands and home to the park's icon, the Tree of Life. It also features a self-guided tour at Discovery Island Trails, as well as family-friendly entertainment at It's Tough to Be a Bug.
No matter how many times you've experienced it, you'll want to visit Animal Kingdom's newest land next: Pandora — The World of Avatar. Based on the hit motion picture, and featuring the Avatar Flight of Passage and Na'vi River Journey rides, this immersive area is one of Walt Disney World's most extraordinary accomplishments to date.
From there, it's a short distance to Animal Kingdom's Africa, which has a self-guided tour at Gorilla Falls Expedition Trails and fun for kids at Rafiki's Planet Watch. You can also witness exotic creatures in natural environments by day or night at one of Orlando's most unforgettable experiences, Kilimanjaro Safaris.
Keep moving and you'll come to Asia, where the Abominable Snowman awaits you at Expedition Everest — Legend of the Forbidden Mountain. For more white-knuckle thrills, catch a ride on Kali River Rapids, or set a slower pace with a self-guided tour at Maharajah Jungle Trek.
Now that you've seen Earth's present and explored another planet's future, it's time to turn your attention to the past at DinoLand U.S.A Younger guests will particularly enjoy TriceraTop Spin and The Boneyard, while those seeking more action won't want to miss DINOSAUR and Primeval Whirl.
Throw in the park's nightly shows, special encounters and other enthralling features, and it's easy to spend a day or more exploring Walt Disney World's zoological theme park. Keep reading to see everything Animal Kingdom has in store for you, and prepare for a truly wild Orlando adventure!
Learn more: Discount Tickets to Disney's Animal Kingdom
Ticket Types
Customize your Disney experience with a ticket plan that works best for you.
Animal Kingdom tickets start at $99.00.
Attractions & Ride Guide
Animal Kingdom's attractions and rides highlight the beauty of the natural world and our connection with animals in a fun and unique way. Feel like you're on safari or an incredible expedition as you stroll through a rainforest or dodge the Yeti on a climb up Mt. Everest.
Pandora – The World of Avatar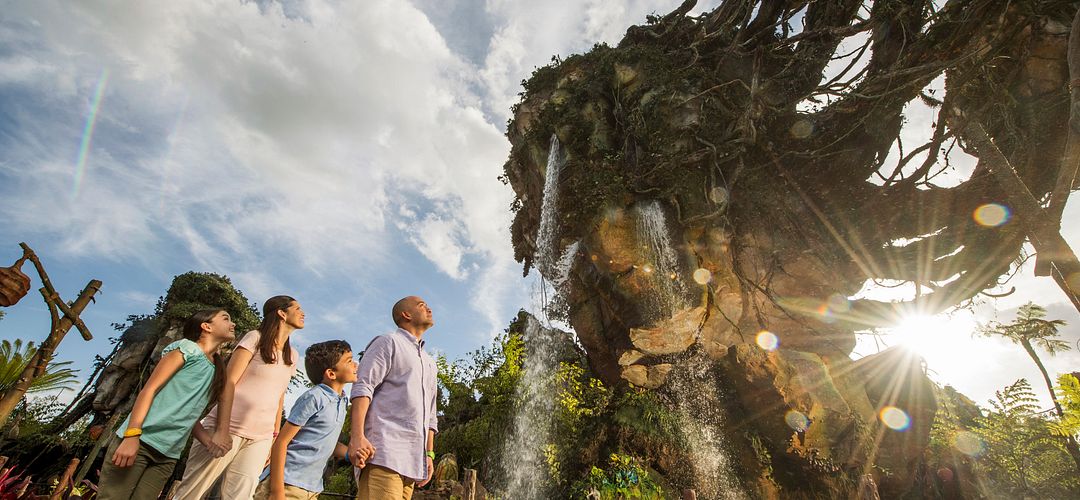 ©Twentieth Century Fox Film Corporation. JAMES CAMERON'S AVATAR is a trademark of Twentieth Century Fox Film Corporation. All rights reserved. As to Disney Properties ©Disney
Step into a world like no other with a bioluminescent rain forest, rivers that glow and set sail on winged creatures that take you above the moon to somewhere unimaginable and incredibly otherworldly. Join Alpha Centauri Expeditions as they explore a land so filled with splendor it defies explanation.
Avatar – Flight of Passage
Venture deep into the Valley of Mo'ara, where you'll take flight on a winged mountain banshee granting you spectacular views of the moon's magic, highlighting an unforgettable ride through a unique world.
Na'vi River Journey
Find yourself adrift on the Na'vi River in a reed boat as you search for the Na'vi Shaman of Songs. Stream past caves, a sacred bioluminescent rain forest with plants that glow and creatures that astound. Once you encounter the Shaman, she'll share her powerful connection to Pandora, while sending out positive energy throughout the rain forest with her music.
Valley of Mo'ara
Smile at the serendipity of new amazing sights and sounds. You'll discover Na'vi totems and cultural icons, exotic plants, and a Na'vi drum circle. You might even bump into an Alpha Centauri Expeditions tour guide or scientist from the Pandora Conservation Initiative. Explore floating mountains and enchanting landscapes throughout the valley.
Oasis
---
Enter into a lush tropical setting with sprawling pathways and walking trails leading to impressive animal viewing opportunities. Wildlife abounds with adorable otters, storks, and porcupines plodding along the flora and fauna of this natural setting.
The Oasis Exhibits
Walk down shaded, scenic trails and experience soothing waterfalls, and meandering streams while spotting amazing wildlife: giant anteater, exotic boar, barking deer, wallabies, and spoonbills.
Discovery Island
---
Wander past the Tree of Life and explore pathways and trails that lead to phenomenal wildlife encounters. Take your time as you slowly see a diverse array of wildlife come into view: lemurs, storks, porcupines, and more.
Wilderness Explorers
Team up with Russell and his loyal dog, Dug, from the Disney movie, Up! Participate in several self-guided activities encompassing everything from animal observation to learning essential nature skills. Earn up to 30 badges as you compete in challenges and fun interactive games throughout the park.
It's Tough to be a Bug!
Flik, from the Disney's It's a Bug's Life, serves as your guide during a comical nine-minute 3D movie adventure. Put on your "bug eye" glasses and experience an assortment of special effects: bug spray and stink, fog, rain, and black widow spiders dropping down from above. Meet a Chilean tarantula, termites, rhino beetles, and more as you get a first-hand look at a bug's life.
Discovery Island Trails
Explore an exotic paradise as you wander along picturesque trails surrounding the majestic Tree of Life. Relax and soak in the tranquil setting at your own pace. While exploring pathways, you may even encounter wildlife creatures such as Galapagos tortoises, flamingos, ring-tailed lemurs, red kangaroos, and otters.
Tree of Life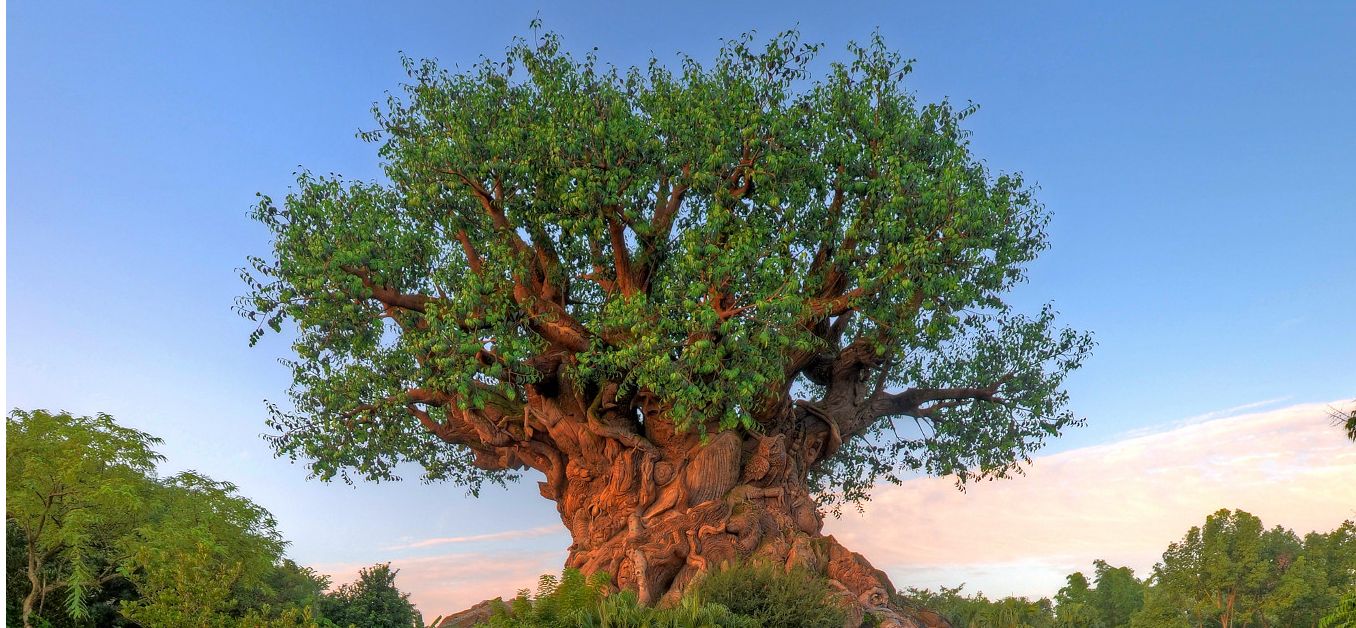 ©Disney
Towering at 145-feet and covered with over 100,000 leaves, the Tree of Life, is a magnificent park icon celebrating all animals found within Animal Kingdom. Unique, intricate carvings of creatures small and large, from tiny insects to enormous elephants, appear on the impressive tree trunk and its sprawling roots. It's the centerpiece of the park as well as the venue for an amazing nighttime spectacular show, Tree of Life Awakenings.
Africa
---
Venture into the heart of an awe-inspiring and mysterious continent. Set off on a rugged safari, board a rustic train for behind-the-scenes fun, wander down picturesque pathways, and witness the most amazing animals around.
Kilimanjaro Safaris
Set off in an open-air vehicle for either a day or evening tour, where you'll explore the diverse terrain of the Harambe Wildlife Preserve: grassy plains to shaded forests to rugged wetlands. Hold on, as it can be a bumpy, but extraordinary trek. Experience some of the most amazing creatures in the world: cheetah, gazelles, giraffes, hippos, hyenas, rhinos, wildebeests, zebras, and more. Don't worry, gawking is expected.
Gorilla Falls Exploration Trail
Full of captivating scenery, The Pangani Forest Exploration Trail is a rich tropical rainforest you won't want to miss exploring. Learn more about the western lowland gorillas, often just as curious as onlooking guests. You'll also spy delightful meerkats and intriguing African flora and fauna.
Wildlife Express Train
Embark on a peaceful train ride while enjoying a backstage peek of the state-of-the-art veterinary facilities and animal housing. A seven-minute ride from Africa to Rafiki's Planet Watch affords you a worthy backstage view. Feel in the know as you catch a glimpse of the inner workings of the park.
African Elephants – Disney Animals
Observe a herd of enormous African elephants, the world's largest land mammal, while becoming versed on Disney's conservation efforts to protect them.
Butterflies – Disney Animals
Vibrant, colorful butterflies flutter and fly around the park. Witness their beauty up close as they extract nectar from an array of flowers throughout the park.
Giraffes – Disney Animals
Beautiful and statuesque, giraffes are the tallest terrestrial creature with neck spans up to six feet. They spend most their day eating up to 100 pounds of leaves and twigs! Catch them on the African grasslands munching away or walking about.
Gorillas – Disney Animals
Observe a family of endangered western lowland gorillas on the Pangani Forest Exploration Trail. Learn about the plight of the world's largest primate as you witness these powerful yet gentle creatures interact with each other.
Hippopotamuses – Disney Animals
You can't help but smile when spotting water loving hippos lounging and playing as you stroll through the Gorilla Falls Exploration Trail. Weighing in at over 3,000 pounds, they'll be hard to miss.
Lions – Disney Animals
There's nothing quite as awe-inspiring as catching sight of a noble lion sunning on a giant rock or sauntering across the grasslands at Kilimanjaro Safaris.
Okapis – Disney Animals
Rare and unusual, okapis look similar to zebras but are actually classified in the giraffe family. Only recently discovered in the 20th century, learn more about these amazing animals.
Rhinos – Disney Animals
Viewing these prehistoric looking, horned, creatures in their natural habitat on the Kilimanjaro Safaris ride, or the Wild Africa Trek is sure to be a definite highlight. Learn more about conservation efforts for one of the most endangered species in the world.
Rafiki's Planet Watch
---
Visit an immersive area perfect for animal lovers, future zoologists, and conservation fans alike. Find yourself right in the midst of an actual veterinary hospital, animal nutrition center (learn what they feed the 1500 animal residents), and unique wildlife habitats. It doesn't get more hands on than this.
Habitat Habit!
Meander through a remarkable nature trail that's teeming with animal conservation exhibits, and learn how you can be a part of those efforts. Be sure to slow down and watch one of the world's most endangered species, the cotton-top tamarin. Enjoy the antics of these tiny monkeys with a mop of long flowing white hair atop their heads.
Conservation Station
Obtain a one-of-a-kind inside look into Animal Kingdom's conservation mission. Interactive and informative exhibits are sure to captivate all ages. Whether you're taking in a fun show at the Animal Encounters State, checking out the animal cams on the Backstage Tour, or peeking into the Veterinary Treatment Room, you're going to discover so much in a truly spontaneous environment.
Affection Section
Nuzzle, feed, and pet a menagerie of gentle and domesticated animals at the ultimate petting zoo. Easy-to-use pet brushes are on hand so little ones can groom friendly animals like goats, pigs, donkeys, sheep, and cows.
Asia
---
Whisk down whitewater rapids in the ultimate river raft ride, face down a legendary snow beast, be entertained by exotic birds, and enjoy the marvels of the largest continent in the world. Live out your world explorer dreams.
Flights of Wonder
Gather at Asia's Caravan Stage for a whimsical show featuring the natural antics and humorous talents of over 20 species of exotic birds. Behold African grey parrots, blue and gold macaws, great horned owls, and more. Spearheaded by a comical trainer, be ready for onstage performances as well as birds showing off their skills as they take flight and swoop over audience members.
Maharajah Jungle Trek
Traipse through secret lush pathways that lead into a jungle revealing an overgrown ancient Indian hunting camp and a centuries old palace. Find yourself in the midst of an otherworldly scene, where you'll behold the exquisite beauty of over 50 species of birds, Asian tigers, gibbons, Malayan flying foxes, water buffalo, and more.
Kali River Rapids
Splash and dive through whitewater rapids as you bob and spin on a river raft ride like no other. Cool off as geysers blast water around you, while guests from above mischievously squirt you as your raft passes by. Invest in a poncho or bring spare clothes because there's also a thrilling 20-foot plunge bound to soak everyone on board!. Height restrictions – 38 inches (97 cm)
Expedition Everest – Legend of the Forbidden Mountain
Trek up the steep sides of the colossal Mt. Everest while narrowly escaping the clutches of the legendary snow beast, the Yeti. Exhilarating drops, loops, and curves await as you careen through ominous caves within the mountain. Grip yourself for the shadowy image of a growling Yeti within close range. If that doesn't shake you up, perhaps the rollercoaster train almost leaping off the rails and on to the edge of the mountain will. Height restrictions – 44 inches (113 cm)
Tigers – Disney Animals
It feels like an extraordinary honor to be in the presence of the grace and power of the Asian Tiger and the rare Sumatran tiger. Look out for these beautiful creatures as you travel through the Maharajah Jungle Trek.
Dinoland U.S.A.®
---
Dinosaur lovers will be left spellbound by this area devoted to the fascinating prehistoric creatures that roamed the planet millions of years ago. From digging up fossils to zooming into the jaws of a dinosaur, the fun and wonderment never end.
DINOSAUR
Climb aboard a Time Rover and venture back in time to over 65 million years ago to save the Iguanadon before a meteor collides with earth dooming it to extinction. Lightning bursts, thunder booms, and menacing dinosaurs growl and roar as you speed past in the cool darkness. Every turn builds the suspense. Will you escape danger or face off with a prehistoric beast?. Height restrictions - 40 inches (102 cm)
Dino-Sue
Walk under this massive dinosaur looming above you at an expansive 13-feet in height and 40-feet in length. Sue is the size of a four-story building, and she's also the largest replica of a Tyrannosaurus rex to be found. Just imagine her walking the earth 67 million years ago.
Fossil Fun Games
Try your hand at dinosaur-themed games like Bronto-Score basketball and Mammoth Marathon racing. Oh, and don't forget the popular Whac-A-Packycephalosaur, where kids bop mischievous dinosaurs with a mallet as they pop out of their holes.
Primeval Whirl
Swirl into the jaws of a dinosaur, as your time machine spins you along the track and back in time to the dinosaur age. Sudden dips and speedy turns are bound to leave you giddy. Height restrictions - 48 inches (122 cm)
The Boneyard
Enter this dig site and play junior paleontologist–excavate fossils from a triceratops and a tyrannosaurus rex. Jump into a jeep for a make-believe driving session, or step on a huge dinosaur foot print.
TriceraTop Spin
Little dinosaur lovers are sure to adore this ride that resembles a giant toy top with cartoon-like triceratops vehicles that spin about. Move the lever up and down to control your triceratops and keep him on the move.
Character Encounters
It's no secret that characters enhance the overall experience. Make your visit even more unforgettable with these fantastic character meet-and-greet and photo opportunities.
Meet Baloo and King Louie at Upcountry Landing
Catch this fun loving, adventurous bear pair before they set out on their next great adventure.
Meet Favorite Disney Pals at Adventurers Outpost
Hang out with Mickey and Minnie who are outfitted in khakis and ready for their next safari excursion. Be sure to check out their mementos and souvenirs from all their globe-trotting exploits.
Meet Flik on Discovery Island
Stop in and visit with your favorite ant inventor, Flik from Disney's It's a Bug's Life. He'll be happy to catch up with you and sign autographs too.
Meet Rafiki at Rafiki's Planet Watch
Rafiki, the Lion King's wise baboon, is happy to pose for pictures and relishes hearing about your wildlife connections.
Meet Russell at Discovery Island
Find out what's "Up!" with Russell and his trusty companion, Dug. The pair not only enjoy earning badges, but taking time to meet you!
Meet Tarzan at Discovery Island
Greet Tarzan, Lord of the Jungle, as he swings by to meet with his friends outside of the jungle.
Meet Your Chipmunk Buddies at Rafiki's Planet Watch
Pop on over and say hello to your favorite chipmunks, Chip and Dale. Expect a lot of playful banter and good times to ensue.
Dining
Savor a varied mix of American, African, and Asian cuisines at Disney's Animal Kingdom with Menu items ranging from chicken fingers to sushi to wontons to hearty, African-inspired dining. Whether you opt for a buffet, sit down meal, or counter service, there really is something for everyone.
Tusker House
Anticipate smiling faces when your kids encounter Mickey, Minnie, Donald, Daisy, and Goofy outfitted in their safari attire ready for adventure. Adults will be pleased with the versatile menu. House specialties include carved sirloin, rotisserie chicken, pork, as well as Indian-inspired curries and chutneys.
Encounter all the sights and sounds of a real rainforest complete with audio-animatronic gorillas, monkeys, and tropical birds. Expect the sounds of thunder and rainfall, as well as shots of cool mist to add to the jungle ambiance. Be sure top off your meal with the ever-popular Volcano dessert.
Restaurantosaurus
A quirky, well-themed eatery centers around the storyline of a group of paleontology students on a dig expedition. Check out fossils, artifacts, dig tools, and even a student bulletin board. Quick service food such as grilled chicken sandwiches and burgers can be enhanced at the premium topping bar with items like guacamole, specialty pickles, and grilled veggies. A variety of indoor and outdoor seating is available. Of course, the airstream trailer seats are the most popular.
Yak and Yeti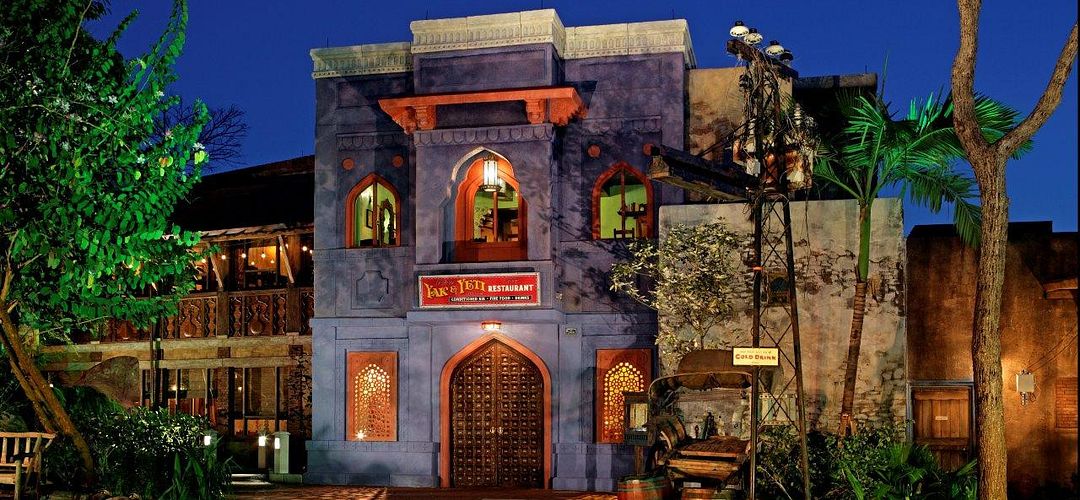 You might find yourself a little hungry after escaping the Yeti on Mt. Everest. No worries, this Nepalese-style restaurant is located nearby and features American and Asian cuisine. Popular entrees and appetizers include spicy Korean barbecue ribs, ahi tuna nachos, and fried wontons.
Entertainment
Exotic entertainment featuring native musicians from countries in Asia and Africa will entertain you with unique choreography and rhythms. Of course, there's a terrific lineup of nighttime light and firework shows that add to forge a unique blend of fun.
Harambe Wildlife Parti
Set in Harambe's Old Square, expect a colorful variety of performers joined by a lively, upbeat band of performers, such as: stilt-walkers, acrobats, human pyramids, and more.
Burudika
Burudika in Swahili means "to be refreshed." As captivating as it is entertaining, it's bound to renew and enliven everyone as you find yourself easily moving to the upbeat jams from authentic African musicians. Location: Harambe Village, Africa
Chakranandi
There's no doubt guests will be entertained by this fantastic duo. One musician plays the sitar, a stringed instrument, while the other performs on the tabla, a traditional Indian drum. Location: Anandapur Village, Asia
Festival of the Lion King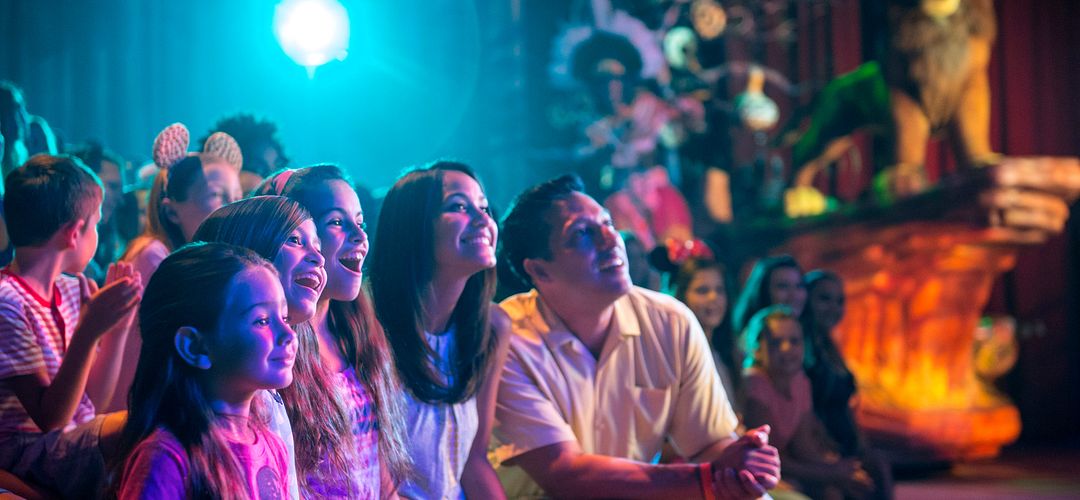 ©Disney
It's a larger-than-life performance inspired by the hit movie, The Lion King. Expect a Broadway-quality show featuring singing, dancing, stilt-walking, fire juggling, and daring acrobatics. During the interactive show, Simba and friends share their own version of the tale. Experience the iconic story of a beloved lion prince and his destiny to be king, all over again. You'll be cheering Simba every step of the way. Location: Near Tusker House, Africa
Finding Nemo – The Musical
Phenomenal special effects blend with state-of-the-art puppetry and music to bring the magical undersea world of Finding Nemo to life. It's certain to tug at your heartstrings. Reminisce with the wonderful adventures of Marlin, Dory, and Nemo in a brilliant musical format. Location: DinoLand USA
Tam Tam Drummers of Harambe
You'll have a ball dancing and clapping to the wondrous rhythm of the Congo. Talented drummers spill out onto the streets with electrifying African music. Location: Harambe Village, Africa
Viva Gaia Street Band
Hit the streets with a celebratory Caribbean street party. Playful music makes it easy to join in the fun as you dance along to the lively music and fanciful costumes and colors. Location: Discovery Island
D.J. Annan
Move to the Bhangra beat, a lively fusion of Punjabi and western pop music, with rockin' D.J. Annan. Dancers will invite you to participate and learn fun Indian dance moves. Location: Asia
Nightly Shows
When the sun dips into the horizon there's more surprises in store for everyone. Don' t miss out on these spectacular shows.
Discovery Island Carnivale
A vibrant entourage of magnificent dancers, stilt-walkers, and musicians ignite a festive dance party extravaganza. Get caught up in all the revelry and fun.
Rivers of Light
As the sun fades, guests will be mesmerized by a show lit with wonder: glowing lanterns, magical fireflies, and vibrant, animal spirits who come to life, sharing in some of the most epic and enchanting storytelling.
Tree of Life Awakenings
Vivid and radiant, you'll be entranced by the Tree of Life itself, as luminous fireflies awaken incredible animal spirits. Celebrate the balance and harmony of nature while being inspired at the beauty of the world's animal kingdom.
Shopping Hot Spots
Whether you're on safari on the African plains or venturing up Mt. Everest, there's so many wonderful shops along the way. Stop in and purchase wonderful mementos of your Animal Kingdom experience. Every store does its best to salute the animal world.
Mombasa Marketplace
What's not to love about this open air market with tons of authentic African treasures and hand-crafted pieces? There's also Ziwani Traders nearby, which is perfect for the younger set, featuring a variety of plush animals of all the Animal Kingdom creatures.
Serka Zong Bazaar
As you descend from your Mt. Everest expedition, you won't want to miss this inventive shop featuring a variety of interesting keepsakes. The store, set in the mythical town of Anandapur, is adorned with artifacts and carved figurines, which give it a mystical feel. Shop for a Yeti plush animal or a rare Asian souvenir.
Chester & Hester's Dinosaur Treasures
Make a pit stop at this unusual roadside store. Shop for all things prehistoric and dinosaur-themed. Go ahead, pose with the dinosaur. Also, it's fairly certain you won't leave the store without a popular dinosaur egg or two.
Island Mercantile
Wander around this multi-room, expansive store where an array of murals, large wood carvings painted by Balinese craftspeople, and a massive T-Rex are part of the décor. Discover beautiful animal carvings, unique collectibles, and all the Animal Kingdom gift and souvenir essentials.
Special Offers / Discount Tickets
Add value to your Animal Kingdom visit with special offers and discount tickets. Plan for your best vacation while saving time and money. As an official seller of Orlando attraction tickets, Visit Orlando makes it easy for you. Save now.
Unique Experiences
Ever wonder what it would be like to experience a behind-the-scenes look at the animals, or to go on a true wildlife trek for up close encounters with Animal Kingdom wildlife? Now you can enjoy these experiences firsthand.
Backstage Tales
Animal lovers will be thrilled with the opportunity to head on a backstage tour and soak up all the amazement behind-the-scenes. This specialized tour includes:
Explore the animal housing areas back stage.

Visit the Animal Nutrition Center, and learn how over four tons of food are prepared and distributed to the 1,500 animal residents.

Take a tour of the veterinary hospital, a state-of-the-art facility.

Visit the aviary.

View elephant and rhino habitats.

Learn more about Disney's ongoing conservation efforts.
A portion of the tour proceeds is donated to the Disney Conservation Fund.
Wildlife Africa Trek
View African wildlife on a privately guided tour where you'll board a safari vehicle for portions of your journey. A knowledgeable guide will give you insight into the wildlife on the Harambe Wildlife Preserve. Walk along a grassland plain, cross a rope bridge, and even suit up with a harness and vest as you're suspended for up close animal encounters. You'll witness the beauty of giraffes, rhinos, hippos, and more. Of course, the close views of crocodiles aren't for the faint-hearted.
Savor the Savanna: Evening Safari Experience
Board an open-air safari vehicle and head out to your own private safari. Experience incredible animal encounters on the Harambe Wildlife Preserve. As the sun falls, you'll make a dining camp in a beautiful open air area. Relax and savor delectable African-influenced tapas, select wines, and specialty drinks as you enjoy a meal under a star-lit sky.
Conservation Efforts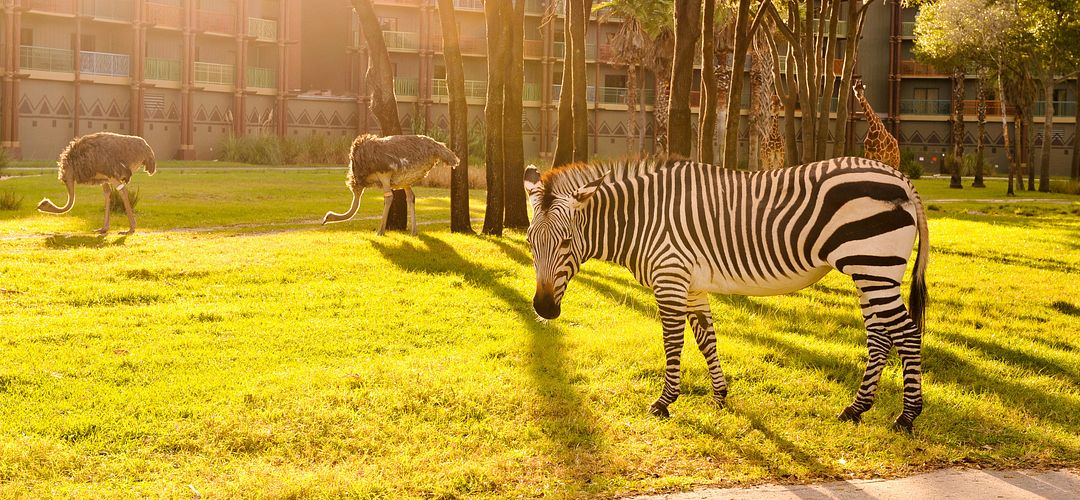 ©Disney
Disney's Animal Kingdom has taken a forward-thinking and mindful approach to its conservation efforts and animal husbandry. Notably missing from the theme park are plastic lids and straws in order to protect wildlife. It's paper straws for sipping here. Additionally, guests will find ample recycling bins dispersed throughout the park. Recycling doesn't end there though. Many of the souvenirs that guests can buy are actually made from recyclable materials.
Disney's Conservation Fund (supported by Disney and guest contributions through portions of tour proceeds and merchandise purchases) has been able to support an ever-growing number of conservation efforts including hundreds of wildlife conservation projects. The fund has contributed more than $20 million to conservation efforts globally. This includes planting approximately 3 million trees, protecting over 40,000 acres of coral reefs in conjunction with The Nature Conservancy, and protecting 65,000 acres of savanna in conjunction with the African Wildlife Foundation.
Finally, Disney has made a vital commitment to the reintroduction of endangered species and special breeding programs. Currently, they are involved in 34 Species Survival Plans. And their world-class veterinary care and educational efforts on a grand scale serve as shining example of their commitment to wildlife worldwide.