The Wizarding World of Harry Potter™
So, you never got that letter from Hogwarts™? You're not alone. If you've ever fantasized of ditching your Muggle status and joining the ranks of wizards and witches — and surrounding yourself with all things Harry Potter™ in the process — prepare to have your dreams come true at Universal Orlando Resort!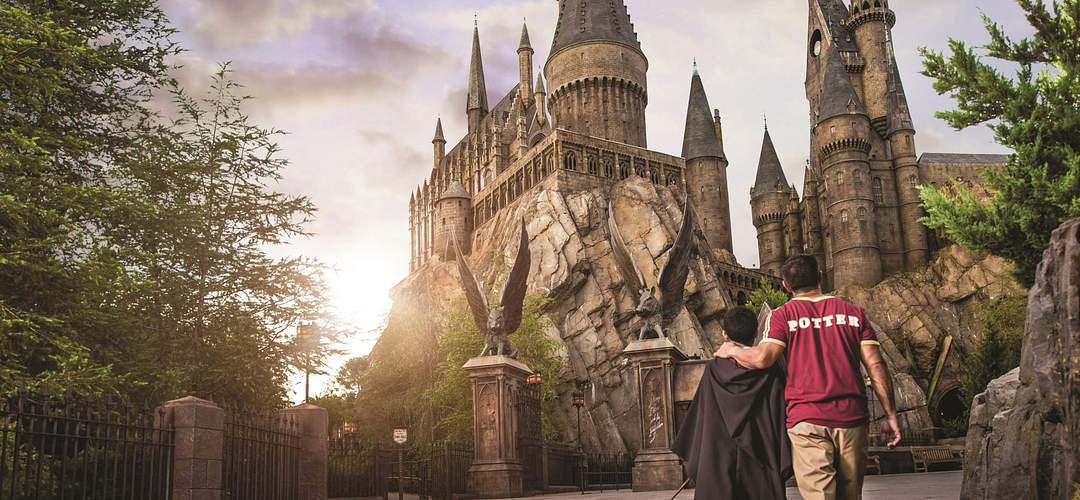 Too wildly imaginative and expansive to be contained by any one theme park, The Wizarding World of Harry Potter™ is split between Diagon Alley™ at Universal Studios Florida and Hogsmeade™ at Universal's Islands of Adventure, with the Hogwarts™ Express connecting the two. Before you know it, you'll be casting spells, quaffing Butterbeer™, going to a Quidditch™ match and even facing off against Lord Voldemort™ himself.
In short, it's the fantasy adventure of a lifetime — and it's waiting for you exclusively in Orlando!
Learn more: Discount Tickets to Universal Orlando Resort
Two Amazing Lands at Two Theme Parks
Please note that you'll need admission to Universal Studios Florida and Universal's Islands of Adventure to experience all of the wonders of The Wizarding World of Harry Potter™. A Park-to-Park admission ticket or an Annual Pass will grant you access to both parks, as well as the Hogwarts™ Express.
Travel Tip: Staying at one of Universal Orlando Resort's on-site hotels will allow you to enter The Wizarding World of Harry Potter™ an hour early!
Learn more: The Wizarding World of Harry Potter™ : Know Before You Go
The Hogwarts™ Express
It's a train ride like no other, and it's one of the most immersive experiences at The Wizarding World of Harry Potter™. Board the famous Hogwarts™ Express at Hogsmeade™ Station at Universal's Islands of Adventure or King's Cross Station at Universal Studios Florida and take a (mostly) cheerful ride through the British countryside.
The action happens outside the train window as well as in your compartment, as scenes and characters from the movies emerge. Featuring different storylines depending on your point of departure, it's an enthralling journey for wizards and witches alike.
The Wizarding World of Harry Potter™ - HOGSMEADE™ at Universal's Islands of Adventure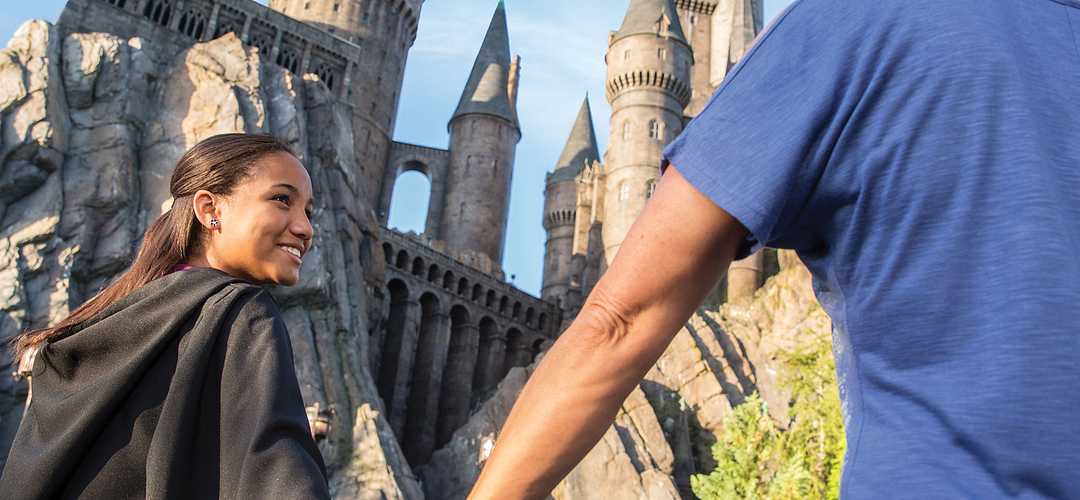 It's the one-and-only, all-wizarding village of Hogsmeade™, and you'll only find it at Universal's Islands of Adventure! The main attraction here is Hogwarts™ castle, which comes to majestic life on select evenings for The Nighttime Lights at Hogwarts™ castle spectacular.
Looming over Hogsmeade™, Hogwarts™ also features Harry Potter™ and the Forbidden Journey™, an attraction that will take you soaring high above the castle grounds. For more airborne adventures, hop aboard the family-friendly Flight of the Hippogriff™ roller coaster, which you'll find at Hagrid's hut.
Speaking of Hagrid™, he takes center stage in the all-new Hagrid's Magical Creatures Motorbike Adventure™. Sending you deep into the Forbidden Forest for up-close encounters with a menagerie of wondrous creatures, this innovative attraction combines state-of-the-art coaster technology and gripping storytelling for one of Universal Orlando Resort's most incredible experiences yet!
High Street — a popular hangout for Hogwarts™ students and professors alike — is brimming with enchanted shops. Send magical mail to family and friends at Owl Post™, load up on sweets at Honeydukes™, or get your very own Sneakoscope at Dervish and Banges™, among other arcane retailers.
You'll also want to stop by Hog's Head™ for a glass of Pumpkin Juice™ or Butterbeer™, which can also be found, along with a variety of tasty British fare, at Three Broomsticks™. Once your appetite is sated, enjoy the vocal stylings of Hogwart's Frog Choir and get hyped for the next Triwizard Tournament at the Triwizard Spirit Rally.
Once your adventures in Hogsmeade™ are complete, Universal Park-to-Park ticket-holders can depart for Diagon Alley™ at Universal Studios Florida aboard the Hogwarts™ Express, with trains leaving regularly from Hogsmeade™ Station. Of course, with so much to experience here, it might be awhile before you're ready to say farewell!
ATTRACTIONS
It's no secret that the Hogwarts™ castle in the queue area of Harry Potter™ and the Forbidden Journey™ is an attraction in and of itself. Guests can wander the halls and classrooms of the famous wizarding school inside the hallows of Hogwarts™ castle. Towering walls adorned with talking portraits are just one of the incredible touches along with the Mirror of Erised, Dumbledore's office, the Sorting Hat™, the Gryffindor™ common room and the Defence Against the Dark Arts classroom. An unparalleled attention to detail makes the Hogwarts™ castle experience a fan favorite. Don't let the "No Muggles™" sign deter you.
Flight of the Hippogriff™
A hippogriff is a mythical creature with the head of a giant eagle and the body of a noble horse. Not sure how exactly to ride a hippogriff? No worries, Hagrid™ is on hand to guide you with expert instruction as you spiral and dip over Hagrid's hut and into the Forbidden Forest. Believe it or not, Hagrid's hut is one of the highlights. It's an authentic replica of the one featured in the movies.
Height restrictions – Must be at least 36 inches tall (91.4 cm). Children between 36"– 48" (91cm-122cm) must be accompanied by a supervising companion.
Harry Potter™ and the Forbidden Journey™
Take off on an enchanted bench and soar above the Hogwarts™ castle grounds, check out a Quidditch™ match, propel under a bridge, be chased by Hagrid's pet Hungarian Horntail and descend into the Forbidden Forest. Be prepared to come face-to-face with unforgettable creatures and eerie Dementors™. It's a multi-sensory adventure with Harry, Hermione and Ron cheering you on!
Height Restrictions – Must be at least 48 inches tall (122 cm)
DINING
Three Broomsticks™
Rustic and at the same time cozy, this traditional pub gives off the distinct feeling that you just might turn and see Hagrid™ guzzling down some Firewhiskey while Harry isn't looking. Authentically British, menu fare includes the usual suspects: roast beef & Yorkshire pudding, cottage pie, fish and chips and of course, Butterbeer™. The real triumph here is the Butterbeer™ Potted Cream––a creamy, lush butterscotch pudding topped with a bit of whipped cream served in a glass jar.
SHOPPING
It's doubtful anyone can resist these clever and authentic bookstores! Don't return home without at least a piece of the magic.
Dervish and Banges™
Visit this whimsical purveyor of all things musical and magical. They even repair enchanted instruments. Need a Sneakoscope? You've come to the right place; and there's plenty of Spectrespecs, Omniculares and a diverse range of Quidditch™ essentials. Pick up a furry copy of The Monster Book of Monsters (this reading material looks more monster than book) as a handy reference. Beware the book bites and is caged up for your protection.
Filch's Emporium™ of Confiscated Goods
There's a spellbinding trove of goods to be had here. Magical creature toys such as the Hedwig™ hand puppet, pink or purple Pygmy Puffs or a hatching Norbert puppet are tough to resist. While And spooky Death Eater™ masks, marauding maps and special chess sets inspired from the movies are sure to be equally tempting. Diehard fans can also pick up authentic movie prop replicas to add to their Harry Potter™ collections.
Honeydukes™
It's easy to spot the pink and green sign. What a delight it is to enter a wondrous sweetshop, home to noteworthy confections like exploding bonbons, Fizzing Whizzbees and Chocolate Frogs. Bright green shelving and glass decanters filled with a colorful assortment of candy and specialty treats popularized by the Harry Potter™ book series line the shelves and tables. It's a candy lover's dream come true. Be sure to purchase some Bertie Bott's Every-Flavour Beans™, delicious surprises coupled with a few scary flavor options. Travel Tip – If you're prone to buying excessive Honeydukes™ goodies like Hermione, it's no problem. You can have your purchases sent to the front entrance and claim them as you leave the park.
Ollivanders™
"The wand chooses the wizard" is the shop motto, and Ollivanders™ should know. They've been making fine wands since 382 B.C. The wandmaker leads groups of up to 20 into the store for a special selection ceremony. It's truly a magical experience so there's no spoilers here. Replicas of the wands used by Harry, Hermione, Dumbledore and Luna Lovegood™ along with other assorted wands can be used to cast spells throughout the park. Each wand comes in a special box with a secret map that outlines spell locations. It's a worthy magical investment.
Owl Post™ & Owlery
Don't miss this quirky stationery shop that also sells The Wizarding World of Harry Potter™ stamps and writing instruments along with owl-themed gifts. The best part is that you can mail your letters and postcards from here, which means your mail will be stamped with a Hogsmeade™ postmark. Check out a couple of dozen owls roosting (they move and make realistic sounds) while a howler screams in the window.
The Wizarding World of Harry Potter™ - DIAGON ALLEY™ at Universal Studios Florida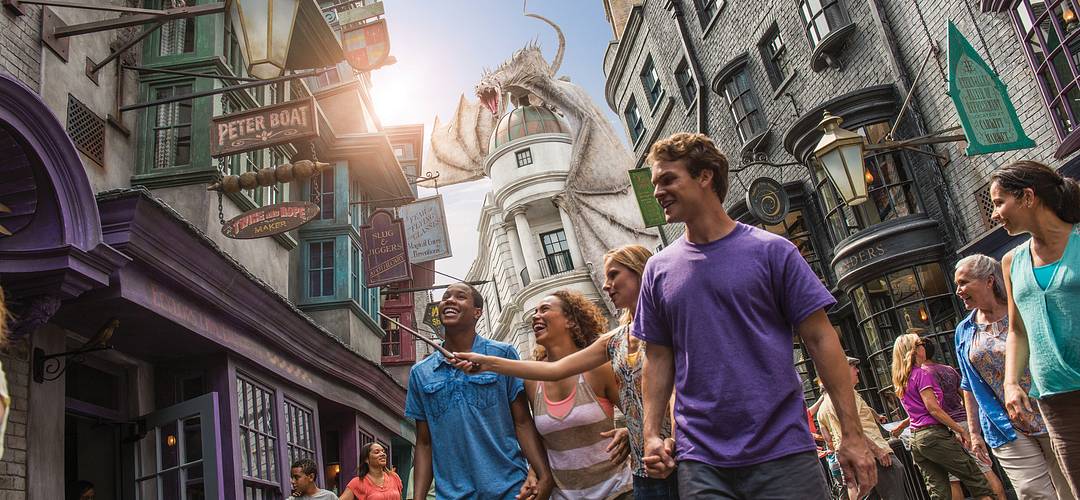 You won't have to tap a special brick to gain entry to Diagon Alley™ at Universal Studios Florida — just look for the Knight Bus™ at the park's London section.
Once inside, grab a cup of Butterbeer™ or Pumpkin Juice™ from iconic establishments like Leaky Cauldron™, The Hopping Pot and other themed dining options, or even from a passing street vendor. Several Diagon Alley™ venues also have wizard-friendly eats.
Of course, it's not The wizarding world without adventure, and you'll find plenty of it at Harry Potter and the Escape from Gringotts™. Keep a watchful eye on the roof of Gringotts™ Money Exchange while you're there, though — the 60-foot guardian dragon is known to breathe fire!
Next, it's time to gear up on everything you'll need to make your time at Hogwarts™ a success. Find the perfect wand at Ollivanders™, get sized for your school uniform at Madam Malkin's Robes for All Occasions, prepare for the big game at Quality Quidditch™ Supplies, or just stock up on side-splitting gags at Weasleys' Wizard Wheezes, among other shopping opportunities. And if you have the nerve to brave Knockturn Alley, Borgin and Burkes™ is your source for Death Eater™ masks and other merchandise coveted by members of House Slytherin™.
Last but not least, King's Cross Station is one of two Hogwarts™ Express terminals, with the second in Hogsmeade™. Universal Park-to-Park ticket-holders can travel between the destinations aboard the iconic train.
ATTRACTIONS
Harry Potter and the Escape from Gringotts™
It's a daring break-in and escape as you navigate the underground vaults of Gringotts™ while being chased by goblins. Ride alongside Ron, Hermione and Harry as they travel deep into the vaults looking for the magical object that will help them defeat Lord Voldemort™. Jump in a cart and hurtle downward as the state-of-the-art 3D Infitec projection system and high tech special effects put you right in the middle of all the action. Queue highlights include being led into a special room to secure a photo ID granting you access to the vaults and an eerie elevator ride that adds to the storyline.
The Hogwarts™ Express
Slip through the iconic brickwall on Platform 9 3/4™; to jump onto the Hogwarts™ Express to Hogsmeade™, home of the wizarding world and legendary Hogwarts™ castle. An optical illusion gives guests the experience of walking through a wall and onto an incredible train ride. This ride may be a little less cheerful than the one headed to Diagon Alley™ as you'll encounter Death Eaters flying over London and Dementors™ boarding* the train with you!
*Park-to-Park admission required. Additional restrictions apply.
DINING
Florean Fortescue's Ice-Cream Parlour
This may just be one of the coolest ice cream parlors around. Their magical frozen elixir comes in both soft serve and scoop ice cream. Gaze up at the flavor board and you'll be charmed by imaginative flavors such as Earl Grey and lavender, clotted cream, apple crumble, sticky toffee pudding, strawberry and peanut butter, and of course, Butterbeer™. Decidedly British desserts are on hand such as tarts, scones, cookies and sweet cakes as well as an assortment of teas.
Leaky Cauldron™
Not your average restaurant since this one doubles as the gateway between the Muggle™ world and Diagon Alley™. Its ramshackle appearance belies its true purpose. Partake in a frothy cup of Butterbeer™ or grab a pint of Hog's Head™ (a special craft brew) lager that actually is pulled from a Hog's Head™ tap. Cottage pie and fish and chips are popular favorites and there's mac & cheese for less adventurous appetites.
Street Vendors – Butterbeer™ and Pumpkin Juice™
So what's all the fuss surrounding Butterbeer™? For starters the recipe was created after substantial research and trial and error. The final approval fell upon the author herself. Butterbeer™ is a creamy soda with a blend of butterscotch and caramel flavors. Since its introduction it has won over legions of fans. Not surprising, Pumpkin Juice™ has a distinctly fall taste with a hint of sweetness.
SHOPPING
Harry Potter™ fans can't seem to get enough of the items that they've read about in books and can now purchase. Ingenious souvenirs and authentic Hogwarts™ apparel.
Borgin and Burkes™
Stroll down Knockturn Alley and you'll happen upon this sinister shop overloaded with Dark Arts objects. Skulls, Death Eater™ masks, costume replicas and more are a few of the eerie items on hand. Find the perfect souvenir for your favorite Slytherin™.
Gringotts™ Money Exchange
Inside, marbled halls and a goblin ready to exchange your money await. Walk up to an interactive, audio-animatronic goblin and exchange your Muggle™ money for Gringotts Bank Notes. Ask the goblin specific questions and he will answer back. The interaction is quite fun, but don't ask him if he's a house elf.
Madam Malkin's Robe for all Occasions
If you need a wizard's hat or a Gryffindor™ robe, you're in the right spot. Every Hogwarts™ house is represented: Gryffindor™, Ravenclaw™, Hufflepuff™ and Slytherin™. Best of all, there's a diverse offering of apparel and jewelry here to be found.
Magical Menagerie
You couldn't find a better assortment of plush toys from the Harry Potter™ books and movies. Choose between a Pigwidgeon or Hedwig™ owl. If you're not in need of a messenger owl, there's no shortage of cuddly creatures: Hippogriffs, Crookshanks™, U-NO-POO and more. Head upstairs to the second level and spy a Crumple-Horned Snorkack, Luna Lovegood's favorite mythical creature.
Ollivanders™
The details are painstakingly authentic just like the original store in Hogsmeade™. Expect to see tons of wands haphazardly stacked in this ancient magical shop. The only difference is that this store features three showrooms versus one, making purchasing the right even more exciting. The wandmaker ceremony takes places here too. One lucky kid will be selected to experience the same magic Harry did when his wand selected him.
Quality Quidditch™ Supplies
Sports fanatics, specifically Quidditch™ obsessed ones, will be drawn to the allure of this shop specializing in all things Quidditch™. Brooms, Quidditch™ apparel, the Nimbus 2000™, Holyhead Harpies and even Golden Snitches are for sale. Get your team spirit on at Quality Quidditch™ Supplies. You'll score big.
Weasleys' Wizard Weezes
The prank-loving twins, Fred and George Weasley, are up to their tricks at this ultra-amusing gag shop. Jokesters and little pranksters will delight in the variety of novelty gifts. Magical jokes, love potions and Extendable Ears are just a few of the amusing items available for purchase.
Wiseacre's Wizarding Equipment
Magic needs its devices. After you exit Harry Potter™ and the Escape from Gringotts™, explore this shop and add resourceful items to your wizarding inventory. Magnifying glasses, binoculars, hourglasses and even crystal balls are just some of the wizarding items available for witches, wizards and even Muggles™.