Discovery Cove
Hours: 8:00 a.m. - 5:30 p.m. daily
Check-in and Breakfast: Begins at 7:15 a.m.
Tucked away from it all, Discovery Cove® is a true gem. At this all-inclusive day resort, you can drift down a scenic river, hand-feed exotic birds, snorkel crystal-clear waters with tropical fish and rays, and even swim and interact with bottlenose dolphins.
These and other unforgettable experiences unfold at a relaxed pace, no matter if you're exploring, enjoying nature or connecting with wondrous marine animals. And it's all exclusive to Orlando.
Standard admission to Discovery Cove opens a world of possibilities for you to explore. You'll also be provided with unlimited food and beverages, as well as all amenities you'll need to enjoy your stay, such as snorkeling gear, fresh towels and more.
From there, the choice is yours. Gear up to swim with thousands of tropical fish at The Grand Reef, have face-to-face encounters with playful otters and marmosets at Freshwater Oasis, and meet some new feathered friends at Explorer's Aviary. Or, just find inner peace at Serenity Bay and Wind-Away River.
Looking for something really special? Opt for the Dolphin Swim or Trainer for a Day admission packages. The former will add 30 minutes of quality time with a dolphin to your visit, while the latter offers enhanced interaction, a private photo session with two dolphins and a behind-the-scenes tour.
Other optional adventures include SeaVenture, an underwater walking tour where you'll be fitted with a dive helmet, as well as Ray Feeding and the 90-minute Animal Trek. You can even Swim With Sharks — if you dare!
For more serenity, book a four-person Day Bed or your own Cabana, complete with a dedicated host to see to your every need. You can also get an upgraded drink package, or reserve space for group events of any type, including weddings.
Ready to discover everything else at Discovery Cove? Keep reading for more details on the resort's unique experiences, and make plans to visit it the next time you're in Orlando.
Learn more: Discount Tickets to SeaWorld Orlando
Discovery Cove admission includes: Day Resort Package
Unlimited snacks and drinks including alcoholic beverages for those 21 years of age and older
Breakfast and lunch
Snorkeling with tropical fish and rays
Swimming and viewing otters and marmosets
Hand-feeding parrots, toucans and exotic birds
Snorkel gear and animal-safe sunscreen
Save when you add admission to SeaWorld, Aquatica, Busch Gardens, and Adventure Island to your Discovery Cove package
All Inclusive Dolphin Package
Includes all of the above and an additional 30-minute dolphin swim experience
Children ages 6-12 must be accompanied by a paying adult to participate in the dolphin swim experience.
Experiences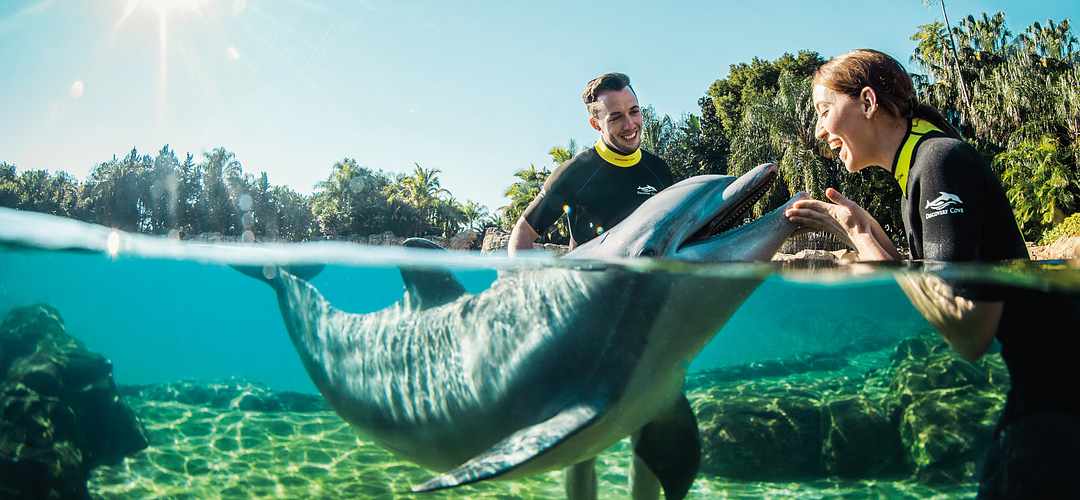 Dolphin Lagoon
Swim with dolphins in a serene lagoon. It's an ideal atmosphere for interacting with these incredible creatures. Trainers introduce you to these gentle, fun-loving marine mammals in a unique 30-minute experience. After a brief orientation, every person in the group (limited to small groups) has the opportunity to interact with a dolphin. You'll even learn a special hand signal, resulting in a sweet display of affection. This unique experience concludes with a dolphin tow. Participants hold onto the dolphin's dorsal fin while gliding across lagoon waters. It's a dream come true for many.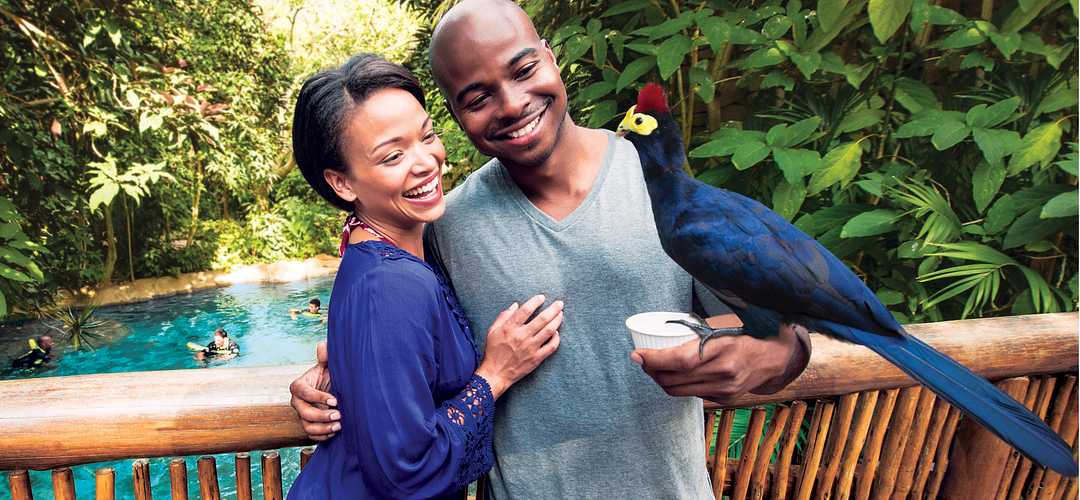 Explorer's Aviary
Stroll through lovely gardens and mingle with tropical birds in this expansive, free-flight aviary. The aviary grounds cover both land and water. Set amidst the Tropical River's lovely waterfalls, encounter bird species from around the world: parrots, toucans and exotic birds. Chat with feathered friends and even get a chance to feed them. Watch colorful birds of all sizes soar overhead and perch on your arm or shoulder if you have specially prepared bird food in hand.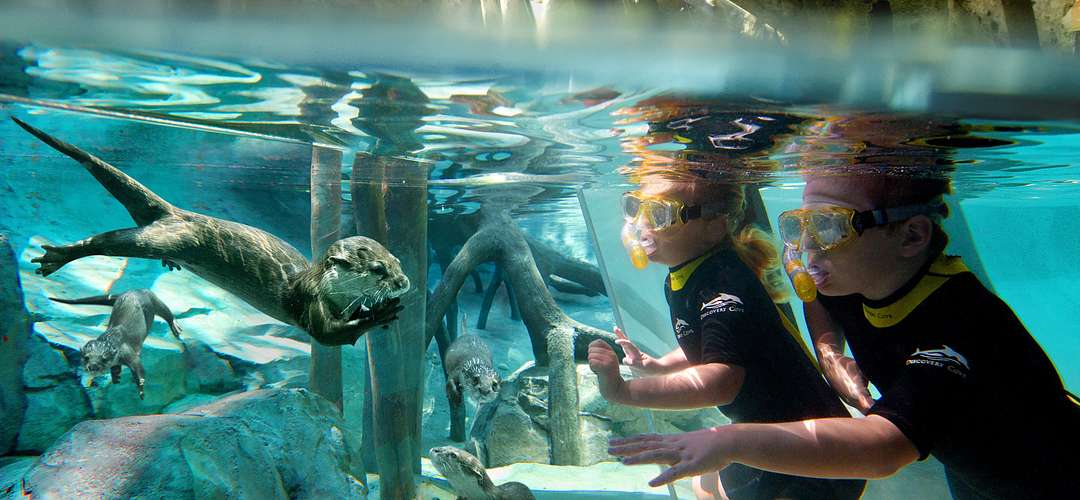 Fresh Water Oasis
Enter a tropical sanctuary canopied with rainforest vegetation and explore warm water pathways. Wander through crystal clear water trails where you'll encounter playful otters and inquisitive marmosets in the treetops. Swim up to the glass enclosure to watch the non-stop antics of adorable otters or explore the island setting for marmosets, miniature monkeys from South America. Don't miss the In-Water Relaxation Station, where you can enjoy a cool drink in a comfy underwater lounge chair.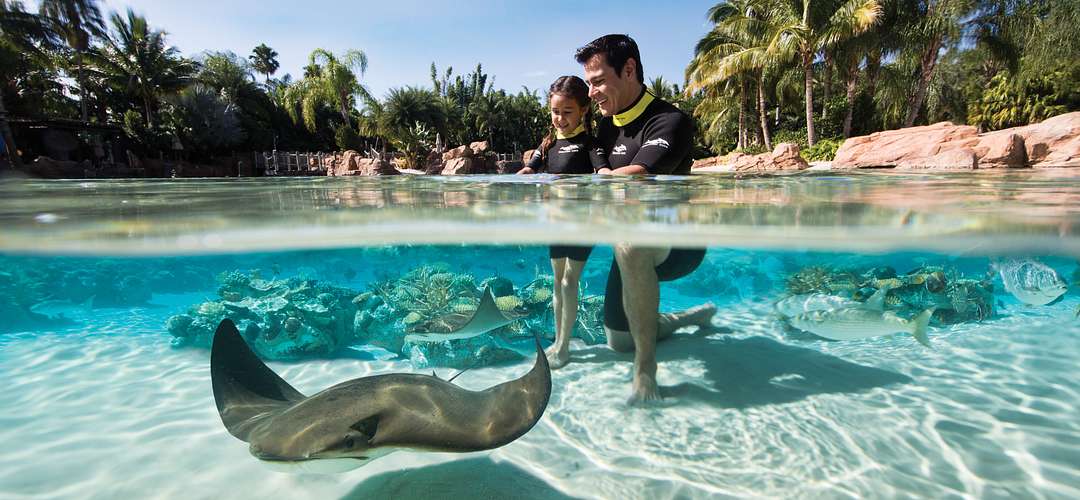 The Grand Reef
Explore this saltwater reef complete with footpaths and bridges. Voyage through the reef and discover little islands and hidden grottos. Find yourself in the midst of cool waters teeming with vibrant schools of fish and velvety soft rays. As you venture, also discover other unique marine life. You'll even encounter reef sharks, which can be safely viewed behind glass. Don't miss the feeding time at Stingray Shallows; it's an unforgettable experience.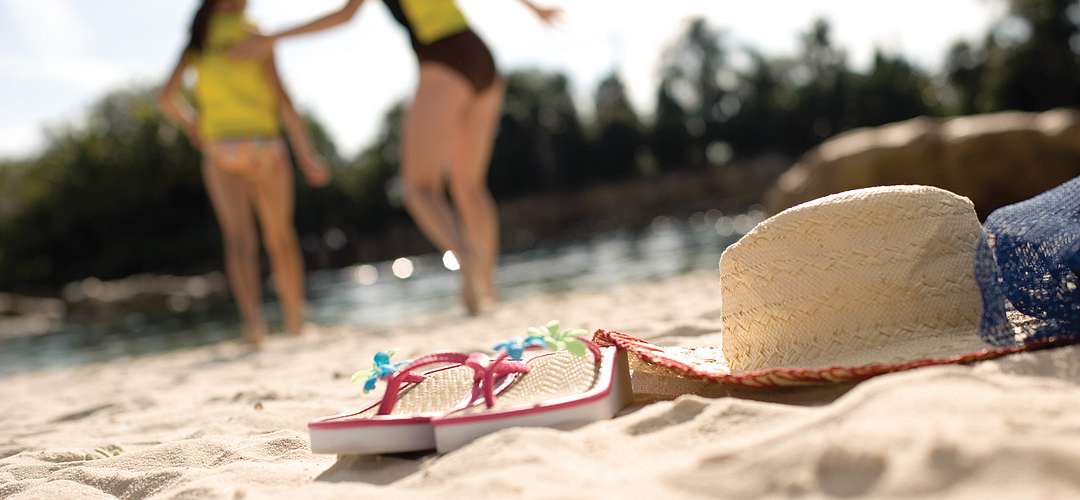 Wind-away River
Gently drift down a lazy tropical river. Feel in sync with nature as you float past a diverse tropical terrain home to sandy beaches, rocky cascading waterfalls and crystalline waterways. River levels vary from deep to more shallow depths. Opt for a life vest or grab a float noodle if you're not a strong swimmer or tire easily. Be sure to look up as you float past the Explorer's Aviary. Tropical birds and curiously cute marmosets will serendipitously come into view.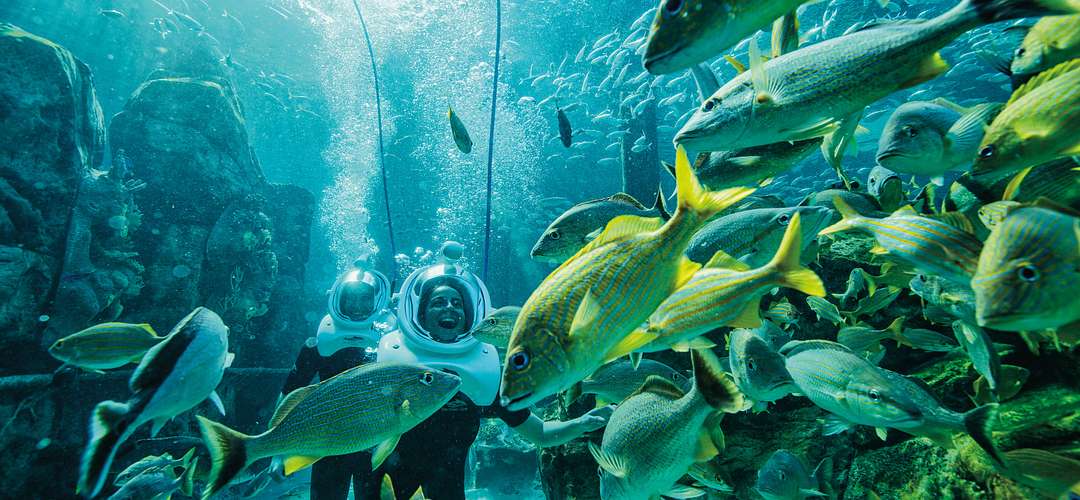 Seaventure
You won't need a SCUBA certification to experience this underwater exploration. Participants are outfitted with a dive helmet that pipes in oxygen via attached tubing. Submerge by climbing down a ladder and stepping 12-feet below on to the reef floor. Encounter schools of vividly colored fish and rays. Catch incredible views of sharks behind a panoramic glass wall.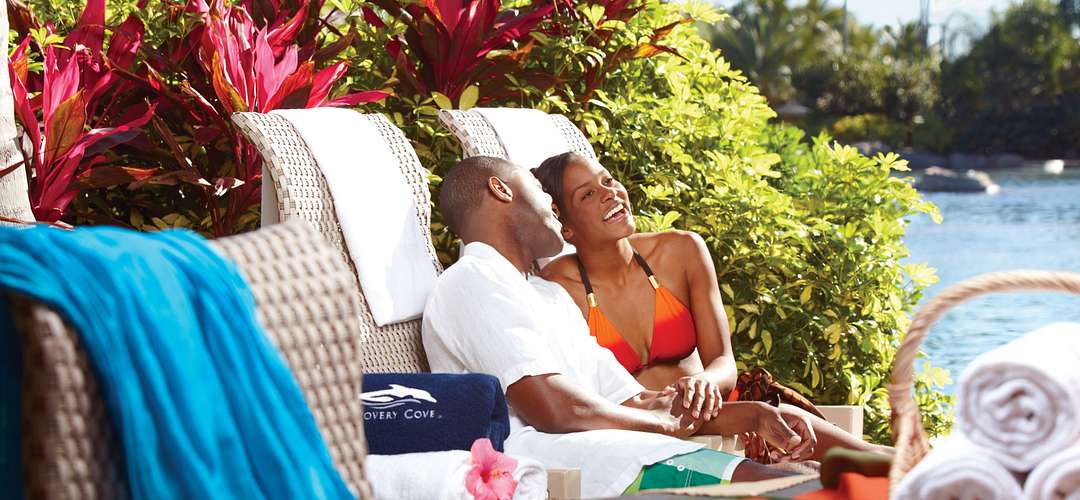 Serenity Bay
Say hello to relaxation as you settle into a lounge chair or cabana on a sandy beach. Take a dip into the soothing warm waters of Serenity Bay. It's the perfect place for adults to decompress while kids relish splashing in freshwater or hiding underneath streaming waterfalls.
Upgraded Experiences
Ultimate Upgrade
For an additional cost, you can receive unlimited access to all three parks: SeaWorld® Orlando, Aquatica and Busch Gardens® Tampa Bay. Additionally, this includes parking at all three parks.
Trainer for a Day
Experience an all-inclusive Discovery Cove day with extra special perks:
A second opportunity to interact with dolphins, which includes a private photo session with two dolphins.
Behind-the-scenes tour of Discovery Cove
Shadowing a trainer for the day
Feed tropical fish in The Grand Reef
Fun-filled meet-and-greets with tropical birds and small mammals
Each Trainer for the Day group (limited to nine guests) is provided with a digital underwater camera for the program duration. The SD card is gifted to you at the end of your experience.
14 days of unlimited admission and free parking to SeaWorld, Aquatica and Busch Gardens
Special Occasions
Whether you're celebrating a birthday, anniversary, popping the question or other special occasion, Discovery Cove offers three tiers of unique packages. Perks range from items like a buoy with your own personalized message, tote bags and photo frames to more extensive package privileges like photo sessions, private cabanas, exclusive menu items and more.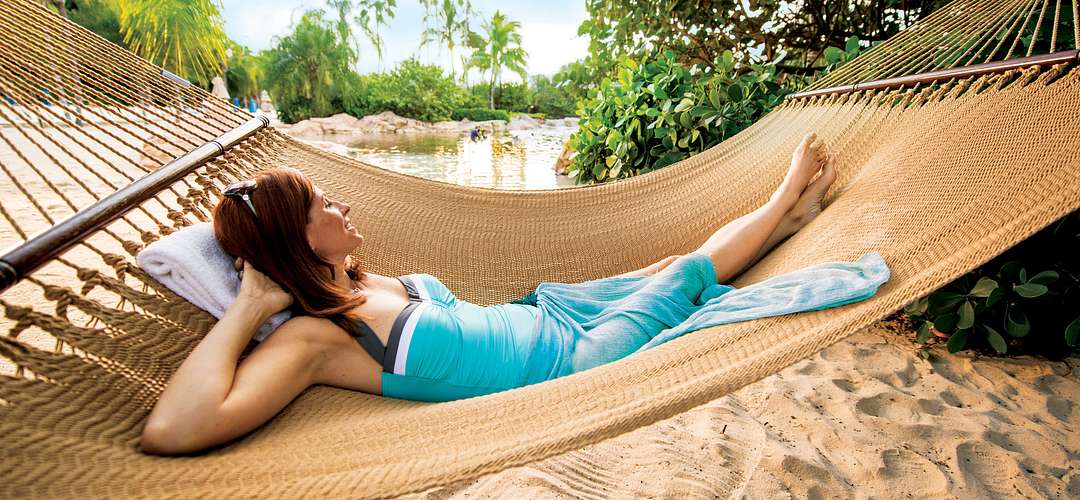 Private Cabanas
Definitely worth the splurge, a private cabana becomes your very own home base. It's the ideal spot to relax and enjoy family and friends. Every cabana comes with a fully-stocked drink refrigerator, basket of snacks, a locker, lounge chairs, table and a comfy hammock.