Orlando Water Parks
Orlando didn't get its nickname — Theme Park Capital of the World® — for nothing, but we're also a champion when it comes to water parks. Once you've experienced our miles of lazy rivers, massive wave pools and some of the most thrilling waterslides imaginable, we're sure you'll agree.
What's more, while Walt Disney World Resort, Universal Orlando Resort, SeaWorld Orlando and LEGOLAND Florida Resort all have onsite water parks, more are waiting for you at locations throughout the Orlando area. You'll even find water parks at many of our hotels and resorts!
So, what are you waiting for? Slather on the sunscreen, grab your favorite pair of sunglasses and a waterproof camera, and dive into the ultimate in aquatic thrills and relaxation at water parks in Orlando!
Standalone Orlando Water Parks
Walt Disney World Resort
Granted, Walt Disney World Resort's headliners are Magic Kingdom Park, Epcot, Disney's Hollywood Studios and Disney's Animal Kingdom, but it's also home to two magical water parks: Disney's Blizzard Beach and Disney's Typhoon Lagoon. Both offer hours of aquatic adventures and relaxation in imaginative environments packed with plenty of extras.
Learn More: Discount Tickets to Walt Disney World Resort
Disney's Blizzard Beach
Despite the polar theme, the water is always warm at this Walt Disney World water park, which is presented as Florida's only outdoor ski resort — and no wonder, given that it's unsurprisingly "melting" in the sun!
In keeping with the polar theme, you can catch a chairlift to the top of the park's centerpiece, Mount Gushmore. There, you'll encounter a number of winter-themed waterslides and rides, such as Downhill Double Dipper, Runoff Rapids, Slush Gusher, Summit Plummet and Toboggan Racers.
For family adventures, up to six people can simultaneously experience one of the world's longest whitewater raft rides at Teamboat Springs. And there are thrills for younger guests too, courtesy of Ski Patrol Training Camp and Tike's Peak.
When you're ready to relax, the gentle waves at Melt-Away Bay will melt your cares away. Or, grab a tube and drift on Cross Country Creek, a lazy river that flows around the entire park.
Available extras include Polar Patios — private decks with lounge chairs, a locker, a cooler and other amenities — and Lodge Umbrellas, which include two loungers, two beach chairs and towels in addition to the umbrella. You won't go hungry here, either, thanks to a number of counter-service dining options.
Learn More: Discount Tickets to Disney's Blizzard Beach
Disney's Typhoon Lagoon
Set in a storm-tossed lagoon, this park added its newest attraction, Miss Adventure Falls, in 2017. One of the longest rides at Walt Disney World, the family-friendly adventure will send you and up to three companions on a white-water journey you won't soon forget.
There are plenty of more thrills to be discovered, including Crush 'n' Gusher, Gangplank Falls, Keelhaul Falls and Storm Slides. You can even up the ante with Mayday Falls, which is the park's longest and highest waterslide, and Humunga Kowabunga, featuring a near-vertical, five-story drop … in the dark.
Younger children can have fun here too. For instance, infectious play abounds at Ketchakiddee Creek, which features 10 different aquatic activities, and Bay Slides has scaled-down fun for tiny tots.
While kids are enjoying the latter attraction, parents can make a splash at the nearby Typhoon Lagoon Surf Pool, which boasts 6-foot swells. Meanwhile, tranquil bliss awaits you on a lazy river that circles the park in its entirety, Castaway Creek.
From June through August, this park also hosts the ultimate pool party with Disney H20 Glow Nights. A number of other extras are available too, including themed dining and the chance to reserve Beachcomber Shacks and Getaway Glen Umbrellas.
Learn More: Discount Tickets to Disney's Typhoon Lagoon
Universal Orlando Resort
In 2017, Universal Orlando Resort debuted Orlando's newest water park: Universal's Volcano Bay. Featuring South Pacific ambience and innovative technology designed to do away with ride lines, this state-of-the-art park is the perfect place to cool down after experiencing Universal Studios Florida and Universal's Islands of Adventure.
Learn More: Discount Tickets to Universal Orlando Resort
Universal's Volcano Bay
Orlando's latest standalone water park is also one of the most innovative thanks to TapuTapu wearable technology, which lets you reserve ride times and reveal amazing surprises with a wave of your wrist.
The park is segmented into four distinct lands, beginning with the mighty, 200-foot-tall Krakatau volcano. Rides here include Krakatau Aqua Coaster, Ko'okiri Body Plunge, Kala & Tai Nui Serpentine Body Slide and Punga Racers, where you'll race against three other guests through underwater sea caves.
Rainforest Village offers a blend of action and relaxation with attractions such as Taniwha Tubes, Maku Puihi Round Raft Rides, Puka Uli Lagoon, TeAwa the Fearless River and Ohyah & Ohno Drop Slide. River Village offers gentler fun for younger guests, thanks to Honu ika Moana, Tot Tiki Reef, Runamukka Reef and the relaxing Kopiko Wai Winding River.
More tranquility can be enjoyed at Waturi Beach and The Reef, which are part of Wave Village. For even easier living, rent a six- or 16-person cabana, or arrange for reserved lounge-chair seating.
When you're hungry, more than 60 unique menu items can be enjoyed at onsite eateries. And the park's shops offer everything you need for fun in the sun, including beach essentials, souvenirs and more.
Learn More: Discount Tickets to Universal's Volcano Bay
SeaWorld Orlando
Since 1973, SeaWorld Orlando has been specializing in all things aquatic, as evidenced by the main SeaWorld theme park and its one-of-a-kind day resort, Discovery Cove. Aquatica, SeaWorld's Waterpark, goes even deeper with up-close animal encounters, year-round availability and a South Seas vibe.
Learn More: Discount Tickets to SeaWorld Orlando
Aquatica, SeaWorld's Waterpark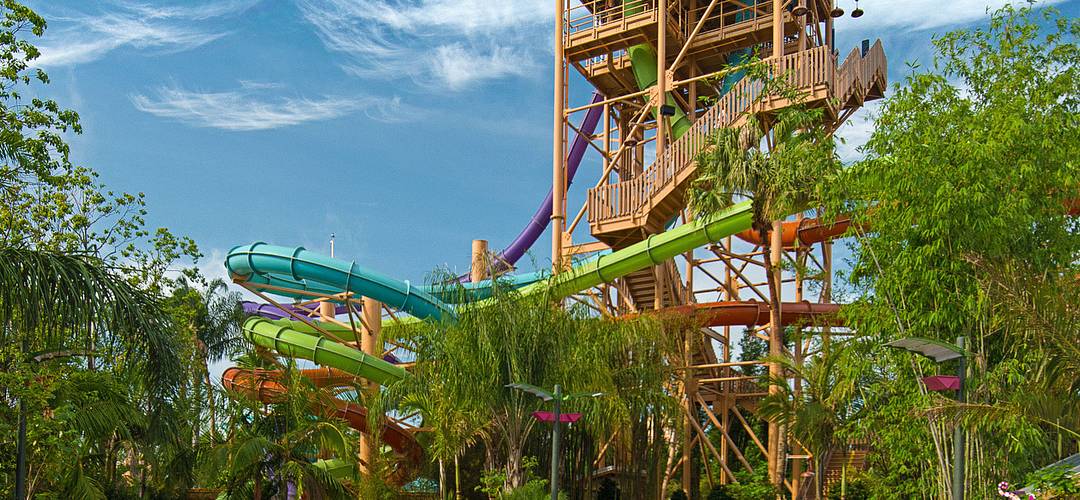 In spring 2018, Aquatica will debut the brand-new Ray Rush attraction. This family raft ride will offer three ways to slide, splash and soar, including water jets and a giant water sphere.
The new ride joins the park's existing can't-miss attractions, including Ihu's Breakaway Falls — the tallest, steepest, multi-drop ride in Orlando. You also won't want to miss Dolphin Plunge, where you'll shoot through enclosed tubes in a crystal-clear lagoon that's home to playful Commerson's dolphins.
More excitement is in store for you, including raft rides like HooRoo Run, Omaka Rocka, Roa's Rapids and Walhalla Wave, and mat racing at Taumata Racer. Or, leave the conveyances behind for fast times on Tassie's Twisters and Whanau Way.
Ready to catch your breath? Drift down Loggerhead Lane, the park's lazy river, or wade near a 60-foot fortress at Walkabout Waters. Kids will love both of those, as well as Kata's Kookaburra Cove, and young and old alike can take advantage of dual wave pools and sandy beaches at Cutback Cove and Big Surf Shores.
As much as you might want to, you can't spend all of your time in the water. To that end, cabana rentals and an ocean of dining choices are also available.
Learn More: Discount Tickets to Aquatica, SeaWorld's Waterpark
LEGOLAND Florida Resort
LEGOLAND Florida Resort's main theme park is focused on kids and their families — a mindset that extends to its onsite water park, which is available as an optional upgrade on regular park admission. Naturally, LEGOLAND Water Park has opportunities for creativity, because it's not LEGO without building!
Learn More: Discount Tickets to LEGOLAND Florida Resort
LEGOLAND Water Park
Make sure your kids practice their cannonball skills before you take them to LEGOLAND's water park. They'll also want to work on their building skills, particularly before they hit Build-a-Raft River, which invites guests to imagine, design and create their own LEGO rafts before setting sail on a 1,000-foot lazy river.
The park's Creative Cove area provides even more construction opportunities with Build-a-Boat, where kids can race their own self-made LEGO watercraft. If they prefer to do the racing themselves, set them loose on Twin Chasers, featuring an intertwining pair of enclosed, 375-foot waterslides.
Kids at least 48-inches tall will also enjoy Splash Out, which offers three unique slides and a 60-foot drop. And at Joker Soaker, children can enjoy slides, climbing areas, water spouts and a wading pool, and get the splash of their lives from a giant, 300-gallon bucket!
For gentler fun, check out the LEGO Wave Pool, featuring waves that are just big enough for all ages. Or, opt for shorter slides and interactive DUPLO creatures at DUPLO Splash Safari.
When it's time to eat, the Beach-n-Brick Grill has an assortment of delicious fare. Then, take advantage of cabana rentals for a little rest before heading back into the water.
This attraction, which is just 15 minutes from The Florida Mall, takes a different approach to water parks. Instead of waterslides, drops, lazy rivers and lagoons, it offers waterskiing, kneeboarding, wakeboarding, wakeskating, and wakesurfing for all ages in a natural environment.
Situated on a boat lake, OWC boasts two full-size cable systems with a variety of features, including custom rails. Guests can also enjoy paddleboarding and an outdoor fitness area with climbing rope. Or, take advantage of a snack shop, a pro shop with the latest aquatic gear, and a beach area complete with grills and picnic tables.
In early 2018, OWC unveiled its newest feature: Central Florida's first Aquapark. This fun area features a modular series of interlocking climbing obstacles, pathways and slides, resulting in endless fun for almost all age levels.
Speaking of which, if you're visiting OWC with kids, note that all activities require parental waivers for guests under 18, and children ages 10 and younger must also take a one-hour safety lesson. Additionally, kids must be at least 6 years old and 43 inches tall to use the Aquapark.
Orlando Hotels & Resorts With Water Parks
Guests at these adjacent Walt Disney World resorts aren't just staying at the most magical place on earth. They also have access to Stormalong Bay, a three-acre water recreation area designed for every member of the family.
Modeled after Nantucket's beaches, the park features nearly 800,000 gallons of water in a complex of interconnected pools, including an expansive, sand-bottomed option. With variety that ranges from placid to swirling, open to secluded, and warm to cool, you're sure to find the perfect place to make a splash while you're here.
One of the park's most impressive aspects is a life-sized shipwreck replica, from which you can catch a 230-foot waterslide. For relaxation, choose from a lazy river or one of three whirlpool spas. You can also catch some sun on an elevated tanning deck.
Other features include a swimming area that appears to flow into the surrounding lake. Plus, your kids will love the Shipwreck Pool, which has a miniature waterslide designed for younger guests.
Learn More: Orlando Hotels & Resorts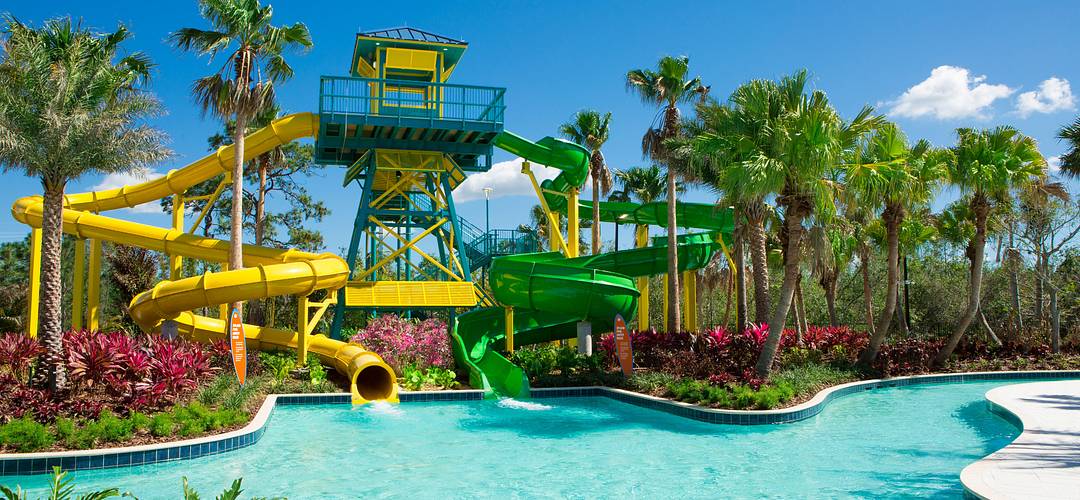 One of Orlando's newest resorts opened its brand-new Surfari Water Park in early 2018. The park joins an extensive lineup of other activities and amenities that are complimentary to resort guests.
One of this park's most exciting features is the FlowRider® Double surf simulator, where you can grab a surfboard or body board and hit the waves without the need for an ocean. It's a fun experience for surfers of all ages and skill levels, although height requirements do apply.
Guests who are at least 48 inches tall can also take advantage of the dual Jungle Slides, offering an exhilarating journey filled with twists and turns. For gentler experiences, check out the zero-entry pool, lazy river and kids' pool.
The park also has plenty of activities, as well as dining at The Longboard Bar & Grill. And private cabana rentals are available for when you're ready to kick back. The Grove is located just 10 minutes from Walt Disney World Resort.
Less than 10 minutes from Walt Disney World Resort, this resort invites guest to make a splash at its onsite water park, which boasts a wealth of amenities and fun ways to play.
In addition to a massive, zero-entry pool, the water park has a four-story water tower, seven slides and water flumes, climbing nets, water jets, interactive water toys, two whirlpools, and a 400-gallon water tank that splashes its contents on nearby guests at random.
You can have fun on land here too, thanks to a nine-hole miniature golf course and a basketball court. Other activities include live dance parties, cannonball contests, movie nights, challenges and competitions.
The water park also offers cabana rentals, each of which includes cushioned furniture, ceiling fans, a mini-fridge, towel service and a personal cabana attendant. If you get hungry or thirsty, the Lagoon Bar and Grill is ready to serve you.
Children of all ages and their families will be thrilled with this resort's R Aqua Zone, which provides hours of splashy fun for kids, tweens and teens. The park boasts two twisting, turning waterslides, one of which is more than 120 feet long.
Other ways to play include a gyroscope spinner, blasting water jets, periscope guns and even a water windmill. If you're traveling with smaller children, they'll love the pint-sized wading pool with a slide, a rain tree and more than 20 mini-water jets.
The bright, colorful play area is one of several amenities afforded to guests at the Renaissance, which is just 10 minutes from SeaWorld Orlando. Speaking of which, extras include complimentary front-of-the-line access to SeaWorld, as well as free transportation to that theme park and Aquatica, plus discounts on select food items and merchandise at both.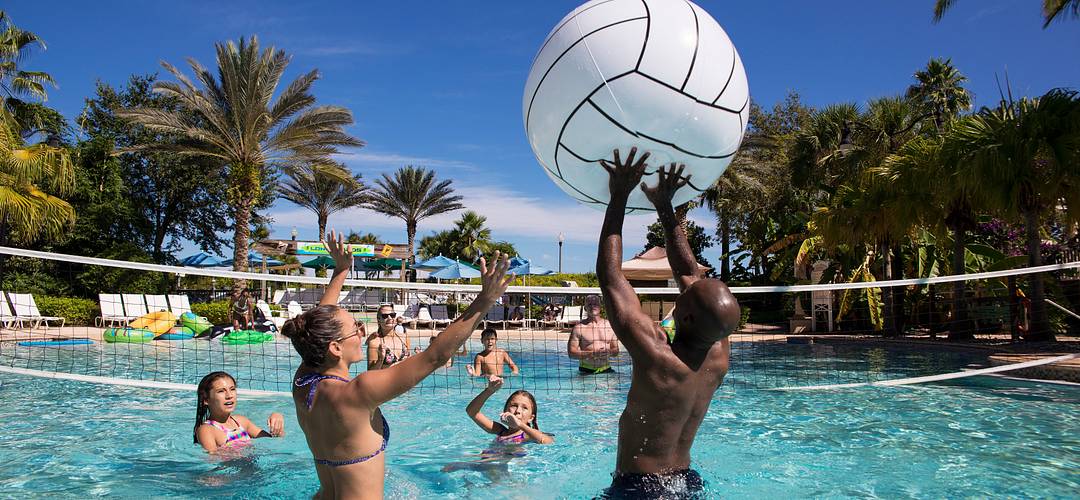 Open to official guests and members, this resort's lush, tropical water park encompasses five acres of aquatic escape. Fun features include a zero-entry pool, a lazy river and three waterslides, one of which runs for 110 feet.
This park also has a special zone for children, where they can get drenched by a comically oversized bucket that overturns every seven to 10 minutes. There's also a full slate of activities, including pool and lawn games, craft sessions and the chance to tie-dye your own T-shirts.
While enjoying the water park, you can take advantage of poolside food and beverage service in your choice of sunny or shaded lounge areas, or even a private cabana rental. Or, just grab a seat at the Tiki Bar for a cold drink or frozen cocktail while your kids take care of the playing.