LGBTQ Travel Guide
Live Your Dreams in Orlando
Dreams come true in Orlando and for countless reasons — not the least of which is our commitment to creating enchanting, memorable adventures. We're also a highly inclusive destination, welcoming scores of millions of visitors each year to experience everything we have to offer. Naturally, world-famous theme parks like those at Walt Disney World® Resort, SeaWorld® Orlando and Universal Orlando® Resort are major factors in our popularity. There, state-of-the-art rides, beloved characters, live entertainment and seasonal events are ready to immerse you in fantasy and adventure.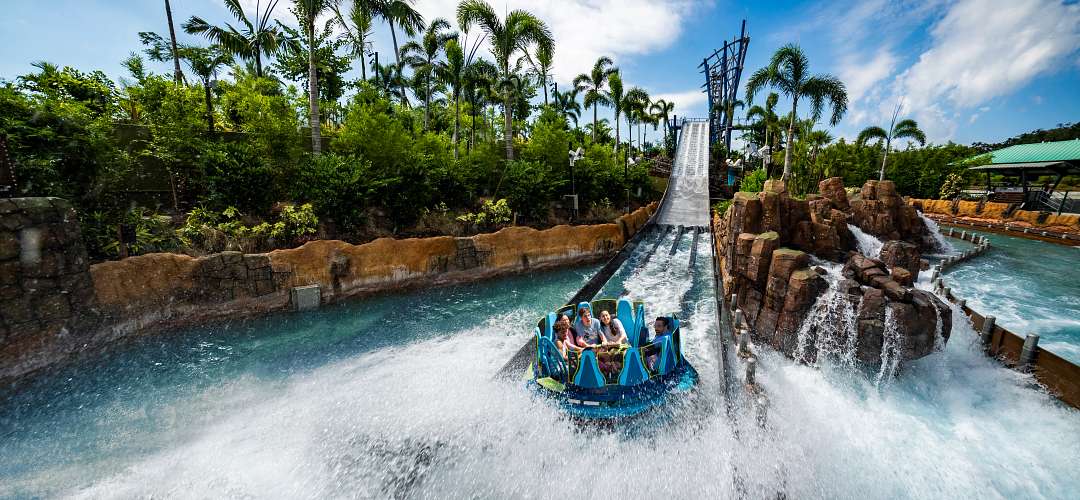 We never rest on our laurels, either. In any given year, we gain fresh features and experiences. Our cultural offerings expand. Our restaurants and chefs garner more acclaim. In short, and as recent additions at our theme parks and new and upgraded attractions throughout the destination can attest, Orlando is perpetually evolving.
But some things remain the same. Our natural attractions — including springs, lakes, parks and trails — remain as lovely and pristine as ever. And our primary goal never wavers: To create unforgettable vacation memories for singles, couples and families that will last a lifetime.
Special LGBTQ Events in Orlando
Orlando's diverse events calendar is jam-packed throughout the year, including several events of special interest to the LGBTQ community.
May 30 – Jun. 3, 2019
Girls in Wonderland
This counterpart to Gay Days caters to female members of the LGBTQ community. It features parties, special performances and celebrity appearances.
May 31 – Jun. 3, 2019
One Magical Weekend
Always the first weekend in June, One Magical Weekend is one of the largest LGBTQ pride and music festivals in the world. Taking place at Walt Disney World, it boasts a roster of international DJ talent and around-the-clock, world-class events.
Aug. 3, 2019
Pride in Business Awards Gala
The Orlando LGBT Chamber's annual Pride Gala honors the incredible achievements and stellar business professionals in our LGBTQ and ally community. The awards show offers incredible entertainment, an inspiring keynote speaker and amazing honorees who do so much for our community.
Aug. 13 – 19, 2019
Gay Days Orlando
What started as a one-day get-together on the first Saturday in June has blossomed over the past three decades into one of the world's largest LGBTQ pride celebrations. It's complemented by a wide range of ancillary events.
Oct. 12, 2019
Come Out With Pride Orlando
This nonprofit celebration fosters a sense of community, encourages LGBTQ citizens to live openly and with pride, and educates the general public. Everyone from Central Florida and beyond is invited to come together and make an impact on Orlando's LGBTQ community.
Nightlife & Entertainment
Orlando is famous among LGBTQ travelers, and live entertainment at venues in and close to downtown has much to do with it. For instance, legendary shows and pool parties have made Parliament House a must-visit for four decades. And at SAVOY Orlando, the Men of SAVOY dancers perform every night of the week.
We're also home to cabaret and saucy burlesque at nightspots such as The Venue in Ivanhoe Village and downtown's Stardust Lounge. Finally, don't forget to dance your heart out at Southern Nights in Orlando's trendy Milk District, just 10 minutes from downtown.
Weddings
Orlando welcomed gay marriage with a mass wedding on the steps of City Hall in 2015 — and we would love to host yours next. Where to tie the knot is entirely up to you, and we have many one-of-a-kind venues!
Walt Disney World® Resort, Universal Orlando Resort® and SeaWorld® Orlando have unique wedding options, as do their on-site and nearby hotels. The larger tourism district also has numerous resorts and venues from which to choose. In the downtown area, the Orange County Regional History Museum and Harry P. Leu Gardens are both exceptional. And in Winter Park, located 10 minutes north of downtown, the Albin Polasek Museum & Sculpture Gardens has long been a local favorite.
No matter the location, you'll be wedded in one of the world's most magical destinations when you choose Orlando. Congratulations!
One Pulse Memorial
Located on the site of the Pulse nightclub, this contemplative structure serenely surrounds and pays homage to the original building as it still stands, and to the outpour of love from around the world that followed the tragedy that occurred there. The downtown Orlando site has become a gathering place for visitors who wish to pay respect to the victims and survivors of the largest hate crime against a targeted group in the United States, convey support for the LGBTQ+ community and their allies, and reflect on the unity that was shown on a global scale in response. The new, temporary structure opened in 2018, and will eventually be replaced with a permanent memorial. Admission is complimentary. Parking and visitor information is available at OnePulseFoundation.org.