Top 10 Reasons to Visit Disney Springs in Orlando
See the top reasons you'll want to visit Disney Springs the next time you're in Orlando, including celebrity chefs, amphicars, balloon rides and more.
Big, bold and beautiful, Disney Springs in Orlando (formerly Downtown Disney) gets more magical with each passing year. Speaking of which, all-new restaurants, retailers and other features continually provide fresh reasons to visit Walt Disney World Resort's walkable dining, shopping and entertainment district — including these 10 standouts!
1. Celebrity Chefs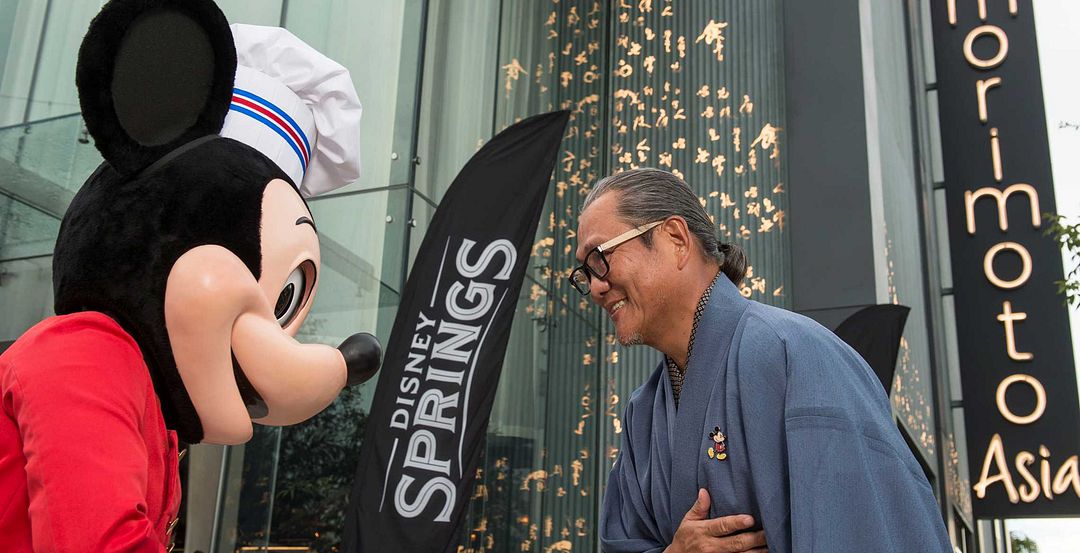 Mickey Mouse Salutes Iron Chef Masaharu Morimoto at Disney Springs (Courtesy Patina Restaurant Group)
Don't spoil your appetite before heading to Disney Springs, as it boasts the highest concentration of celebrity chefs in Orlando. Currently, the lineup includes Art Smith's Homecomin' Florida Kitchen, Masaharu Morimoto's Morimoto Asia, Wolfgang Puck's Wolfgang Puck Express, Rick Bayless' Frontera Cocina and Tony Mantuano's Terralina Crafted Italian, plus menu items created by Guy Fieri at Planet Hollywood Observatory. Later in 2018, José Andrés' Jaleo will debut at Disney Springs, as will Puck's all-new Wolfgang Puck Bar & Grill.
Learn more: Orlando Celebrity Chefs
2. Amphicar Tours
Fewer than 400 amphicars — a cross between a car and a boat — exist today, but you can see what it's like to ride in one via Amphicar Tours at The Boathouse! After boarding, your captain will drive you onto Lake Buena Vista for a 25-minute tour of Disney Springs' memorable landmarks. The stylish seafood restaurant's Venezia Tours are another option, offering refined adventures aboard a gorgeous, 40-foot Italian water taxi.
3. The Edison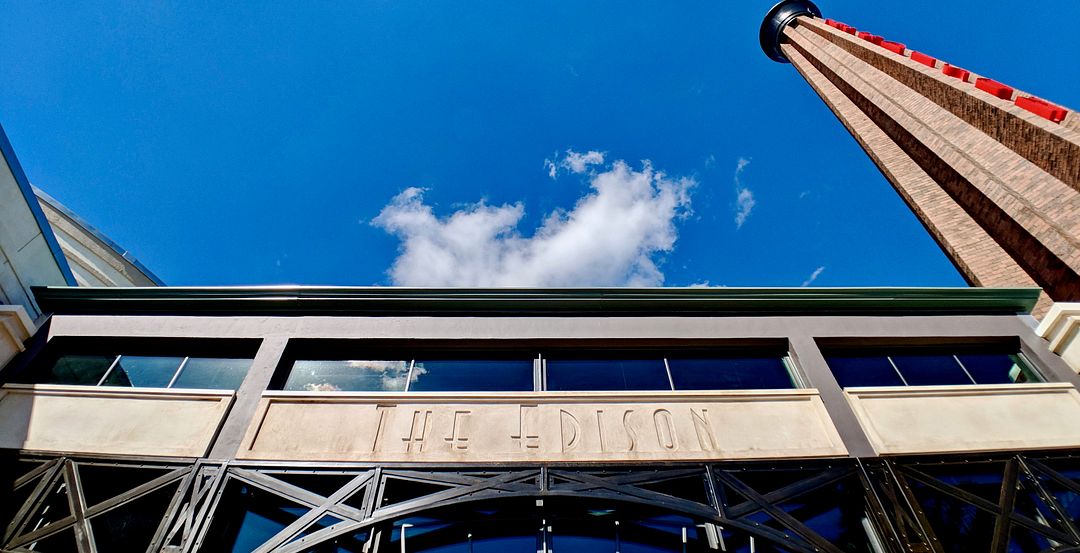 The Edison at Disney Springs in Orlando
One of the newest reasons to visit Disney Springs is also one of the most electrifying — literally! The reason being, The Edison is a restaurant and lounge that looks as if it's inside a converted power plant. In addition to upscale American comfort food and handcrafted cocktails, the venue features eclectic entertainment that includes burlesque on weekend evenings, when a dress code is in effect and entry is restricted to guests 21 and up.
Learn more: The Edison at Disney Springs
The Edison complex is also home to three other new eateries: the casually elegant Maria & Enzo's Ristorante, counter-service pizzeria and sandwich shop Pizza Ponte, and Enzo's Hideaway, a speakeasy with an underground tunnel entrance.
4. Star Wars and Marvel Merchandise
You don't have to travel to a galaxy far, far away to get the latest merchandise based on the Star Wars saga. Just head to Disney Springs' Star Wars Galactic Outpost and Star Wars Trading Post, where you can stock up on apparel, accessories, art, toys and other products. Similarly, you can find a wealth of collectibles based on Marvel Comics at Disney Springs' Super Hero Headquarters.
5. Helium Balloon Rides

Aerophile Balloon at Disney Springs in Orlando
Besides adventures on land and sea courtesy of the aforementioned amphicars, you can enjoy unforgettable experiences in the air at Disney Springs' Aerophile. Book passage on the Aéro30 helium balloon to take in stunning views as far as 10 miles away — including Disney's theme parks — during the 8- to 10-minute ride.
Learn more: Orlando Balloon Rides
6. World-Class Shopping
With more than 100 retailers to choose from, Disney Springs has a wide range of shopping for every preference and budget, including Disney-themed merchandise, unique boutiques and coveted brand names. Standouts include Chapel Hats, Coach, Erwin Pearl, Harley-Davidson, Lilly Pulitzer, Trophy Room, UNIQLO and many others.
Learn more: Orlando Shopping
7. Free Entertainment
In addition to regular entertainment at Raglan Road and other eateries, Disney Springs hosts free, live performances all week long, including many chances for you to become part of the action. Look for special events at Riverboat Square, Springs Overlook, Sunshine Highline and Waterview Park, among other areas.
8. Themed Dining
Considering Disney's expertise in bringing fantastical environments to life, it should come as no surprise to find that magic in play at several Disney Springs eateries. Restaurants and lounges you'll need to see to believe include Jock Lindsey's Hangar Bar (based on the Indiana Jones movies), Rainforest Cafe and T-REX, as well as the aforementioned Planet Hollywood Observatory, Enzo's Hideaway and The Edison.
9. House of Blues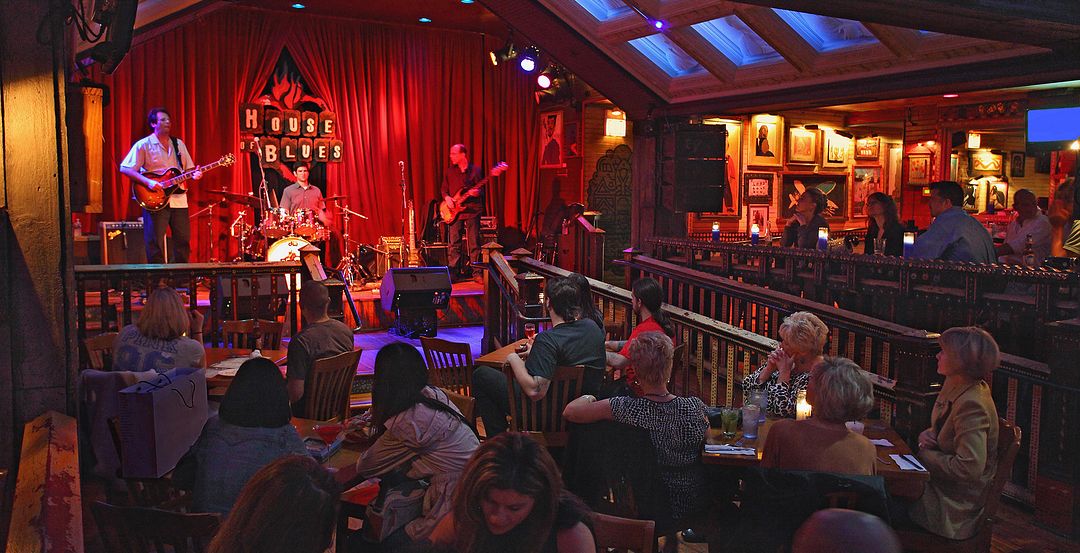 House of Blues at Disney Springs in Orlando
A veteran member of Disney Springs' landscape, House of Blues isn't just a great place to grab dinner and drinks while perusing musical memorabilia — it's also one of Orlando's best concert venues, with a never-ending lineup of national headliners and eclectic smaller acts. Plus, House of Blues' Sunday Gospel Brunch is famous for a reason.
10. Easy Access and Free Covered Parking
With so much to see, do and enjoy at Disney Springs, not to mention free entry, you might be thinking there's a catch. But thanks to complimentary covered parking in two state-of-the-art garages, as well as a dedicated exit on Orlando's main thoroughfare, I-4, there really isn't! Just be sure to remember where you parked before setting off to explore everything Disney Springs has in store for you.
Written by Nate Shelton, consumer content writer at Visit Orlando. He's an experienced journalist and native Floridian who enjoys the entertainment, cultural and culinary aspects of Orlando and Orange County.
Stay Connected to Orlando!
Never miss a second of what happens in Orlando! Follow us on Facebook, Twitter and Instagram for the latest offers, exclusive tips and live feeds from our newest attractions and fun events, and subscribe to our eNewsletter for more information from Orlando: Theme Park Capital of the World®.