Top 10 Things to Do on I-Drive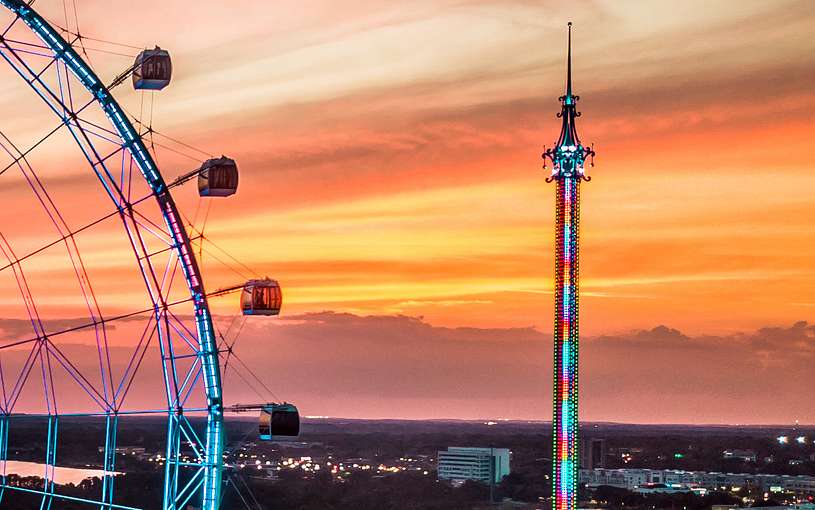 At ICON Orlando 360 Entertainment Complex, immerse yourself in sights, sounds and great food including:
ICON Orlando
Soar high above the city on a 400-foot observation wheel and take in spectacular views of the Orlando skyline, lakes, scenic landscapes, theme parks and more. You might even catch a glimpse of the Space Coast on a clear day. Ride in style in a fully-enclosed, air-conditioned capsule and for something special, add a champagne experience.
Madame Tussauds
Pose with your favorite stars at Madame Tussauds. For over 200 years, Madame Tussauds has been taking precise measurements and sculpting wax figures of historic figures and celebrities. Rub elbows with legendary Shaquille O'Neal, Elvis, Beyoncé, Audrey Hepburn, Abraham Lincoln, Martin Luther King, Jr., and Brazilian soccer great, Neymar Jr.! It's the ultimate selfie spot. Your Instagram followers will be glad you stopped by.
Sugar Factory
A sweet tooth haven known for its goblet drinks, all made with candy toppings, is not to be missed. Walls of assorted candy bins and displays feature bulk and packaged sugary confections of every conceivable flavor and texture. There's even a café so be sure to try the gourmet burgers or chicken and waffles. The infamous King Kong Sundae is perfect for parties, towering with 16 scoops of ice cream, sprinkled with delicious toppings and decorated with twinkly sparklers.
SEA LIFE Orlando Aquarium
Explore the deep blue sea in an incredible 360-degree ocean tunnel. Stop and marvel at swirling, luminescent jellyfish, and sea turtles gliding past you as schools of Clownfish whiz by. As you continue through the tunnel, a giant octopus just might make an unexpected appearance as well as many other delightful sea creatures. Many of the marine life featured have either been rescued, or are a part of a conservation project.
Pointe Orlando
Pop into Pointe Orlando and experience a one-stop location showcasing diverse dining, shopping and entertainment. For upscale dining, head to The Capital Grille or the The Oceanaire Seafood Room. Casual dining options include the popular Tommy Bahama Store & Restaurant, or the Taverna Opa for Mediterranean cuisine. Shopping is made fun with over 40 shops. Brands like Tommy Hiliger, Hollister and more are aptly mixed in with specialty shops such as Moondance Trading Company, a purveyor of unique, multi-cultural goods. Live it up at B.B. King's Blues Club, catch a movie, or laugh it out at the Improv Comedy Show.
Wonder Works
Near Pointe Orlando, education and entertainment merge in countless ways at this 35,000-square foot building that dropped to the ground where a scientific experiment went awry. Immersive and captivating, guests will be drawn into over 100 interactive exhibits and fun challenges. Brave natural disasters, test your skills on a Glow-in-the-Dark Ropes course and witness space discovery firsthand at this unique attraction.
Orlando International Premium Outlets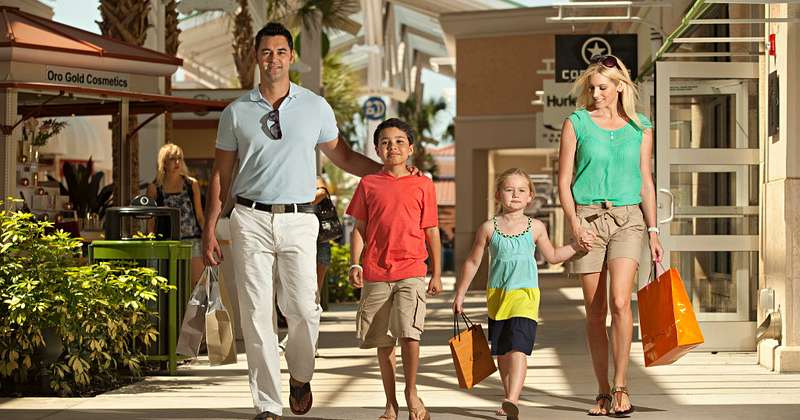 As Florida's largest outlet shopping destination, you'll discover more than 180 outlet designer and name brand stores. Set in a spacious, Mediterranean-style shopping complex, shoppers will be delighted with the selection of quality goods at exceptional prices. An ever-growing variety of stores make outlet shopping a worthy experience with brands like Lacoste, Kate Spade New York, DKNY, Cole Haan, Nike, Under Armour and much more. Valet parking is offered, and there's a separate building which houses a food court, where shoppers can grab a bite to eat.
Ripley's Believe It or Not
You know you're in for a special treat when you arrive. Yes, the Odditorium dramatically appears to be submerging into a sink hole! Guests can curiously explore 10,000-square feet of amusing and intriguing oddities featured in 16-themed galleries. Encounter shrunken heads, an authentic vampire killing kit, the famous Fiji Mermaid and more. It's a self-guided experience that promises quirky fun for the whole family.
Café Tu Tu Tango
Artsy and theatrical, this innovative restaurant has been impressing guests for over 20 years with an eclectic menu inspired by a tapas-style theme. Colorful plates, atmosphere and friendly wait staff make this an experience in and of itself. Still, the menu boasts unique items like jalapeno mac and cheese, baja fish tacos, pork tostaditas and the best white wine sangria around.
I-Drive NASCAR
Jump into the driver's seat at this indoor cart racing center with the true feel of a race track. The SODIKART RX is the latest generation of electric karts, giving racers the most engaging race experience possible. The circuit course offers optimal features such as unique turns, 3 hairpins, one chicane and more, that will put drivers' skills and precision to the test.