Top 10 Must-Do's at Disney Springs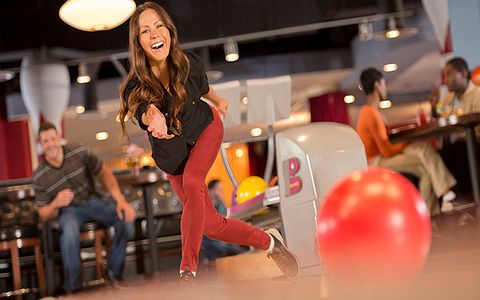 If you love to bowl and you're coming to Orlando, we have three words for you: Splitsville Luxury Lanes. The two-story, 50,000 square-foot bowling and dining complex is perfect for people of all ages, and a great addition to your attractions and entertainment must-do list. Splitsville's atmosphere is a rare combination of upscale and nostalgic feel, which is the perfect place for your party with 30 lanes, billiards, live entertainment and indoor/outdoor seating. Splitsville also offers an eclectic menu that features everything from fresh-rolled sushi and steak chimichurri to traditional favorites like mouth-watering cheeseburgers and hand-tossed pizzas.
Frontera Cocina Mexicana
Six-time James Beard Award winner, Chef Rick Bayless, brings his honest approach to Mexican cuisine to life. An open kitchen and décor filled with rich warm colors, diners will love the unexpected––no typical burritos and nachos here. Try the red chile enchilada with guajillo sauce, and chipotle seasoned chicken for a true taste of colonial Mexico. Utilizing flavorful ingredients like roasted poblanos, caramelized onions, and cotija cheese, the menu definitively reflects the Mexican kitchen that made his PBS series, A Taste of Mexico, such a hit. Save room for dessert: the coconut-lime cuatro leches is a heavenly concoction topped with fresh blackberries and lime zest.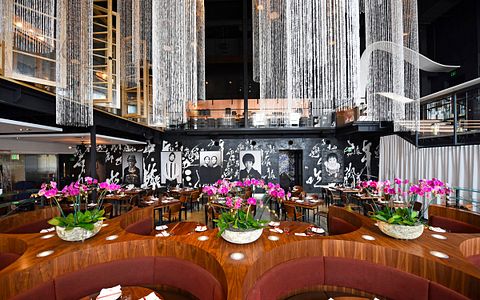 A sleek, modern design with oversized chandeliers serves as the backdrop for a Pan-Asian dining experience that's as innovative as the atmosphere. The menu is a melting pot of influences from various countries: Japan, China, Korea, and Vietnam. Some of Chef Morimoto's dishes are even western-inspired with a creative Asian twist. Standouts include the braised black cod with a signature sweet, ginger soy glaze and the Menchi katsu sliders. Of course, sushi lovers won't be able to resist the inventive sushi available at the sushi bar, or at their own table. Traditionalists will want to try the signature Peking Duck, Kung Pao chicken, or the Mongolian filet mignon.
Coca-Cola Store
Brick, glass and concrete design elements combine to recreate the feel of a 1920s Coca-Cola bottling plant. An impressive 30-foot wide glass chandelier made from repurposed Coke bottles greets guests upon entry. All three floors showcase the iconic Coke brand with the first two floors giving patrons an eclectic and wide range of Coke products: t-shirts, mugs, Coke fountain glasses, memorabilia, ornaments, and even houseware items. You never know when you'll catch sight of the Coca-Cola Polar bear ready for autographs, photo opportunities, and hugs. Next, take the wrap-around glass ramps to the roof-top bar area, where you'll encounter over 100 soda varieties. To take advantage of the selection, opt for the Freestyle Experience, where guests can purchase a chip-enabled cup, allowing them up to five refills within an hour of purchase. There's also the Float Tray, featuring mini-ice cream floats each made from a unique Coca-Cola product.
Home to world-renowned musical acts and artists; the House of Blues has become both a cultural and musical hub, where Southern cuisine and live music merge. Both regional and national acts have performed concerts in this famous venue to the delight of locals and visitors. Whether you're planning a visit to see your favorite band, or popping in for a bite at the Blues Kitchen, the House of Blues retains its funky and hip vibe. Sundays are for The World Famous Gospel Brunch, which is always a popular draw. Enjoy soulful traditional and modern gospel music while partaking in a tempting buffet; featuring everything from peel-and-eat shrimp, to biscuits and gravy, to banana bread pudding with crème anglaise. Did we mention it's an all-you-can-eat?
The Boathouse
Classic antique boats docked outside make it easy to spot this sophisticated, waterfront restaurant. More antique boat displays, and a wonderful nautical design scheme sustain the boathouse ambiance once you're inside. Centered around sustainable seafood, it also offers substantially large steaks and chops for the carnivorous at heart. The bounty from the sea includes fresh oysters, yellow fin poke tuna, Atlantic swordfish, and Maine lobster. You can't go wrong with the Boathouse pimento cheese appetizer, or the Cedar Key middleneck clams in garlic sauce for starters. Top it all off with a memorable dessert––the s'mores baked Alaska for four is just as much a dessert as it is an experience. If you've got the time, a boat ride on the 40-foot mahogany water taxi is a fantastic way to cap off a night.
Amorette's Patisserie
The allure of a sophisticated pastry shop with lovely baked creations, and pastel-themed décor is hard to deny. Crêpes appeal to both your sweet and savory taste buds; choose from the banana and hazelnut crêpe, or a French-inspired ham and cheese. Cheese cake lovers will find the 49th and Broadway to be a divine creation, complete with lemon curd, blueberries, and Chantilly cream. Macarons and gourmet cookies which also grace the menu, are almost too picture perfect to consume. Of course, there's also an assortment of champagne, sparkling wine, as well as hot chocolate, espresso drinks, and a variety of specialty cocktails to accompany your dessert choices.
Food Trucks
Step outside of the restaurant box for a trio of food trucks conveniently located at Exposition Park. It's easy to become smitten by the novelty and ease of walk-up dining. Spring's Street Tacos dispenses five unique tacos, as well as a creative combo platter. Chips with fresh salsa and house-made guacamole are added extras. World Showcase of Flavors offers distinctive sandwiches inspired by the Epcot International Food & Wine Festival. Finally, there's Fantasy Fare, which treats guests to the most beloved food items found throughout the Disney parks. Dine alfresco, and catch musical performances nearby.
Goofy's Candy Company
Need a sugar fix? Step inside this one-stop shop of candy and confectionery goodness. Behold just about every sweet treat you can imagine: bulk candy in every flavor and size, cookies, fudge, caramel apples, taffy, and cotton candy. Brightly colored, frozen slushy drinks make it easy to cool off with yummy flavors like Pucker Purple, or Rootin' Tootin' Red. Kids will be delighted to discover the treat making station, where they can create their own mini-treat. Caramel apples, pretzel rods, marshmallows, and Mickey mouse-shaped crispy rice treats are waiting to be topped with a crazy assortment of delicious toppings. There's even a party room for special events ready to make any occasion a little sweeter.
Basin
Pamper yourself with a treasure trove of all-natural bath, skin, and haircare products. Basin is the creative purveyor of all things bath with freshly sliced soaps, bath salts spiked with essential oils, natural body butters, and fizzy, multi-scented bath bombs. A clean, crisp aesthetic with plenty of space to mill about makes this a great place to shop. You can even create custom products. Whether you're splurging on bath care products for yourself, or gift shopping, you'll adore the hands-on approach and ability to test sample products. Just like a great spa experience, you may never want it to end.