Day Trips From Orlando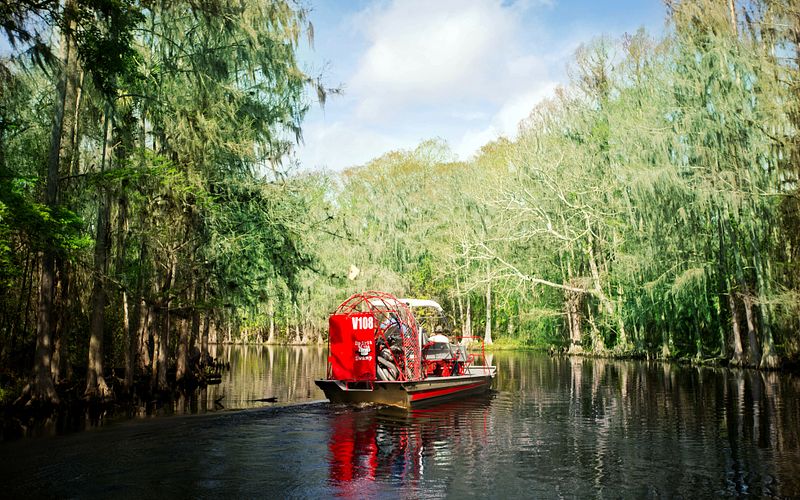 Spirit of the Swamp Airboat Rides
Orlando offers plenty of wondrous, unforgettable experiences to keep you busy during your visit, but we'd be remiss if we didn't point out that incredible adventures can also be enjoyed throughout the state of Florida — including many that are a two-hour drive or less from Orlando.
From one-of-a-kind Florida attractions and famous places, to nearby cities and towns with unique dining, shopping, outdoor adventures and culture, here's your guide to fun day trips when visiting Orlando. Happy travels!
Unique Florida Attractions Close to Orlando
Bok Tower Gardens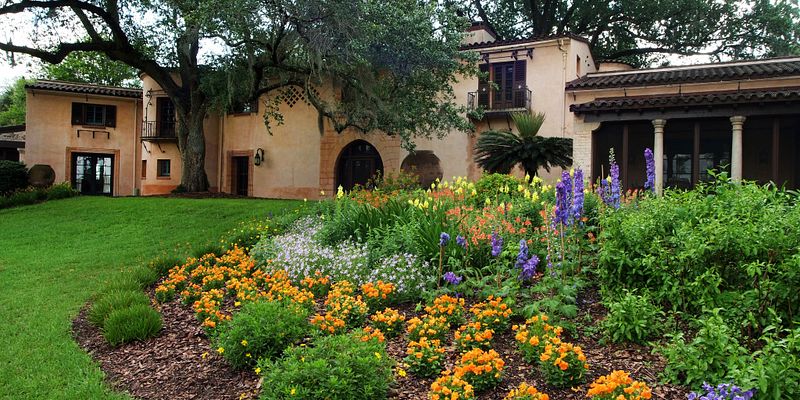 One of Florida's oldest attractions and historical places, Bok Tower Gardens is about an hour south of Walt Disney World® Resort and 20 minutes southeast of LEGOLAND® Florida Resort. Dedicated in 1929, the National Historic Landmark is best known for its famous, 205-foot, art deco and neo-Gothic Singing Tower, but it also includes nearly 50 acres of elegant gardens that surround Pinewood Estate, a 20-room, Mediterranean-style home built in the 1930s.
Learn More: Orlando Arts, Culture & History
Open 365 days a year, Bok Tower Gardens is a must-visit for nature-lovers, with opportunities for hiking, bird-watching, photography, picnicking and even geocaching. Similarly, the Singing Tower and Pinewood Estate will appeal to history buffs and anyone who appreciates exceptional architecture.
True to its name, the Singing Tower rings out every half hour via its 60-bell carillon, and daily concerts are held at 1 and 3 p.m. Bok Tower Gardens also hosts numerous special events throughout the year.
Canaveral National Seashore
Part of the U.S. National Park Service, Canaveral National Seashore is one of the most gorgeous stretches of beachfront in the country. Starting in New Smyrna Beach, it runs 24 miles south to Titusville, just north of Cape Canaveral, all about an hour east of downtown Orlando.
Learn More: Orlando Sports, Recreation & Outdoors
In addition to protected beaches that are untouched by anything other than Mother Nature and frolicking visitors, Canaveral National Seashore is home to more than 1,000 plant species, 300-plus varieties of birds and, from April through October, loggerhead sea turtles. It also offers views of launches from Kennedy Space Center, which is easily visible from the seashore's southern portion, aka Playalinda Beach.
Citrus Tower
Long before Central Florida became known for theme parks and attractions, the citrus industry drove our economic engine — and in 1956, its leaders built the Citrus Tower in Clermont, about 30 minutes west of downtown Orlando, as a testament to their work.
Standing 226 feet tall, the Citrus Tower was designed to provide an unbeatable view of miles and miles of surrounding orange groves, which were largely replaced by suburban neighborhoods in the ensuing decades. Regardless, it's still a fun place to visit, with lots of retro appeal for anyone who's interested in Florida's past.
Disney's "Singing Runway"
Prior to the debut of Disney's Magic Kingdom®, a runway for small airplanes was constructed on Walt Disney World property. The runway was only used for a short time before it was converted into space for staff parking and storage, but it had an amazing secret: a set of grooves that played "When You Wish Upon a Star" when aircraft or vehicles drove over it at approximately 45 mph.
Learn More: Discount Tickets to Walt Disney World Resort
Although the "Singing Runway" still exists, it's not publicized, and its current usage makes it impossible for a car to get up to the required speed. But it is visible to sharp-eyed passengers on Disney's monorail, as well as vehicles headed to Disney's Transportation and Ticket Center — even if it won't play its signature song as you go by.
Ellie Schiller Homosassa Springs Wildlife State Park
Drawing tourists since the early 1900s, Ellie Schiller Homosassa Springs State Park is located about 90 minutes west of downtown Orlando, and an hour north of Tampa. It has two main attractions: the namesake springs and manatees, which can be found in the area from mid-November through late March.
The park offers special manatee programs, too, and encounters with other forms of native Florida wildlife are available. It has much more for outdoorspeople to enjoy, including hiking, geocaching, boat tours, birding and picnicking.
Fountain of Youth
Yes, the legendary Fountain of Youth is real, and you can find it in Florida — or at least that's what Ponce de Leon thought when he landed in the area that became St. Augustine, about two hours north of downtown Orlando.
Today, you can visit Ponce de Leon's Fountain of Youth Archaeological Park, a beautiful, 15-acre property that's promoted as the Spanish explorer's landing site. Whether it actually contains de Leon's fountain is open to debate, but the park's gorgeous scenery and archaeological excavations make it a worthwhile attraction regardless.
Kennedy Space Center Visitor Complex
For more than a half-century, space exploration has been a thrilling part of the American experience, and you can learn about its history and see where we're going next at Kennedy Space Center Visitor Complex (KSCVC) in Titusville, about 50 minutes east of downtown Orlando.
Part of an active spaceport with regular launches, KSCVC features iconic, actual spacecraft, such as Space Shuttle Atlantis, a Saturn V rocket and an Apollo capsule. Displays are built around distinct Mission Zones with lots of hands-on interaction, including Heroes & Legends, Race to the Moon and Shuttle: A Ship Like No Other.
KSCVC also provides a look at the future of American space travel as NASA works to take us to Mars and beyond. You can even meet actual spacefarers with the center's "Lunch With an Astronaut" program and, on select days, view live rocket launches!
Manatees of Crystal River
Located on Florida's west coast, about 90 minutes west of downtown Orlando, Crystal River is a small city with about 3,000 residents. But each winter, the population grows considerably when hundreds of mystical, majestic manatees flock from the Gulf of Mexico to Kings Bay, which is fed by a cluster of approximately 50 warm springs.
Even during warmer months, more than 100 manatees live in the area, making Crystal River an unbeatable place to see them in their natural environment. What's more, it's the only spot in the U.S. where you can legally swim with the gentle giants!
One of the best ways to experience the latter is via Crystal River Watersports, which offers daily "Swimming With Manatees" tours year round. (However, winter is the best time to visit due to the annual population explosion.) They also have an eco-tour for birders, scallop snorkeling from July through September, and fresh-water SCUBA training and tours.
Monument of States
Shortly after the attack on Pearl Harbor in 1941, a retired doctor in Kissimmee named Charles W. Bressler-Pettis was inspired to create a one-of-a-kind monument to elicit pride and solidarity in his fellow Americans. As he was also involved with promoting local tourism, he wanted to build something that would draw crowds, too — and hence, the Monument of States was born.
Located about 25 minutes southeast of Walt Disney World, and listed on the National Register of Historic Places, the Monument of States consists of approximately 1,500 stones from around the world, with one outwardly-facing stone for each of the 48 U.S. states that existed at the time of its construction. Assuming you're not from Alaska or Hawaii, snap a photo of your state's tribute the next time you're in the area!
Ocala National Forest
Covering more than 600 square miles, Ocala National Forest is the southernmost forest in the continental U.S. and the second-largest nationally protected forest in the country. It also boasts 600-plus bodies of water, including more than a dozen lakes, all just 90 minutes from downtown Orlando.
For many visitors, Alexander Springs, Juniper Springs, Salt Springs and Silver Glen Springs are Ocala National Forest's main draws, thanks to crystal-clear water that's consistently 72 degrees. Available activities include swimming and fishing, but there's lots of fun to be had on land, too, with camping, hiking, picnicking, birding, and even horseback riding and four-wheeling as options.
Rock Springs Run State Preserve
Despite the "Springs" in its name, Rock Springs Run State Preserve does not provide opportunities for swimming. However, more than 17 miles of trails make for great bicycling, hiking, geocaching and horseback riding through pristine pine scrub, flatwood, swamps and shoreline, all about 50 minutes northwest of downtown Orlando.
Didn't think to bring a horse with you to Orlando? No problem — you can rent one while you're there, and canoe and kayak rentals are available, too. You can also take advantage of equestrian camp sites, as well as primitive camp sites on Rock Springs Run that are only accessible by canoe, and hunting is permitted on select weekends from September through January.
Spook Hill
Ever put your car in neutral, only to have it mysteriously roll backwards … and uphill? You can at Spook Hill in Lake Wales. Or, maybe you'll just think you're experiencing it courtesy of one of the world's most perplexing optical illusions.
Whatever the truth is, you'll find Spook Hill about an hour south of Walt Disney World and 20 minutes southeast of LEGOLAND Florida, complete with a legend involving a Native American warrior and a massive alligator. Just keep an eye out for ghosts while you're there!
Wekiwa Springs State Park & Wekiva Island
First thing's first: Wekiwa and Wekiva are pronounced the same, with the latter spelled the way they sound. Approximately 5 minutes apart, Wekiwa Springs State Park and Wekiva Island are both about 30 minutes north of downtown Orlando and provide access to the Wekiva River — but outside of that, they're very different attractions.
Located at the headwaters of the Wekiva, the 7,000-acre Wekiwa Springs State Park offers a full slate of outdoor activities, including camping, hiking, horseback riding, canoeing, kayaking and swimming. It also has a playground area for kids.
Wekiva Island, on the other hand, is closer to a full-featured day resort than a nature park. Whether you want to play on the water, get in a few games of volleyball or cornhole, or just unwind with great food and tropical drinks, it has you covered!
Unique Florida Cities Close to Orlando
Winter Park
The city of Winter Park is one of Florida's most exquisite communities. On its tree-lined, cobblestoned streets, you can experience some of the area's best dining and culture, not to mention incomparable shopping and gorgeous nature — and it's all just 20 minutes north of downtown Orlando.
Learn More: The City of Winter Park
Bring your appetite to Winter Park, as some of Central Florida's top chefs have eateries there, including James and Julie Petrakis of The Ravenous Pig and Brandon McGlamery of Luma on Park and Prato. You'll also want to free up some spending money before hitting national retailers such as Lilly Pulitzer and J. McLaughlin, as well as homegrown fashion houses like Tuni and John Craig. Want to stay in the middle of it all? Book a room at The Alfond Inn.
Winter Park also loves the arts, as evidenced by The Charles Hosmer Morse Museum of American Art, Cornell Fine Arts Museum and Albin Polasek Museum & Sculpture Garden, plus two annual art festivals. And the area is awash with natural beauty thanks to a chain of 12 lakes and 11 amenity-loaded public parks.
Winter Garden
Approximately 30 minutes east of downtown Orlando and 20 minutes north of Walt Disney World, the city of Winter Garden is one of Central Florida's hidden gems. The biggest draw here is Plant Street, which features fantastic restaurants, shopping and entertainment, all nestled inside historic, lovingly maintained buildings.
Learn More: The City of Winter Garden
Winter Garden's main drag is also home to Plant Street Market, a community nexus where you can buy handmade products and organic food from local vendors, including sushi, burgers, pizza and even vegan fare. The venue is anchored by Crooked Can Brewing Company, a craft brewery whose concoctions pair perfectly with the market's dining options.
The city connects to the West Orange Trail, a paved, 20.8-mile path that's perfect for outdoor fun. You'll find culture here, too, including live performances at the Garden Theatre, as well as the Winter Garden Heritage Museum and Central Florida Railroad Museum.
Celebration
Bohemian Hotel Celebration © Kessler Collection
Did you know that Walt Disney didn't intend for Epcot® to be a theme park? Instead, Disney called his concept EPCOT — an acronym for "Experimental Prototype Community of Tomorrow" — and envisioned it as a future-facing town benefitting from the same level of design and care that went into his company's parks.
The original plan never came to pass, but the town of Celebration, just 10 minutes from Walt Disney World and developed by The Walt Disney Company, picked up the torch when it broke ground in 1994. The master-planned community is a fascinating place to visit for Disneyphiles and anyone who appreciates beautiful nature, clever design, fine dining and shopping.
Celebration is centered around Lake Rianhard, a bucolic stretch of water with numerous places to relax shoreside. Adjacent to the lake, Celebration Town Center is home to retailers and restaurants, including Columbia Restaurant, and Bohemian Hotel Celebration is a great option if you want to extend your visit.
Kissimmee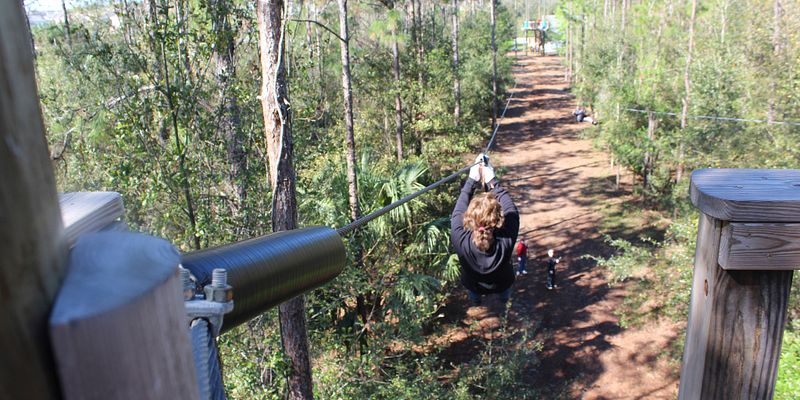 Orlando Tree Trek
You know that area southeast of Walt Disney World? It's not actually Orlando — it's Kissimmee, a Central Florida city worth visiting while you're in the area. Assuming you like attractions, dining and shopping, that is!
What's more, opportunities for outdoor fun abound in Kissimmee and surrounding Osceola County, including Boggy Creek Airboat Adventures, Forever Florida — Ziplines & Adventures in the Wild!, Kissimmee Swamp Tours, Orlando Tree Trek Adventure Park, Spirit of the Swamp Airboat Rides, and Wild Florida Airboats and Gator Park. You can also catch a Minor League Baseball game at Osceola County Stadium, courtesy of the Atlanta Braves-affiliated Florida Fire Frogs.
Other top attractions in the Kissimmee area include Congo River Golf and Machine Gun America, not to mention quick access to Disney's theme parks. And if you want to be entertained while you eat, reserve seats at Medieval Times Dinner & Tournament and Capone's Dinner & Show.
Daytona Beach & New Smyrna Beach
Racing fans, start your engines … and drive to Daytona Beach, about an hour east of downtown Orlando! That's where you'll find Daytona International Speedway — aka the World Center of Racing — and the Motorsports Hall of Fame of America, among other attractions that will have you feeling the need for speed.
More racing action can be found in New Smyrna Beach, about 20 minutes south of Daytona. And while we're on the topic of cars, these cities have some of the only spots in Florida where you can still drive a vehicle on the beach.
Of course, the beaches in Daytona and New Smyrna are also great for swimming, watersports and relaxation. While you're in the area, make time for Ponce Inlet, the Daytona Beach Boardwalk and the Canaveral National Seashore, which stretches 24 miles from New Smyrna to Titusville in the south.
St. Augustine
When Ponce de Leon came to Florida in search of the fabled Fountain of Youth, he believed he found it in the area that became St. Augustine — the oldest European-established city in the United States, about 2 hours northeast of downtown Orlando.
Founded in 1565, St. Augustine is accordingly packed with historical buildings and architecture, including the Colonial Quarter, the Castillo de San Marcos National Monument and an archaeological park built around de Leon's famous find. It's a great place for fans of all things nautical, too, with many attractions, shops and restaurants based on seafaring pursuits. (Including pirates!)
Speaking of dining, St. Augustine has experienced a culinary renaissance in recent years, making it a fantastic destination for foodies. The city also boasts superb nightlife, up to and including the top-rated St. Augustine Distillery, with ample opportunities to enjoy live music.
Tampa & Clearwater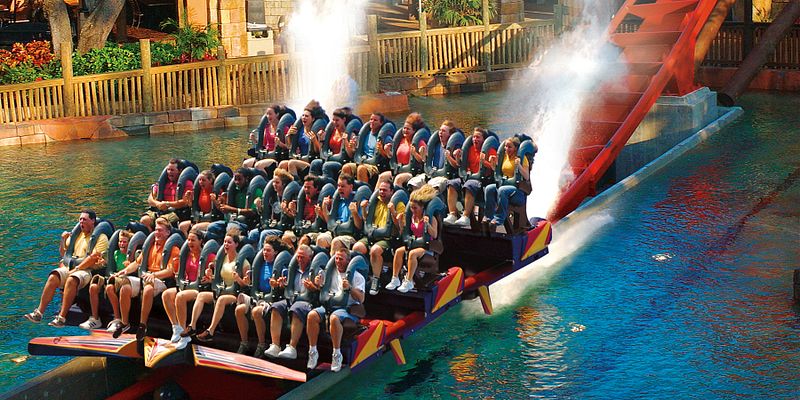 Busch Gardens Tampa Bay
OK, we'll admit it: Orlando isn't the only Florida city with theme parks. (But we do have the best theme parks!) About 90 minutes from downtown Orlando on Florida's west coast, Tampa has Busch Gardens Tampa Bay and its sister water park, Adventure Island, both of which are a blast in their own right.
Learn More: Discount Tickets to Busch Gardens Tampa Bay
The Tampa Bay area, which includes Clearwater, is also a sportsman's paradise, particularly if you're the type who likes to get out on the water. And Clearwater Beach — one of Florida's best — offers 3 miles of pristine white sand just 30 minutes west of Tampa.
Tampa also provides opportunities to catch professional sports with the NFL's Tampa Bay Buccaneers at Raymond James Stadium, MLB's Tampa Bay Rays at Tropicana Field, and the NHL's Tampa Bay Lightning at Amalie Arena. And the Tampa/Clearwater area's dining and nightlife options are always worth exploring, with a high concentration of Latin fare, seafood, breweries and cigar bars.
Gainesville
If you love the outdoors, you'll want to visit Gainesville, which is about 2 hours northwest of downtown Orlando. Its waterways and surrounding forested areas are ideal for all manner of activities, including fishing, canoeing, birding, hiking, off-roading and more.
Gainesville also has noteworthy natural attractions, including Devil's Millhopper Geological State Park, Ichetucknee Springs State Park and San Felasco Hammock Preserve State Park. There's a lot to experience indoors, too, thanks to the Harn Museum of Art and the Florida Museum of Natural History, the latter of which includes an incredible butterfly rainforest.
Downtown Gainesville is a vibrant, funky place to visit, replete with restaurants, shops, parks and theaters, as well as the University of Florida campus. And the city's robust craft brewery scene is sure to tickle beer-lovers' taste buds.
All drive times calculated using 9 a.m. Saturday as a time of departure. Actual drive times might vary.