Volcano Bay
In their quest for a new island home, the fabled Waturi people searched high and low for the perfect island paradise — and they found it at Universal's Volcano Bay Water Park at Universal Orlando® Resort! Anchored by the towering, 200-foot-tall Krakatau™ volcano, it's a stunning testament to the Waturi philosophy: "Water Is Life and Life Is Joy."
This imaginative water park is equal parts vibrant and serene, and resort-like amenities and creative menu offerings only add to the South Pacific island appeal. Sip a specialty cocktail or sample Polynesian delights as you plunge into island life!
The park is split into four distinct areas, beginning with its namesake volcano. Here, you can engage in extreme thrills at Krakatau Aqua Coaster, Ko'okiri Body Plunge, Kala & Tai Nui Serpentine Body Slide, and even four-way mat racing at Punga Racers.
More excitement awaits in Rainforest Village, including Taniwha Tubes, Maku Puihi Round Raft Rides, TeAwa the Fearless River and Ohyah & Ohno Drop Slide. Or, take a relaxing dip in the Puka Uli Lagoon.
Tranquility also abounds at Wave Village thanks to Waturi Beach and The Reef. Then, drift away along the Kopiko Wai Winding River at River Village, which has fun for younger guests and their families at Tot Tiki Reef, Runamukka Reef and Honu ika Moana.
Universal's Volcano Bay further benefits from the innovative TapuTapu™ wearable technology. Upon entry, you'll receive a wristband that eliminates the need to wait in long lines at any of the water park's rides. Simply swipe your band against a totem and you'll be given a designated time to return. Plus, your wristband will reveal amazing surprises throughout the park!
Learn more about Universal's Volcano Bay with the resources below, and get ready for amazing aquatic adventures that can only be enjoyed in Orlando!
Learn More: Discount Tickets to Universal Orlando Resort
Park hours vary throughout the year. Learn more here.
Ticket Types
These starter tickets are designed for visiting either Universal Studios Florida™ or Islands of Adventure.
One park per day.
Visit both parks: Universal Studios Florida™ and Islands of Adventure in the same day.
Multi-Day Admission Tickets are also available.
Travel Tip – When you're planning your visit to The Wizarding World of Harry Potter™, please note that Diagon Alley™ is located in Universal Studios Florida and Hogsmeade™ is located in Islands of Adventure. Jumping onboard Hogswarts™ Express (magical train transport between the two Harry Potter™ lands) is only possible with a park-to-park ticket.
Universal Express Pass
If you'd like to bypass regular lines and receive Express Access to participating attractions at Universal Studios Florida and/or Islands of Adventure theme parks, you'll want to purchase a Universal Express Pass. Express Access is actually a separate line with a shorter wait time at each valid attraction. You can purchase these tickets at the front gate of either theme park.
---
The Volcano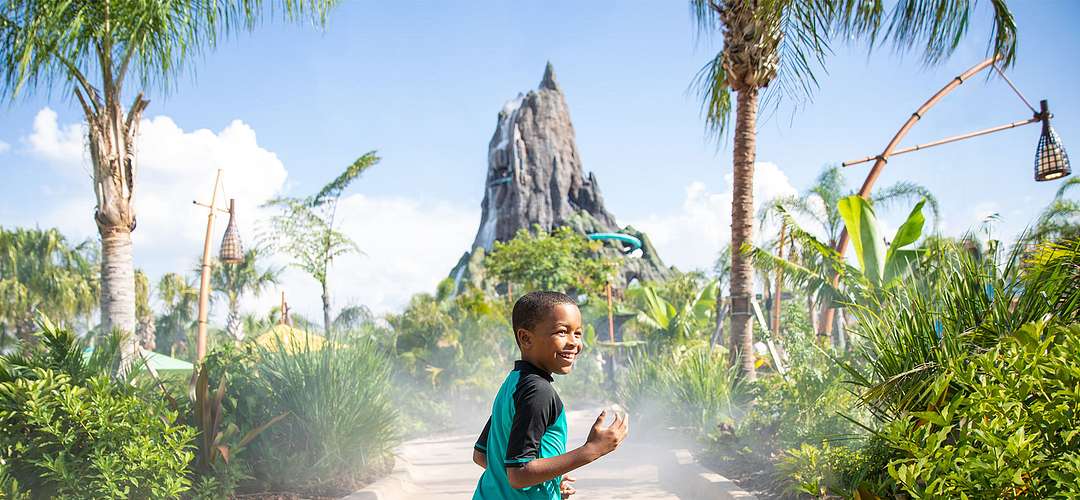 Towering over 200 feet, the mighty Krakatau™ volcano is the majestic centerpiece of Universal's Volcano Bay. Representing both fire and water, the volcano is the heart of this immersive park with cascading falls during the day that transform into lava special effects at night.
---
Krakatau™ Aqua Coaster
---
Four-person canoes launch you upward through tropical mists and into dark winding turns within the volcano. Experience coaster thrills as you surface, then plummet into a refreshing waterfall.
Height restrictions – Guests must be 42 inches (107 cm) and must be 49 inches (125 cm) to ride alone.
---
Ko' okiri Body Plunge
---
Partake in an ancient tradition of honoring the volcano god, Vol. You won't expect the 70° fall through a trap door along with 125-feet of thrills. It's a wild descent that ends with a special water-themed tribute.
Height restrictions – Guests must be 48 inches (122 cm) to ride.
Universal Express Pass
---
Kala & Tai Nui Serpentine Body Slide™
---
Make the jump! Embark where sea and sky unite on Kala and Tai Nui. Twin trap doors send two guests hurtling side-by-side down clear twisty tubes. Riders simultaneously swirl through a thrilling ride then plunge into ocean blue waters below.
Height restrictions – Guests must be 48 inches (122 cm) to ride.
Express Pass
---
Punga Racers
---
Voyage down manta ray mats as you glide down four lanes of splash-filled fun through underwater sea caves. Water-filled praise from Punga gets showered on the racer who crosses the finish line first!
Height restrictions – Guests must be 42 inches (107 cm) to ride and must be 49 inches (125 cm) to ride alone.
Express Pass
---
Wave Village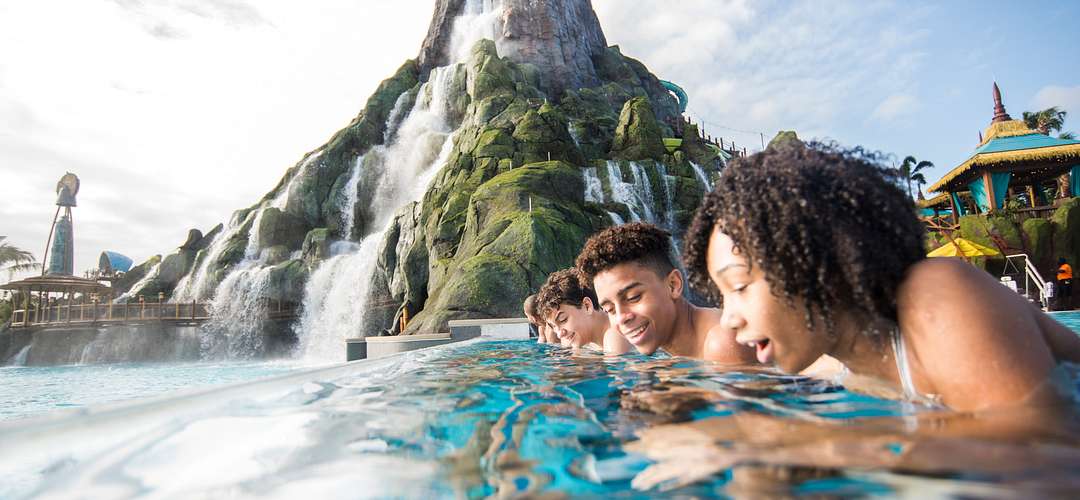 Escape to the serene tranquility of the soothing crystal waters of Waturi Beach nestled at the base of the immense volcano.
---
Waturi Beach
---
Float, splash, or swim on a steady flow of ocean waves in a tropical lagoon tucked at the foot of the legendary Krakatau™. It's an expansive, multi-directional wave pool complete with private cabanas for rent.
---
The Reef
---
Take the Ko' okiri Body Plunge from a tranquil pool into a clear plexi tube, which shoots you through the 5.5- foot deep pool 168 cm. A private waterfall awaits you after your adventure.
---
River Village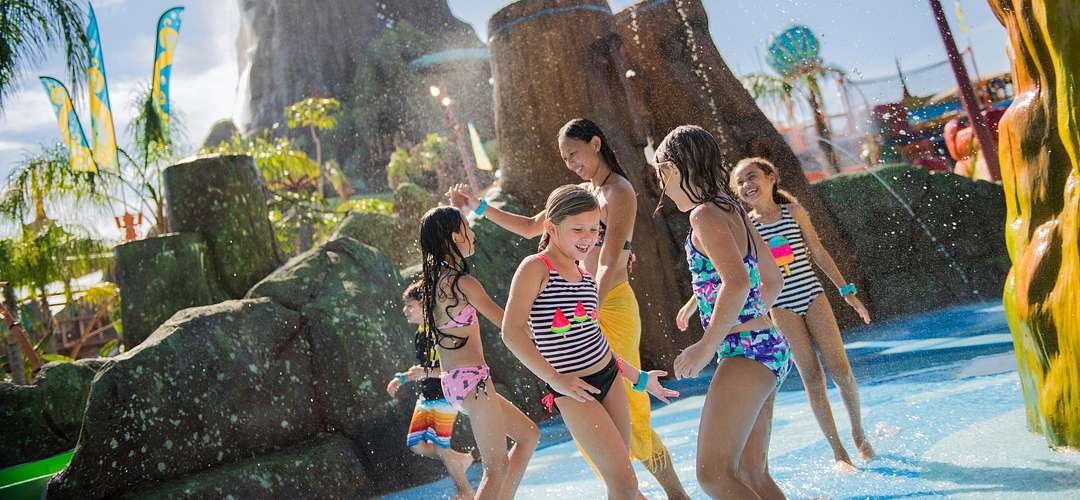 A scenic river flows through this South Pacific village. It's an ideal setting for everyone, especially the youngest in your crew.
---
Honu ika Moana™
---
Experience the legendary Waturi tradition of riding sea turtles through underwater currents on this multi-person raft ride like no other. Expect twists, turns, and swells. Honu swishes up two enormous walls while ika Moana sprays riders with shots of water springing forth from the middle of the raft. Both rides end with a plunge into shimmering pools of water.
Height restrictions – Guests must be 42 inches (107 cm) and 49 inches (125 cm) to ride alone.
---
Tot Tiki Reef™
---
Younger Waturis will adore playing on toddler-sized water slides as well as splashing about with lively tikis complete with spraying fountains. Little ones can make whimsical whales spray and sing with just the lifting or lowering of their hands. A mini-sized water volcano tops off the adorable play area.
Maximum height for this ride is 48 inches (122 cm).
---
Runamukka Reef™
---
Get playful amidst delightful bamboo sea creatures and swaying seaweed. Runamukka Reef was once an enchanted coral reef under the sea. Now it's a watery wonderland of bubbling geysers, water pistols, fun slides, and dump cups. Kids may never want to leave this reef paradise.
---
Kopiko Wai Winding River™
---
As you float down the Kopiko Wai Winding River, you'll stream past a lush tropical setting and even through the volcano, as wonderful surprises await you. Drift past lava rocks and gentle sprays of water mist, as you venture to Stargazer's Cavern where your TapuTapu™ lights up with a magical twist.
---
Rainforest Village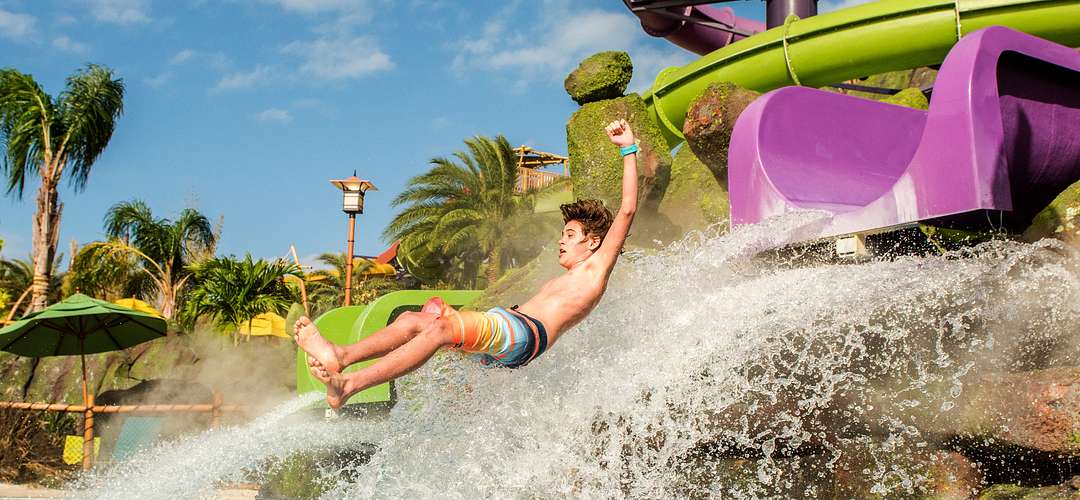 Enter Rainforest Village and discover the perfect blend of thrilling action and serene relaxation . Guests can embark on raft adventures, zooming drop slides, jet through splashing tubes, or opt for simply floating in a relaxation pool.
---
Taniwha Tubes™
---
The Waturi mimicked the twisting roots of the towering puka trees, creating specialized water slides known as Taniwha Tubes. Four twisting water slides add excitement and offer unexpected surprises; naughty tiki statues squirt jets of water when you least expect it.
Height restrictions – Guests must be 42 inches (107 cm) to ride and 49 inches (125 cm) to ride alone.
Express Pass
---
Maku Puihi Round Raft Rides™
---
Board a six-person raft that plummets riders into a deep, volcanic gorge. After a series of unsuspecting twists and turns in the dark, brace yourself for a release as rafts swirl into bowl-like formations.
Height restrictions – Guests must be 42 inches (107 cm) to ride and 49 inches (125 cm) to ride alone.
Express Pass
---
Puka Uli Lagoon
---
Take a dip into the refreshing water while chilling out with the sounds of bongo drums. Cool off with spraying water mists while floating or lounging on a raft in this crystal clear leisure pool.
---
TeAwa The Fearless River™
---
Hang tight to your inner tubes as you brave a high-speed whitewater ride with plenty of swirling rapids and crashing waves. Get ready for an epic raft adventure.
---
Ohyah & Ohno Drop Slide™
---
Slowly ascend up the side of a cliff, where you'll be greeted by swirling waters and more. Before you know it, you'll be zooming down epic slides and experiencing a special ride finale––a four-foot drop in a pool waiting to catch you below.
Height restrictions – Guests must be 48 inches (122 cm) to ride.
Universal Express Pass ride.
---
Dining
Volcano Bay features four restaurants: Bambu, The Feasting Frog, Koholoa Reef Restaurant & Social Club and Whakawaiwai Eats. Read more about the delectable bites they offer here.


---