LEGOLAND Florida Theme Park
Hours
10:00 a.m. – closing times vary
Great Time to Visit
January 6th - February 28th, May 1st - 25th
Peak Time Frames
June 20th - September 7th, December 20th - January 3rd, March 1st - April 30th
Any kid — or kid at heart — who has ever built anything with LEGO® bricks will be in for the time of their life at LEGOLAND® Florida Resort's theme park! From thrilling roller coasters and rides to creative play areas and phenomenal building zones, you're invited to spend the day building, laughing and playing the LEGO way.
After entering the park's first area — appropriately called The Beginning — you'll have more than 50 attractions to choose from, spread out over 12 distinct lands with numerous themed attractions. Ride The Grand Carousel in Fun Town, take on Merlin's Challenge in LEGO Kingdoms, brave Land of Adventure's Coastersaurus, saddle up for Mia's Riding Adventure in Heartlake City, and have sky-high fun at LEGO City's Flying School. Meanwhile, your youngest family members will love the pint-sized DUPLO® Valley, and kids of all ages can let their creativity soar at the interactive Imagination Zone.
The adventures get even more wild from here! At LEGO Technic, for instance, you'll find the park's newest ride, The Great LEGO Race — the first virtual reality-enhanced coaster designed just for kids — as well as AQUAZONE Wave Racers. Then, head to the Far East for LEGO World of Chima and LEGO NINJAGO World, where the star attractions are The Quest of CHI and LEGO NINJAGO The Ride, respectively.
When you're ready for a break from the action, take a leisurely stroll through MINILAND USA, where more than 32 million LEGO bricks come together for incredible recreations of famous cities… plus beloved scenes from Star Wars! And at Cypress Gardens, you can explore botanical gardens that have been wowing visitors for more than 75 years.
You can even have fun on — and in — the water, thanks to onsite, separate-ticketed LEGOLAND Water Park. Or, grab a seat at Pirates' Cove to be amazed by the Brickbeard's Bounty live water ski show.
LEGOLAND® Florida Resort is becoming even "awesomer" with the addition of Bricksburg where the immersive world of THE LEGO® MOVIE™ comes to life through new attractions, character experiences and more! Opening March 27th.
See below for more details on LEGOLAND's features, and get ready to build an unforgettable family adventure during your next visit to Orlando!
Learn more: Discount Tickets to LEGOLAND Florida Resort
Attractions and Ride Guide
---
The Beginning
---
LEGOLAND® welcomes you with a bright, happy area, which hosts the park's entry, ticket and pass sales, guest services, and more.
---
Fun Town
---
Spin around the Grand Carousel, build your own minifigure creations and watch a 4D movie.
The Grand Carousel
Select your favorite horse, then gallop round and round on this whimsical double-decker carousel.
---
Miniland USA
---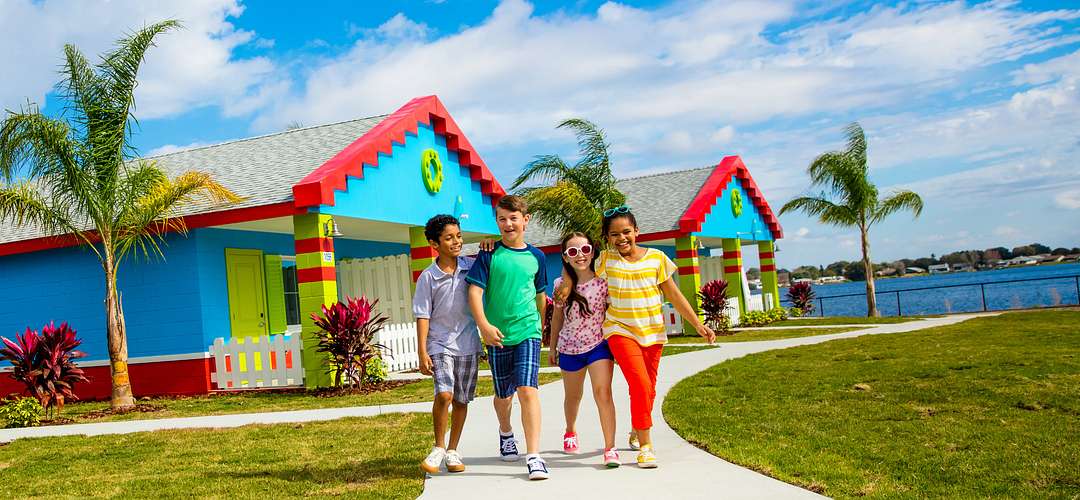 Don't miss MINILAND USA. It's one of the most memorable experiences at LEGOLAND®. Go sightseeing as you visit LEGO® replicas of California, Las Vegas, Washington D.C. and New York City. Over 32 million LEGO bricks were used to create these fantastic cities and even a galaxy far, far away.
California
Hit the west coast and tour the Golden State, where you'll marvel at intricate models of San Francisco's skyline––Pier 39, the Golden Gate Bridge, and more. In Los Angeles, guests can explore Grauman's Chinese Theatre, the Hollywood Bowl and Griffith Observatory.
Daytona International Speedway
Rev your engines––get ready for the world-famous Daytona International Speedway home of the Daytona 500. Everyone will feel the exhilaration of zooming racecar sound effects and cheering fans. It took over 300, 000 LEGO® bricks to build this stunning replica.
Florida
It's a proud tribute to the Sunshine State when you explore Florida. Venture to Mallory Square in Key West, the historic Bok Tower, sunny Miami's South Beach, and ICON Orlando.
Kennedy Space Center
An amazing recreation of the world famous Florida Space Center. Models of the U.S. Space Shuttle and Launchpad, the iconic Rocket Garden and the enormous Vehicle Assembly building make this area out of this world.
Las Vegas
Be transported to the renowned Strip completely built with LEGO® bricks––Vegas tourist hotels like the Luxor Las Vegas, Excalibur, Mirage, MGM Grand and the Tropicana are just a few of the highlights. There's even a cute little wedding chapel. The Las Vegas replica features real life recorded sounds from the city.
LEGO® Star Wars®
Star Wars fans will feel "the force" as they view these stunning recreations of the seven most famous scenes from the live action films. Relive the events and enjoy life size replicas of Darth Maul, R2-D2, Darth Vader and more. Interactive buttons activate live animations that enhance the overall experience.
New York
There's nothing quite like the Big Apple. Soak up all the wonder of replicas of Rockefeller Center, Times Square, The Empire State Building, The Statue of Liberty, the Bronx Zoo and the Guggenheim Museum. Check out movie crews filming, mini figurines dodging taxis, as well as New Yorkers and tourists mingling in Central Park.
Pirate's Shores
Ahoy, pirate lovers! Set sail into a lively lagoon filled with sandy beaches, stunning sailboats, pirates hiding out and buried treasure.
Washington D.C.
Explore the patriotic landmarks of our nation's capital: The White House, The Smithsonian, the Washington and Jefferson Monuments, and scenic Georgetown. Feel the excitement when you see a patriotic marching band on the Capitol.
---
DUPLO® Valley
---
DUPLO® is a tiny wonderland for small guests. Toddlers will visit the countryside, ride a tractor, cool off in a splash play area, build and climb.
DUPLO® Farm
A country farm-themed, air-conditioned play area where kids can slide, run, and crawl. A variety of gentle farm animals add to the overall pet farm experience.
DUPLO® Splash & Play
Cool off at this water-themed play area featuring water spouts, interactive water gadgets, a soft deck and adorable oversized farm animals. The bunnies are also a perfect photo opportunity.
DUPLO® Tot Spot
Tot Spot is specifically designed for children under the age of two. Little ones will enjoy a slide, bright LEGO® playhouse and oversized LEGO blocks.
DUPLO® Tractor
Where else can toddlers ride a tractor, plow corn fields and search for farm animals gone astray? It's guaranteed toddler fun.
Guests must be 42 inches (107 cm) or taller to ride. Kids under 42 inches (107 cm) can ride with a responsible companion 48 inches (122 cm) or taller.
DUPLO® Train
Climb aboard and relax in the countryside. Rolling farms, fishing holes and campgrounds are all a part of the scenic fun.
Guests under 34 inches (87 cm) must ride with a responsible companion 48 inches (122 cm) or taller.
---
LEGO® Kingdoms
---
Enter a LEGO® storybook kingdom and ride a ginormous green dragon, joust in a royal tournament with knights and princesses, then set off for adventure on Merlin's Challenge.
The Dragon
A dragon-inspired indoor/outdoor rollercoaster with fun twists and turns is sure to delight. Feel the dragon's breath and explore the magical LEGOLAND® Florida Resort Castle.
Riders must be 40 inches (102 cm) or taller and those riders 48 inches (122 cm) or below must be accompanied by a responsible companion that height or taller.
The Forestmen's Hideout
Ropes, ladders and tunnels are ready for kids to explore, swing, climb, and crawl. They'll have a ball in this storybook forest-inspired play zone.
Merlin's Challenge
Hop aboard a magical wooden train powered by Merlin, the wizard. A Merlin figure constructed entirely of LEGO® bricks, stands center stage and wields his star wand to keep the train under his enchanting spell.
Guests must be 36 inches (92 cm) or taller to ride and those below 48 inches (122 cm) must be accompanied by a responsible rider of this height or taller.
Royal Joust
Plunge into the middle of a fairytale riding your own LEGO® horse through an ancient forest brimming with enchanted creatures. Riders must be 36 inches (92 cm) or taller to ride. The minimum age for this ride is four years old and maximum is 12-years old.
---
Land of Adventure
---
Look for lost treasure, discover LEGO® dinosaurs or set out on safari in the Land of Adventure.
Beetle Bounce
Surge 15-feet up toward colorful scarab beetles. Bright beetles are set atop of two jeweled obelisk monuments adding to this mysterious adventure.
Guests must be 36 inches (92 cm) or taller to ride.
Coastersaurus
Dip and dive on this wooden coaster into a prehistoric jungle filled with animated life-sized LEGO® brick dinosaurs.
Guests must be 42 inches (107 cm) or taller to ride.
Lost Kingdom Adventure
Help LEGO® adventurers battle LEGO mummies and skeletons while finding the hidden treasure buried somewhere in the Lost Kingdom.
Guests must be 30 inches (76 cm) or taller to ride. Riders under 42 inches (107 cm) must be accompanied by a responsible rider that height or taller.
Pharaoh's Revenge
Kids of all ages (yes, parents too) can shoot soft foam balls at enemies while they set off to explore the Pharaoh's mystical kingdom.
Safari Trek
Voyage off to a safari adventure and encounter lions, tigers and elephants. As the trek unfolds, all their favorite LEGO® animals will come into view.
Guests must be 34 inches (87 cm) to ride. Riders under 48 inches (122 cm) must be accompanied by a responsible rider 48 inches (122 cm) or taller.
---
LEGO® City
---
Drive your own LEGO® car, steer a boat or extinguish fires at the Rescue Academy, where kids take over LEGO® CITY!
Boating School
Commandeer your own cute LEGO® boat.
Guests must be 34 inches (87 cm) to ride. Riders under 48 inches (122 cm) or below must be accompanied by a responsible rider 48 inches (122 cm) or taller.
Flying School
Soar skyward on an amazing flight on this suspended roller coaster.
Guests must be 44 inches (112 cm) to ride. Maximum rider height is 6'05" (1.96 m).
Ford Driving School
Learn the road rules and earn your LEGOLAND® driver's license in this lively driving attraction. Ages 6-13
Ford Jr. Driving School
Toddlers can take off in their own vehicles in this pint-sized driving course. Yes, little ones can earn a driver's license too!
Rescue Academy
Control your own fire truck or police car as you race off to put out a fire or save the day.
Guests must be 34 inches (87 cm) or taller to ride. Riders under 48 inches (122 cm) must be accompanied by a responsible rider 48 inches (122 cm) or taller.
Tot Spot
Climb, play and pretend to fly a plane in this airplane-themed, air-conditioned play zone.
---
Imagination Zone
---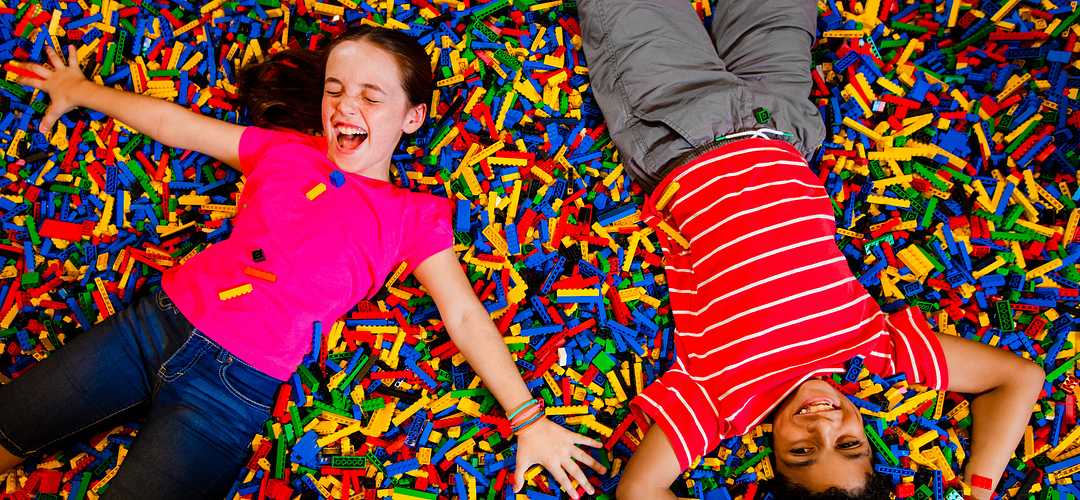 Let your imagination take you anywhere you want to go! It's a terrific hands-on LEGO® activity zone like no other. Thousands of LEGO bricks are just waiting to be assembled!
Building Zone
Build towers, dream homes, bridges or whatever strikes your fancy in the ultimate building zone featuring a huge assortment of LEGO® bricks.
Creation Zone
Select one of two colorful Imagination Zone doorways, then head through a winding corridor inspired by the iconic LEGO® bricks. Kids will discover countless ways to build and decorate the walls with their very own creations––LEGO graffiti.
Flight Zone
Construct a flying LEGO® creation by exploring the endless bounty of your imagination. Race your silly, crazy flight vehicles against other kids' creations on suspended zip lines. Go for it––the sky's the limit.
Kid Power Towers
Pull yourself up to the top of an amazing tower then feel the thrill of safely free falling to the bottom.
Guests must be 38 inches (97 cm) or taller. Riders under 48 inches (122 cm) must be accompanied by a responsible companion 48 inches (122 cm) or taller.
LEGO® Mindstorms
Tech-savvy kids will be thrilled with the opportunity to build and program computerized LEGO® MINDSTORMS™ robots. Presented by Intel.
Warner Bros. Games™ Zone
Visit a LEGO® video game paradise, where kids can play the latest and most popular LEGO® video games utilizing personal technology devices and video kiosks.
Water Zone
Create incredible sea creatures out of virtual bricks with the assistance of innovative touch-screen technology. Smile when you see your sea creature swim through an interactive, digital coral reef!
Wheels Zone
If it's got wheels, you can build it here. Use your imagination to build a LEGO® vehicle then send it racing down ramps. Imagine cars, carts, trains and trucks all zooming to the finish line.
---
LEGO® Technic
---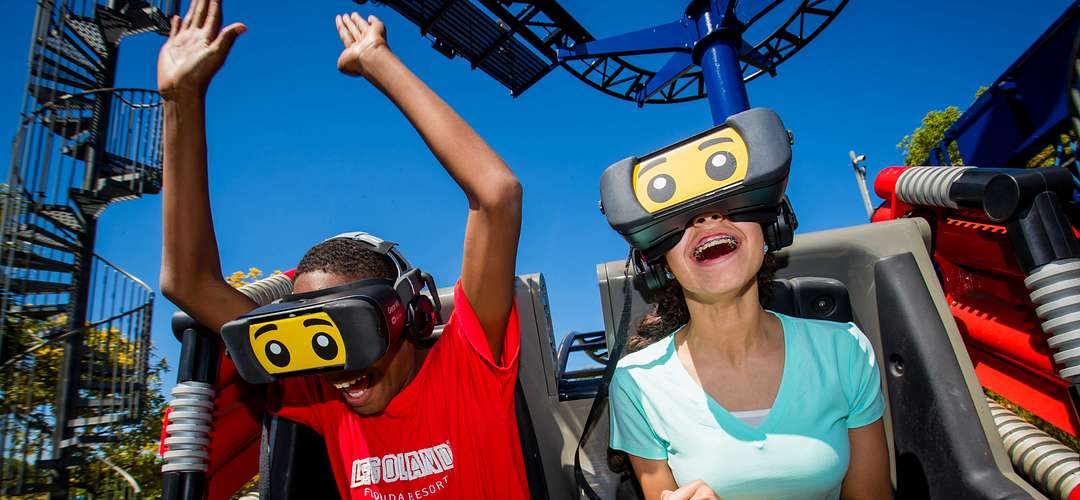 Race, splash, and zoom as you show off your skills on test tracks of all kinds. Challenge yourself at Extreme Games; it's all part of the fun.
AQUAZONE® Wave Racers
Maneuver your wave racer while dodging water cannons and splashing your friends. Guests must be 42 inches (107 cm) or taller to ride. Guests below 52 inches (132 cm) need to be accompanied by a responsible companion of that height or taller.
The Great LEGO Race
The first virtual-reality (VR) roller coaster designed just for kids, this wild new ride invites you to enter a world made of LEGO bricks where you're the star, as you race against several LEGO minifigure competitors.
Technic Tot Spot
A happy, shaded play area where toddlers can slide, climb and build as they wish.
Technicycle
High-gliding cyclers will love this ride where they can control their experience with pedal power.
---
Cypress Gardens
---
LEGOLAND® Florida Resort has taken painstakingly care to preserve the beauty and history of the park's predecessor, the storied Cypress Gardens
Botanical Gardens
Stroll through immaculately cultivated gardens as you spot azaleas and camellias in bloom. It's a peaceful and serene experience, but the true wonder is the immense and sprawling Banyan tree. Planted as a seedling in 1939, the tree continues to serve as a garden icon.
---
Heartlake City
---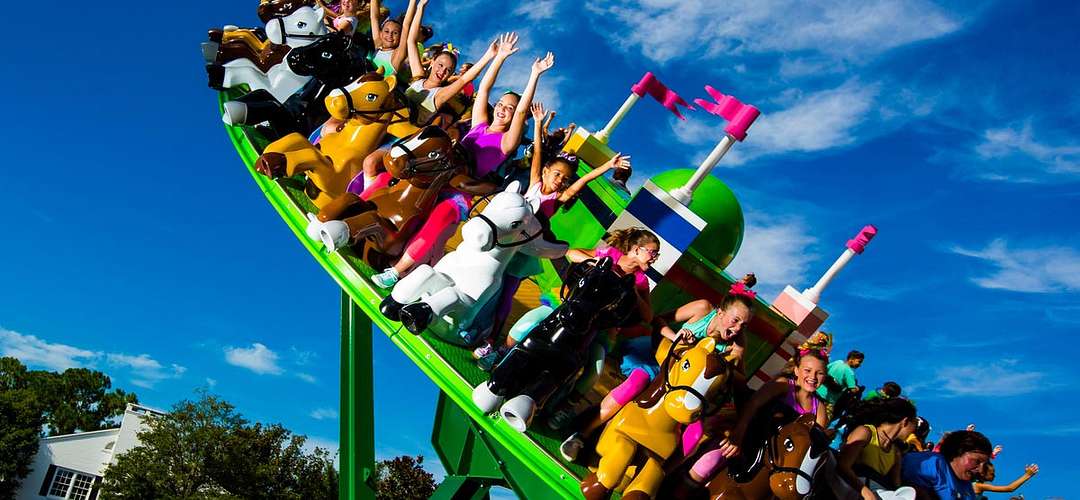 Inspired by the popular LEGO® and friends toy line, kids are bound to fall in love with Heartlake City.
Mia's Riding Adventure
Sign up for Mia's riding camp. Pick an adorable horse, saddle up and ride a fun-filled disc coaster.
Guests must be 48 inches (122 cm) or taller.
Heartlake Stepping Tones Fountain
Smile and watch your feet make music as you step on interactive icons that emit musical notes. A heart-shaped fountain is the centerpiece filled with LEGO® brick instruments playing real music.
---
LEGO® NINJAGO® World
---
Kids will immerse themselves in the NINJAGO experience––fighting villains, hurling fireballs and meeting their favorite NINJAGO characters.
Cole's Rock Climb
Climb and test your skills on this unique rock climb.
Jay's Lightning Drill
Do you have lightning fast reflexes? Do you have what it takes to be a ninja? Come test your skills.
Kai's Spinners
Learn the art of Spinjitzu by challenging your balance and vortex skills in crazy ways.
LEGO® NINJAGO® The Ride
It's an epic battle between you and an ominous group of ninja villains. Shoot animated fireballs and lightning as you try to defeat them. Guests must be 48 inches (122 cm) or taller to ride. All others must be accompanied by an adult.
Meet Kai and Nya
It's a wonderful meet-and-greet when you make friends with LEGO® NINJAGO® characters, Kai and Nya.
Zane's Temple Build
Test your LEGO® building skills by constructing the NINJAGO® Monastery.
Shows
---
4D Theater
Watch 4D movies all day at LEGOLAND indoor theater, the largest theater in the park with over 700 seats. Flicks include The LEGO® Movie 4D or LEGO® NEXT KNIGHTS™.
Pirates' Cove Live Water Ski Show
Brickbeard Bounty, the famous pirate ship, has been discovered but needs to be safely guarded. Miranda Valentina and her Imperial Guards need your help to protect them from marauding pirates. Ahoy mates, here's where kids can help defeat Captain Brickbeard and his rogue pirates. Watch water skis, jet skis, boats, and more in this swashbuckling adventure.
Dining
---
Adventure Snacks
Grab nachos & cheese, hot dogs and cold beverages at this playful pit-stop on your way to adventure.
Castle Burger
Royally delicious cheeseburgers and hamburgers with fresh toppings and crispy french fries make this eatery a popular spot for kids. There's also grilled chicken salads for health-conscious adults.
Burger Kitchen
Construction workers will build you the best burger. Be sure to press the red button––you just might be the lucky hourly winner. Veggie burgers, chicken and fish sandwiches and crispy fries are other popular menu items.
Dino Slush
Cool down with delectable novelty ice cream treats.
Firehouse Ice Cream
Watch the fire squad assemble your ice cream sundaes and floats as well as sweet, hand-dipped, ice cream cones.
Fried Chicken Restaurant
Delicious, golden-brown, fried chicken is seasoned with a special LEGOLAND® recipe just for LEGOLAND® guests. Be sure to stop by and try this southern treat.
Fun Town Pizza & Pasta Buffet
Kids love this large pizza and pasta buffet along with a salad bar. The cinnamon dessert pizza is sure to be a hit for the whole family.
Fun Town Slushies
A delectable way to cool off. Best of all, if you purchase a slushie at the beginning of your visit, you can enjoy discounted refills throughout the day.
Granny's Apple Fries
Granny Smith apple fries, sprinkled with cinnamon and sugar, are a signature treat. Apple fries are served with a special whipped cream sauce or a la mode.
Heartlake Ice Cream Parlor
Stop in for a scrumptious frozen goody.
Market Restaurant
Savor a delicious variety of BBQ options for the whole family.
Panini Grill
Savor fresh, hot-pressed sandwiches, salads and an assortment of ice cream products. Paninis are pressed while you wait, so they're always warm and delicious.
Sunshine Sweets/Extreme Brick Bargains
Your sweet tooth will thank you for popping into this extraordinary Jelly Belly candy store. Beyond jelly beans, there are plenty of brick bargains and discounted LEGOLAND® Florida Resort apparel.
Shopping
---
Big Shop
You've just found the premium LEGO® shopping experience––LEGO apparel, souvenirs, toy sets, LEGO exclusives, Pick a Bricks and more.
---
Driving School Store
Look out parents! Kids won't be able to contain their excitement as they take their driver's test and get their own personalized driver's license.
---
Heartlake Mall
It's LEGO® from a girls' perspective. Shopping opportunities include jewelry, plush toys, and LEGO® Friends building sets. It's the first LEGO® store just for girls.
---
The King's Market
Transform into a princess or a prince in this royal open air market. Role playing with fanciful costumes and props add to this imaginative play setting.
---
LEGO® Studio Store
The ideal spot for LEGO building sets inspired by popular TV shows and movies like THE LEGO® Movie and Star Wars™.
---
Minifigure Market
A LEGO® minifigure extravaganza––build and buy them!
---
Sunshine Sweets/Extreme Brick Bargains
Your sweet tooth will thank you for popping into this extraordinary Jelly Belly candy store. Beyond jelly beans, there are plenty of brick bargains and discounted LEGOLAND® Florida Resort apparel.
---
Trade and Collect Minifigures
Trading is fun. Here's how it works:
Bring or purchase a complete LEGO® minifigure (must have all its parts such hair or hat, head, body and legs.)
Find a Model Citizen (LEGOLAND employee) with a minifigure you would like to trade
Ask to trade the minifigure
Now the minifigure is yours to keep or trade again!
---
Wu's Warehouse
Score all your ninja gear at Wu's Warehouse. You'll find everything you need to be a certified ninja!
Services
---
Baby Care Center
All you will need to assist you with your little ones is right here: restrooms, nursing and changing areas, a bottle warming station and more. The Baby Care Center is conveniently located in DUPLO® Farm.
Digipass
Purchase a digipass, which will enable you to have access to all your digital photos throughout the day from shots at the welcome sign to participating rides and character encounters.
More Information
Maps, amenities, and more information for LEGOLAND® Florida Resort.