Chefs of Orlando
Orlando includes six very distinct dining districts. And some pretty amazing restaurants. But don't forget about the driving force behind Orlando's culinary scene: our talented team of chefs whose savory creations inspire and tempt us all.
Learn more: Orlando Restaurants
Here, you'll meet numerous James Beard Award nominees, experts on fine wine and craft beers, passionate advocates of the farm-to-table movement, pastry artists, and restaurateurs that provide the best in dining and service in Orlando.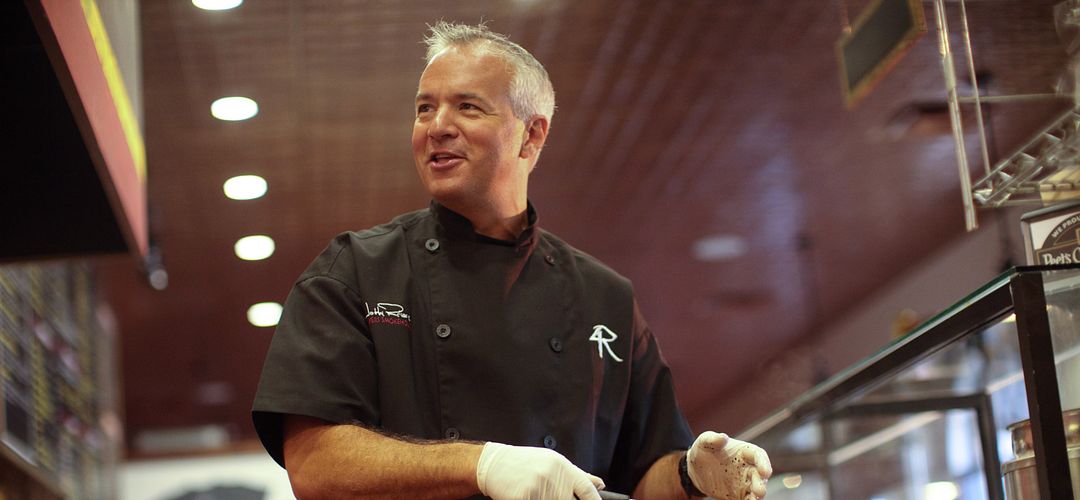 Brandon McGlamery: Luma on Park, Prato & Luke's Kitchen
Brandon McGlamery is the co-owner and executive chef at Luma on Park and Prato, both nestled on Park Avenue in Winter Park, as well as Luke's Kitchen in nearby Maitland. While McGlamery's dual passions for fresh seafood and Italian cuisine are respectfully represented in each restaurant's culinary offerings, it was his recipe for "Short Rib Mac and Cheese with Gruyere" that compelled Oprah Winfrey to include it on her website.
After graduating from the California Culinary Academy, McGlamery gained experience at some of the finest restaurants in the country, including Stars, French Laundry and Bacchanalia. He also trained with Gordon Ramsey in London and Guy Savoy in Paris.
McGlamery is an avid fisherman and an advocate for sustainable fishing, which led to his participation in the annual Cooking for Solutions event at the Monterey Bay Aquarium in Monterey, California. McGlamery joined the list of Orlando chefs nominated as a James Beard Award semifinalist for "Best Chef: South" in 2013 and 2017.
David Ramirez: Rosen Shingle Creek
Given his status as a self-described "chocoholic," it's fitting that Executive Pastry Chef David Ramirez of Rosen Shingle Creek creates edible works of art using chocolate and other goodies. His delicious constructs have landed him an appearance on Food Network and won him major culinary accolades — including a gold medal at the National Pastry Championship in 2005 and being named captain of "Team USA" for the 2009 World Pastry Championship in Lyon, France.
Ramirez earned a degree in baking and pastry arts from Johnson & Wales University. After graduation, he worked at the Swiss Hotel in Boston. Ramirez then moved to Orlando at the age of 22 to become the executive pastry chef at Renaissance Orlando at SeaWorld and the youngest executive-level employee in the organization's history. He joined Rosen Shingle Creek in 2006.
James & Julie Petrakis: The Ravenous Pig & The Polite Pig
James and Julie Petrakis, a husband-and-wife culinary team, are the chef-owners of The Ravenous Pig in Winter Park, as well as The Polite Pig at Disney Springs®. The Ravenous Pig embraces local flavors, daily changing menus, craft beer and cocktails, and an extensive wine list, as well as in-house charcuterie program (the process of curing meats like ham, sausage and bacon). This attention to detail while creating soulful, unpretentious fare has led to dual nominations as James Beard Award semifinalists for "Best Chef: South" in 2011 and 2013 through 2016.
The couple met while attending The Culinary Institute of America. Separately, they have worked at an impressive array of fine-dining establishments, including California Grill, Atelier, Seasons 52, Luma on Park, Union Square Café, Union Pacific and Primo by Melissa Kelly.
Laurent Branlard: Walt Disney World Swan and Dolphin Resort
Laurent Branlard is the executive pastry chef for Walt Disney World Swan and Dolphin Resort. A native of France, Branlard is a highly accomplished pastry chef who holds the distinction as the only two-time winner of the World Pastry Team Championship.
Branlard captained Team USA to victory in 2008 after previously winning in 2002. Branlard and Team USA defeated the top chefs from competing nations in a challenging two-day, 13-hour competition that tested the team's culinary ability and artistic skills.
In between his world titles, Branlard held the honor of serving as a judge for the pastry championship competition and coaching Team USA to a bronze medal in the 2006 World Pastry Competition. He has also been named one of the Top Pastry Chefs in America.
Scott Hunnel: Victoria & Albert's
Representing what is considered one of the most extraordinary fine-dining experiences in the country, Scott Hunnel was originally tapped as the chef de cuisine at Victoria & Albert's in 1995, and now serves as the acclaimed restaurant's executive chef. Hunnel's culinary signature — straightforward cooking using seasonal ingredients that are inspired by his global journeys — has guided the restaurant in Disney's Grand Floridian Resort & Spa to earn AAA's highest achievement, the Five Diamond Award.
Hunnel graduated from the culinary arts program at Joliet Junior College and learned classic European techniques while working at the Renaissance Hotel. He soon joined the culinary team at the Walt Disney World Resort, where he has remained ever since. Hunnel was nominated as a James Beard Award semifinalist for "Best Chef: South" from 2007 through 2013, and 2015 and 2016.
Steve Jayson: Universal Orlando Resort
As the corporate executive chef overseeing Universal Orlando Resort — including the Universal CityWalk entertainment complex — Steve Jayson has quite a bit on his plate. Almost literally. For example, Jayson and his team developed the entire menu for the Three Broomsticks™ restaurant located within The Wizarding World of Harry Potter™, including the famed Butterbeer™, Pumpkin Juice™, Cauldron Cakes and Treacle Fudge.
Jayson was also instrumental in creating Mythos Restaurant, a fine-dining eatery within Universal's Islands of Adventure that has been voted "Best Theme Park Restaurant" on multiple occasions. A graduate from The Culinary Institute of America, Jayson has worked at Universal Orlando Resort since it opened in 1989.
Taking the fictitious and making it delicious is all in a day's work for this 2000 winner of The American Culinary Federation's "National Chef of the Year." Jayson continues to provide a hands-on role within the culinary industry, including his work on First Lady Michelle Obama's "Chef's Move to Schools" campaign.
John Rivers: 4Rivers Smokehouse & The Coop
While many Orlando-area chefs have been formally trained in the culinary arts, John Rivers walks a bit of a different path. In fact, until fairly recently, Rivers was the president of a $1 billion-plus pharmaceutical company. No matter, it's the barbecue he serves at his 4Rivers locations — especially his signature item, the smoked brisket — that has customers literally lined up to the door and into the parking lot. It's also the reason why he was invited to cook at the famed James Beard House in August 2013.
The story began nearly two decades ago for Rivers, when the chef-owner began his "barbecue ministry" out of his garage, initially benefitting schools, charitable groups and churches. Since Rivers opened his first restaurant in Winter Park during 2009, his barbecue, gourmet side dishes, bottled sauces and rubs, and desserts have reached legendary status among local foodies. So much in fact that he smokes more than 15,000 pounds of meat each week!