9067 International Drive
Orlando, FL 32819
407-351-8800
Visit Website
BUY TICKETS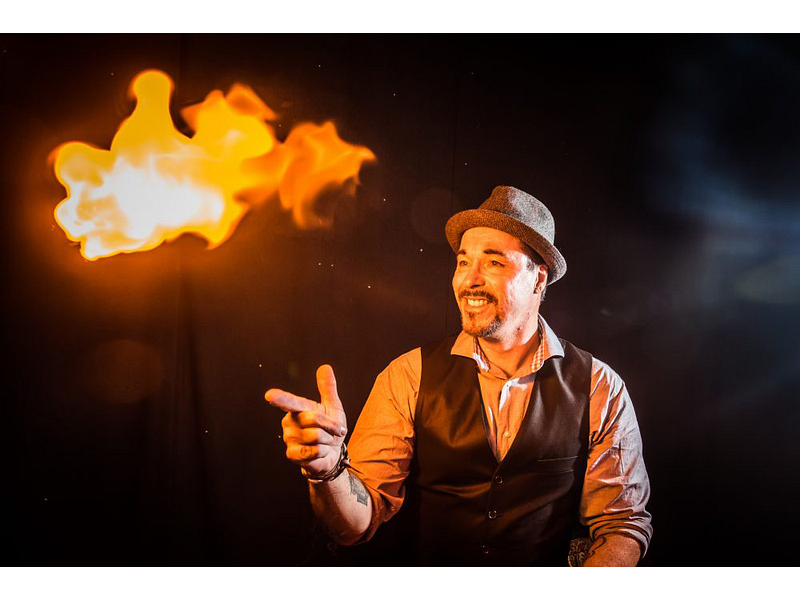 Orlando visitors and natives are raving about the Outta Control Magic Comedy Dinner Show. It is Orlando's best kept secret!
With only 125 seats, this dinner show is unlike any other, providing up-close interactions in a combination of amazing magic, impersonations and high-energy improvisational comedy to thoroughly entertain audiences of all ages. Minds will be read, predictions will come true, and audience members' personal items will vanish and re-appear before your eyes.
Tony Brent is a one man cast of dozens! The laughter and family fun relies heavily on audience participation. The crowd becomes a major part of the show as volunteers are chosen throughout the acts to assist Tony.
While captivated in the wit and amusement of the show, visitors receive table side service with unlimited, fresh, hand-tossed cheese and pepperoni pizza, salad and unlimited beer, wine, soda and dessert. The 90-minute experience will keep you on the edge of your seat and tickle you funny bone every 8 seconds!
For only $24.99 for adults and $19.99 for kids (ages 4-12) and Seniors, the Outta Control Magic Comedy Dinner Show is full of laughter, family fun, and food! It's no wonder the show has won awards from the Orlando Sentinel and Trip Advisor as a fantastic family experience.
Tony performs five nights a week with a special guest entertainer on his off nights.
Recognition & Awards
2014 - Best Local Performer by Orlando Magazine
2013 - Trip Advisor "Certificate of Excellence"
2013 - Voted Best Dinner Show - Orlando A List
2013 - Orlando Magazine named Tony Brent "Best Local Entertainer"
2012 - Orlando Yelp Awards named Tony Brent "Best Performer"
2012 - Winner of the Orlando Yelp Awards "Best Live Show"
2009 - Winner of the Orlando Sentinel Best Bets Award
2008 & 2007 - Winner of the Wesh 2 A - List