Orlando First-Time Visitor Tips
Coming to Orlando for the first time? We can't wait to see you! Before you arrive, refer to the following tips designed to help first-time visitors make the most of their time in Orlando.
Once you've arrived, stop by our Official Visitor Center on International Drive for even more advice on how to maximize your Orlando experience. You can also get discounted theme park and attractions tickets — including exclusives that aren't even available from our website — pick up complimentary area maps, take advantage of currency exchange services, preview some of our coolest attractions, and even grab a free welcome bag. Plus, mention promo code "InStore 10" to save an extra 10% off our already discounted tickets! It's a one-stop shop for the ultimate Orlando vacation!
---
Attractions | Places to Stay | Transportation | Dining & Nightlife | Shopping
---
Theme Parks & Attractions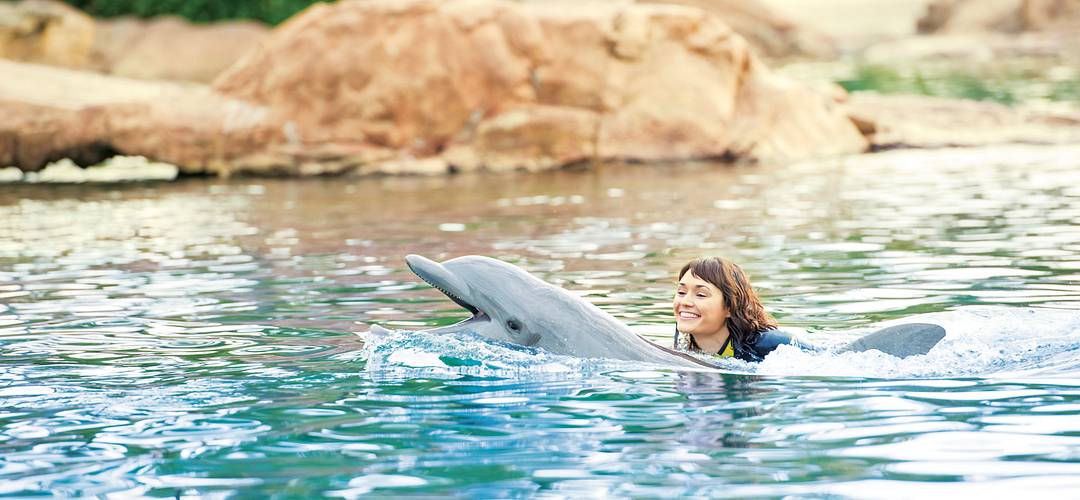 Call it a hunch, but we have a feeling you'll want to visit our theme parks and attractions while you're in Orlando. Read up on the following suggestions before you go.
Theme Park Tips
Orlando's major theme parks are all located within a 15-mile radius.
Get the best deal on theme park tickets by purchasing them ahead of time. What's more, you can buy them all in one place at a discounted rate from Visit Orlando's official ticket store. (We also have discounted tickets for top Orlando attractions.)
Want to dine with Disney Princesses at Walt Disney World, Captain America at Universal Orlando Resort, aquatic marvels at SeaWorld Orlando, and other famous characters? Make reservations as soon as possible. Special dining experiences at Orlando's theme parks are popular and fill up months in advance.
Theme parks offer guided tours and guidebooks in numerous languages. Contact the parks directly for more information.
Theme parks also offer ways to minimize wait times, including FastPass+ at Walt Disney World Resort, Universal Express Pass at Universal Orlando Resort, Quick Queue at SeaWorld Orlando, and Fastrack Unlimited at LEGOLAND Florida.
Wear comfortable shoes. Experiencing everything at a theme park will require you to walk a lot of miles, and good footwear can go a long way toward helping you go the distance.
If you ignore the previous tip and wind up with a case of blistered feet, all theme parks have first-aid stations where you can get Band-Aids. They can help with other medical issues, too.
Make sure your phones, cameras and other battery-powered devices are fully charged before you arrive. If you need a quick charge, some parks offer free battery charging at guest services.
If you're looking to save money, keep in mind that Walt Disney World, Universal Orlando Resort and LEGOLAND Florida will let you bring outside food and drink, so long as the food doesn't need to be heated and the beverages aren't alcoholic. SeaWorld Orlando permits baby formula, baby food and food for guests with special diets.
Make a note of where you park. Our theme parks' parking lots and garages are massive, and after a full day of fun, the last thing you'll want to do is spend countless minutes (or even hours) looking for your vehicle.
Beaches
The closest beaches to Orlando are Cocoa Beach, Canaveral National Seashore and Daytona Beach, all about an hour from downtown Orlando. Cocoa Beach can be reached via State Road 528, Canaveral National Seashore can be reached via State Road 50, and Daytona Beach can be reached via Interstate 4 (I-4) East.
Florida's tranquil west coast beaches, including St. Pete Beach, Clearwater Beach and Tarpon Springs, are about 2 hours from downtown Orlando.
Water Parks
Kennedy Space Center Visitor Complex
Visitors interested in Kennedy Space Center Visitor Complex should know that it's located about an hour east of Orlando, and easily accessible via State Road 528. Several private shuttle companies and bus services provide transportation to and from the historic complex.
---
Attractions | Places to Stay | Transportation | Dining & Nightlife | Shopping
---
Places to Stay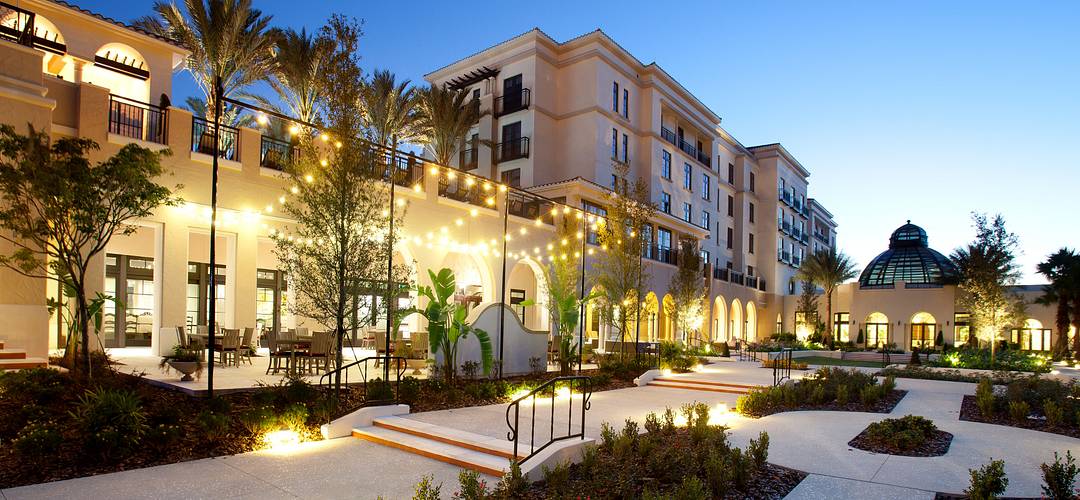 If you're coming to Orlando, you'll need a place to stay. Fortunately, with more than 450 hotels and resorts, not to mention vacation homes and campgrounds, you're guaranteed to find the perfect accommodations.
Vacation Homes & Suites
Looking to stay longer than a week? Have a big family? Consider a vacation rental. Ranging from one-bedroom villas to five-bedroom (and up!) homes, rentals offer the convenience and amenities of home, often at a great value.
Families or groups traveling to Orlando can also opt for one of many spacious suites at our hotels and resorts. Found at all price points, suites often come with convenient amenities like kitchenettes, separate living rooms and washers/dryers.
Hotels & Resorts
Visitors who want to stay in the heart of it all should opt for the area in and around Orlando's main tourism district, International Drive (aka I-Drive). With a range of hotels from budget to luxury, and offering close proximity to theme parks, attractions, dining and shopping, it's an exciting and convenient place to stay for visitors.
Don't plan to rent a car? Stay onsite at your favorite theme park and take advantage of complimentary park shuttles. Walt Disney World, Universal Orlando Resort and LEGOLAND Florida all have multiple accommodations within their perimeters, and SeaWorld Orlando partners with several hotels near its theme parks.
---
Attractions | Places to Stay | Transportation | Dining & Nightlife | Shopping
---
Transportation
There's a lot to see and do in Orlando, but we're also a wide-ranging destination, with 20-plus miles separating Walt Disney World in the south and Winter Park in the north. Happily, we offer plenty of ways to get around.
Airports
Rental Cars
If you're planning to explore more than one area or theme park in Orlando, you might want to opt for the convenience of a rental car. With most major rental car companies located onsite at Orlando International Airport and many hotels, visitors will find the move from air to ground transportation seamless and easy.
Shuttle Services
Check with your designated hotel or resort ahead of time to determine if shuttle service is provided to and from theme parks and the airport.
The I-Ride Trolley offers an easy and economical way to explore the International Drive area without a car. Visitors can hop on and off the trolley, which makes stops at a number of hotels and attractions on International Drive.
Rail Service
Amtrak has had a station in downtown Orlando since 1926, and it's still welcoming rail passengers to this day.
Orlando's commuter rail service, SunRail, runs from Poinciana near Walt Disney World in the south, to DeBary in the north. With the exception of special weekends and evenings, service is available from 6:15 a.m. through 8 p.m., Monday through Friday.
---
Attractions | Places to Stay | Transportation | Dining & Nightlife | Shopping
---
Dining & Nightlife
Love to eat? You're going to love Orlando. We have more than 5,000 restaurants for you to sample, ranging from quick counter service to the ultimate in fine dining. You'll also discover nightlife and entertainment throughout the area.
Dining, Shopping & Entertainment Hubs
Orlando boasts numerous all-in-one hubs featuring dining, shopping and entertainment. These include Disney Springs® at Walt Disney World, Universal CityWalk at Universal Orlando Resort, and ICON Park™ and Pointe Orlando on International Drive.
Orlando's famous Restaurant Row is another place to find a wide range of great dining in a compact geographic area. Close to International Drive, the 1-mile stretch features dozens of acclaimed restaurants, including everything from family-friendly eateries to fine dining.
Dinner Shows
Live Entertainment
---
Attractions | Places to Stay | Transportation | Dining & Nightlife | Shopping
---
Shopping
With a vibrant mix of upscale malls, designer outlets and bespoke shopping districts, Orlando is a shopper's paradise no matter your preferences or budget.
Malls & Outlet Stores
Shopping Districts
Take advantage of Orlando's sunny climate by shopping outside. Tree-lined Park Avenue in Winter Park, about 20 minutes from downtown Orlando, offers several cobblestoned blocks filled with upscale clothing, hip boutiques, outdoor cafes and unique art galleries.
Visitors with an eye for antiques can peruse Orlando's antiques row on Orange Avenue near downtown.