Top 10 Reasons to Visit ICON Orlando 360
See the 10 best reasons to visit ICON Orlando 360, including attractions, dining, nightlife, shopping and more.
Looking for fun attractions in Orlando? How about memorable dining and nightlife? Maybe unique shopping? Great news: ICON Orlando 360 (previously I-Drive 360) is a one-stop shop for all of them on International Drive, the heart of our main tourism district! Here are our 10 favorite reasons to visit the all-in-one entertainment complex, and why you'll want to experience it the next time you're in Orlando.
ICON Orlando (via GIPHY)
1. Relaxing Views at ICON Orlando

ICON Orlando at ICON Orlando 360
What better way to view Orlando than from above ... way above! Standing 400 feet tall, ICON Orlando — formerly the Orlando Eye — offers spectacular views of the Orlando area, from the theme parks to downtown and beyond. The observation wheel also serves as the centerpiece of ICON Orlando 360's nightly light shows, which don't cost a penny to witness.
If you're traveling without children or taking a break from the little ones, ICON Orlando offers private parties where you and up to nine guests can enjoy complimentary beer and wine. Staff will also be happy to help arrange special events aboard the roomy, air-conditioned capsules, including proposals, weddings and more.
Learn more: Orlando Eye Transforms Into ICON Orlando
2. Fast Times at Orlando StarFlyer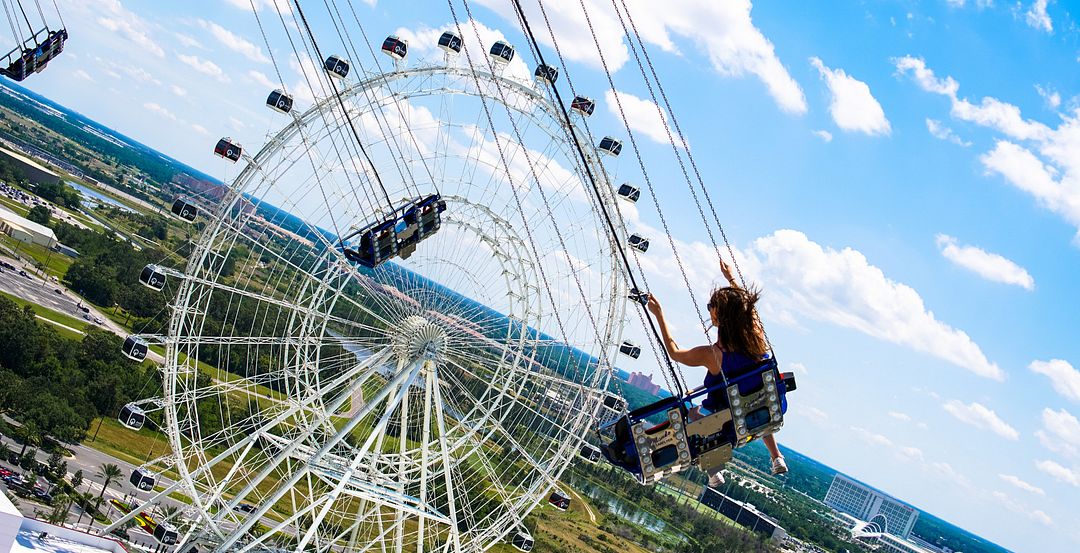 Orlando StarFlyer at ICON Orlando 360
Towering over the neighboring ICON Orlando at 450 feet, Orlando StarFlyer is the world's tallest swing ride, providing 360-degree views of Orlando at speeds up to 60 mph. And thanks to a seatbelt, lap bar and between-the-legs harness, you'll be safe and secure as you embark on one of Orlando's wildest rides.
Orlando StarFlyer (via GIPHY)
Each of the attraction's 12 seats can accommodate two side-by-side guests, which also makes it a great option for a fast-paced date. But no matter who you choose to ride with, you won't find views this high and fast anywhere else in Orlando.
Learn more: Orlando StarFlyer Now Open at ICON Orlando 360
3. Sizzling Dining & Nightlife

Tin Roof at ICON Orlando 360
ICON Orlando 360 isn't just home to fun attractions — it also hosts tasty restaurants and vibrant nightlife! On the dining front, top choices include full-service eateries like Tapa Toro Tapas Bar & Paella Pit, Yard House, Uncle Julio's Mexican Restaurant, Sugar Factory and others, plus many quick counter-service options. (Ever eat a chocolate piñata before? You can at Uncle Julio's!)
Dining at ICON Orlando 360 (via GIPHY)
You can also grab a delicious bite at Tin Roof, but the biggest draw there is live music and dancing. Or, just chill with a hookah at iLounge Istanbul, which features a cozy atmosphere and live DJs.
Learn more: Orlando Restaurants
4. A-List Celebrities at Madame Tussauds Orlando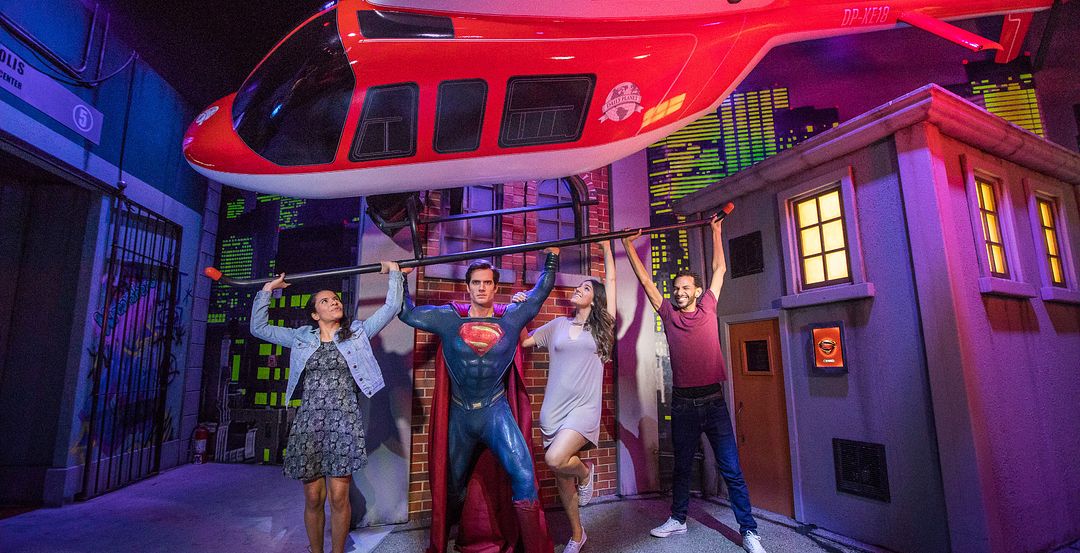 Madame Tussauds at ICON Orlando 360
Where in Orlando can you sit down with Oprah, co-host The Tonight Show with Jimmy Fallon, rock out with Elvis and team up with Batman, Wonder Woman and Superman? Only at Madame Tussauds Orlando!
Superman at Madame Tussauds Orlando (via GIPHY)
Our edition of the world-famous wax attraction will get you up close and personal with huge Hollywood stars, chart-topping musicians, unforgettable cultural icons and history's most famous leaders. Feeling star-struck? Snap a photo! All figures are perfectly posed for selfies, and photography is always encouraged.
Learn more: Justice League at Madame Tussauds Orlando
5. Aquatic Exploration at SEA LIFE Orlando Aquarium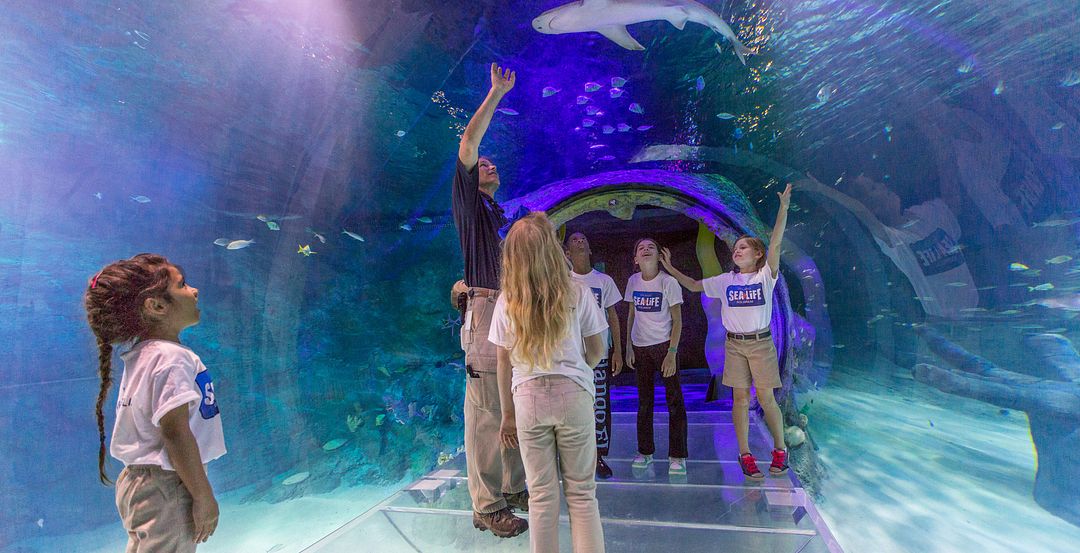 SEA LIFE Orlando Aquarium at ICON Orlando 360
Want to explore the oceans without getting wet? SEA LIFE Orlando Aquarium doesn't just boast a 360-degree underwater tunnel — it's the only one of its kind in Florida! Also offering interactive dive shows, this state-of-the-art attraction invites you to see aquatic life from the Atlantic, Pacific and Indian oceans, including sharks, fish, turtles and eels.
Learn more: Top 10 STEM Attractions for Kids in Orlando
6. Seven Dimensions of Thrills at 7D Dark Ride Adventure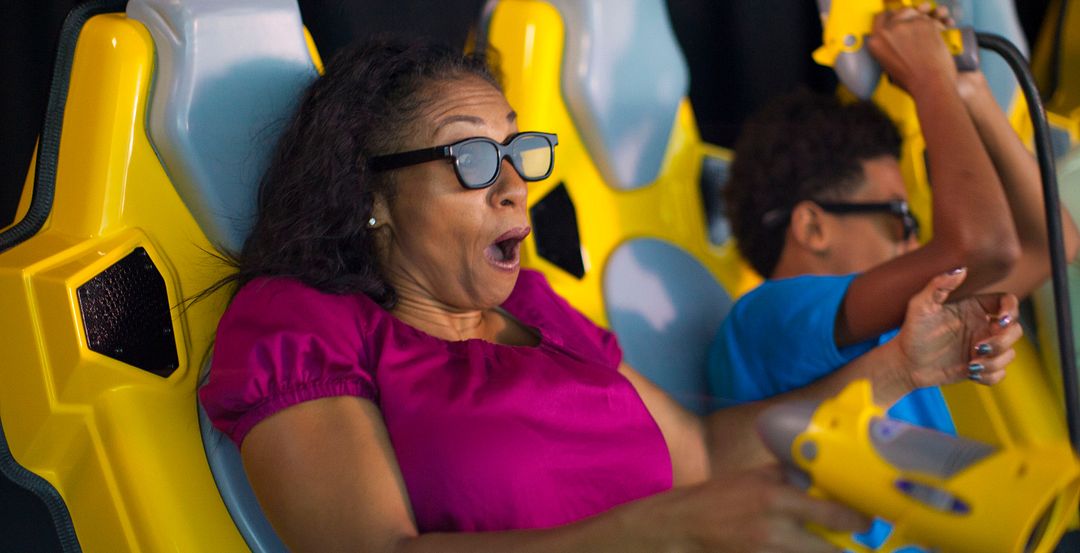 7D Dark Ride Adventure at ICON Orlando 360 (Photo © FACE Amusement)
At 7D Dark Ride Adventure, step into the ultimate game theater and take on everything from zombies to a mad scientist's robots in a virtual-reality shoot-'em-up. After taking a seat and strapping on your special glasses, you won't just see and hear your enemies, but feel them as well thanks to motion and wind effects. The experience is also family-friendly, setting the stage for some fun competitions!
7. Unique Shopping
ICON Orlando 360 has a little something for everyone when it comes to shopping. Bring your Orlando memories home with a souvenir from BEYOND ICONic or 360 Gifts. Stock up on bespoke drinkware at Tervis. Perfect your vacation look with gear from Flip Flop Shops and Caleoni Sunglasses. And if you have a sweet tooth, Sugar Factory's onsite candy store has more than 300 varieties of confections, including their bedazzled Couture Pops!
Learn more: Orlando Shopping
8. Games and Prizes at Arcade City Orlando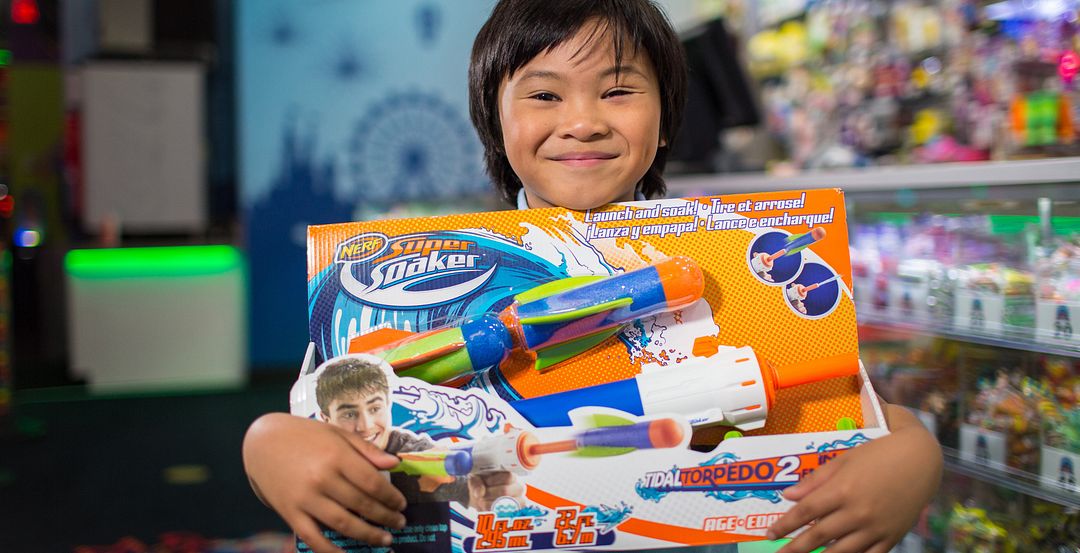 Arcade City at ICON Orlando 360 (Photo © FACE Amusement)
Exciting games, memorable amusement and the chance to take home incredible prizes? Game on at Arcade City Orlando! Inside, you'll find a menagerie of modern arcade and prize games the whole family can enjoy together. Whether earning high scores, sinking baskets or mastering the claw machine, there's endless excitement for everyone.
9. Educational Fun at Skeletons: Museum of Osteology

Skeletons: Museum of Osteology at ICON Orlando 360
Enjoy an engaging, educational adventure at Skeletons: Museum of Osteology, Orlando's only natural history museum. Suitable for all ages, it features 40-plus exhibits and 500 authentic animal skeletons in realistic poses, ranging from tiny to massive. No bones about it, this is one Orlando attraction you won't want to miss!
10. Free Parking, Admission & Entertainment
Not only is there a ton to see and do at ICON Orlando 360, but parking and admission to the complex is always free. As a result, it's a great place to sit back, relax and enjoy nightly light shows, dancing fountains and rarified people-watching on the central green, all without spending any money. Take the cash you save and put it toward building unforgettable memories as you shop, eat and play your way through ICON Orlando 360!
Stay Connected to Orlando!
Never miss a second of what happens in Orlando! Follow us on Facebook, Twitter and Instagram for the latest offers, exclusive tips and live feeds from our newest attractions and fun events, and subscribe to our eNewsletter for more information from Orlando: Theme Park Capital of the World®.