The Ultimate Escapes: Orlando's Top Escape Rooms
Gather your group — and your wits — for some of the most challenging escape attractions in Orlando.
Longing for the perfect escape? Come to Orlando, where escape rooms enhance family fun, date night and group outings with teamwork, critical thinking and creativity. And because they're inside, they can provide a literal escape from Orlando's warm summer temperatures and afternoon rain showers!
Stretching from International Drive to downtown and many other points throughout the Orlando area, these unique attractions will challenge you to discover secret passageways, find hidden clues and solve mind-boggling puzzles before time runs out — including these top options!
Escape Rooms in Orlando's International Drive Area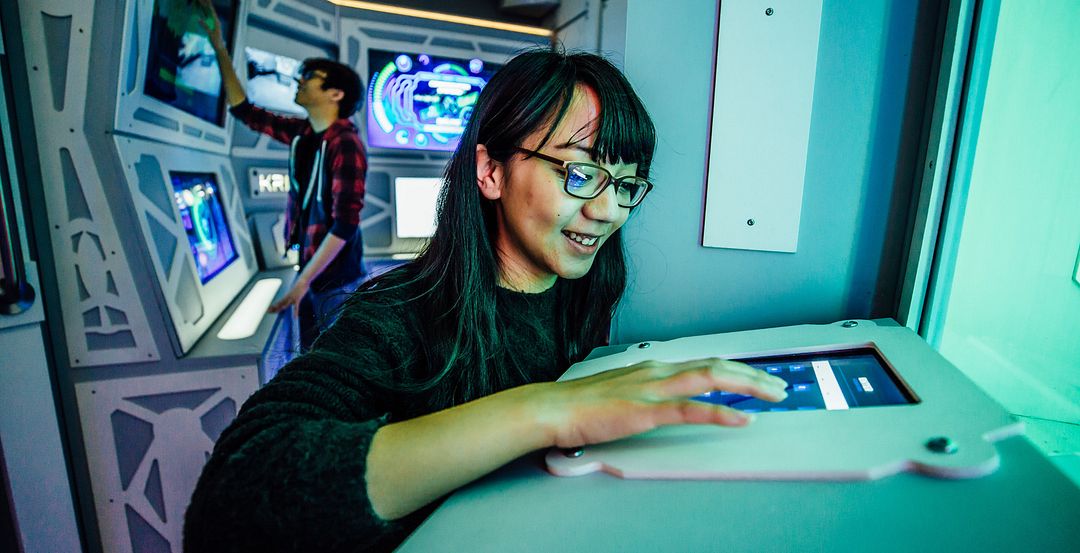 Survive a Mission to Mars at The Escape Game Orlando
1. The Escape Game Orlando
Rated as Orlando's No. 1 escape room on TripAdvisor, The Escape Game Orlando gives you 60 minutes to complete one of five imaginative scenarios. Become an astronaut in Mission: Mars, escape jail in Prison Break, search for treasure in Gold Rush, become an art thief in The Heist, and live the life of a secret agent in Classified. Each scenario can be played with as few as two participants and most with up to eight, although Classified maxes out at seven players.
2. Lockbusters Escape Game
It's out with traditional locks and keys and in with a full-sensory experience at Lockbusters Escape Game on International Drive. This option specializes in immersive storytelling, innovative technology and vivid, multi-room narratives, each of which feature 60-minute time limits. Outsmart a killer in The Collector, plunder the seven seas in Pirate Adventure, steal millions in Bank Heist, survive the horror of Cremlocke Manor, and escape from behind enemy lines Chopper Down. While the last two max out at six and seven players, respectively, the rest can host up to eight, and all five can be attempted by as few as two sleuths.

Six Challenging Scenarios Await at America's Escape Game in Orlando
3. America's Escape Game
An average escape rate of 16 percent makes for an intense and thrilling adventure at America's Escape Game, located on International Drive. Rooms range in capacity from five to 10 players with increasing levels of difficulty. Navigate the madness in Asylum, stop a deadly pathogen in Pandemic, find the red ruby in Lost Tomb of Monthu, prevent a missile attack in Crisis at 1600, or complete a rescue mission in The Caretaker. Or, for a competition that's the first of its kind, try Face Off, a high-energy room pitting you against the clock ... and each other!
4. Breakout Escape Rooms
Located just off International Drive, Breakout Escape Rooms is unique in that its rooms feature non-linear challenges and can accommodate larger groups, with up to 12 players able to join in the fun. You'll have 60 minutes to conquer each of the venue's three rooms, which challenge you to escape the circus in Ringmaster's Den, go undercover in Game of Espionage, and survive the undead in Zombie Roadhouse.
5. Escapology
No matter the size of your group, you're always guaranteed a private room at Escapology, which offers seven challenges for two to eight players on International Drive. Escape a cartel in Narco, avoid nuclear annihilation in Cuban Crisis, crack a deadly virus in Antidote, apprehend a killer in Budapest Express, outsmart a cyber-criminal in Th3 Cod3, solve a deadly crime in Mansion Murder, and save a submarine in Under Pressure. Just be sure to do it in 60 minutes or less!
Escape Rooms Throughout Orlando

Savor Your Victory at The Great Escape Room in Orlando
6. The Great Escape Room
Put your deductive skills to the test at The Great Escape Room, the only escape attraction in downtown Orlando. This option is also set apart by three Sherlockian challenges, including Sherlock Holmes' Library, Professor Moriarty's Game Room and Dr. Watson's Infirmary. Or, save the world from nuclear annihilation at The President's Bunker. Teams of up to 10 people (or eight for Dr. Watson's Infirmary) will discover hidden compartments and devilishly clever clues ... but no apparent way out!
7. The Escape Company
Whether you're a first-timer or a seasoned escape artist, you'll find the perfect challenge at The Escape Company, a family-run attraction close to Walt Disney World. Bring a team of up to 10 players and test your skills in Legend of the Silent Tide, The Hidden Temple, Suburban Serial Killer, Outlawed or Pandorum. Then, either celebrate your escape or drown your defeat at The Hideaway Lounge, a Prohibition era-inspired speakeasy serving local craft beers and wine.
Ready to escape? One thing to keep in mind if you're traveling with children: Many of the escape rooms and scenarios featured here are suitable for younger guests, although some are intended for mature players only. Check each attraction's website to confirm room-specific age restrictions, as well as player and time limits, before booking your challenging escape in Orlando.
Cover image courtesy of The Escape Game Orlando
Stay Connected to Orlando!
Never miss a second of what happens in Orlando! Follow us on Facebook, Twitter and Instagram for the latest offers, exclusive tips and live feeds from our newest attractions and fun events, and subscribe to our eNewsletter for more information from Orlando: Theme Park Capital of the World®.