Orlando Dining: Meet Our Celebrity Chefs
Get to know 11 celebrity chefs who help make Orlando one of the world's most delicious destinations.
The secret is out: Celebrity chefs from around the world are increasingly choosing to showcase their talent in Orlando! From the theme parks to downtown, and other spots throughout the destination, here are 11 famous chefs who are making Orlando a culinary mecca, one bite at a time.
Without a doubt, Disney Springs boasts the highest concentration of celebrity chefs in the Orlando area. Here's a look at the famous names whose dishes you can dine on now and in the near future at the walkable dining, entertainment and shopping district.
José Andrés at Jaleo: Named one of Time magazine's "100 Most Influential People" and awarded "Outstanding Chef" by the James Beard Foundation, Andrés is bringing his famed Jaleo brand to Disney Springs' West Side neighborhood later this year. Focusing on the spirit and flavors of Spain, the new venture is said to be the biggest, boldest Jaleo yet.
Rick Bayless at Frontera Cocina: Located in Town Center, this restaurant is as notable for its design elements as for its authentic Mexican fare. Having notched up eight James Beard Awards in his career, Bayless is also known for television hits such as Mexico — One Plate at a Time and Bravo's Top Chef Masters.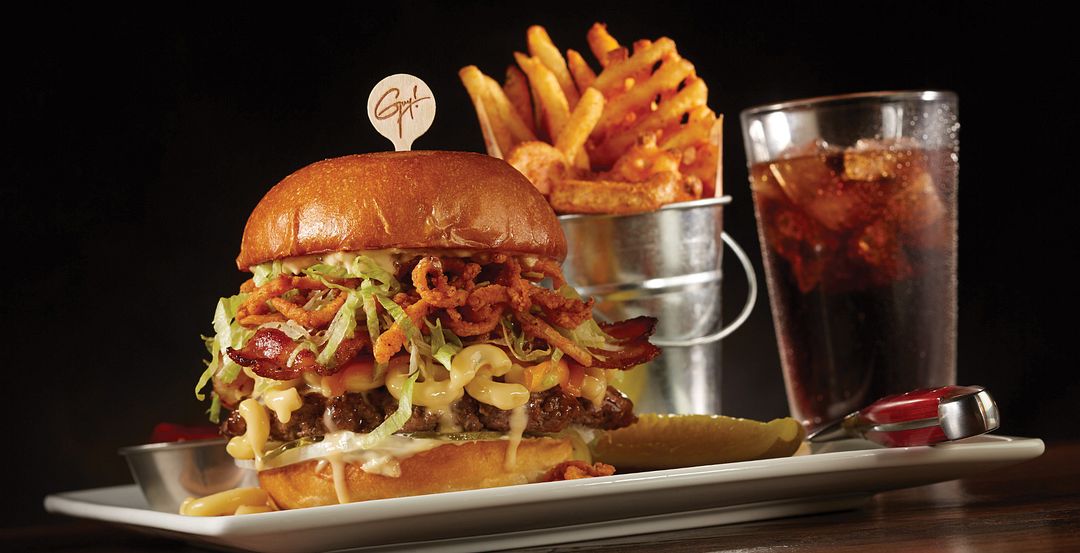 Guy Fieri Has a Line of Burgers at Planet Hollywood at Disney Springs in Orlando
Guy Fieri at Planet Hollywood and Chicken Guy! A New York Times bestselling author and Emmy Award-winning television host, this chef and restaurateur is known as the Mayor of Flavortown. While he doesn't oversee Planet Hollywood's entire menu, Fieri did contribute a signature line of burgers and sandwiches to the iconic Town Center restaurant's culinary lineup, and his all-new Chicken Guy! fast-casual eatery opened in 2018.
Tony Mantuano at Terralina Crafted Italian: Slated to open this spring, Mantunao's new venture updates his former Disney Springs eatery, Portobello, with fresh menus and ambience. Focusing on authentic Italian cuisine, the restaurant will also feature a wood-burning oven and craft cocktails. Among Mantuano's many honors is a James Beard Award nod for Best Chef in 2005.
Masaharu Morimoto at Morimoto Asia: Best known for his winning appearances on Iron Chef, Morimoto has been refining his craft for nearly 40 years. Located in Disney Springs' The Landing, this namesake restaurant invites you to partake in a culinary journey across Asia. Late-night revelers will also be glad to know about the eatery's Forbidden Lounge, which is open till 2 a.m. daily.
Wolfgang Puck at Wolfgang Puck Express and Wolfgang Puck Bar & Grill: Currently, you can get a sampling of this legend's creations at Wolfgang Puck Express in The Marketplace neighborhood. This summer, look forward to the debut of the all-new Wolfgang Puck Bar & Grill in Town Center. It will feature a Mediterranean-influenced menu and ambience inspired by California.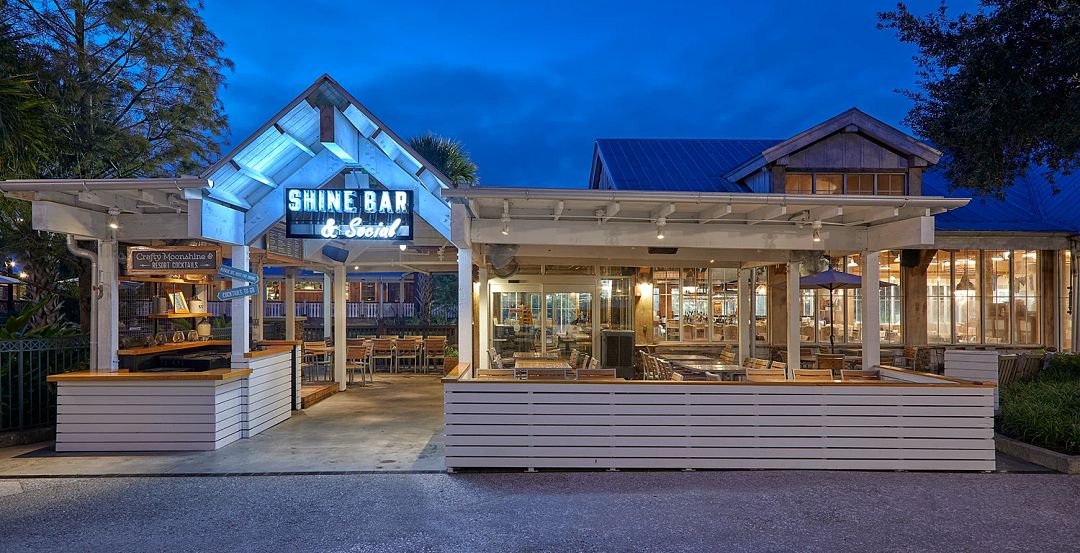 Chef Art Smith's Homecomin' Florida Kitchen at Disney Springs in Orlando (Steve Boxall Photography)
Art Smith at Homecomin' Florida Kitchen: A two-time James Beard award winner, Smith is also a sixth-generation Floridian who's appeared on such cooking shows as BBQ Pitmasters and Top Chef Masters. Found in The Landing, his Disney Springs eatery pays homage to Florida's rich agricultural heritage with farm-to-table freshness.
Also at Walt Disney World, Todd English's bluezoo can be found be found at Disney's Swan and Dolphin Resort. Stylish and entertaining, English has appeared on such TV programs as Cooking Under Fire and Food Trip. With an assist from Chef Christopher McDonough, English's bluezoo combines the freshest seafood and global coastal cuisine with an unforgettable atmosphere.
Celebrity Chefs Throughout Orlando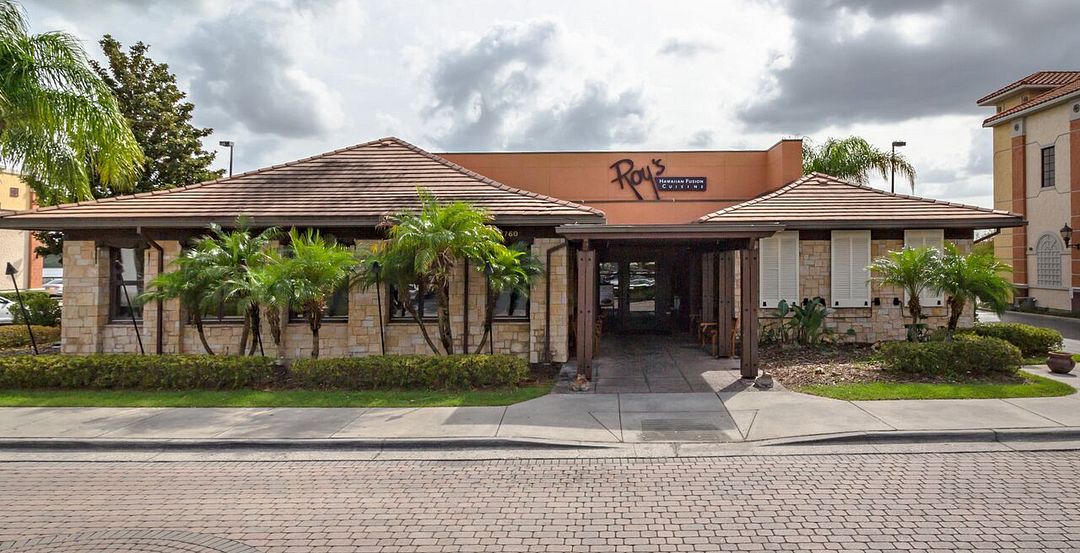 Chef Roy Yamaguchi's Roy's Restaurant in Orlando
Melissa Kelly at Primo: Happily for Orlando, Kelly's original Primo in Maine closes in the winter, during which time she can often be found overseeing operations at the famous eatery's location at the JW Marriott, Grande Lakes. Both serve Mediterranean cuisine using local, organic ingredients. A Culinary Institute of America graduate, Kelly is a two-time James Beard Award recipient.
Norman Van Aken at Norman's: The only Floridian inducted into the James Beard list of "Who's Who in American Food and Beverage," Van Aken is a homegrown celebrity chef with two local options. His Orlando eatery, Norman's, can be found at The Ritz-Carlton Orlando, Grande Lakes.
Roy Yamaguchi at Roy's Restaurant: The winner of multiple awards, Yamaguchi has appeared on countless TV series, including Iron Chef, Hawaii Cooks and others. Offering island-inspired bites and enticing cocktails, this eatery is located on Orlando's famed Restaurant Row, just minutes from Universal Orlando and SeaWorld.
Written by Nate Shelton, consumer content writer at Visit Orlando. He's an experienced journalist and native Floridian who enjoys the entertainment, cultural and culinary aspects of Orlando and Orange County.
Cover image: Chef Masaharu Morimoto, courtesy of Patina Restaurant Group
Stay Connected to Orlando!
Never miss a second of what happens in Orlando! Follow us on Facebook, Twitter and Instagram for the latest offers, exclusive tips and live feeds from our newest attractions and fun events, and subscribe to our eNewsletter for more information from Orlando: Theme Park Capital of the World®.