Orlando Becomes the Ultimate Haunt for Adults This Halloween
Enter, if you dare, to some of the scariest events Orlando has for adults this Halloween season.
If you think frightful fun in Orlando — Halloween Vacation Capital® — is strictly kids' stuff, think again. Through Nov. 3, Orlando is hosting 78 days of Halloween events, many of which cater to adults and older teens. Get a sitter for your children and be ready to scream, because these mature monster mashes will leave you dying for more in Orlando!
Learn more: Halloween in Orlando
Halloween for Adults in Orlando's Tourism District
Halloween Horror NightsTM at Universal Orlando® Resort
One of the most popular and best Halloween events for adults in Orlando, Universal Orlando Resort's separate-ticketed Halloween Horror Nights makes you feel as though you've left reality and stepped right into a horror movie — or rather, several of them, plus nightmares you've never seen before!
Learn more: Halloween Horror Nights at Universal Orlando Resort
Running on select nights through Nov. 3, this year's event features a record-breaking 10 haunted houses, five scare zones and a live show, plus access to select attractions. The houses include the first-ever based on Netflix's megahit Stranger Things, as well as tributes to Halloween 4, Poltergeist, Trick 'r Treat and Blumhouse films, plus five original creations.
Mortem Manor at Old Town
Part of the lineup at Old Town, the unique entertainment, dining and shopping hub in Kissimmee just 10 minutes from Walt Disney World® Resort, Mortem Manor is open year-round, and it's a must-visit if you'll be here during Halloween. Featuring state-of-the-art animatronics and live actors, the two-story attraction is complemented by The Last Ride Burial Simulator, in which you get to experience what it's like to travel by hearse to your final resting place ... in total darkness.
Spooky Empire
Taking place at the Caribe Royale All-Suite Hotel & Convention Center near International Drive, Spooky Empire is the nation's largest horror convention. Celebrities scheduled to attend this year include Gillian Anderson and David Duchovny (The X-Files), Carl Weathers (Rocky), Robert Patrick (Terminator 2), Ricou Browning (Creature From the Black Lagoon) and many others.
Zombie Outbreak
Zombies have overrun a research facility on International Drive, and it's up to you and five other players to ward off the undead before it's too late! Open throughout the year, Zombie Outbreak uses imaginative décor, authentic weapon replicas and live actors to keep the experience realistic, and accuracy, kills and bites are presented on a scoreboard at the end of each session.
Halloween for Adults Throughout Orlando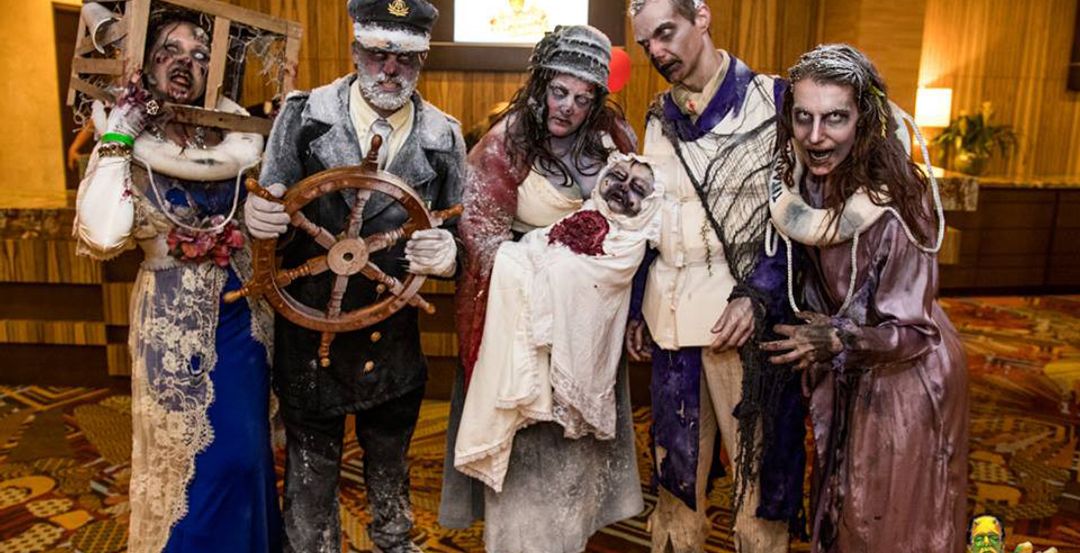 Spooky Empire in Orlando
American Ghost Adventures
Based in Orlando, American Ghost Adventures offers walking tours of paranormal places throughout the area, including locations in downtown Orlando, Winter Garden and DeLand. If you want a little food and drink with your frights, look into their "Spirits With Spirits" pub tour and "Dining With the Departed" event, the latter of which includes dinner at a haunted restaurant.
City of Orlando's Moonlight Walking Tours
"Home" to nearly 100 dearly departed, notable Orlando personages, downtown's Greenwood Cemetery is always an eerie place to visit — and it becomes even spookier during the City of Orlando's Moonlight Walking Tours. Consisting of a dark, historical stroll through the cemetery's four square miles, the tours are free to attend, but donations are accepted for the rotating lineup of hosting charities.
Maitland's Historical Haunted Tours
About 20 minutes from downtown Orlando, Art & History Museums — Maitland hosts Maitland's Historical Haunted Tours, which are available at the organization's main facility and the Waterhouse Residence Museum on select days in October. Learn the truth about two of Central Florida's most haunted places with a combination of ghost stories, Victorian artifacts and other features!
Orlando Halloween Pub Crawl
Come dressed in your best costume for the Orlando Halloween Pub Crawl, taking place Oct. 26. Explore downtown Orlando at four different locations (including three with multiple bars), enjoy four complimentary drinks, savor drink specials and enter the costume contest. Locations participating this year include Casey's/Frosty's/Swiggs, The Beacham, Chillers/Latitudes/Big Belly's/Stigma/Irish Shannon's, and Wall St. Plaza.
A Petrified Forest
Located in Altamonte Springs, approximately 25 minutes north of downtown Orlando, A Petrified Forest offers two outdoor scare trails with plenty of frights in store. You'll barely be able to contain your screams as you travel through 85,000 square feet of pure terror, which also features live music and food on select nights through Nov. 3.
13 Films of Halloween at Enzian Theater
On select days and nights in October, the Enzian Theater in Maitland is showing 13 classic horror films, most of which are intended for mature audiences. Standouts include Creepshow, The Hills Have Eyes, Re-Animator and others, all of which are complemented with cocktails named after the movies and available from the theater's onsite Eden Bar.
Stay Connected to Orlando!
Never miss a second of what happens in Orlando! Follow us on Facebook, Twitter and Instagram for the latest offers, exclusive tips and live feeds from our newest attractions and fun events, and subscribe to our eNewsletter for more information from Orlando: Theme Park Capital of the World®.