Eat, Drink and Be Merry This Thanksgiving in Orlando
See what Orlando's restaurants are cooking up for Thanksgiving 2018.
'Tis the season — for family, friends and feasting! Thanksgiving will be here on Nov. 22, and as millions of visitors have already learned, being in Orlando makes this heartwarming celebration extra magical. In fact, we were named the No. 1 Thanksgiving travel destination for 2018 by AAA! From the theme parks to downtown, and epic feasts to romantic dinners for two, here are your top options for Thanksgiving dining in Orlando for 2018!
Learn more: Orlando Restaurants
Thanksgiving Dining in Orlando's Tourism District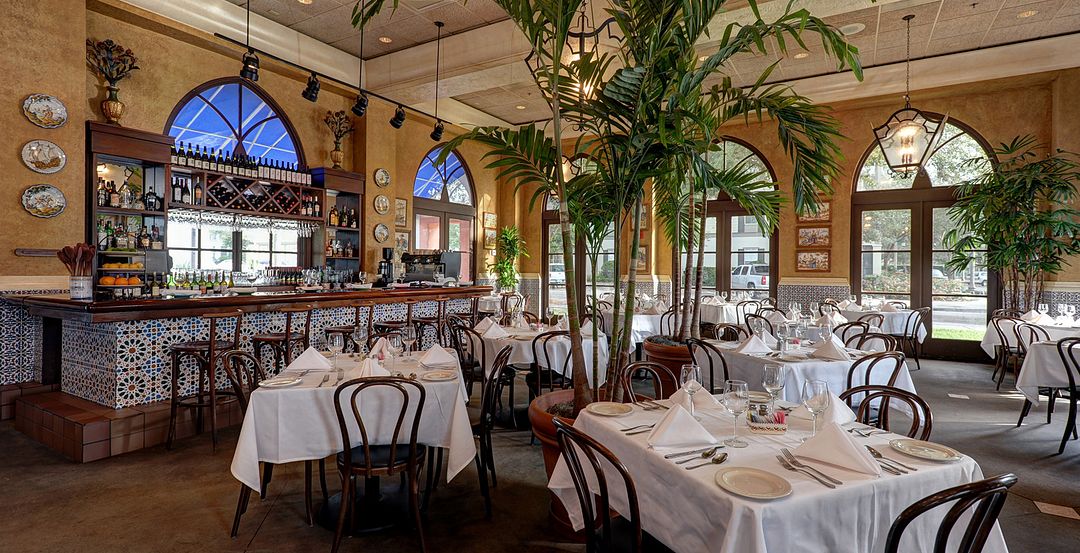 Columbia Restaurant in Celebration Near Orlando
Walt Disney World® Resort Area
Clarion Inn Lake Buena Vista, A Rosen Hotel: A Thanksgiving feast will be served in this resort's Rosen Ballroom from 11 a.m. – 3 p.m. Priced at $32.99 for adults, $13.99 for children ages 4-11, and free for children under 4, it will feature roasted turkey, prime rib, crab cakes, carving stations, sides, desserts and more, plus a choice of red or white wine for guests 21 and up.
Columbia Restaurant: Located in Celebration, just a short distance from Walt Disney World Resort, Columbia will serve Thanksgiving dinner all day, priced at $23 for adults and $6 for children under 10. The regular menu will also be available.
The Edison: One of the newest reasons to visit Disney Springs, this electrifying dining and nightlife hotspot is serving a traditional Thanksgiving dinner for $25 per person. You can also enjoy their fall-focused Hallo Hooch cocktail, featuring Redemption Rye, Bailey's Pumpkin Spice, Domaine de Canton and Cinnamon Cordial shaken over ice and topped with ground cinnamon, for an additional cost.
LakeHouse: Priced at $69 for adults, $32.50 for children ages 6-11, and free for kids under 6, the Thanksgiving buffet at this Hyatt Regency Grand Cypress eatery will include salads, small bites, a charcuterie and cheese table, a seafood and sushi bar, a carving butcher block and much more from 5-9 p.m.
Maria & Enzo's Ristorante: New to Disney Springs in 2018, this Italian trattoria next to The Edison is serving Thanksgiving dinner for $39 per person, including your choice of starters, entrees and desserts. They'll also have a special Medici Punch, featuring Tuaca, Bulleit Bourbon and charred cinnamon cider. Downstairs, Enzo's Hideaway Tunnel Bar & Restaurant will have a Pumpkin White Russian, complete with Hanger One Vodka, Monin Pumpkin Spice, heavy cream and a sprinkled sugar rim.
Morimoto Asia: Iron Chef Masaharu Morimoto's Disney Springs restaurant will serve a Peking turkey dinner with Szechuan peppercorn gravy, Japanese-style candied yams, cranberry-lychee chutney and a pork-fried rice version of stuffing, with a special Fall All Over cocktail available at an additional cost. The latter features Hennessy, Averna, lemon, apricot preserves and a spritz of cinnamon.
Reunion Resort: This resort near Walt Disney World will offer a Grande Thanksgiving Feast with seatings at 3 and 5 p.m. Priced at $54.95 for adults, $21.95 for children ages 4-12, and free for kids under 4, the meal will feature turkey and striploin carving stations, plus salads, sides, desserts, live entertainment and activities for children.
Todd English's bluezoo: Located at Walt Disney Swan and Dolphin Resort, this celebrity chef-owned eatery is offering a Thanksgiving special with roasted turkey roulade and gourmet fixings. Pricing is $40 for adults and $16 for children.
Walt Disney World Swan and Dolphin Resort: In addition to the Thanksgiving feast at Todd English's bluezoo, this resort will serve a Thanksgiving buffet at its Garden Grove restaurant, including a children's menu. It's priced at $48.99 for adults, $26.99 for kids ages 3-9, and free for children under 3.
Wine Bar George: Wine and dine your way through a traditional Thanksgiving dinner at this Disney Springs venue, which is headed by Master Sommelier George Miliotes.

B.B. King's Blues Club at Pointe Orlando
International Drive Area
B.B. King's Blues Club: Part of the dining and entertainment lineup at Pointe Orlando, this venue will have a Thanksgiving brunch and live music from 12-4 p.m. Priced at $49.95 for adults, $18.99 for children 5 and up, and free for kids under 5, the meal will include carving stations, custom omelets, salad, fruit, pastries, bread and dessert, plus several breakfast favorites.
B-Line Diner: For $25 per guest, enjoy a Thanksgiving dinner with turkey, traditional sides, spinach salad and sweet potato pie at this Hyatt Regency Orlando restaurant.
Hilton Orlando: David's Lobby & Bar at this resort is serving Thanksgiving dinner for $28 per guest with a Thankful Cranberry cocktail available for an additional cost. Or, grab a turkey burger with sweet potato fries at the Hilton's Tropics Pool Bar & Grill.
Rosen Centre: Buffet-style Thanksgiving dining will be available at Café Gaugin from 11 a.m. – 7 p.m., including usual holiday favorites, desserts, sushi, pasta, paella, seafood, omelets, waffles, a carving station and desserts. Pricing is $47.95 for adults, $17.95 for kids ages 4-12, and free for children under 4.
Rosen Plaza Hotel: This property's Thanksgiving buffet is priced at $42.95 for adults, $18.95 for children ages 4-11, and free for children under 4. Served from 12-5 p.m., it will include traditional fare, pasta, seafood, carving stations, Asian stations and desserts, plus complimentary wine for adults 21 and up.
Rosen Shingle Creek: Head to Café Osceola at this AAA Four diamond-rated resort for a Thanksgiving buffet from 10 a.m. – 8 p.m., including complimentary champagne and mimosas for guests 21 and older.
Spencer's for Steaks and Chops: Located at Hilton Orlando, this restaurant will put its own twist on traditional Thanksgiving fare, and Apple Cider Sangria will also be available. Pricing is $59 for adults and $25 for children under 13.
Urban Tide: At this Hyatt Regency Orlando eatery, sit down to a three-course Thanksgiving dinner of roasted turkey breast or grilled lamb chops, plus a choice of starters and desserts, for $60 per person.
Thanksgiving Dining Throughout the Orlando Area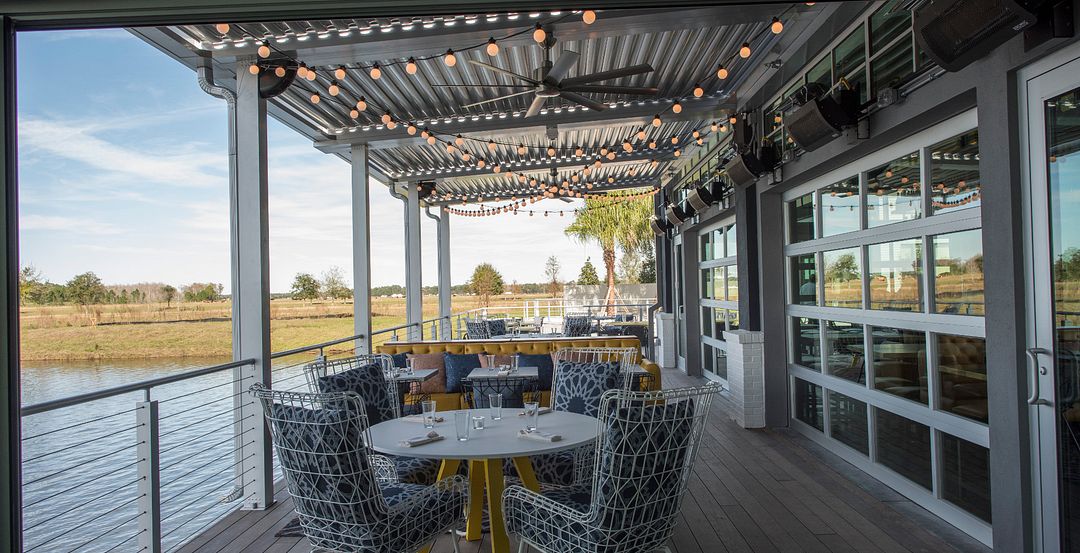 Canvas Restaurant & Market in Orlando
The Alfond Inn: At a cost of $69 for adults, $29 for children ages 5-12, and free for kids under 5, this stately hotel is serving a chef-inspired Thanksgiving feast with seatings at 1 and 3 p.m.
Canvas Restaurant & Market: This restaurant will have a three-course Thanksgiving meal priced at $30 per guest. They're located in the Orlando neighborhood of Lake Nona, just 15 minutes from Orlando International Airport.
Hemisphere Restaurant: Offering up-close views of departing and arriving planes at Orlando International Airport, this award-winning restaurant's Thanksgiving buffet includes multiple entrees, plus cheese, charcuterie, soup, salad, sides, seafood, baked goods and desserts. Running from 11 a.m. – 4 p.m., it's priced at $44.95 for adults, $19.95 for children ages 5-12, and free for kids under 5.
Written by Nate Shelton, consumer content writer at Visit Orlando. He's an experienced journalist and native Floridian who enjoys the entertainment, cultural and culinary aspects of Orlando and Orange County.
Stay Connected to Orlando!
Never miss a second of what happens in Orlando! Follow us on Facebook, Twitter and Instagram for the latest offers, exclusive tips and live feeds from our newest attractions and fun events, and subscribe to our eNewsletter for more information from Orlando: Theme Park Capital of the World®.