By Bus, Boat, Bike and Train: Top 10 Ways to Tour Orlando
Experience the country's No. 1 travel destination from a comfortable seat with 10 unique Orlando sightseeing tours and transportation options.
Orlando is a wide-ranging destination with lots to discover — and you can see it all in comfort and style with tour operators and transportation providers throughout the area. Whether by bus, boat, bike or train, here are 10 of our favorite ways to tour Orlando's theme parks, attractions, hidden gems and natural wonders. Happy trails!
See Orlando by Bus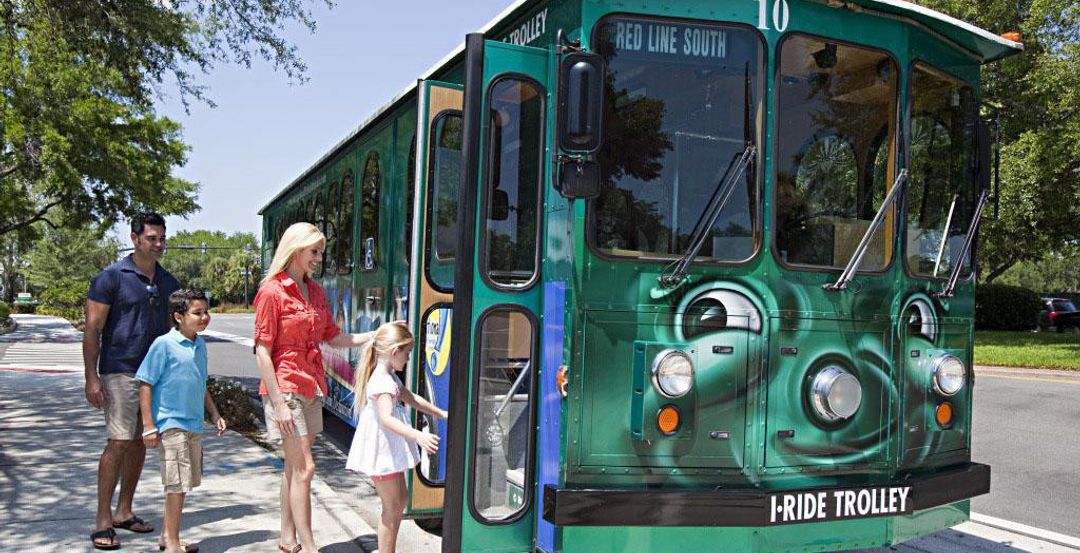 I-Ride Trolley in Orlando (Courtesy I-Drive Business District)
1. Florida Dolphin Tours & Transportation
With more than 23 years of experience and partnership with the worldwide City Sightseeing Tours organization, Florida Dolphin Tours & Transportation is a name you can trust when it comes to touring Orlando and other points of interest throughout Central Florida. For starters, they operate an eight-hour "City of Orlando" tour that focuses on areas away from the theme parks, including downtown Orlando and Winter Park, priced at $49.
They also offer express shuttles to Walt Disney World® Resort and Universal Orlando® Resort, with pickup and drop-off locations throughout the International Drive area, plus shopping excursions, dolphin swim tours, trips to Kennedy Space Center Visitor Complex on Florida's east coast, and more. Shuttle services start at $8 per guest, and pricing for other tours varies by package.
2. Gray Line of Orlando & Gator Tours of Orlando
Founded as Gator Tours of Orlando in 1993, this company's expertise and impeccable service attracted the attention of global tour operator Gray Line, which became an official partner in 2006. They offer Orlando tours starting at $69 per passenger, as well as daily trips to Kennedy Space Center Visitor Complex, beach and boat tours, eco tours, and fun evening activities for the whole family.
3. I-Ride Trolley
Between attractions, dining, shopping and entertainment, you could easily spend an entire vacation just exploring Orlando's International Drive area — especially when you let the I-Ride Trolley do the driving! More transportation than tour, this service runs through our main tourism district from 8 a.m. to 10:30 p.m. daily. It's also highly affordable, with a one-day pass priced at just $5 and deep discounts on multiday passes.
4. Hop On! Central Florida Brew Tours
Beer-lovers won't want to miss this option, which ferries up to 12 passengers to some of the most popular microbreweries in the Orlando area. They offer a trio of four-hour routes, each priced at $37.99 per passenger, that visit four different breweries, including those in downtown Orlando, Winter Park and Seminole County. Private tours are also available, as is a "Ticket and Pregame" package for Orlando City Soccer Club home games.
Learn more: Hop On! Central Florida Brew Tours
See Orlando by Boat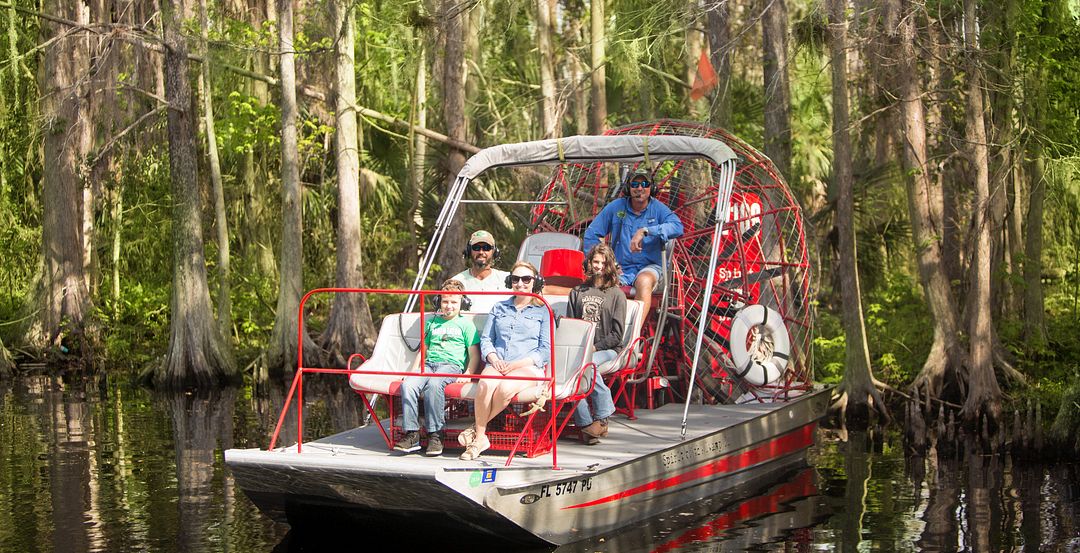 Spirit of the Swamp Airboat Rides Near Orlando
5. Winter Park Scenic Boat Tour
Noted for acclaimed dining and shopping, a high concentration of museums and galleries, and tree-lined, cobblestoned streets, Winter Park is one of Central Florida's most gorgeous communities — but you can only see half of its beauty by land. Priced at just $14 for adults and $7 for kids, the Winter Park Scenic Boat Tour will take you "behind the scenes" for a breathtaking, relaxing look at the city's pristine waterways, as well as the multimillion-dollar mansions that dot the shorelines.
Learn more: The City of Winter Park
6. Airboat & Kayak Tours
You can explore the headwaters of the Florida Everglades and other beautiful Central Florida waterways with airboat tour operators throughout the area. In Orlando, they include Airboat Rides at Midway, and Boggy Creek Airboat Adventures, Kissimmee Swamp Tours, Spirit of the Swamp Airboat Rides, and Wild Florida Airboats and Gator Park all operate out of Kissimmee close to Walt Disney World.
For a slower-paced water adventure where you can really take in the scenery (and get a workout while you're at it), opt for a kayak tour with Central Florida Nature Adventures and other local operators.
Learn more: Orlando Sports, Recreation & Outdoors
See Orlando by Bike

SwampBike Pub Crawl in Orlando
7. SwampBike Pub Crawl
Put the pedal to the metal with SwampBike Pub Crawl, a one-of-a-kind pedicab service that tours popular watering holes in and around Orlando's International Drive area. What makes it stand out is that six of the SwampBike's 15 passenger seats are equipped with working pedals, so you won't have to skip leg day while enjoying some of the best adult beverages in Orlando. Lasting approximately two hours, public tours cost $20 per person, and private tours are available for $250.
Learn more: Orlando Nightlife & Entertainment
8. Redi Pedi Cab Company
Part of International Drive's landscape since 2006, this pedicab operator offers three different, one-hour excursions, which respectively focus on I-Drive's most famous landmarks, historic selfie locations, and the best places to play Pokémon Go. All three cost $59.99 plus gratuity, with a maximum of two passengers per pedicab.
See Orlando by Train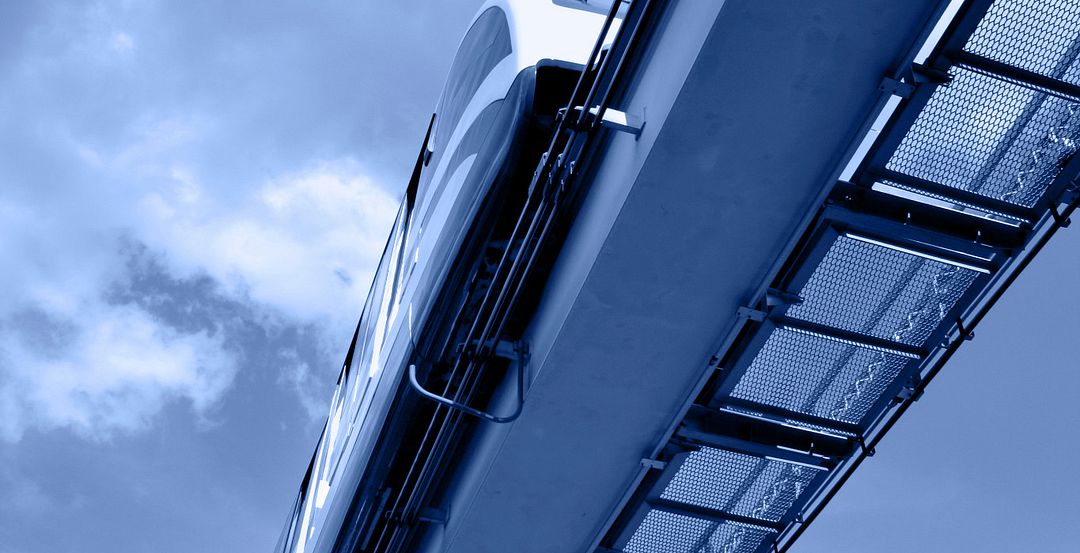 Trains Have Long Been Part of Orlando's Landscape
9. Royal Palm Railway Experience
Located in Tavares, about 50 minutes north of downtown Orlando, Royal Palm offers scenic day excursions to nearby Mount Dora and Eustis, recreating the experience of 1950s rail travel along the way. They also operate The Polar Express Train Ride during the holidays, as well as the Rails & Ales Brew Train. Pricing starts as low as $9.97 per passenger for the regular routes.
Learn more: Orlando Train Rides
10. SunRail
Orlando's commuter rail service is a fun, easy and affordable way to tour Orlando and Central Florida. Running from Poinciana in the south, about 20 minutes from Walt Disney World, to DeBary in the north, about 30 minutes from downtown Orlando, SunRail usually operates Monday through Friday, although limited weekend service is offered during major events. Southbound service is available from 5 a.m. to 9 p.m., with northbound trains running from 6 a.m. to 10 p.m. One-way tickets start at $2 per passenger, and round-trip tickets can be had for as little as $3.75.
Written by Nate Shelton, consumer content writer at Visit Orlando. He's an experienced journalist and native Floridian who enjoys the entertainment, cultural and culinary aspects of Orlando and Orange County.
Cover image courtesy Florida Dolphin Tours & Transportation.
Stay Connected to Orlando!
Never miss a second of what happens in Orlando! Follow us on Facebook, Twitter and Instagram for the latest offers, exclusive tips and live feeds from our newest attractions and fun events, and subscribe to our eNewsletter for more information from Orlando: Theme Park Capital of the World®.