Best Places to Trick-or-Treat in Orlando
Families can celebrate Halloween in Orlando like locals at trick-or-treating hotspots all over town.
Halloween in Orlando is epic, and not just because we're hosting 78 days of Halloween festivities through Nov. 3, 2018. We also boast some of the world's best trick-or-treating for kids, including everything from theme park celebrations to free, family-friendly events across the destination. Prepare your costumes and grab some bags — it's time to trick-or-treat in Orlando!
Trick-or-Treat at Orlando Theme Parks

Brick or Treat at LEGOLAND Florida Resort (© 2016 Chip Litherland Photography)
Mickey's Not-So-Scary Halloween Party: On select nights through Oct. 31, Walt Disney World® Resort's Magic Kingdom transforms into a magical place to celebrate Halloween courtesy of this separate-ticketed event. Your family can don your best mask-free costumes and hit numerous trick-or-treat stations throughout the park while enjoying exclusive desserts, character meet-and-greets, special shows, a parade, fireworks and other special features. Get full details.
SeaWorld's Halloween Spooktacular: Running on weekends through Oct. 28, this family-friendly event at SeaWorld® Orlando invites kids to wear costumes without masks as they explore a "fanta-sea" that includes multiple candy stations with special treats. You'll also be amazed by pumpkin fish, up-close animal encounters, sea-themed dance parties and more, all included with regular admission. Get full details.
LEGOLAND Florida's Brick or Treat: LEGOLAND Florida Resort's annual Halloween celebration takes place every weekend in October and on Oct. 31, and it's included with regular admission. Children can wear costumes without masks, collect fistfuls of candy, participate in building activities, and get their photos taken with life-sized LEGO characters, plus other ways to play. Get full details.
Trick-or-Treat Throughout Orlando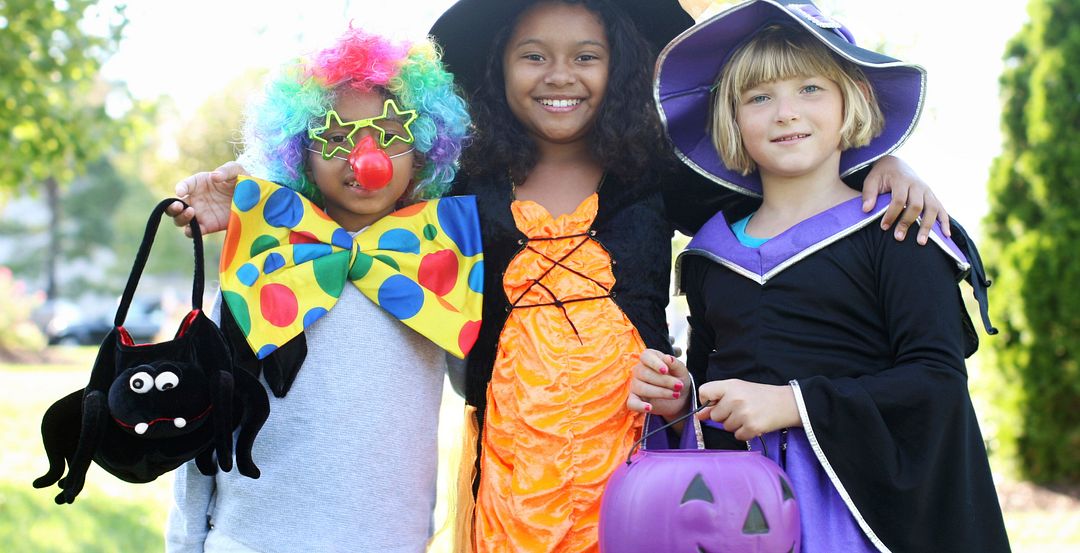 Enjoy Family-Friendly Halloween Celebrations and Trick-or-Treating All Over Orlando
Avalon Park's Halloween Spooktacular: This free event invites children and their parents to an evening of trick-or-treating and Halloween activities. It takes place from 5-9 p.m. on Oct. 27 in downtown Avalon Park, which is about 20 minutes east of downtown Orlando.
Halloween at Cranes Roost Park: This free, community-oriented event at Cranes Roost Park in Altamonte Springs, about 20 minutes north of downtown Orlando, features local businesses handing out candy and other goodies to approximately 15,000 kids. It runs from 5-9 p.m. on Oct. 31, and a costume contest is included in the festivities.
Mall-O-Ween: Head to The Florida Mall, about 25 minutes from Walt Disney World, for this free evening of fun for kids and their families. Held in the mall's Center Court, the celebration takes place on Oct. 31 from 4-7 p.m., including face painting, music, a photo booth, special characters and more. Many retailers will also be giving away free candy or nonfood items.
Screamin' Green Hauntoween: Get into the ghoulish spirit at Crayola Experience at The Florida Mall. Held daily from Sept. 22 – Oct. 31, and included with regular admission, this event includes monster-iffic crafts and spooky happenings that include weekend dance parties, themed scavenger hunts, a slime-themed live show, and trick-or-treating every weekend.
Spooky Hollow: On Oct. 31, the city of Sanford and its downtown merchants invite kids 12 and under and their parents to trick-or-treat from 6-8 p.m. Costume contests by age groups will take place at 7 p.m. and 7:30 p.m., and carnival games, prizes and other surprises will also be available. Sanford is about 30 minutes north of downtown Orlando.
Zoo Boo Bash: From 9 a.m. to 3 p.m. on Oct. 20, your family can have a truly wild Halloween at Central Florida Zoo & Botanical Gardens, which is located in Sanford. Besides plenty of trick-or-treating, you can look forward to spooky crafts and stories, rides on the Zoo Boo Choo-Choo, animal-education shows and more. Admission to the zoo is required, and kids are welcome to wear costumes.
Written by Nate Shelton, consumer content writer at Visit Orlando. He's an experienced journalist and native Floridian who enjoys the entertainment, cultural and culinary aspects of Orlando and Orange County.
Cover image courtesy LEGOLAND Florida Resort (© 2010 Chip Litherland Photography)
Stay Connected to Orlando!
Never miss a second of what happens in Orlando! Follow us on Facebook, Twitter and Instagram for the latest offers, exclusive tips and live feeds from our newest attractions and fun events, and subscribe to our eNewsletter for more information from Orlando: Theme Park Capital of the World®.