6 Ways to Celebrate WonderWorks Orlando's 20th Anniversary
One of Orlando's most recognizable attractions, WonderWorks is celebrating its 20th anniversary and inviting you to the party.
If you've visited International Drive in Orlando, you've seen WonderWorks' iconic upside-down building — and if you've been inside, you know that its mind-bending mixture of education and entertainment makes it one of our most imaginative attractions. Here are six ways to join the party as the famed "indoor amusement park for the mind" celebrates its milestone 20th anniversary on March 3!
1. Wonder Zones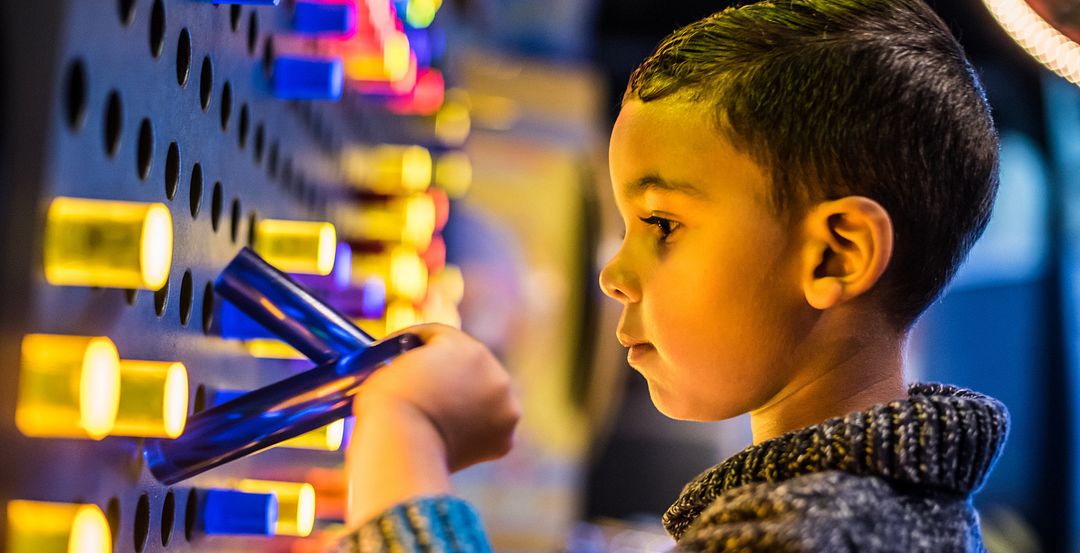 Wonder Brite at Imagination Lab Inside WonderWorks in Orlando
WonderWorks features six distinct areas called Wonder Zones that are perfect for family fun. From the depths of space to an art-driven journey of the mind, here's what you can expect from each.
Natural Disasters: Fun activities here include a "hurricane shack" with 74-mph winds, an earthquake simulator, a recreation of the icy waters faced by Titanic survivors, and a giant, hands-on Tesla coil.
Physical Challenge: Here, you can lie down on a bed of 3,500 nails, make a 3D image of yourself using 40,000 plastic pins on the Wonder Wall, and create enormous soap bubbles. You can also engage in virtual sports, test your "pulley power" and play an innovative game called Mindball.
Light & Sound: Test your reflexes and try to beat the clock at this zone's Speed of Light game. The area also includes a giant piano you can play with your feet, presenting parents and kids with the opportunity to recreate the famous scene from Tom Hanks' beloved film Big! You'll also find other fun explorations of light, shadow and sound.
Space: Gear up in a life-sized replica of an EVA suit used by astronauts, or climb into a replica of the famed Mercury capsules. Other features include Mars rover and shuttle-landing simulators, as well as an astronaut simulator and the Wonder Coaster, which you design before taking it for a virtual ride. For safety reasons, guests must be at least 42 inches tall to ride the Wonder Coaster. For astronaut training, guests must be at least 54 inches and no taller than 76 inches, with a maximum weight of 250 pounds per passenger on the two-seater gyro.
Imagination Lab: Featuring a gigantic version of a Lite Brite dubbed the Wonder Brite, this area is also home to the foot-driven Alien Stomper, a digital painting game for younger kids called Fun Express, a forensic science exhibit, and hands-on activities with gears.
Far Out Art Gallery: Last but not least, WonderWorks' basement — which is upstairs, of course — is a gallery filled with brain-teasing paintings and illusions.
Step into WonderWorks' awesomely decorated Laser Tag Arena to outplay, outlast and outshoot other players. The area also features a video arcade that pays out in tickets redeemable for prizes.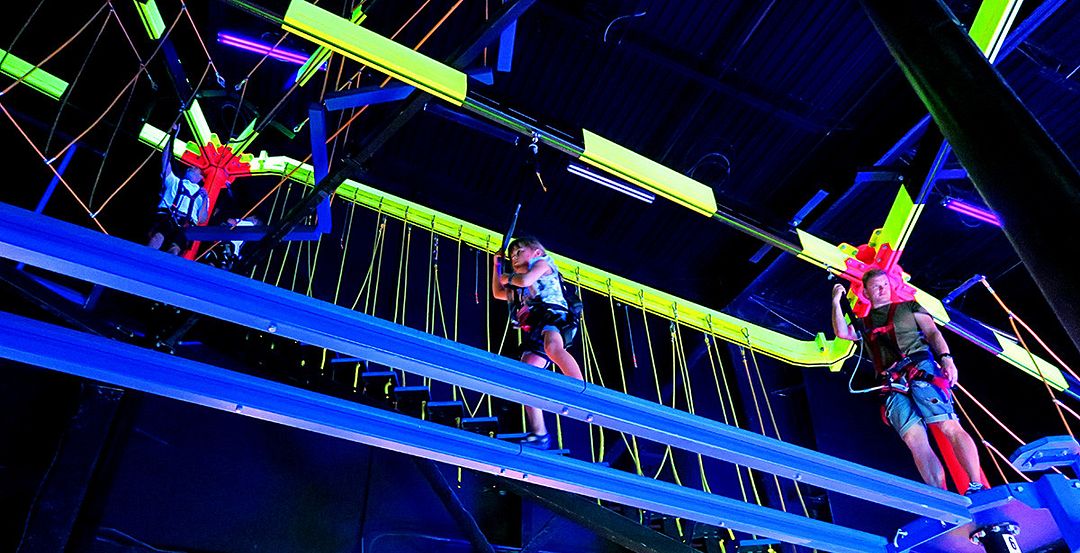 Indoor Ropes Challenge at WonderWorks in Orlando
Set in a glow-in-the-dark environment, this three-story, 36-foot-tall ropes course features 20 different obstacles, including suspension bridges, swinging beams and lily pads. Guests must be at least 42 inches tall with an adult, or 48 inches when going solo, and no open shoes, dresses or skirts are permitted.
Combining 3D film with special effects and full motion seating, this theater will transport you from your seat directly into the action. Motion ranges from subtle sensations to intense vibrations, and guests must be at least 40 inches tall to ride.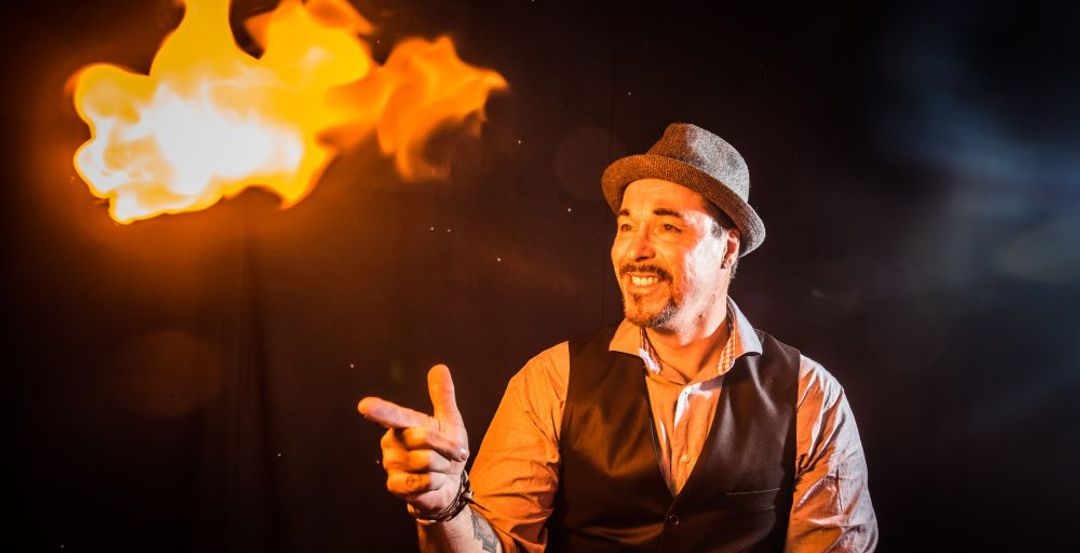 The Outta Control Comedy Magic Dinner Show in Orlando
Hilariously entertaining, this interactive dinner show is one of Orlando's best-kept secrets, and you can only see it at WonderWorks. The separately-ticketed extravaganza's dinner includes hand-tossed pizza, salad, beer, wine, soda and dessert — all of which is unlimited. Show time is normally 6 p.m., with an 8 p.m. start on select nights.
6. Photo Opportunities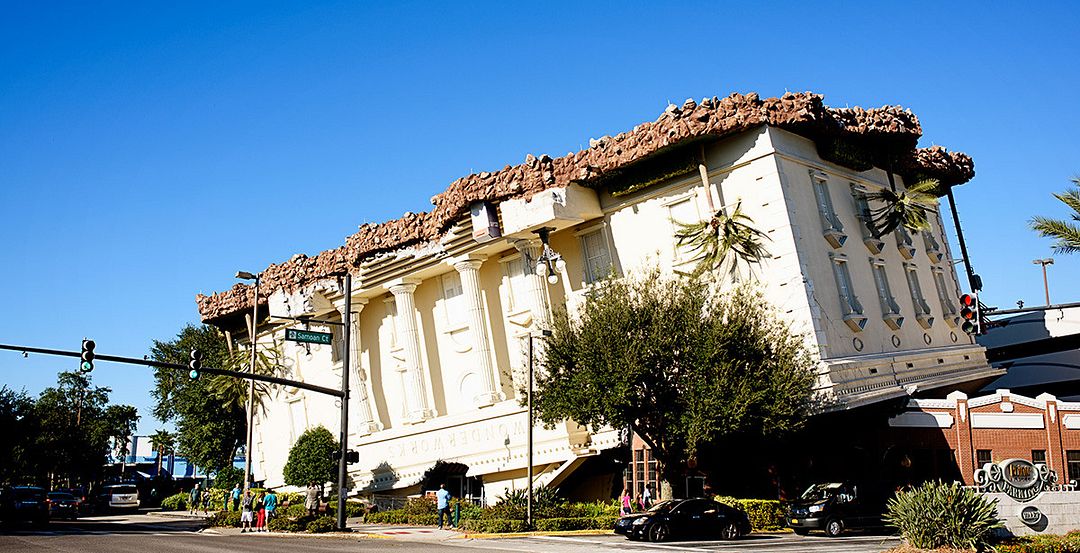 Famous Upside-Down Exterior of WonderWorks in Orlando
While you're marveling at everything inside WonderWorks, don't lose sight of the fact that the outside is pretty amazing in its own right! Photos taken in front of it make great mementos of your time in Orlando, and your friends and family are sure to love seeing pictures of it on social media. Of course, there are plenty of photo opportunities inside too.
Wonders Abound on International Drive in Orlando
WonderWorks is one of many reasons to visit Orlando's International Drive, which is a hotspot of indoor and outdoor attractions, dining, nightlife, shopping and entertainment. You'll also find our Official Visitor Center, where you can get free, personalized planning assistance and resources, as well as a complimentary gift bag. Stop by to say "hi" the next time you're in town!
Written by Nate Shelton, consumer content writer at Visit Orlando. He's an experienced journalist and native Floridian who enjoys the entertainment, cultural and culinary aspects of Orlando and Orange County.
Cover image courtesy WonderWorks Orlando
Stay Connected to Orlando!
Never miss a second of what happens in Orlando! Follow us on Facebook, Twitter and Instagram for the latest offers, exclusive tips and live feeds from our newest attractions and fun events, and subscribe to our eNewsletter for more information from Orlando: Theme Park Capital of the World®.