Celebrating LGBTQ+ pride and support, October's Come Out With Pride Festival brings a full week of can't-miss activities to Orlando.
---
Few destinations are as open and accepting as Orlando, where visitors from all over the world and all walks of life are welcome. We're also a pioneer in LGBTQ+ tourism, having hosted the world-famous GayDayS since 1991, with other high-profile, annual LGBTQ+ events joining the party in the decades since.
Learn more: LGBTQ+ in Orlando
One of the best, the Come Out With Pride Festival, returns on Oct. 12, 2019, to celebrate LGBTQ+ pride and support at downtown Orlando's Lake Eola Park — and it's bringing a full week of related events with it. Keep reading for details, and make plans now to join one of the most magical LGBTQ+ Pride celebrations in the country!
What to Expect From Orlando's Come Out With Pride Festival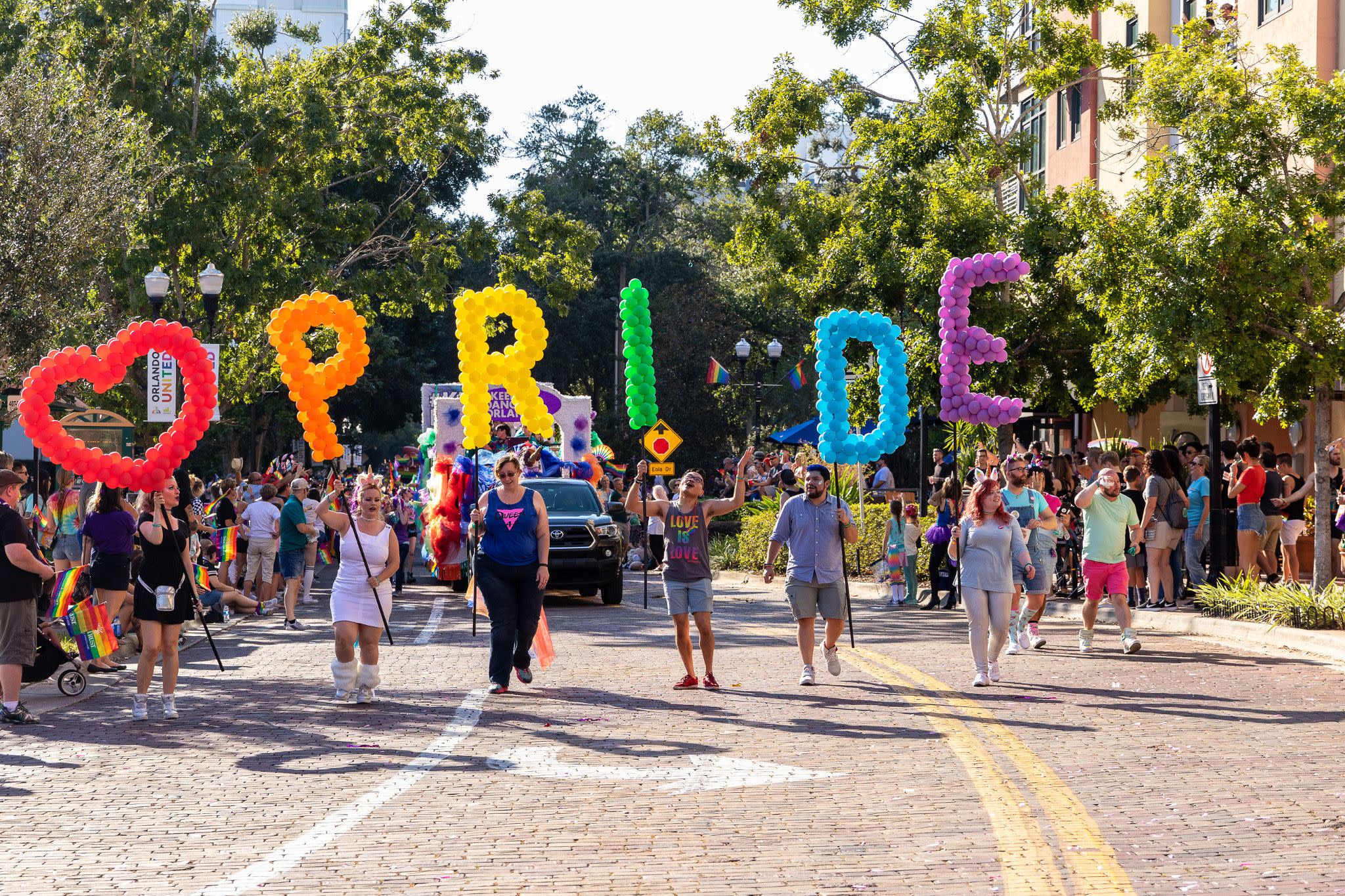 Come Out With Pride Festival Parade in Orlando
Orlando's Come Out With Pride Festival is produced by Come Out With Pride Inc., an all-volunteer, nonprofit organization that makes a positive impact in Orlando's LGBTQ+ community through special events, grants and scholarship programs. Now in its 15th year, the organization's signature festival is held each October, welcoming everyone from Central Florida and beyond to come together for a beautiful, fun celebration of unity and acceptance.
The festival's centerpiece is its parade, which features nearly 150 groups spanning a 1-mile route through downtown Orlando — but there's much more to enjoy during this day of love. You can also look forward to live entertainment at two stages around Lake Eola Park, including local artists and international celebrity headliners. Confirmed stars for 2019 include Pabllo Vittar, a gender-defying drag queen who will headline the Pride Stage, and Broadway superstar Jennifer Holliday, who will headline the Amphitheater Stage. More celebrities are expected to be announced before the big day.
You can also look forward to the SponsorWalk and Pride Marketplace, where you can support vendors, businesses and organizations that are committed to diversity. In the afternoon, Club H2O will open on Lake Eola Park's International Bridge, where you can move and groove into the evening. It's also an ideal spot to watch the festival's gorgeous fireworks spectacular!
Plus, as previously noted, Orlando's Come Out With Pride events extend beyond one day. Read on to learn about other festivities you won't want to miss during Pride Week.
Come Out With Pride Orlando Schedule of Events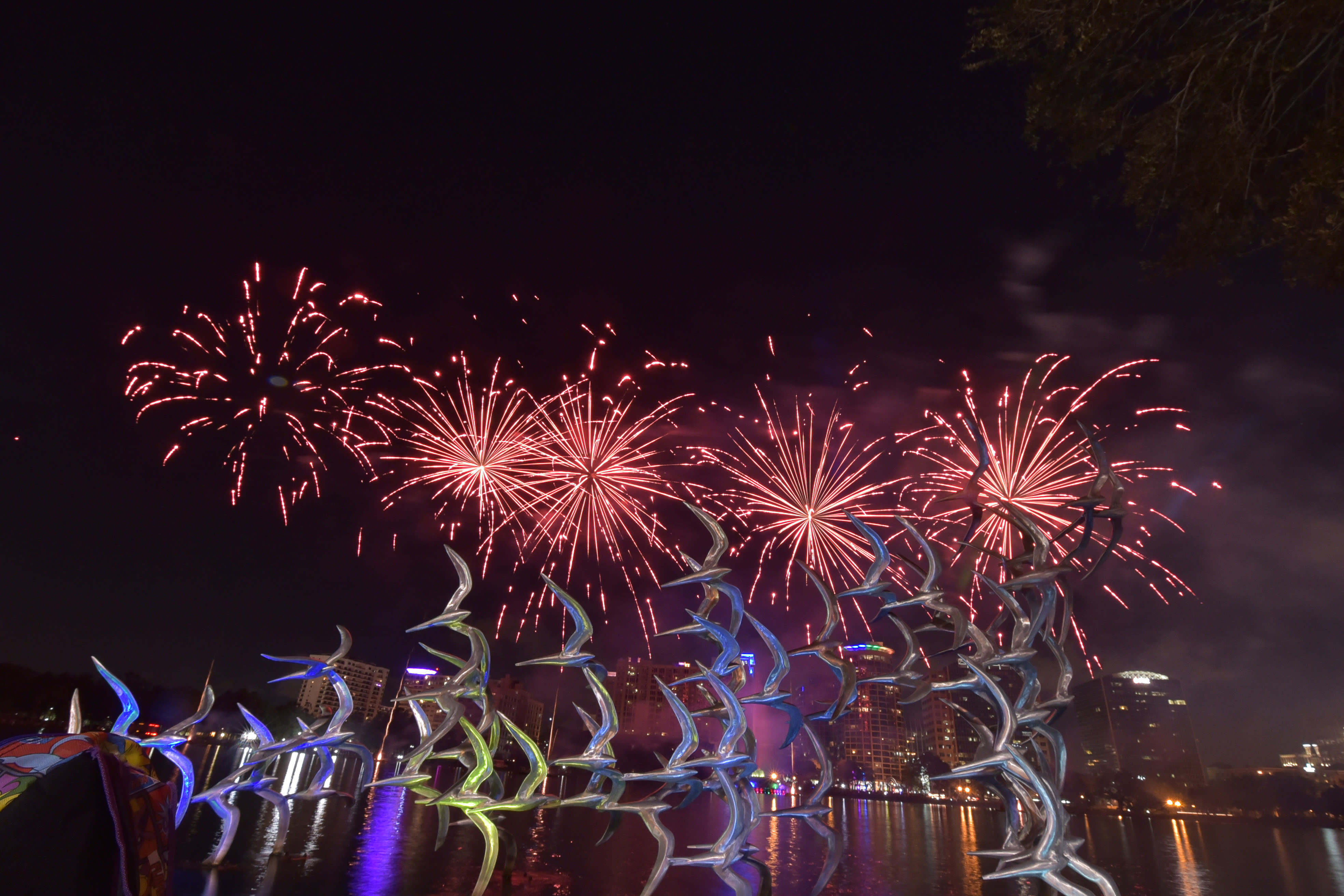 Come Out With Pride Festival Fireworks at Lake Eola Park in Orlando
In addition to Come Out With Pride Orlando's official lineup of events, keep in mind that numerous LGBTQ+ nightspots will be hosting a wide range of complementary celebrations. Starting on Oct. 6, Come Out With Pride Orlando's 2019 schedule includes:
Sunday, Oct. 6
Drag Race 5K (3 p.m.): Put on your best colorful outfit and favorite running shoes for this fun race in Orlando's Baldwin Park neighborhood, about 10 minutes east of downtown. A pre-race rally starts at 3 p.m., with the 5K officially starting at 4 p.m.
Monday, Oct. 7
Happy Hour at The Hammered Lamb (6 p.m.): Hosted by one of Orlando's most popular LGBTQ+ nightspots, this relaxing event invites you to enjoy light bites, your favorite drinks and entertainment. The Hammered Lamb is in Ivanhoe Village, just north of downtown Orlando.
Tuesday, Oct. 8
Transformation at Southern Craft & Southern Nights (7 p.m.): Celebrate the transgender community and pay tribute to its trailblazers as you meet, mingle and enjoy shows from some of Orlando's top LGBTQ+ musicians, dancers and performance artists. Southern Nights is one of our premier LGBTQ+ nightclubs, while Southern Craft is its adjacent cocktail lounge. You'll find them in Orlando's Milk District neighborhood, just five minutes east of downtown.
Wednesday, Oct. 9
Business Connect (6 p.m.): Hosted by Orlando's LGBTQ+ chamber of commerce, the Pride Chamber, this event gives you the chance to interact with local business leaders. Location information will be announced soon.
Game Night With Pepe — Truth or Dare Edition at Savoy (7 p.m.): Enjoy an over-the-top interactive show from one of Orlando's top Fringe Festival performers. One of Orlando's best-known gay bars, Savoy is located in Ivanhoe Village.
Thursday, Oct. 10
Industry (TBD): Time and location details are pending for this event, which is focused on supporting Orlando's service industry and hospitality workers.
Friday, Oct. 11
Orlando Magic Pride Night at Amway Center (7 p.m.): Wear your Pride gear and cheer on Orlando's hometown NBA team during a preseason matchup against the Boston Celtics.
Weekend Launch Party at Stonewall Bar (7:30 p.m.): Head to downtown Orlando's Church Street district for an evening of wild entertainment, including special performances by Neon Hitch and DJ Kitty Glitter.
Leather Night at Savoy (8 p.m. – 12 a.m.): Sponsored by the Orlando Kinksters, this themed drag show offers discount drinks for everyone who shows up in gear. International Mr. Leather 2018 James Lee will be the featured guest speaker.
Saturday, Oct. 12
Come Out With Pride Festival at Lake Eola Park (12-10 p.m.): The main event! With so much to offer, this year's festival promises to be one for the record books.
Come Out With Pride After Party at Parliament House (9 p.m.): Dance the night away and enjoy celebrity performances at one of the most legendary LGBTQ+ hotels and entertainment centers in the country. Parliament House is located on the west side of downtown Orlando.
Sunday, Oct. 13
Recovery Brunch at Ember (3 p.m.): One of downtown Orlando's most popular venues is hosting this bountiful brunch, which will also feature live music.
Looking Back, Marching Forward at The Plaza Live (4 p.m.): The Lesbian and Gay Band Association hosts a night of music, reflection and inspiration with two concert bands and a jazz ensemble. The concert will showcase LGBTQ+ history by honoring the past with a focus on building the future, as well as the debut of two original pieces of music commissioned just for this event. The Plaza Live is in Orlando's Milk District.