Guest blogger and award-winning journalist Miriam Porter shares why her family can never get enough Orlando.
---
If you think you can see all of Orlando in one visit, think again. New attractions are always popping up in this exciting city, and I have been amazed over the years that every time my son, Noah, and I return, there is a fresh adventure waiting for us.
Plus, as Noah gets older and his interests shift (the teenage years are just a moment away!), we can do activities that we couldn't when he was a toddler. That's one of Orlando's best features — there is literally something for every age. Here are a few of our favorite things to do, and why we keep going back to Orlando!
New Attractions at Walt Disney World® Resort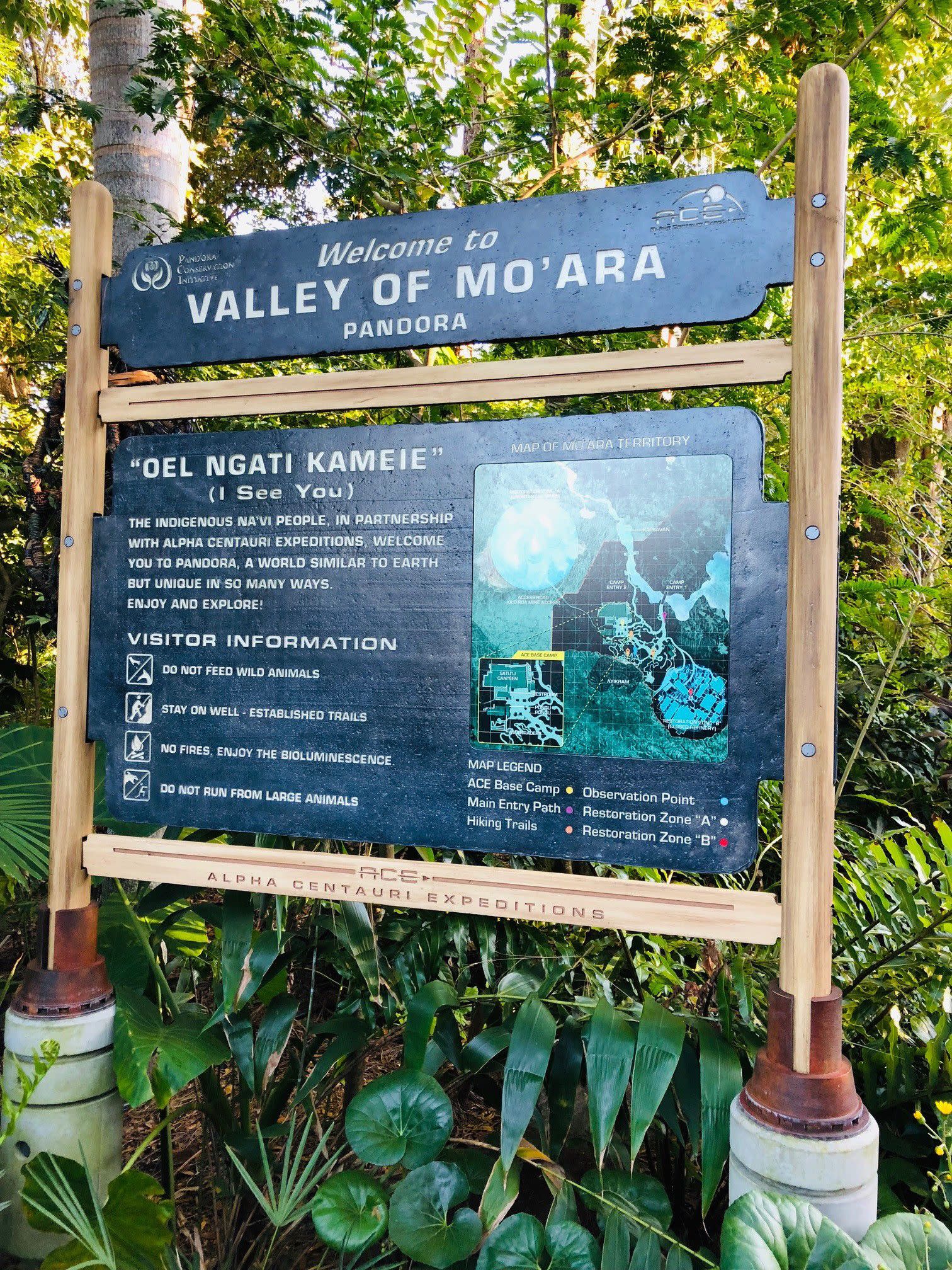 Signage at Pandora — The World of Avatar at Disney's Animal Kingdom® Theme Park in Orlando (Photo: Miriam Porter)
It's no secret that Noah and I love Walt Disney World® Resort; if we were Florida residents, we would have an annual pass. On our last visit, we secured a FastPass+ for Avatar Flight of Passage at Disney's Animal Kingdom® Theme Park. We were super excited to check out the ride based on fellow vegan James Cameron's blockbuster movie, Avatar.
Learn more: Eating Vegan at Orlando Theme Parks
I'm not going to lie; I was a bit nervous, as I was firmly strapped into a seat for this thrilling, motion-simulated adventure to another land. But kids half Noah's age were riding, so I didn't wimp out. (As long as your offspring are 44 inches or taller, they can participate.)
This epic, 3D journey was one of the highlights of our visit and truly inspiring. Of course, with Toy Story Land now open at Disney's Hollywood Studios®, it's first on our list for next time!
Universal's Volcano Bay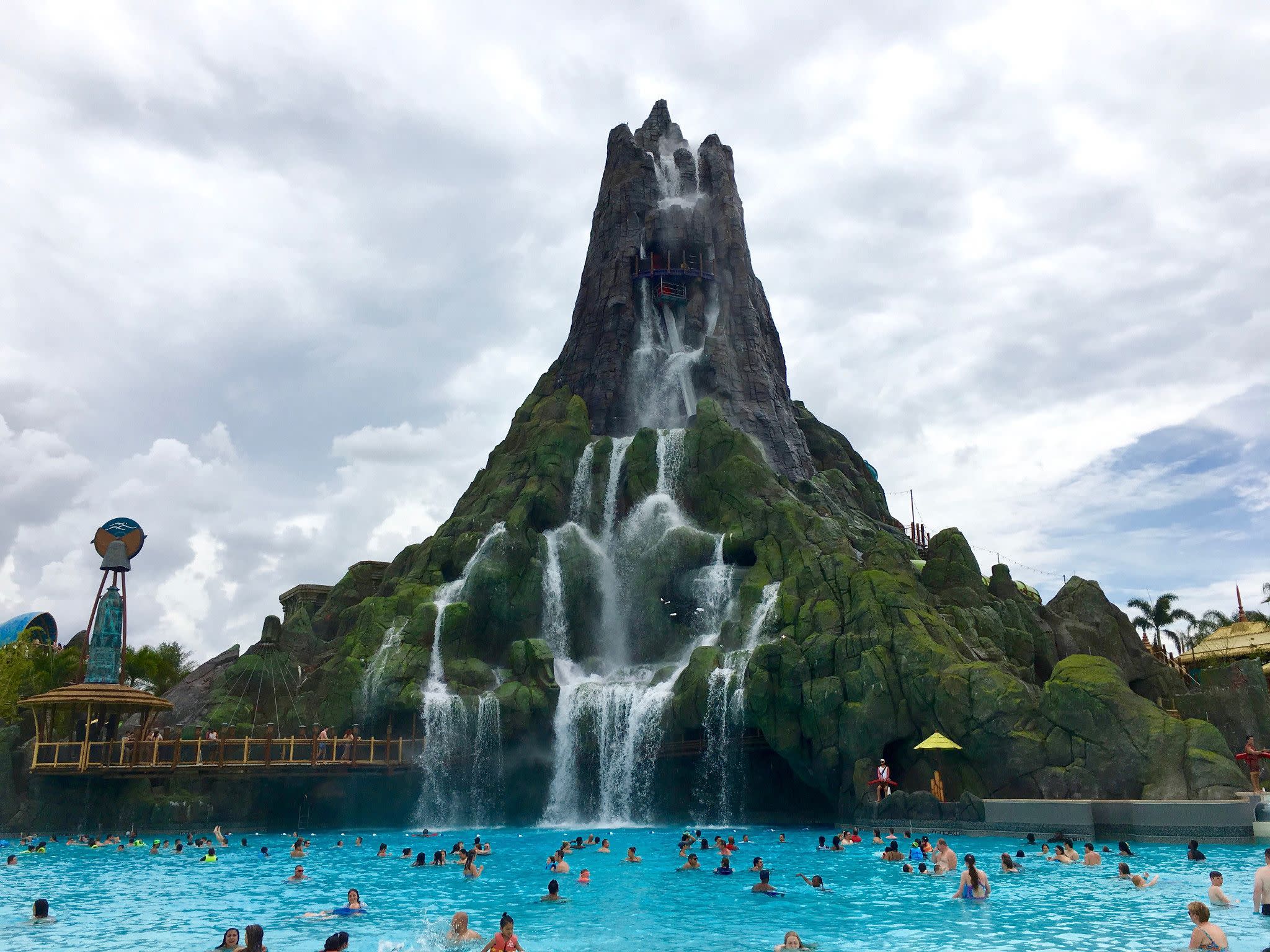 Universal's Volcano Bay at Universal Orlando Resort (Photo: Miriam Porter)
I am glad we waited until Noah was older and a stronger swimmer so we could enjoy the exhilarating rides at Universal's Volcano Bay together. Noah is a bit — OK, a lot — more adventurous than me when it comes to heart-pounding water slides, plunges and drops. I am more of a winding-lazy-river kind of momma, and loved the beach and wave pool at this Universal Orlando Resort water theme park.
Learn more: Orlando Water Parks
Plus, Universal's Volcano Bay has a wristband called TapuTapu that allows you to wait in a virtual line while you are out swimming, floating and soaking up the sun. So, while Noah "put up" with floating down the river on inner tubes, he was super excited when our bands vibrated and it was time to line up for some thrills.
Explore International Drive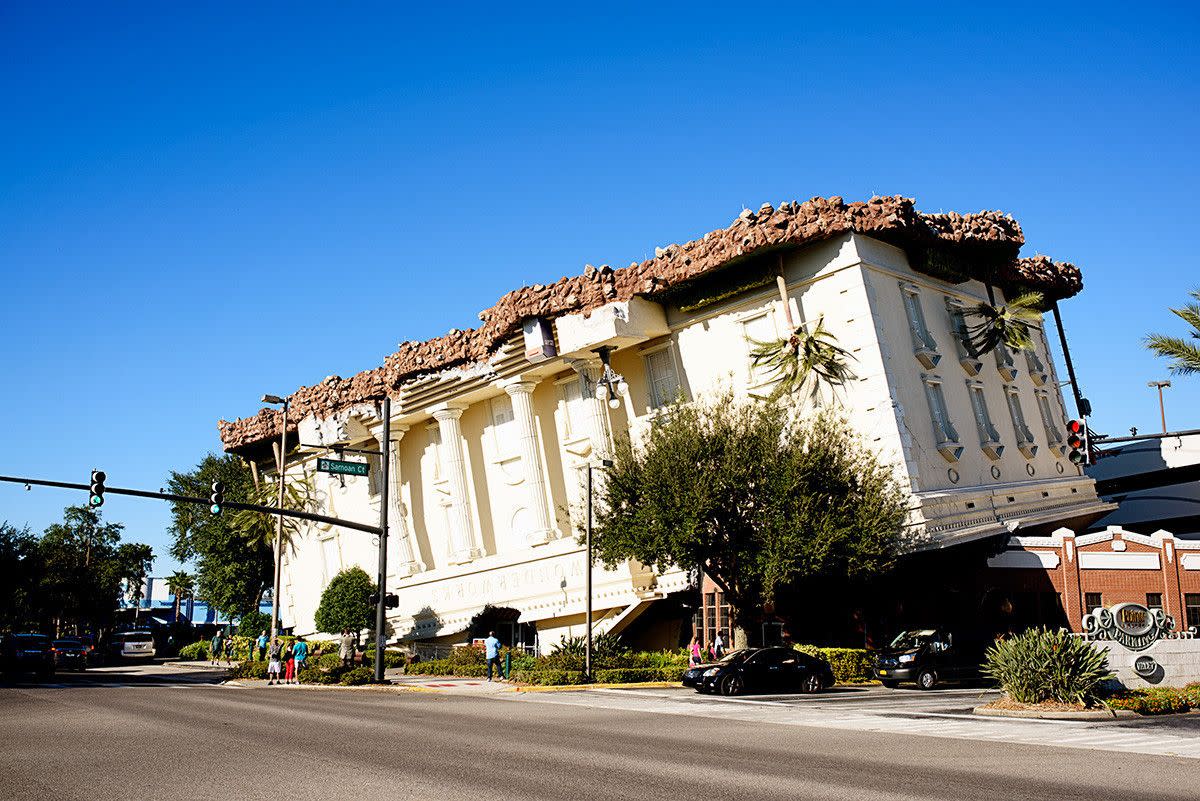 WonderWorks Orlando on International Drive (Photo: Katie Ellison)
Day or night, a visit to Orlando's vibrant International Drive, aka I-Drive, will keep kids of all ages happy and engaged. There is so much to do along this strip, you can go back annually and still not see it all!
We first checked out this cool resort area years ago with a spin on The Wheel at ICON Park — the biggest observation wheel on the United States' east coast, standing 400 feet tall with magnificent views of the city. As usual, I was more nervous than Noah, but his excitement at trying something new always inspires me. Before no time, we were laughing at the top of the world like two birds.
Learn more: ICON Park
These days, this area has grown even more with the latest attractions, and you can take the I-Ride Trolley up and down the district's miles of fun. There are tons of other attractions to choose from, including I-Drive NASCAR (for older kids), Ripley's Believe It or Not!, WonderWorks (our personal favorite!), and Pirate's Cove Adventure Golf for some putt-putt fun.
Disney Springs® at Night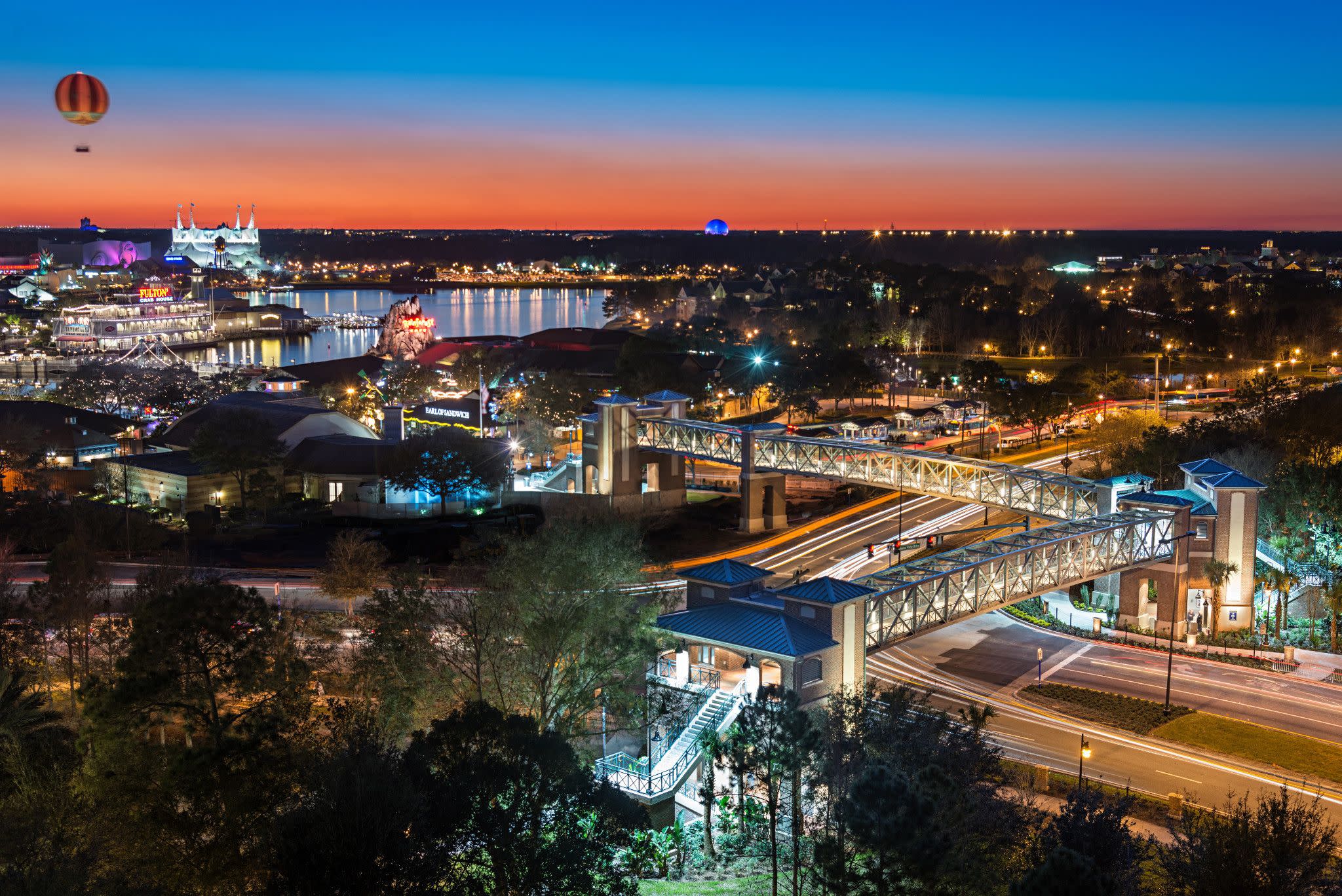 Disney Springs® at Walt Disney World® Resort in Orlando (Photo: Hilton Orlando Lake Buena Vista)
Noah and I always include a nighttime trip to Disney Springs, and each time, we have a completely different experience. On our last visit, we walked by the water, listening to live music and browsing original trinkets. But when Noah was younger, we spent hours inside The LEGO® Store, and I bought him his first glowing lightsaber at Star Wars Galactic Outpost.
Learn more: Disney Springs
Arrive hungry, because delicious restaurants are a huge part of Disney Springs. One of our favorite meals was at Morimoto Asia, where we devoured fresh, Pan-Asian cuisine grilled to perfection. Younger kids will love the Marketplace's Carousel and Train Ride, and brave souls can check out the world from 400 feet up on the Aerophile balloon. For more entertainment, check out House of Blues, Exposition Park, Marketplace Stage and the AMC Dine-In Disney Springs 24 movie theater, with the brand-new NBA Experience coming in summer 2019.
Road Trip to Winter Park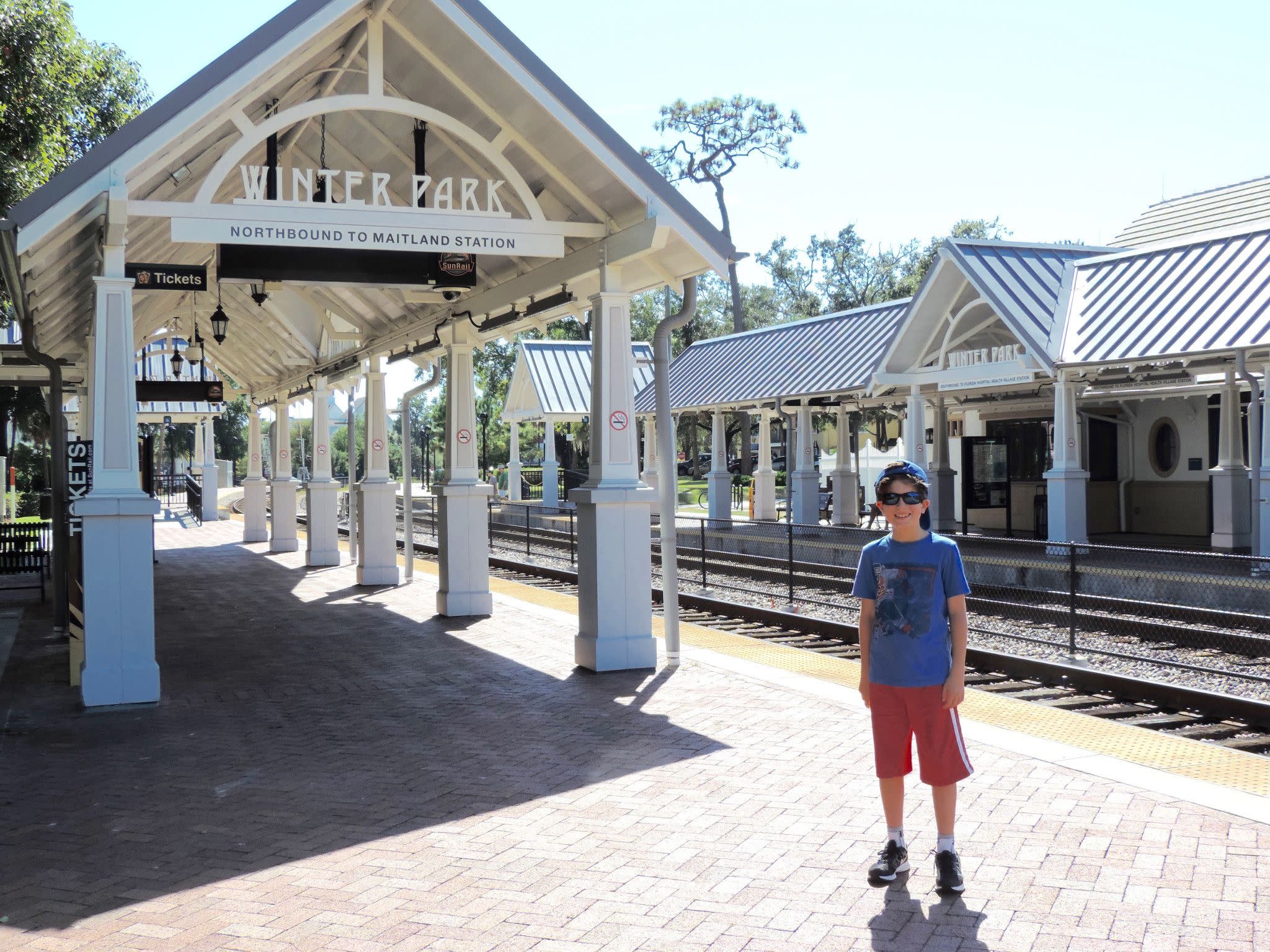 Train Station in Winter Park Near Orlando (Photo: Miriam Porter)
Several years ago, we took a road trip to explore Winter Park, a quaint, charming town about 20 minutes north of downtown Orlando. It's a fun way to experience different aspects of Central Florida, and keep it fresh and interesting if you visit annually.
Learn more: Winter Park
After checking out the mini train station, we explored a few of the city's 70 green parks and walked along the adorable streets. Noah was a bundle of energy back then, so I got a coffee to keep up, and we grabbed several delicious cookies from Ethos Vegan Kitchen for a snack. I also highly recommend taking the Winter Park Scenic Boat Tour along Lake Osceola and cruising through narrow canals and lakes, and under mossy trees.
Orlando Science Center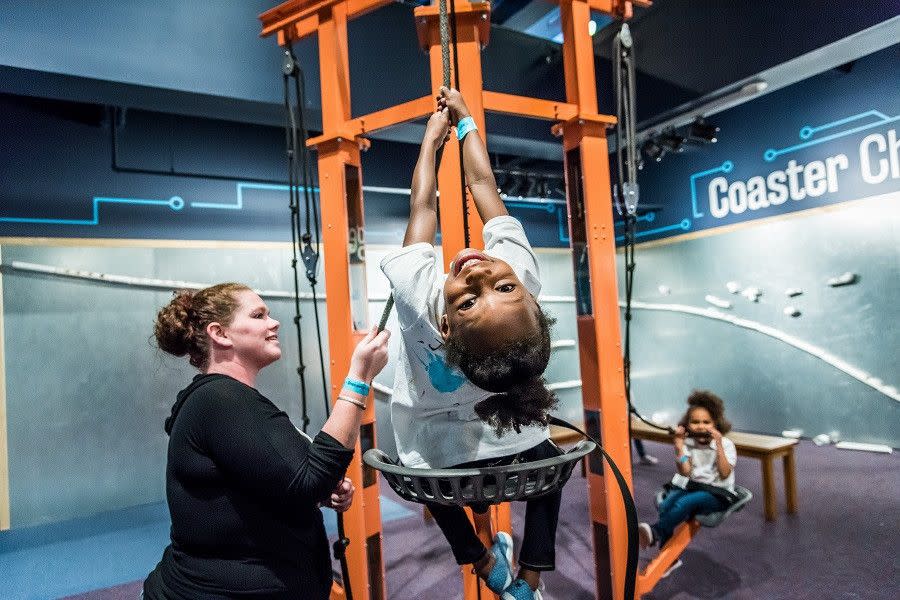 Kinetic Zone at Orlando Science Center (Photo: Roberto Gonzalez)
For any parents seeking to add some good, old-fashioned education to their Orlando trip, the Orlando Science Center is the place to be. It's ideal for all ages and perfect for families traveling with younger kids.
Learn more: Orlando STEM Attractions
The Center has many interesting exhibits, too. KidsTown is for children up to age 7 and packs 11,000 square feet with fun, skill-based activities. There is also Kinetic Zone, The Hive: A Makerspace, and Fusion: A STEAM Gallery — no time for boredom here, ever, especially as traveling exhibits change over time.
Wekiwa Springs State Park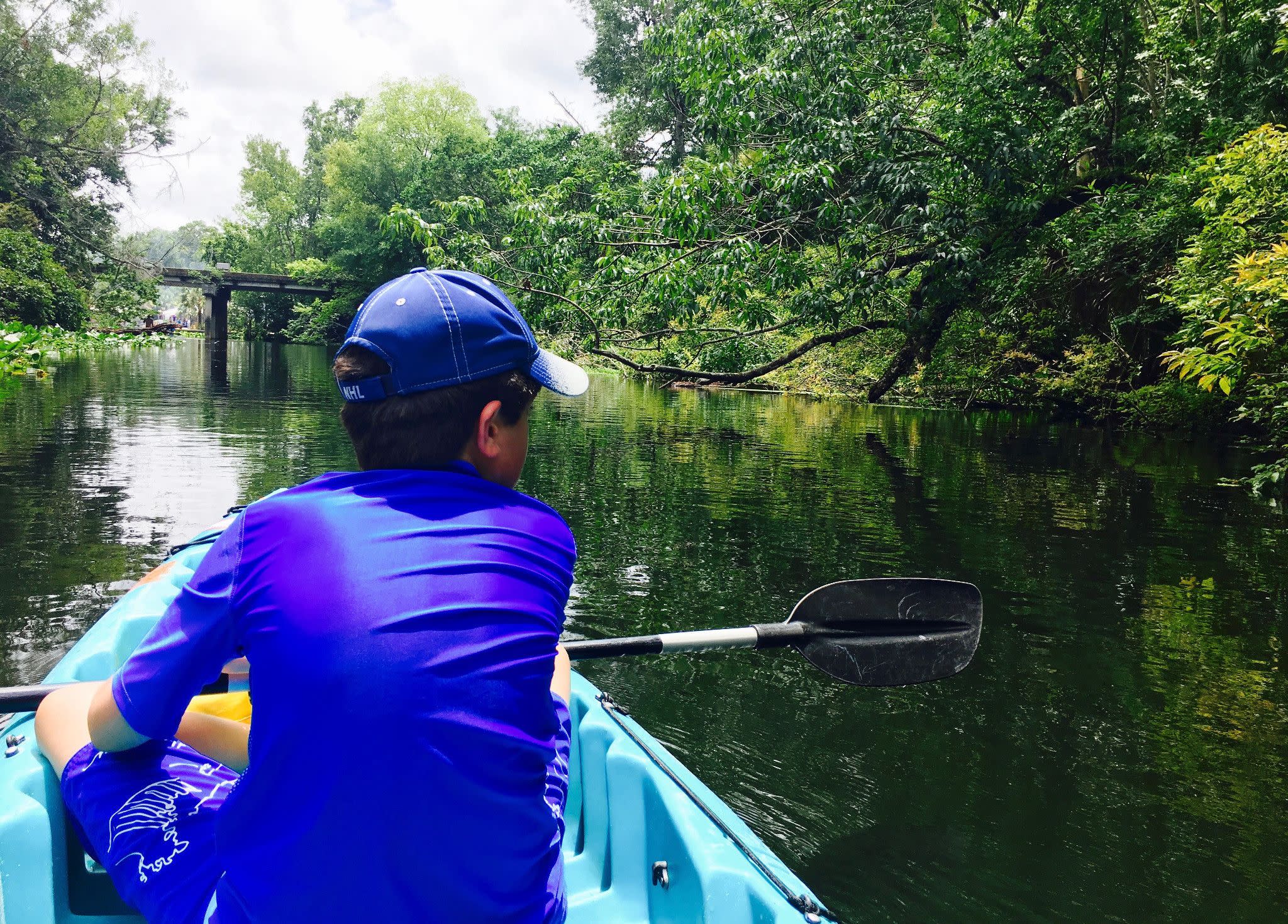 Kayaking and Other Outdoor Activities Await at Wekiwa Springs State Park Near Orlando (Photo: Miriam Porter)
Wekiwa Springs State Park provides a unique back-to-nature experience about 25 minutes northeast of downtown Orlando. Noah couldn't have kept up with this activity when he was younger, but for older kids who can paddle a kayak, it's the perfect day trip.
Learn more: Orlando Eco-Tourism
The park is located at the headwaters of the Wekiva River, with 13 miles of rustic trails for biking, hiking and picnicking. (No fast-food stands here, so bring your own healthy lunch!) We rented a bright blue kayak and paddled past trees, marshes, wetlands, turtles, fish, lizards and other wild creatures. And if they get too wild, you can always just keep paddling!
Miriam Porter is an award-winning Canadian journalist who has published thousands of articles in newspapers, magazines and internationally syndicated websites. She currently focuses on travel, social justice issues and veganism, but has also written extensively about parenting, health and children's rights.