MegaCon returns to Orlando on May 16-19, 2019, with celebrity appearances, cosplay competitions, and plenty of comic books, toys and fun activities for the whole family.
---
From May 16-19, MegaCon Orlando is back at the Orange County Convention Center, presenting the largest comics, sci-fi, horror, anime and gaming event in the southeastern United States. If you haven't already, now is the time to finalize plans to experience this pop-culture extravaganza — and here are the top four reasons why you'll want to attend!
Celebrity Autographs, Photos & Conversations
Each year, MegaCon draws scores of well-known actors, comic-book creators, animators, games developers and other persons of interest to Orlando, and 2019 will build on that tradition. Beyond the opportunity to see the stars, MegaCon will give you the chance to have your photo taken with them, collect their autographs, and even engage in a little one-on-one conversation.
At press time, confirmed celebrities include Lynda Carter (Wonder Woman), Zachary Levi (Shazam!), Peter Weller (RoboCop), David Tennant (Doctor Who) and many others. You'll also witness cast reunions for top entertainment properties such as Back to the Future (Michael J. Fox, Christopher Lloyd, Lea Thompson, Tom Wilson and James Tolkan), Young Guns (Kiefer Sutherland and Lou Diamond Phillips), The Lost Boys (Sutherland, Jason Patric and Corey Feldman), The Goonies (Feldman, Sean Astin and Ke Huy Quan), and even Boy Meets World (Danielle Fishel, Will Friedle, Ben Savage and Rider Strong).
More appearances are expected to be announced in the lead-up to opening day.
Costumes, Cosplay & Replicas
If you enjoy dressing up like characters from comic books, movies, television, video games, books and other sources — aka cosplay — then MegaCon is the place for you! Not only is the event costume-friendly, but you'll be in good company among hundreds of other fans who go to great lengths to perfect their heroes' (and villains') physical appearances.
What's more, MegaCon will host a regional qualifier for the Masters of Cosplay Grand Prix, with the winner traveling to FAN EXPO Canada for a chance to claim the Master of Cosplay title. You can also look forward to numerous cosplay workshops, panels and meetups, and even book a photoshoot or take your own pictures in the Cosplay Photo Park.
If street clothes are more your thing, you can enjoy some rarified people-watching thanks to other show-goers' hard work. And speaking of eye candy, you'll be able to see physical replicas of some of pop culture's most beloved vehicles, weapons and gear. Sure, amazing artifacts like Stormtrooper blasters and Doctor Who's TARDIS rarely work in real life, but they sure are cool to look at!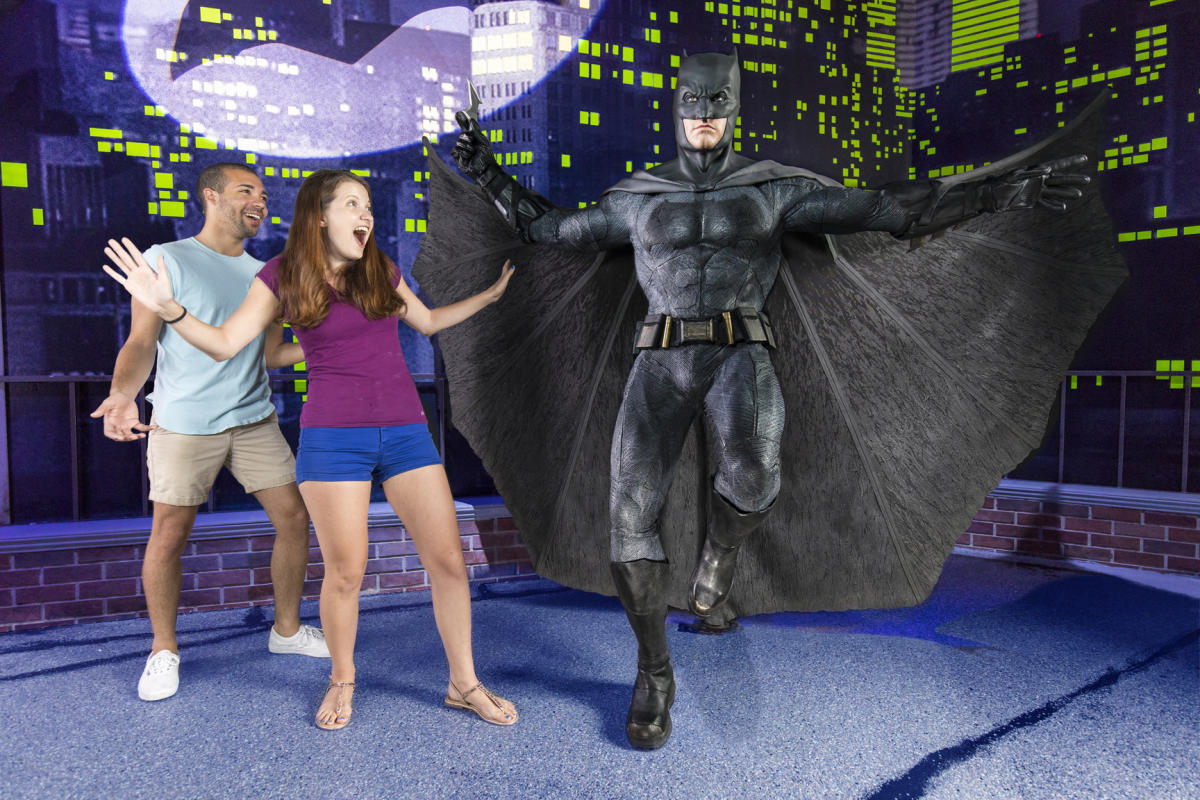 Ben Affleck as Batman at Madame Tussauds Orlando
Speaking of cosplay, fans of DC Entertainment's Justice League should make plans to visit Madame Tussauds Orlando while they're in town for MegaCon. Located close to the Orange County Convention Center at ICON Park, this famous wax museum is home to Batman (Ben Affleck), Wonder Woman (Gal Gadot), Superman (Henry Cavill), Aquaman (Jason Momoa), Cyborg (Ray Fisher) and The Flash (Ezra Miller) as seen in 2017's Justice League motion picture, complete with interactive elements and authentic costume and prop replicas.
Similarly, you can meet numerous Marvel Comics characters at Universal's Islands of Adventure, while Stormtroopers and other Star Wars icons are known to frequent Disney's Hollywood Studios®. The young and the young-at-heart will also want to see characters from Sesame Street at SeaWorld® Orlando and favorites from THE LEGO MOVIE at LEGOLAND® Florida Resort.
Comics, Toys & Collectibles
Featuring more than 400,000 square feet of shopping from 1,000-plus retailers, MegaCon is a one-stop shop for all manner of comic books, toys, games, apparel, wall art, replicas and general one-of-a-kind merchandise. In the case of comics, you can even buy small-press titles directly from their creators in Artist Alley!
Not only can you purchase a wealth of geek-friendly collectibles, but some of it will be available exclusively at this event, including variant comic-book covers and one-off toys.
Panels, Workshops & Seminars
Last but not least, MegaCon will host a number of panels, Q&A sessions, workshops and seminars. They present a fantastic opportunity for getting the inside scoop on your favorite entertainment properties — and even the chance to pose questions directly to the stars and creators. A complete schedule of events will be made available one week before MegaCon's start date.
Batman image courtesy Madame Tussauds Orlando; all other images courtesy MegaCon Orlando.