Expand your horizons with immersive art shows, world-class theatrical productions and other arts celebrations in Orlando this fall (IMMERSE pictured; photo by Charles Schuett).
---
Fall is one of the best times to visit Orlando, and not just because of cooler temperatures and smaller crowds: It's also the perfect season to experience our acclaimed arts scene! Between an imaginatively interactive multimedia event in downtown Orlando, a robust schedule of shows at our premier performing arts center and other locations, acclaimed museums and galleries, and more, it's possible to build an entire autumn vacation around arts and culture in Orlando.
Even if you're mostly coming for our theme parks and attractions, you'll want to enjoy Orlando's uplifting fall arts season — including these unforgettable options!
IMMERSE in Orlando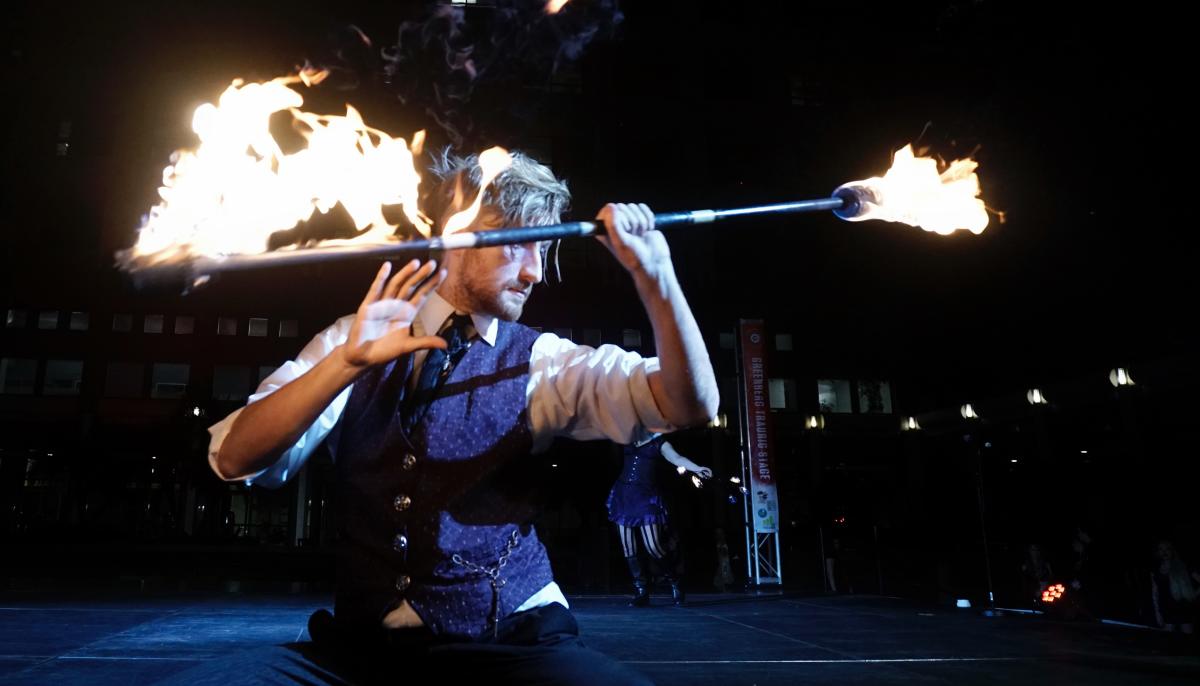 IMMERSE in Orlando (Photo: Creative City Project)
Presented by Creative City Project, and made possible in part by the Dr. Phillips Center for the Performing Arts, IMMERSE is one of our most unique artistic offerings, taking place in the streets and public places of downtown Orlando. This year's edition is set for Oct. 18-19.
IMMERSE prides itself on being interactive, inspiring and — of course — immersive. Here, you'll witness everything from breakdancing to ballet and small ensembles to full orchestras, not to mention large-scale art installations, mind-bending displays that invite you to become part of the spectacle, and much more. Most programming is appropriate for all ages, too, with the last two hours of each night delving into PG-13 territory.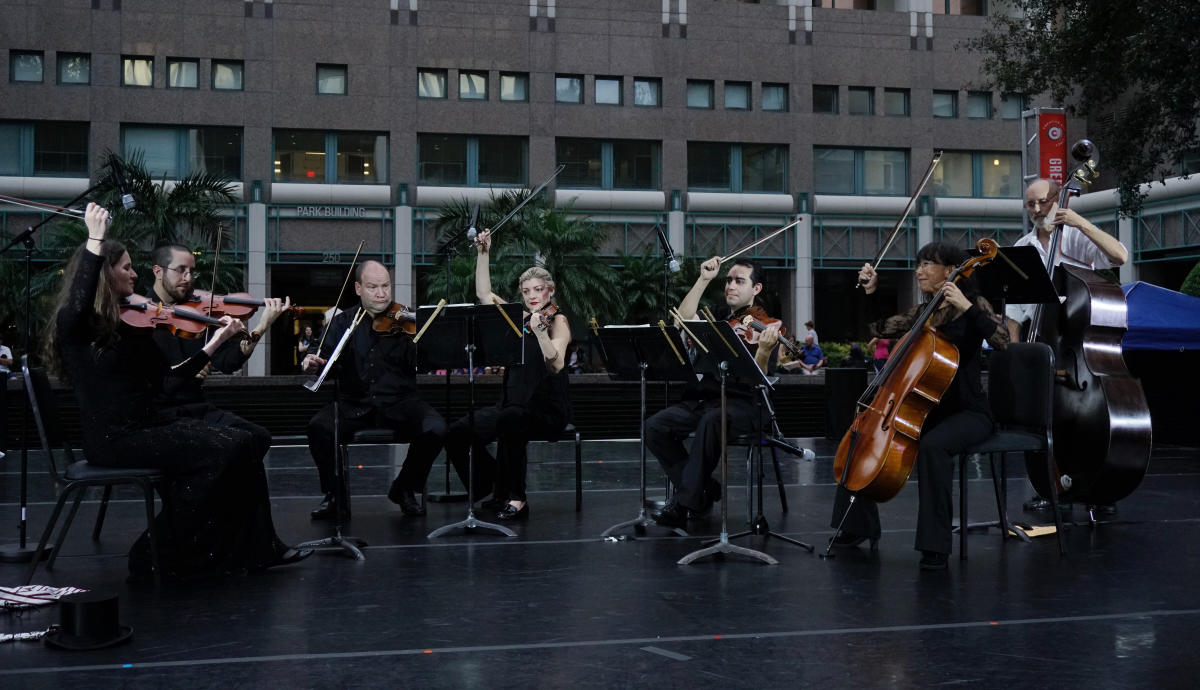 Orlando Philharmonic Orchestra at IMMERSE (Photo: Creative City Project)
In 2019, IMMERSE will again feature more than 1,000 artists from more than 100 arts organizations and downtown collectives, with returning favorites set to include Orlando Ballet, Opera Orlando, Central Florida Community Arts Jazz Band, and others. It also has some new tricks up its sleeve with fresh performances and interactive installations from across the U.S. and abroad. They include:
Featured performers at Universal CityWalk, Blue Man Group is an international entertainment phenomenon that celebrates the power of human connection through art, music and comedy.
Architects of Air, who create large-scale, inflatable environments that invite guests inside to explore their winding paths, inspiring domes, and corridors of light and color. Opening at the Dr. Phillips Center's Seneff Arts Plaza on Oct. 18, this installation will be open to the public through Oct. 27.
A fusion of dance, acrobatics and gymnastics, Diavolo explores the relationship between the human body and its architectural environment.
IMMERSE is also bringing back two of last year's most popular features, including:
An immersive photo experience, The Worlds of Corkcicle will be available at the Dr. Phillips Center's Seneff Arts Plaza from Oct. 18-27, and will be open to the public once IMMERSE ends. The experience features Insta-worthy installations inside eight shipping containers.
Hosted by Loch Haven Cultural Park near downtown Orlando and the Dr. Phillips Center's Seneff Arts Plaza, this unique display will be available for the month leading up to IMMERSE. It features 4,000 individually controlled LED nodes that bring a new level of size, experience and awe.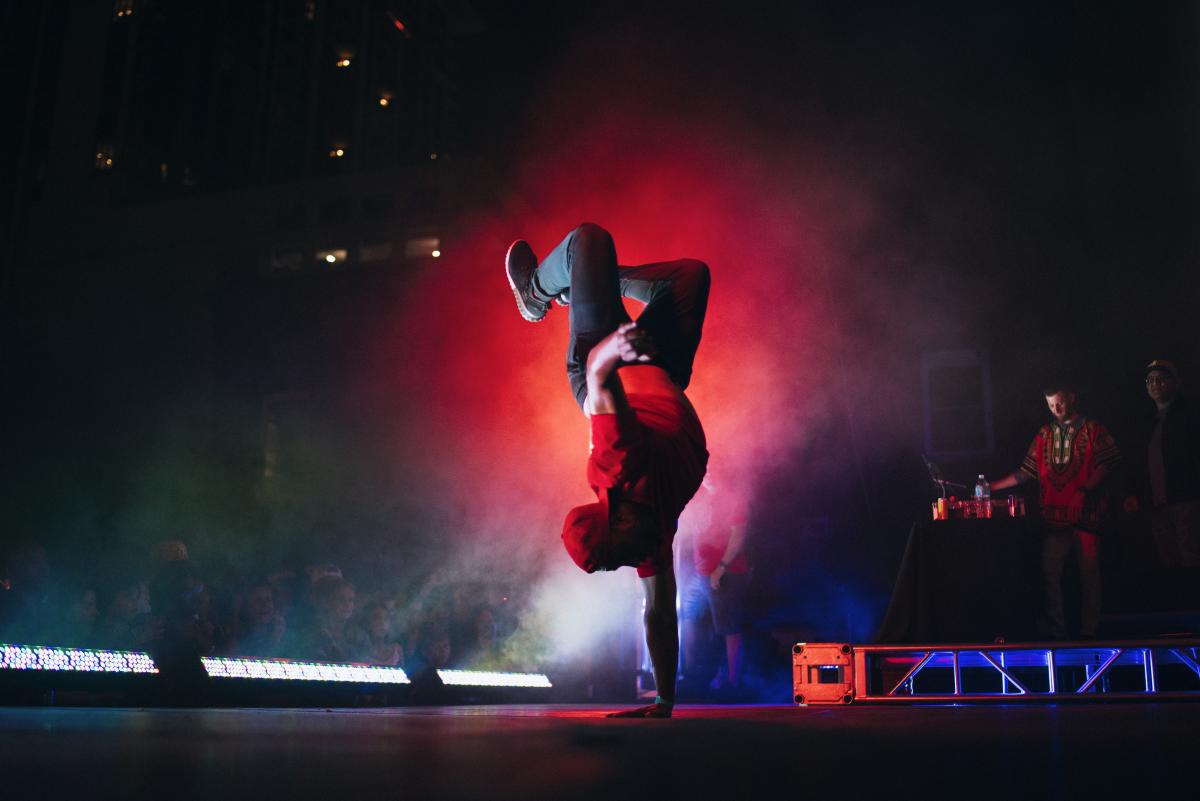 Red Bull B Boys Dancers at IMMERSE in Orlando (Photo: Michael Alfonso)
Other features include tech-based, interactive art pieces; a 60x25-foot inflatable structure with an interactive projection installation; a giant 3D printer; drone flights; tech demos; and "Orchestrate," a collaboration between Orlando Philharmonic Orchestra, Florida Symphony Youth Orchestras and Creative City Project.
IMMERSE is highly affordable, too, with general admission tickets, including Blue Man Group performances, costing just $10. Other packages are also available, including VIP options. And given the location, you'll have immediate access to downtown's acclaimed dining and nightlife before and after you IMMERSE yourself!
Electric Daisy Carnival (EDC) Orlando
Following last year's record-breaking edition, this epic dance-music festival returns from Nov. 8-10. Featuring scores of the world's top dance-music artists and plenty of festivities, EDC will have its largest festival footprint ever in 2019, allowing for expanded and additional stages, as well as an all-new fourth stage created specifically for this milestone incarnation. If you love dance music, this is one event you won't want to miss!
Dr. Phillips Center for the Performing Arts in Orlando
Downtown Orlando's Dr. Phillips Center for the Performing Arts is the centerpiece of Orlando's cultural offerings, hosting Broadway shows, top-rated musicians and comedians, historical public speakers, and other can't-miss fare. Naturally, it has a wealth of compelling programming lined up this fall.
For instance, fans of the Great White Way will want front-row seats to productions of Les Misérables (Oct. 22-27), Escape to Margaritaville (Nov. 12-17) and The Play That Goes Wrong (Dec. 3-8). Both feature national touring companies. On the other hand, look into "The Four Italian Tenors: Viva Italia!" if opera is more your thing.
Other top shows at the Dr. Phillips Center this fall include concerts by Alison Krauss (Oct. 19), King Diamond (Nov. 5) and Sammy Hagar (Nov. 9); a production of Vampire's Ball by Orlando Ballet (Oct. 31 – Nov. 3); and popular comedians Dane Cook (Sept. 27) and Wayne Brady (Oct. 12). Additionally, the Bob Carr Theater, which is operated by the Dr. Phillips Center and just minutes away by vehicle, will host performances by the Orlando Philharmonic Orchestra (Sept. 28, Oct. 5, Oct. 26 and Nov. 30).
Dozens of other memorable events are coming this fall, but don't delay in securing tickets — shows at the Dr. Phillips Center tend to sell out fast!
More Performing Arts in Orlando
No matter when you visit Orlando, you can enjoy a wide range of performing arts at theaters throughout the area.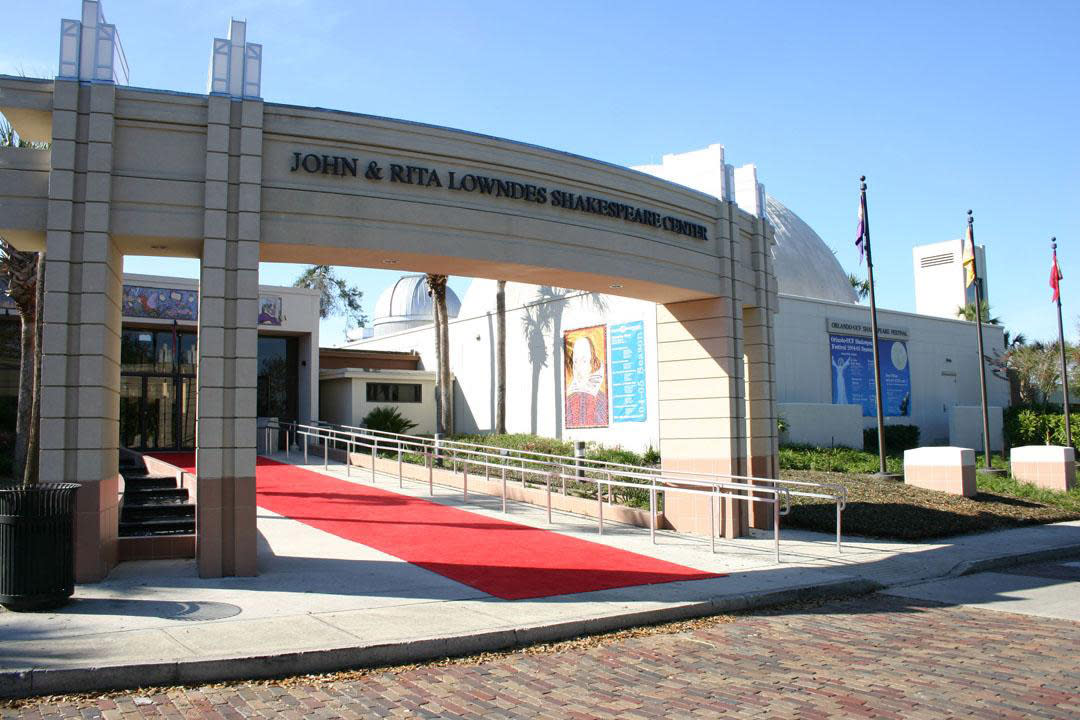 Orlando Shakespeare Theater
Orlando Shakespeare Theater, aka Orlando Shakes, is located in Loch Haven Cultural Park, just 10 minutes north of downtown Orlando. Their marquee fall event, PlayFest 2019, is set for Nov. 1-3 and Nov. 8-9. At the two-weekend festival, experience seven readings of new, in-development plays and participate in the creative process.
As indicated by their upcoming productions of Evita (Sept. 4 – Oct. 6) and Macbeth (Oct. 9 – Nov. 24), they're not just focused on their titular Bard, but they do present select Shakespeare plays throughout the year. The also host productions for children and their families, including Miss Nelson Is Missing! (Oct. 17 – Nov. 22) this fall.
If you're traveling to Orlando with children and want to expose them to some culture, Orlando Family Stage has you covered. Also part of Loch Haven Cultural Park, they'll have productions of Tuck Everlasting (Sept. 3-29), How I Became a Pirate (Sept. 30 – Nov. 10) and Mr. Richards & The Pound Hounds (Oct. 25-26) in the coming months.
Located in its namesake city, about 20 minutes north of downtown Orlando, The Winter Park Playhouse is hosting You're a Good Man, Charlie Brown (Nov. 15-24 and Dec. 5-15) this fall. It's also offering a Spotlight Cabaret Series, featuring performers Tay Anderson (Sept. 25-26) and Natalie Cordone (Oct. 23-24).
Other live theater venues in the area include downtown's Mad Cow Theatre and Timucua Arts Foundation Concert Hall; the Garden Theatre in Winter Garden, about 30 minutes west of downtown Orlando; and the Wayne Densch Performing Arts Center in Sanford, about 30 minutes north of downtown Orlando.
Museums & Galleries in Orlando
Orlando's art scene is designed to move you — but not all of it moves. We're also home to numerous galleries and museums, including those in downtown Orlando and Winter Park.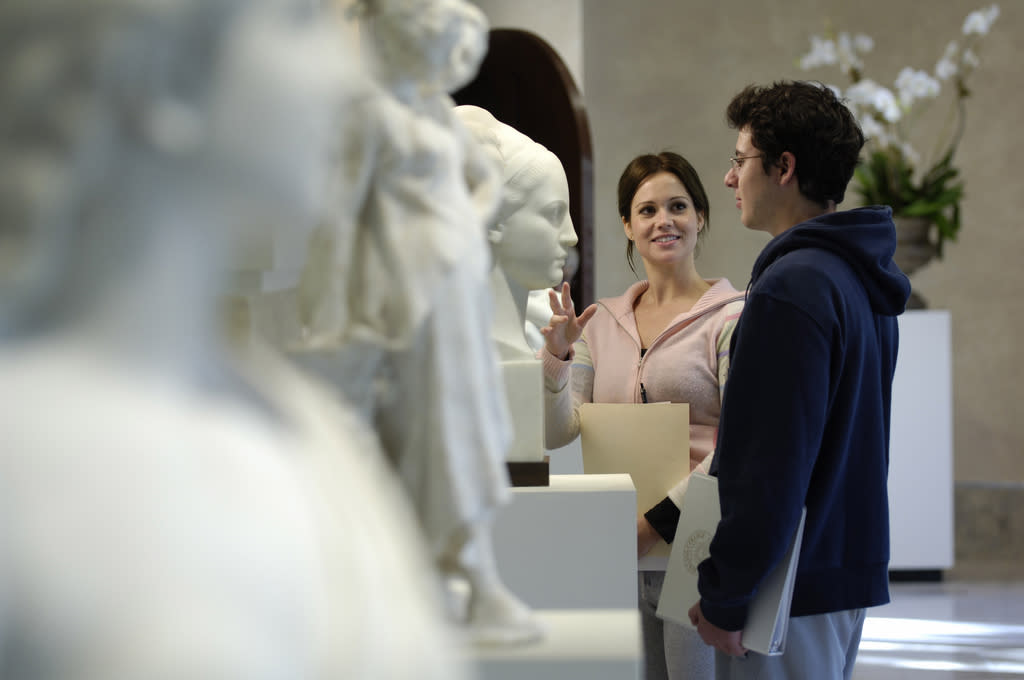 Rollins Museum of Art in Winter Park (Photo: Stephen Allen)
One of the latter's best options is always free to attend: the Rollins Museum of Art, located on the campus of Winter Park's Rollins College and boasting more than 5,500 works of art from the ancient to modern periods. Its collection is so extensive that a portion of it, The Alfond Collection of Contemporary Art, is displayed in public spaces at The Alfond Inn, an upscale Winter Park hotel that's operated by Rollins.
Rotating exhibits scheduled for this fall include "African American Art in the 20th Century," "Ut Pictura Poesis: Walt Whitman and the Poetry of Art," and "At Leisure: Images of Repose From the Permanent Collection," all of which will be available from Sept. 21 – Dec. 29.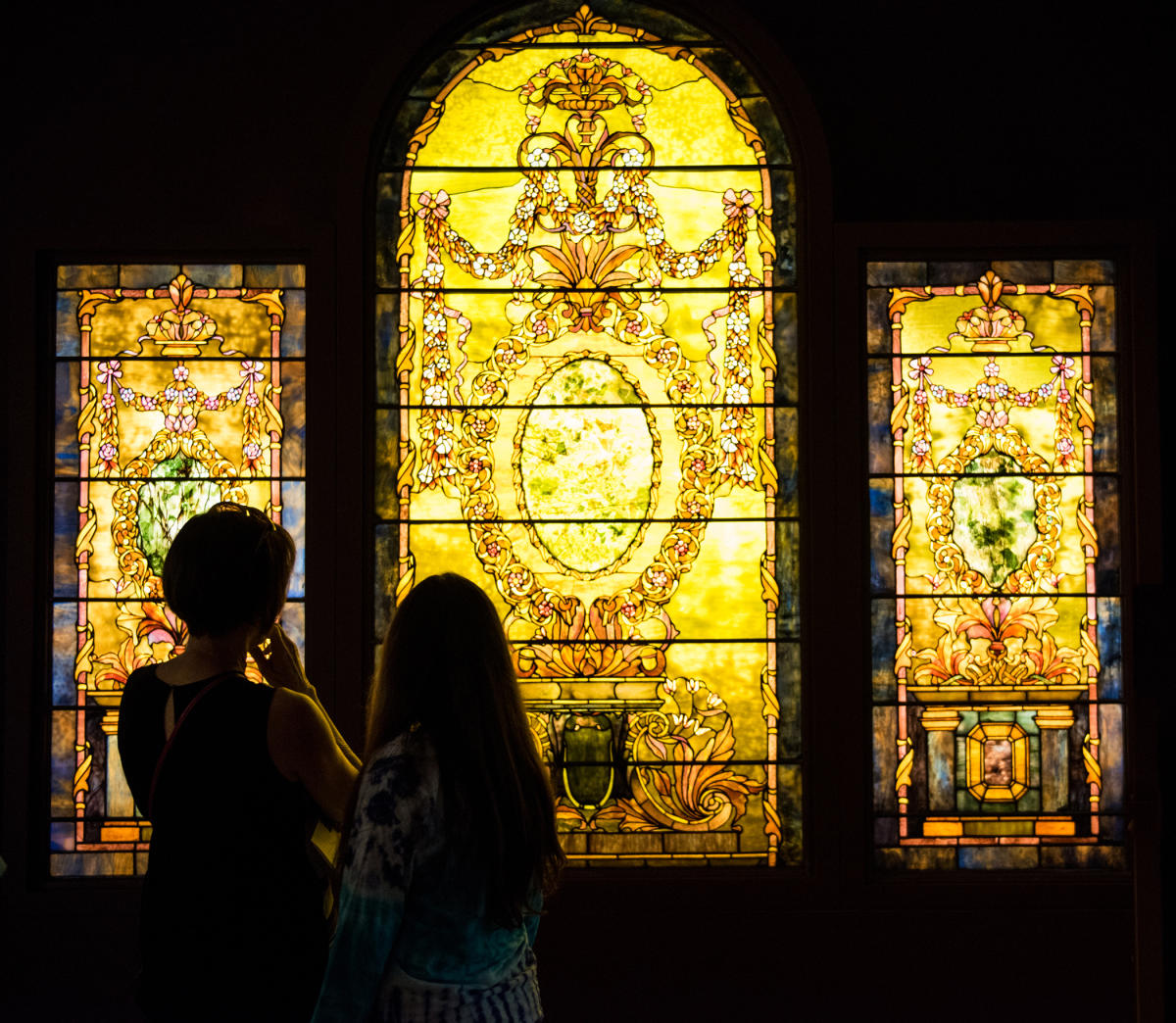 The Charles Hosmer Morse Museum of American Art in Winter Park
At The Charles Hosmer Morse Museum of American Art in Winter Park, view the world's largest collection of Louis Comfort Tiffany's glasswork, jewelry, pottery and paintings. Current special exhibits include "Iridescence — A Celebration" and "Earth Into Art — The Flowering of American Art Pottery. Winter Park also has Albin Polasek Museum & Sculpture Gardens, which is dedicated to the work of its namesake artist.
Back in Orlando's Loch Haven Cultural Park, Orlando Museum of Art has been a cultural touchstone since 1924, hosting a dozen or more rotating exhibits throughout the year. They have three exhibits running through Oct. 27, including "Modus Operandi: Photographs From the Collection of BNY Mellon," "Our Voice: Celebrating the Coretta Scott King Illustrator Awards," and "Jon Napoles: Devil City." "Louis Dewis: A Belgian Post-Impressionist" runs through Sept. 15. New exhibits starting Sept. 20 include "Louis Dewis: An Artist's Life in France," "Stephen Althouse: Metanoia," and "Edward Steichen: In Exaltation of Flowers."
Loch Haven Cultural Park also offers a captivating tribute to the work of self-taught artist Earl Cunningham at The Mennello Museum of American Art. And in downtown Orlando, stop by CityArts Factory to tour multiple, distinct galleries under one roof, free of charge.
Finally, it's worth noting that you can discover visual and performing arts throughout the destination, particularly during the autumn months. No wonder it's so easy to "fall" for the arts in Orlando!
Cover image: Aretuzas Ballerina Project at IMMERSE in downtown Orlando; photo by Charles Schuett