Experience Orlando's microbrewery scene in comfort and style with Hop On! Central Florida Brew Tours.
---
Updated June 2019
I love a good beer. Accordingly, no arm-twisting was required when I was invited to check out Orlando's Hop On! Central Florida Brew Tours, which ferries you by bus to breweries on the Central Florida Ale Trail. It was a deliciously unique experience — one that other beer lovers will definitely want to try the next time they're in town!
Hop On! Central Florida Brew Tours
"Hop" has a double meaning here. You'll taste plenty of hops on this tour, but you'll also hop on — and off — a bus that carries you and up to 11 other people to Orlando-area breweries. (You don't need a 12-person group to participate, but operators reserve to right to cancel if fewer than four people are booked for a tour.)

Crooked Can Brewing Company in Winter Garden
You'll be joined by a guide and a driver, the latter of whom drinks no alcohol during the tour. Today, Hop On! offers five different tours, each of which lasts approximately four hours and visits three breweries. Private four-hour tours are also available, and all tours can be booked through the company's website. (The routes were slightly different when I first experienced Hop On! in November 2017.) The current lineup includes:
Downtown: Broken Cauldron Tap Room, Orange County Brewers and Ivanhoe Park Brewing Company
North Orlando: Hourglass Brewing, Bowigens Beer Company and Red Cypress Brewery
South Orlando: Ellipsis Brewing, Rockpit Brewing and Castle Church Brewing
East Orlando: Ten10 Brewing Company, Tactical Brewing Company and Deadly Sins Brewing
West Orlando: Suncreek Brewery, Crooked Can Brewing Company and Toll Road Brewing Company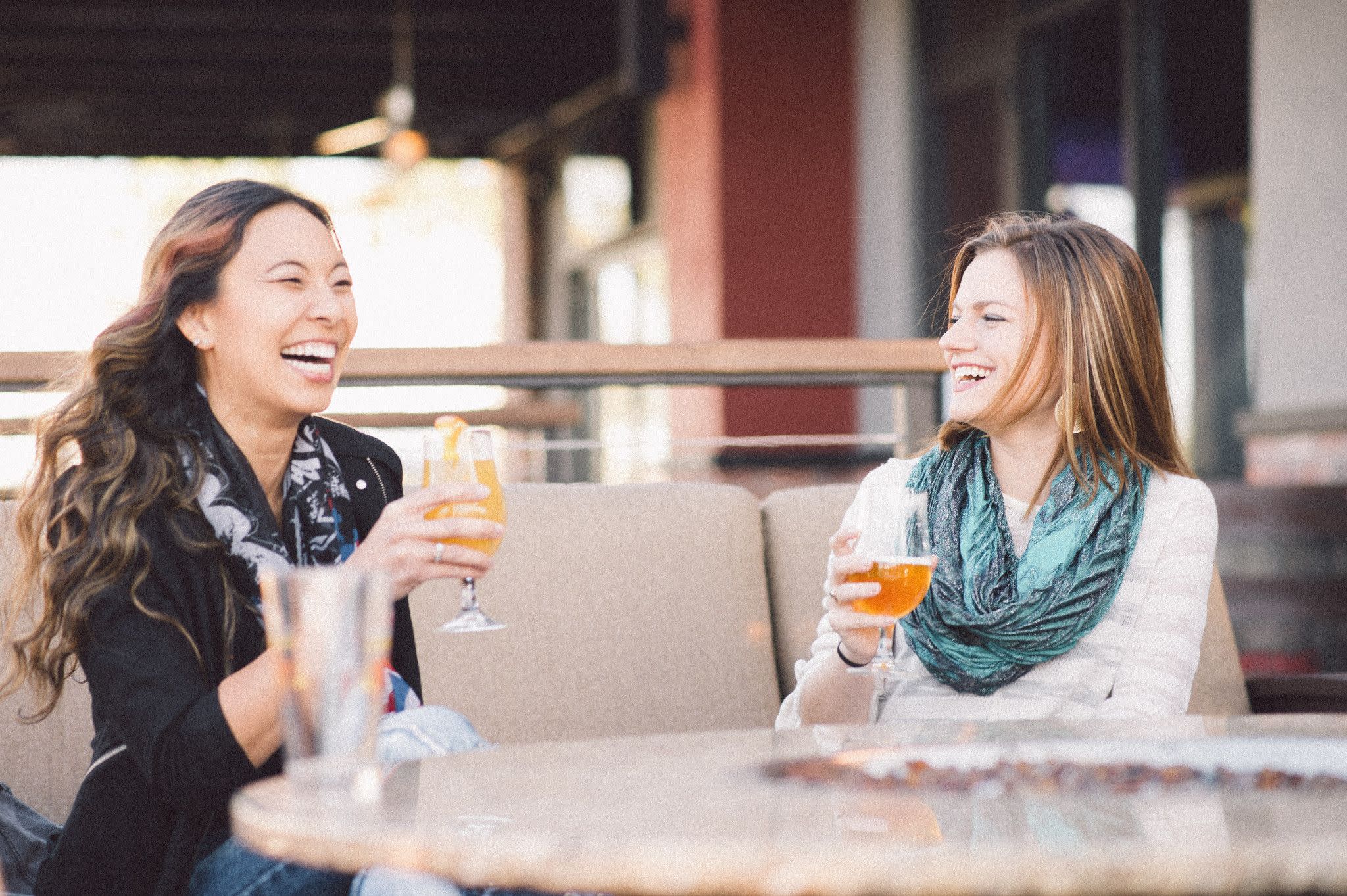 World of Beer in Downtown Orlando
Pickup and drop-off locations for the public tours are at various World of Beer locations throughout the Orlando area:
Downtown, East Orlando and North Orlando: World of Beer in downtown Orlando
West Orlando: World of Beer in Clermont, about 35 minutes west of downtown Orlando and 30 minutes north of Walt Disney World® Resort
You'll have to arrange for your own travel to and from World of Beer. On-site parking is available, but if you don't have a designated driver in tow, please opt for a taxi or ride-sharing service.
Broken Cauldron Tap Room in Orlando
Broken Cauldron Tap Room is located in downtown Orlando, close to Exploria Stadium (formerly Orlando City Stadium). When I took the tour, it was the sole pickup and drop-off location for Hop On!, and it's still featured in the current Downtown route. The name is derived from the fact that Orlando's Broken Strings Brewery and Black Cauldron Brewing use the location.
Learn more: Downtown Orlando
Having always been partial to dark, rich beers, I chose their Breakfast Stout … which turned out to be the only thing on the menu not brewed in Orlando! Still, it was delicious, and the Orlando originals on tap earned rave reviews from my group.
Another nice aspect of this tour is that you can get up close and personal with the breweries' equipment, starting with Broken Cauldron. Plus, the staff was eager to discuss their artistry at each stop.
Ten10 Brewing Company in Orlando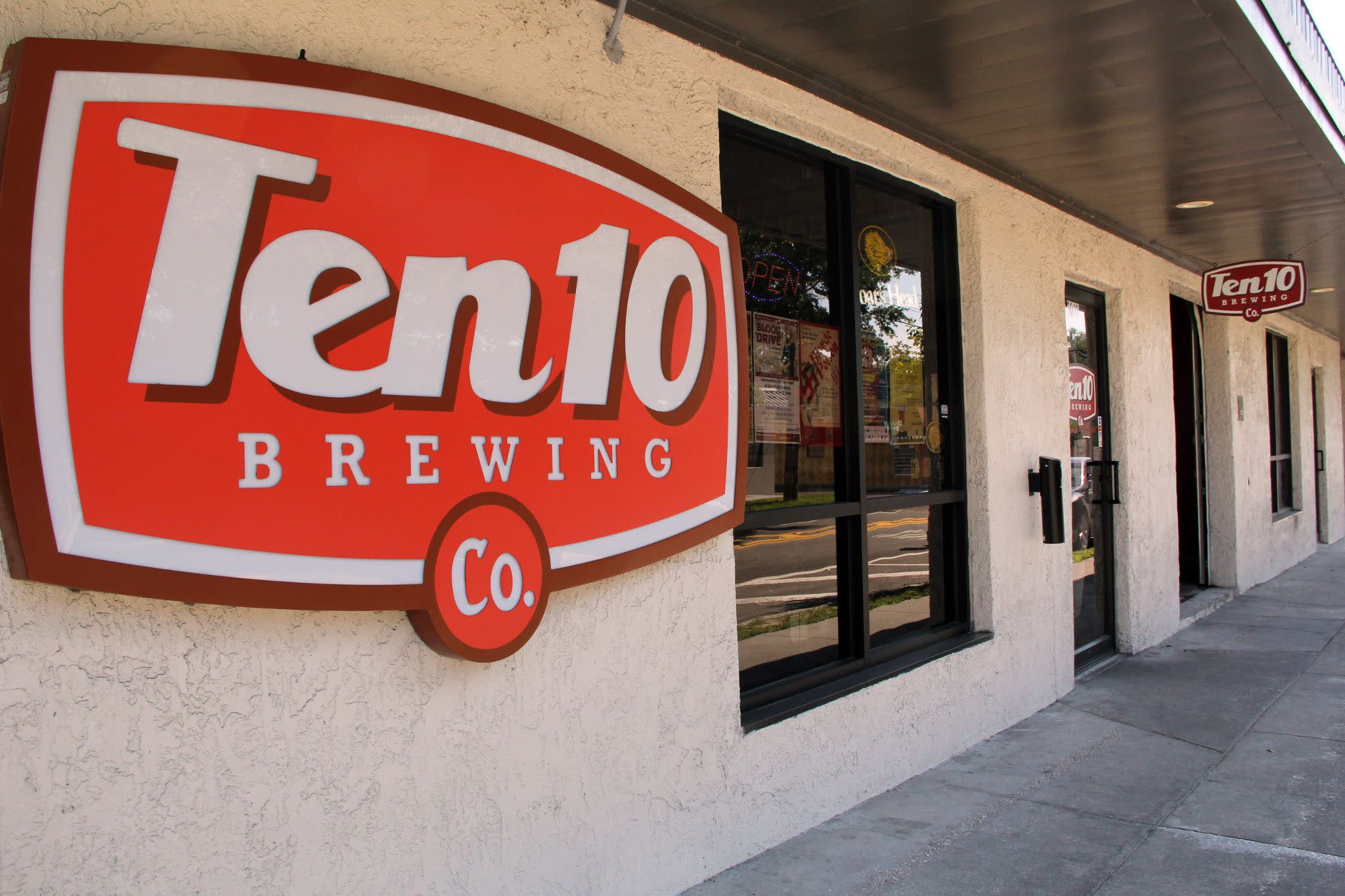 Ten10 Brewing Company in Orlando
I have to admit some bias here: I live just 10 minutes from this brewery, which is located in Orlando's Ivanhoe Village district, so I was a fan long before our tour bus pulled up. With that being said, Ten10 has earned a well-deserved reputation for brewing fantastic beers. They're also local leaders in the "growler" and "crowler" movement. Today, it's part of the East Orlando tour.
Learn more: Ivanhoe Village
If you're not familiar with those terms, a growler is a reusable bottle that can be filled at a brewery, enjoyed at home and brought back for refills. Crowlers are similar, but they're served in recyclable (but nonreusable) cans.
Showing my home-team loyalty, I tried two different brews. First was the Peddler's Nut Wrench — a peanut-butter cider that wasn't unlike dipping slices of a Granny Smith apple into a jar of peanut butter. In other words, delicious.
I also tried a white stout called Black Gold, which I liked so much, I came back a few days later to buy a couple of crowlers of it!
Deadly Sins Brewing in Winter Park
The last stop on my tour was Winter Park's Deadly Sins Brewing, about 15 minutes north of downtown Orlando. This is one of Central Florida's newest breweries, and with an "all organic" philosophy, it's also one of the most unique. Like Ten10, it's currently included in the East Orlando tour.
Learn more: Winter Park
I went with two more beers at this location. The first was The Guilty Monk, a Belgian quad-style brew with a smooth, slightly nutty flavor.
I finished the night with the most Orlando-sounding beer I've encountered yet: The Orlando Phil, a delicious kellerbier named after the Orlando Philharmonic Orchestra. It proved to be the perfect finale to a great night, and I have a feeling I'll be back!
Cover image courtesy Hop On! Central Florida Brew Tours.