Guest blogger Nancy DeVault from Orlando Date Night Guide dishes on ways to blend Visit Orlando's Magical Dining with things to do throughout the destination.
---
Now in its 14th year, Visit Orlando's Magical Dining® is celebrating a five-week showcase of limited-edition, chef-curated menus. From Aug. 23 – Oct. 7, 2019, diners can savor special three-course, prix-fixe dinners at 120+ restaurants for just $35 per meal and support deserving charities at the same time. (Beverages, tax and gratuity are added costs.)
Add even more local flavor to your Visit Orlando's Magical Dining experience by pairing food and fun with these selections from Orlando Date Night Guide!
Antonio's and Enzian Theater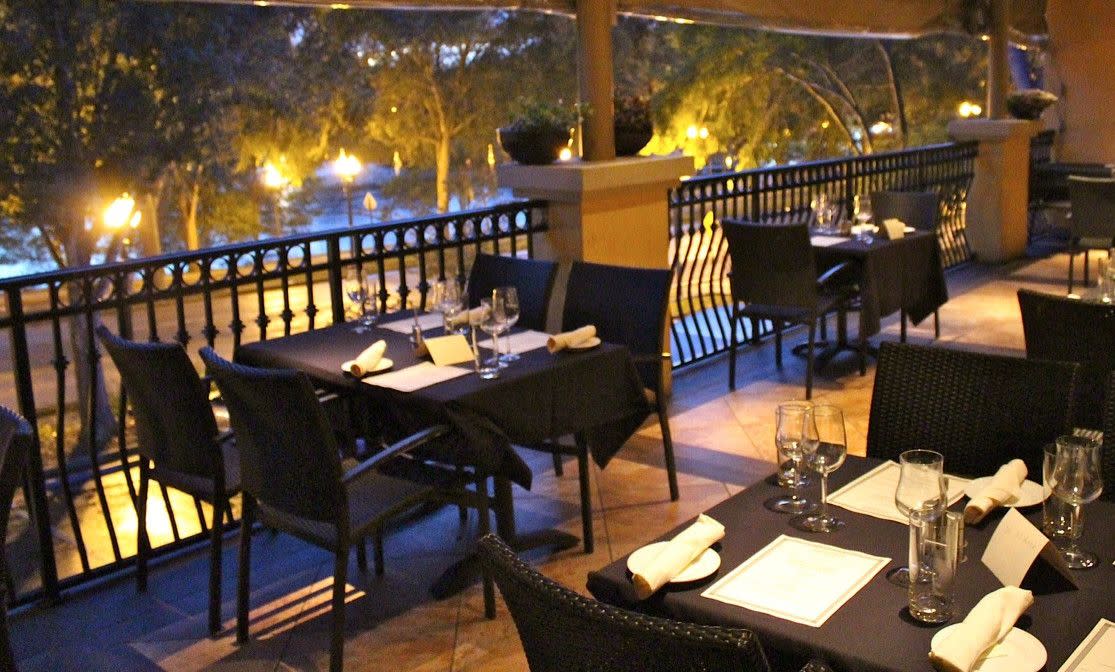 Upstairs Balcony at Antonio's in Maitland Near Orlando
Overlooking Lake Lily in Maitland, about 20 minutes north of downtown Orlando, the "upstairs" of Antonio's is basically restaurant royalty to Orlandoans. Naturally, their menu for Visit Orlando's Magical Dining is fit for a king or queen. (Note that Visit Orlando's Magical Dining is offered upstairs only; it's not available in Antonio's Market & Café.) Start with either the Fried Calamari, served with sun-dried tomato mayonnaise, or the Roasted Eggplant & Tomato Caprese, composed with organic buffalo milk mozzarella, roasted plum tomato, grilled eggplant and basil pesto.
You won't be disappointed by the Veal Marsala; however, the menu's crown jewel is the 14-oz. Aged New York Strip (both entrées are served with vegetables and whipped potatoes). Then, welcome Valentino to your table — a Belgium chocolate cup filled with brandy ganache, whipped cream and raspberries.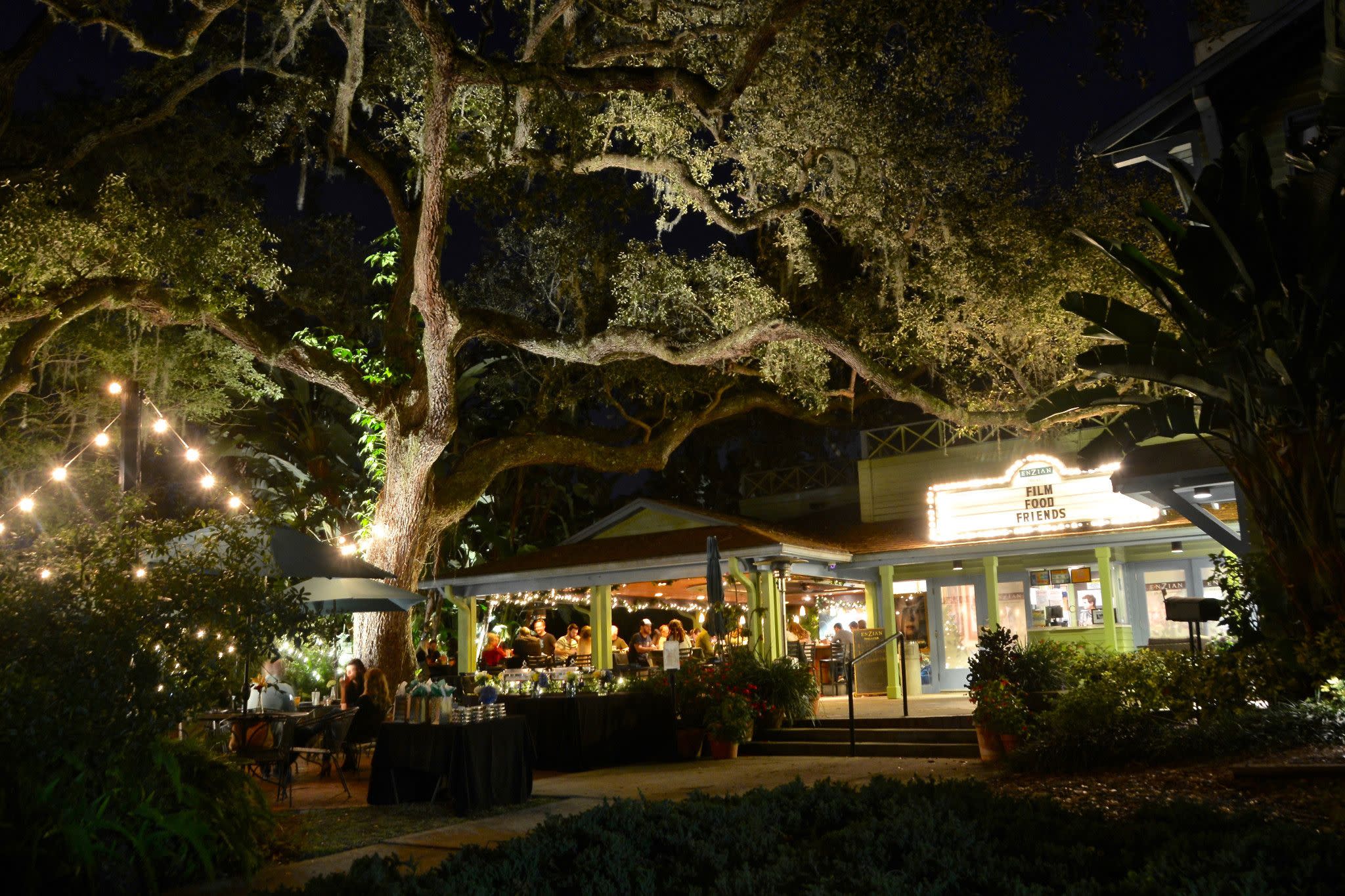 Enzian Theater in Maitland Near Orlando
Elevate your upscale night with a posh twist to dinner-and-a-movie. Across from Antonio's, Enzian Theater is billed as "Central Florida's only full-time alternative cinema." Snuggle up on either a vintage loveseat or velvet chairs. Take advantage of the theater wait-staff to avoid snack booth lines. Afterward, recap the flick with a nightcap at Eden Bar, Enzian's outdoor watering hole (pictured in this blog's cover image).
The Boheme and Dr. Phillips Center for the Performing Arts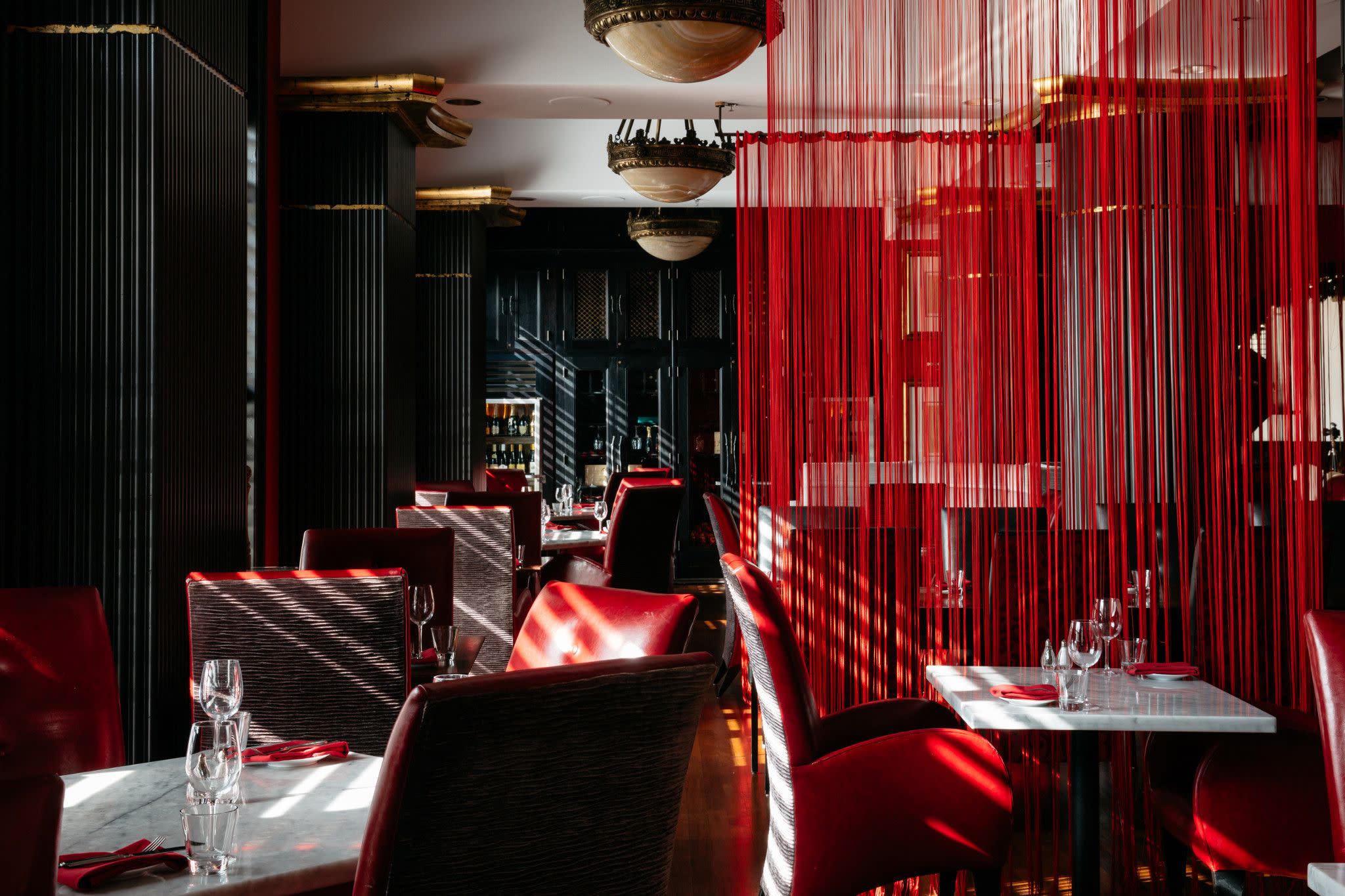 The Boheme at Grand Bohemian Hotel in Downtown Orlando
Centrally located in the heart of downtown Orlando, Grand Bohemian Hotel doesn't miss a beat with exquisitely structured guest rooms, an onsite art gallery, an inspiring cocktail lounge and The Boheme, serving creative culinary works. The Beef Tenderloin is an imaginative dish infused with bohemian spices, yellow beets and Yukon mash, bean mélange, and porcini mushroom sauce. The buzz surrounding their menu for Visit Orlando's Magical Dining is all about the Black Bee Honey Cheesecake with Orange Blossom honey, Gran Marnier caramel sauce and a honeycomb waffle crisp.
Learn more: Downtown Orlando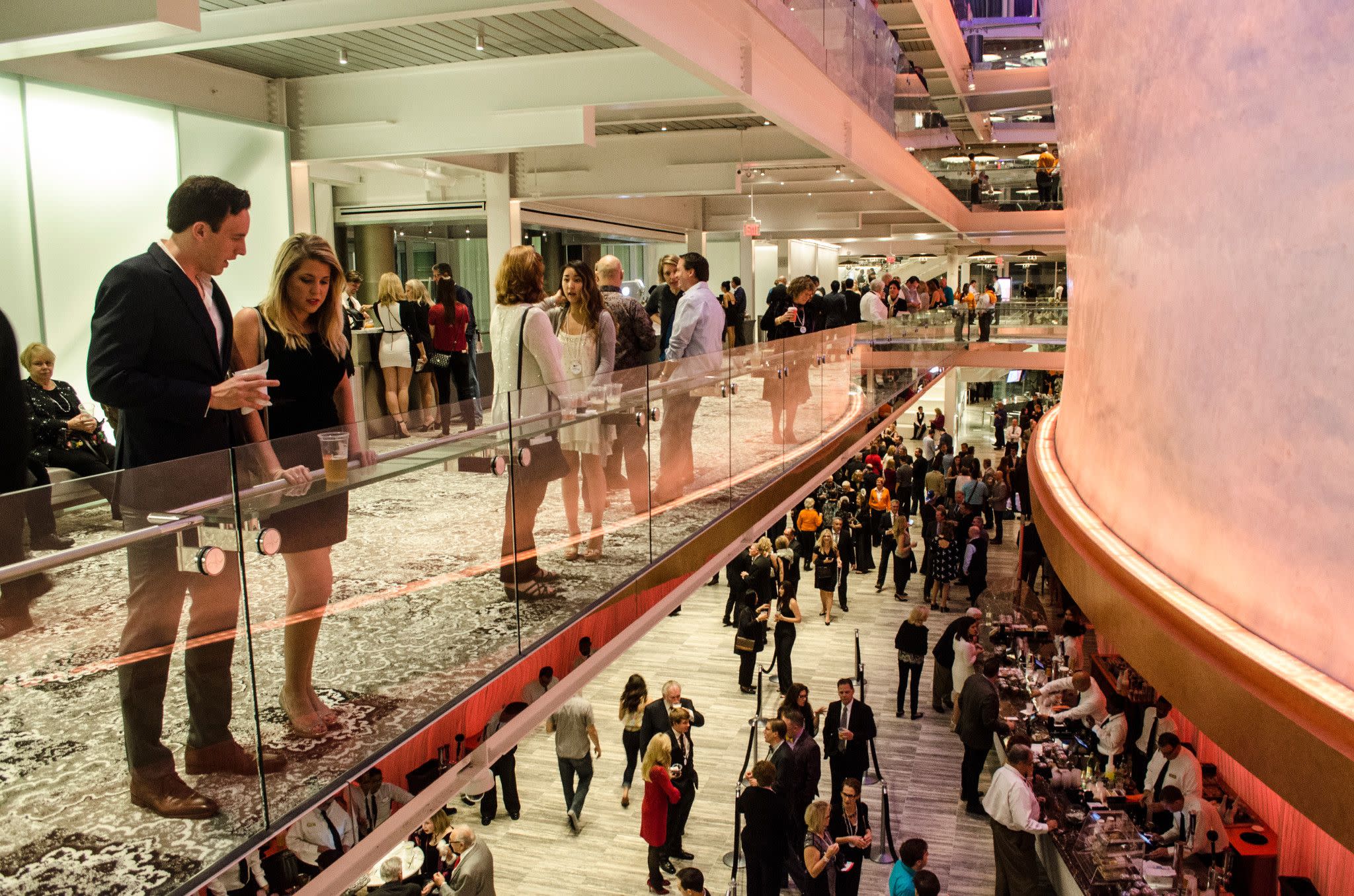 Dr. Phillips Center for the Performing Arts in Downtown Orlando
Depart from this contemporary space to find traditional arts steps away at the Dr. Phillips Center for the Performing Arts. Broadway plays, chart-topping musicians and famed comedians grace the stages of this grand venue. Local acts, like Orlando Ballet and Orlando Jazz Orchestra, will also have you applauding for an encore.
Canvas Restaurant & Market and Drive Shack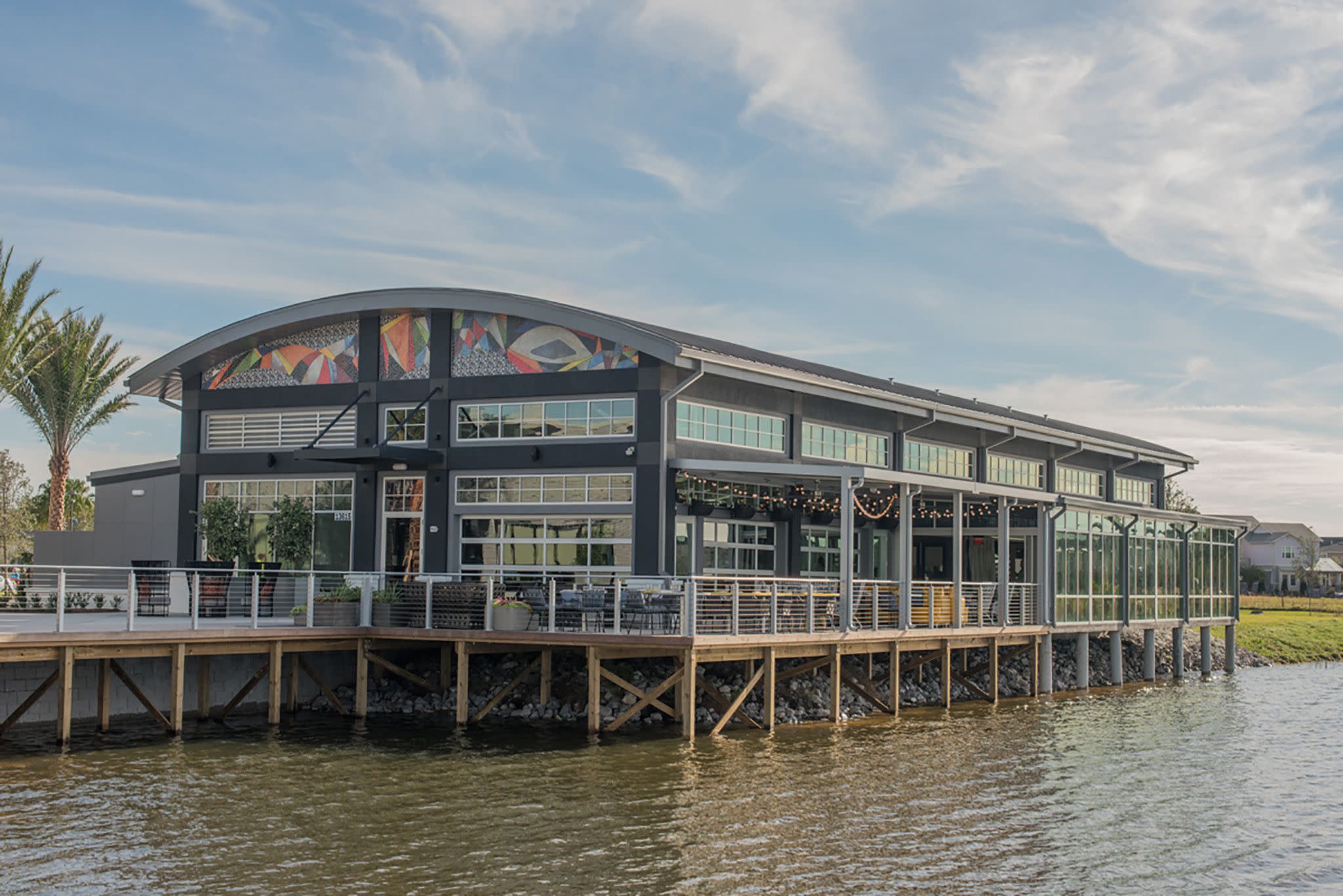 Canvas Restaurant & Market in Orlando's Lake Nona Neighborhood
Thanks to exquisite waterfront dining and floor-to-ceiling windows, Canvas Restaurant & Market in Lake Nona, about 20 minutes from Orlando International Airport, was deemed "Best Outdoor Restaurant" by Orlando Sentinel's Foodie Awards. The picture-perfect scenery complements masterpiece meals. Florida's Southern and Latin American flavors blend as showcased with the Twice-Cooked Yuca Fries with cilantro-lime dipping sauce, an unexpected gastronomic gem. You'll find other treasures in the Canvas Market, a mini-boutique selling local goods.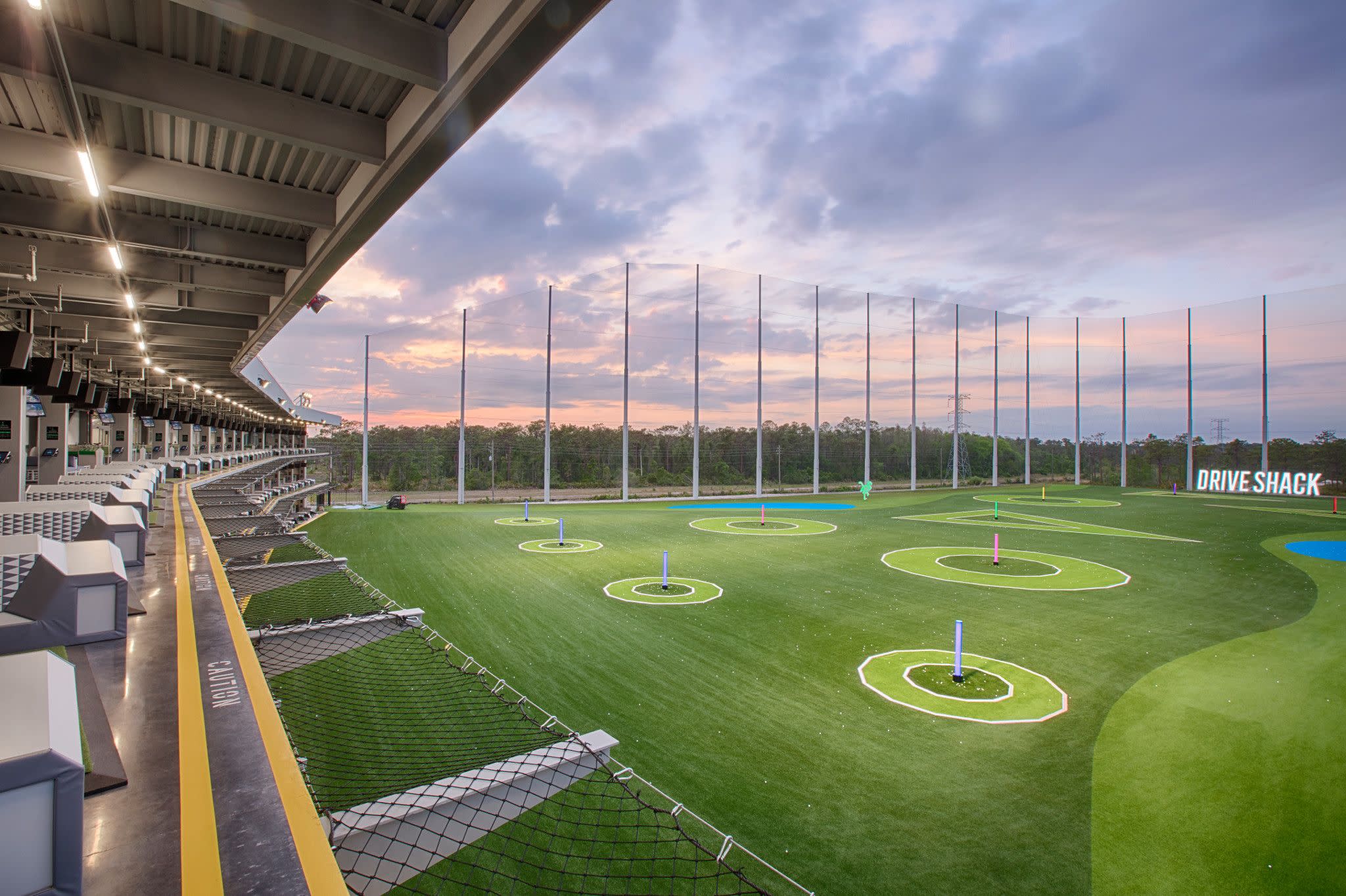 Drive Shack in Orlando's Lake Nona Neighborhood
From there, take a 2-mile drive to Drive Shack, a state-of-the-art golf entertainment site with 90 hitting bays and a 220-yard range. Also take a swing at classic games, like shuffleboard, Skee-Ball and Pac-Man, to keep amusement on par.
Cuba Libre Restaurant & Rum Bar and Pointe Orlando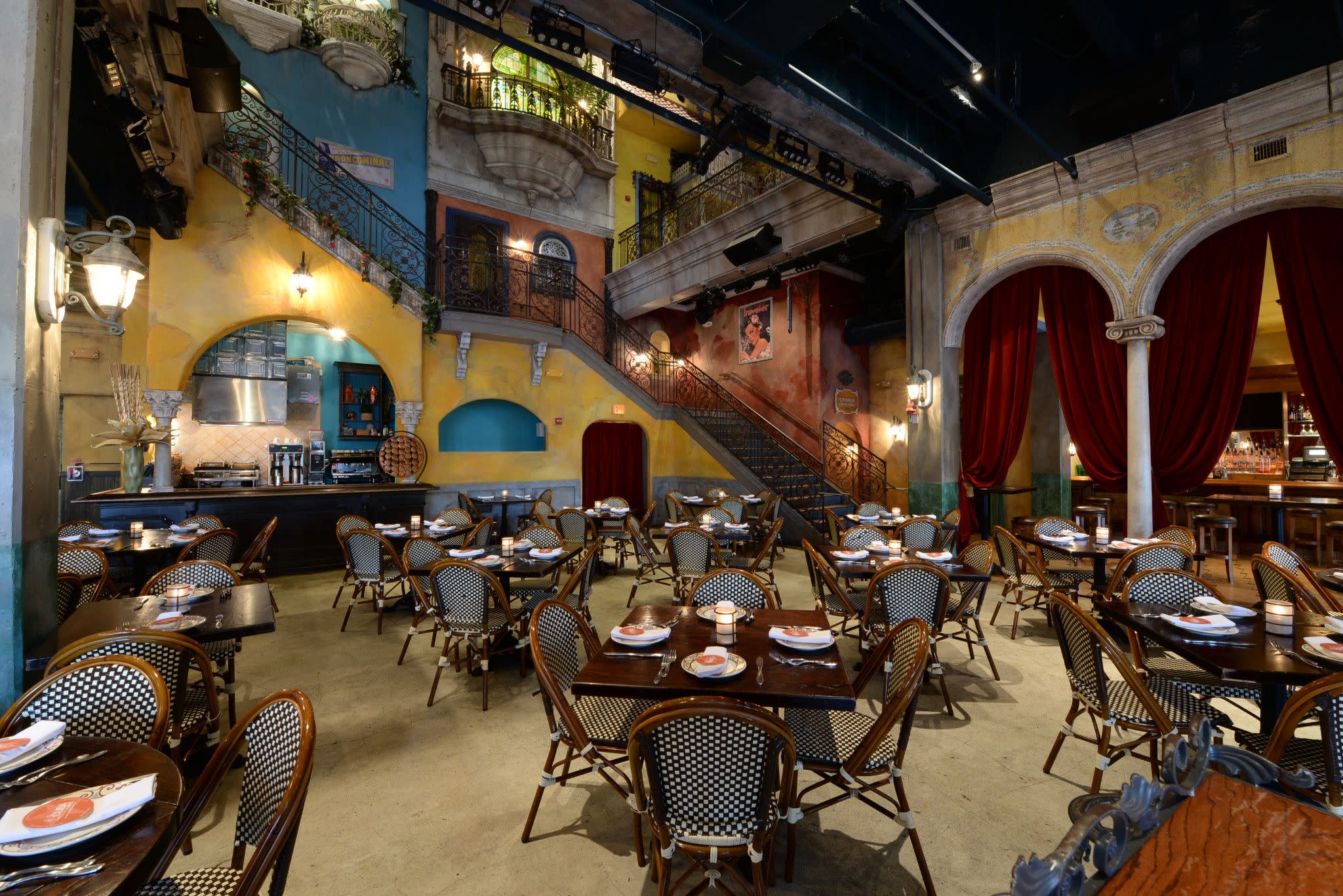 Cuba Libre Restaurant & Rum Bar at Pointe Orlando
Step onto the cobblestone floor at Cuba Libre Restaurant & Rum Bar at Pointe Orlando on International Drive, and step back in time to Old Havana circa 1950. The courtyard dining parlor exudes culture with wrought-iron railings, bistro chairs and customary paintings adorning colorful walls. With a whopping six appetizers and five entrées, plus desserts, their display for Visit Orlando's Magical Dining is noteworthy!
Learn more: Pointe Orlando
It'll be hard to pass up the Pineapple Guacamole Cubano served with plantain chips; however, for a taste of sweet Cuban food, get the Malanga Fritters with crispy taro, garlic, West Indies cilantro and Tamarindo ketchup. And the generous portion of Peking Chicken will send your taste buds aflutter. You don't need a passport to experience the authentic cuisine but do get a flight — a rum flight, that is (not included in Visit Orlando's Magical Dining price).

B.B. King's Blues Club at Pointe Orlando
Cuba Libre is part-restaurant/part-club, which means you could stay there all night (it's open till 2:30 a.m. on Saturdays). But, since laughing with a romantic partner is like sipping a love potion, take your date to Pointe Orlando's Improv Comedy Club for a gaggle of giggles. If you prefer live music, check out B.B. King's Blues Club or Lafayette's.
The Kitchen and Universal CityWalk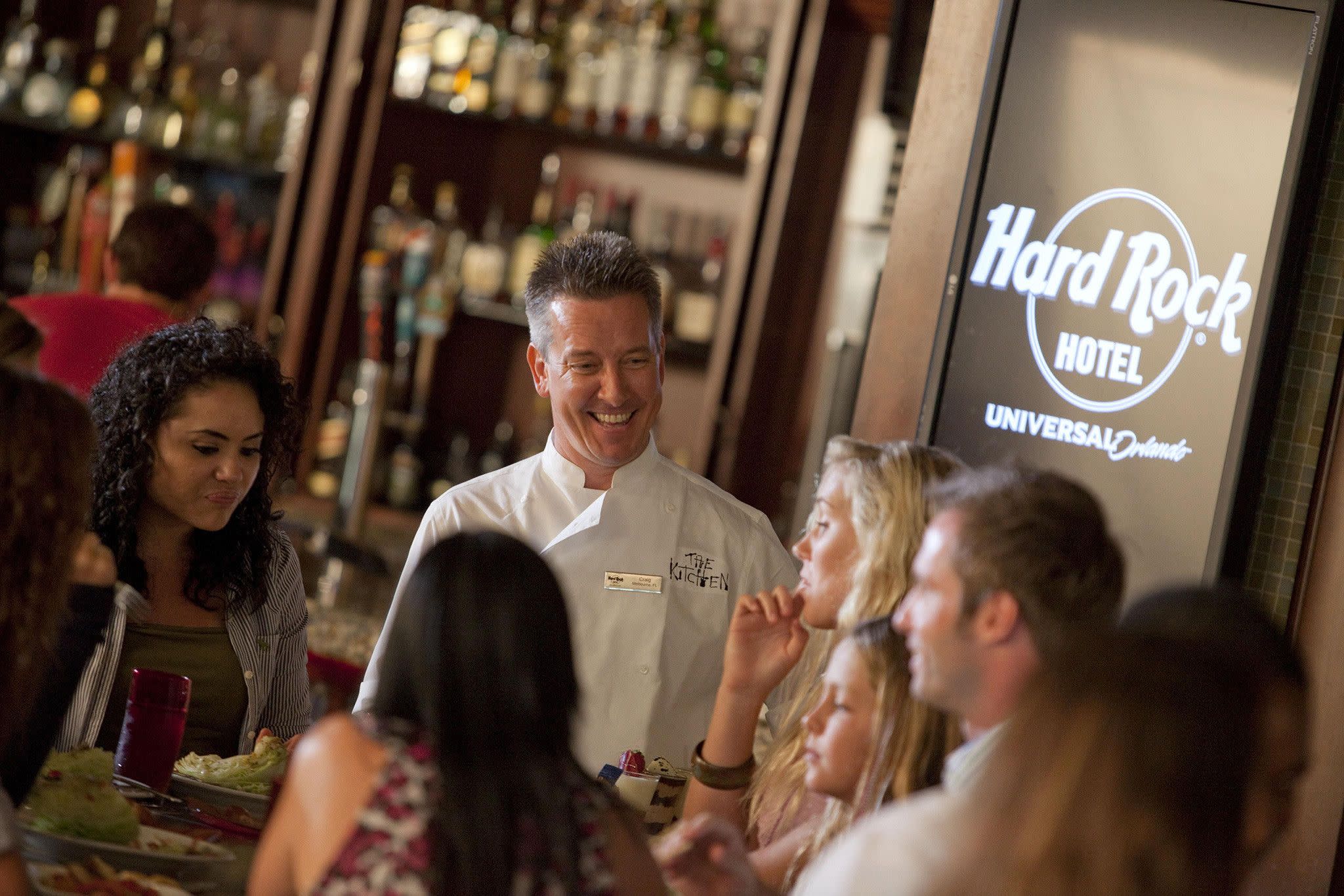 The Kitchen at Hard Rock Hotel® at Universal Orlando Resort
Staged inside Hard Rock Hotel® at Universal Orlando Resort with memorabilia-lined walls, The Kitchen fine-tunes American cuisine. The New York Strip plate for Visit Orlando's Magical Dining also stars bacon and Yukon potato hash, broccolini, Tabasco-fried onions, and burgundy jus. Yet, The Kitchen saves the best act for last. You'll be singing the praises of the Goat Cheese Cheesecake served with black mission figs, pistachio crust, elderflower honey and berries.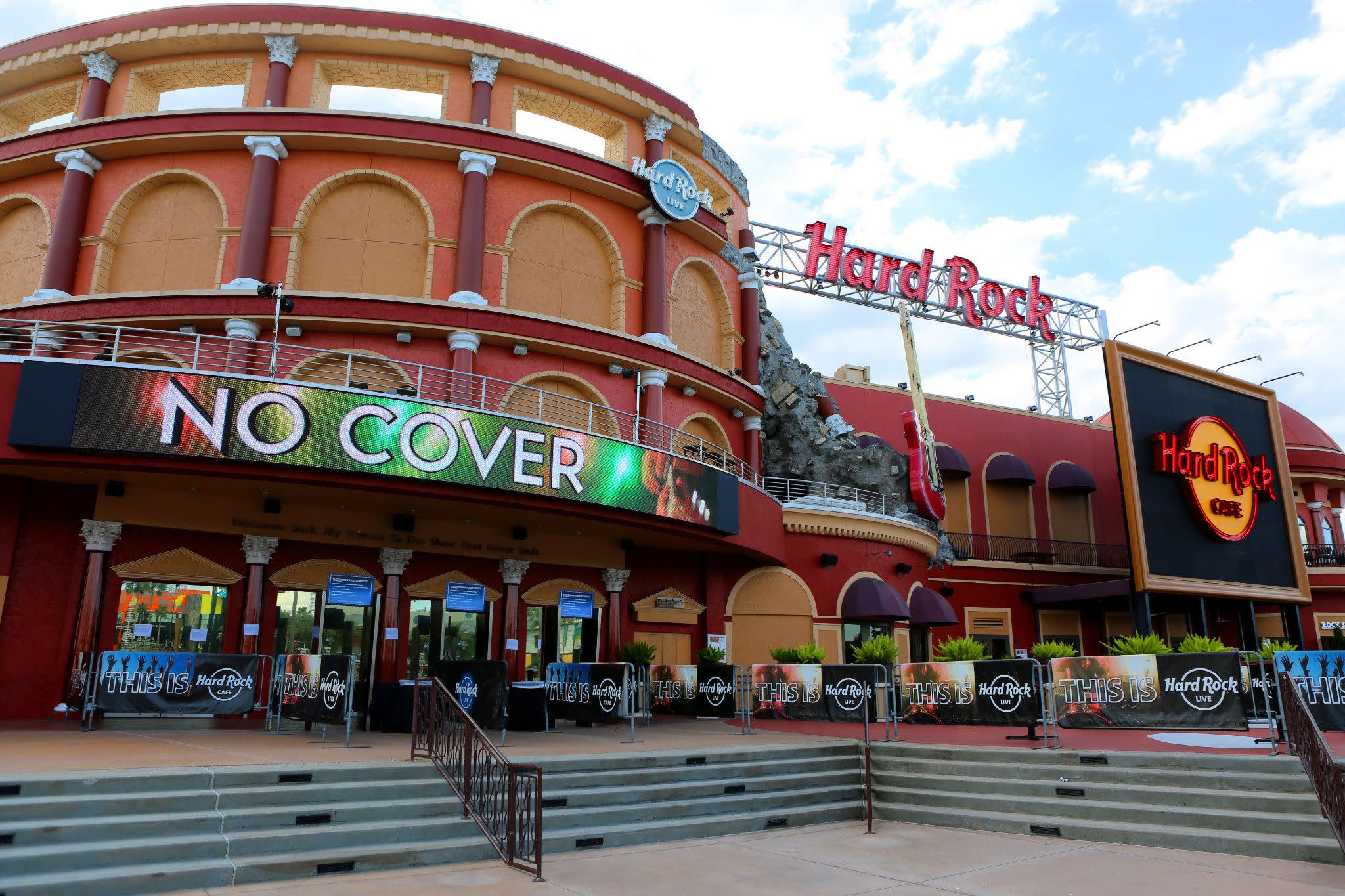 Hard Rock Live® at Universal CityWalk at Universal Orlando Resort
Later, amp things up with a concert at Hard Rock Live® at Universal CityWalk. Or, take to the stage at Rising Star, a karaoke club. This isn't your average lyric-assisted dive bar — singers belt out solos to the accompaniment of a full band! If stage fright takes hold, venture off to find other superstar spots, like Pat O'Brien's for dueling pianos.
Learn more: Universal CityWalk
Market to Table and Crooked Can Brewing Company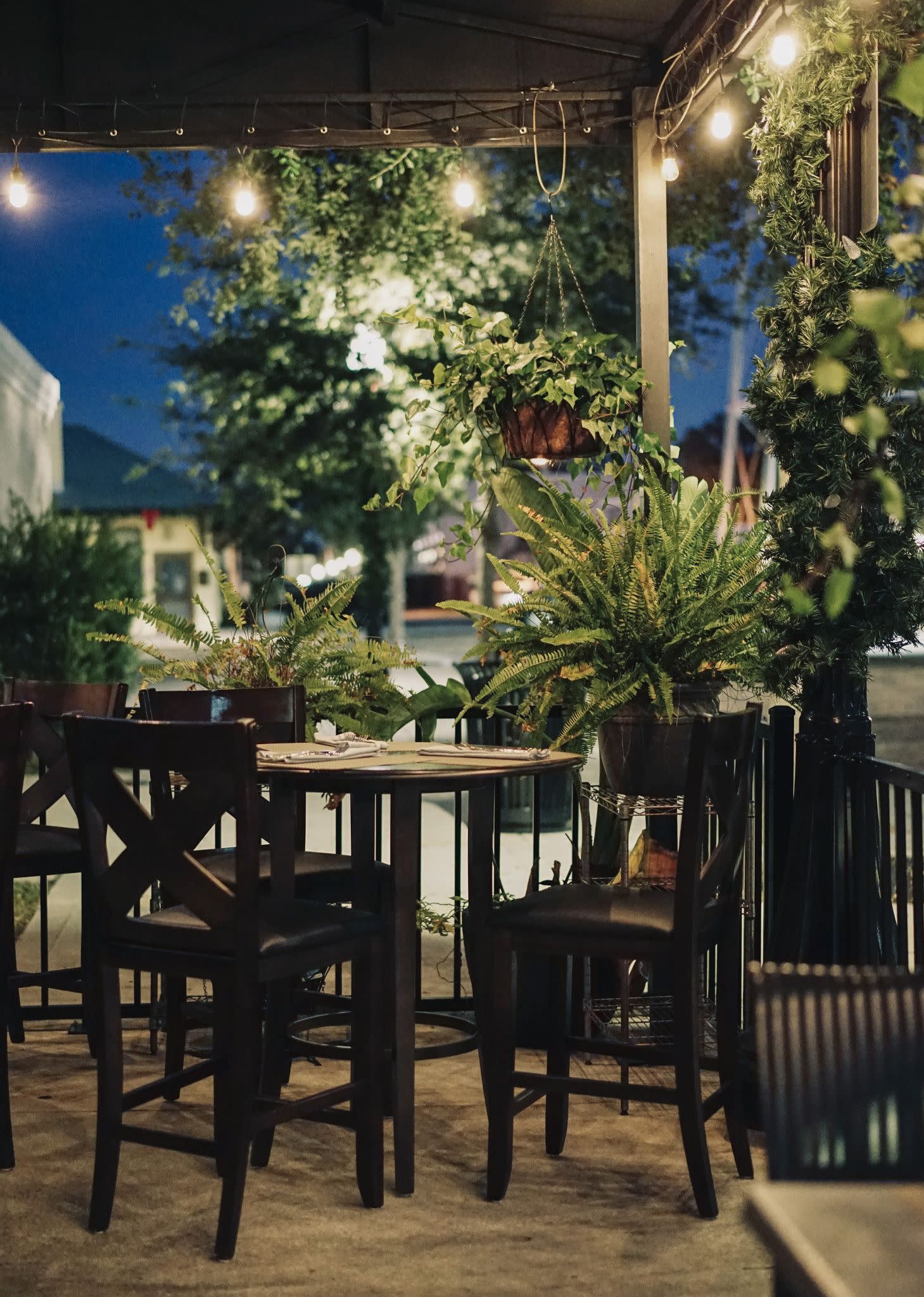 Patio at Market to Table in Winter Garden
With a passion for local ingredients, Chef Ryan Freelove previously ran a farmer's market booth before upgrading to Market to Table, a fresh American restaurant in downtown Winter Garden, about 30 minutes west of downtown Orlando.
Learn more: Winter Garden
Market to Table's menu for Visit Orlando's Magical Dining also spotlights area farms, as with the Lake Meadows Farms Chicken served with truffle risotto, and the Portobello Napoleon, made with mozzarella, heirloom tomato and Bekemeyer Farms whole wheat pasta.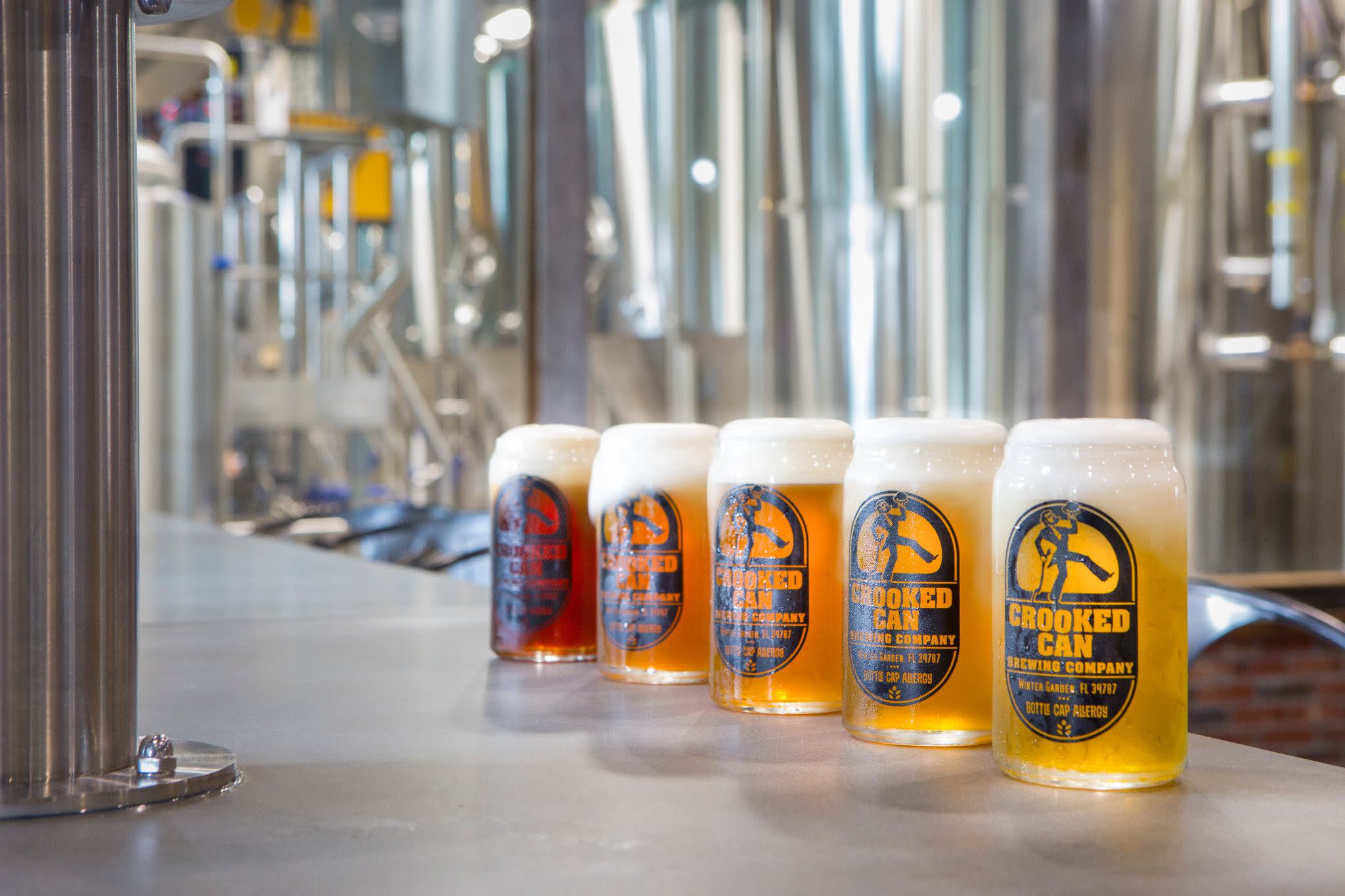 Crooked Can Brewing Company in Winter Garden
Follow brick-lined Plant Street, Winter Garden's main drag, to find Crooked Can Brewing Company, the flagship of Plant Street Market, a bustling artisan food and shopping hall. Settle into a communal table underneath oak trees shading the beer garden. Crooked Can's tasting room has a dozen brews on tap. The brewery also pours seasonal and specialty batches in the newly opened Barrel Room on the opposite end of the market.
Paddlefish and Disney Springs®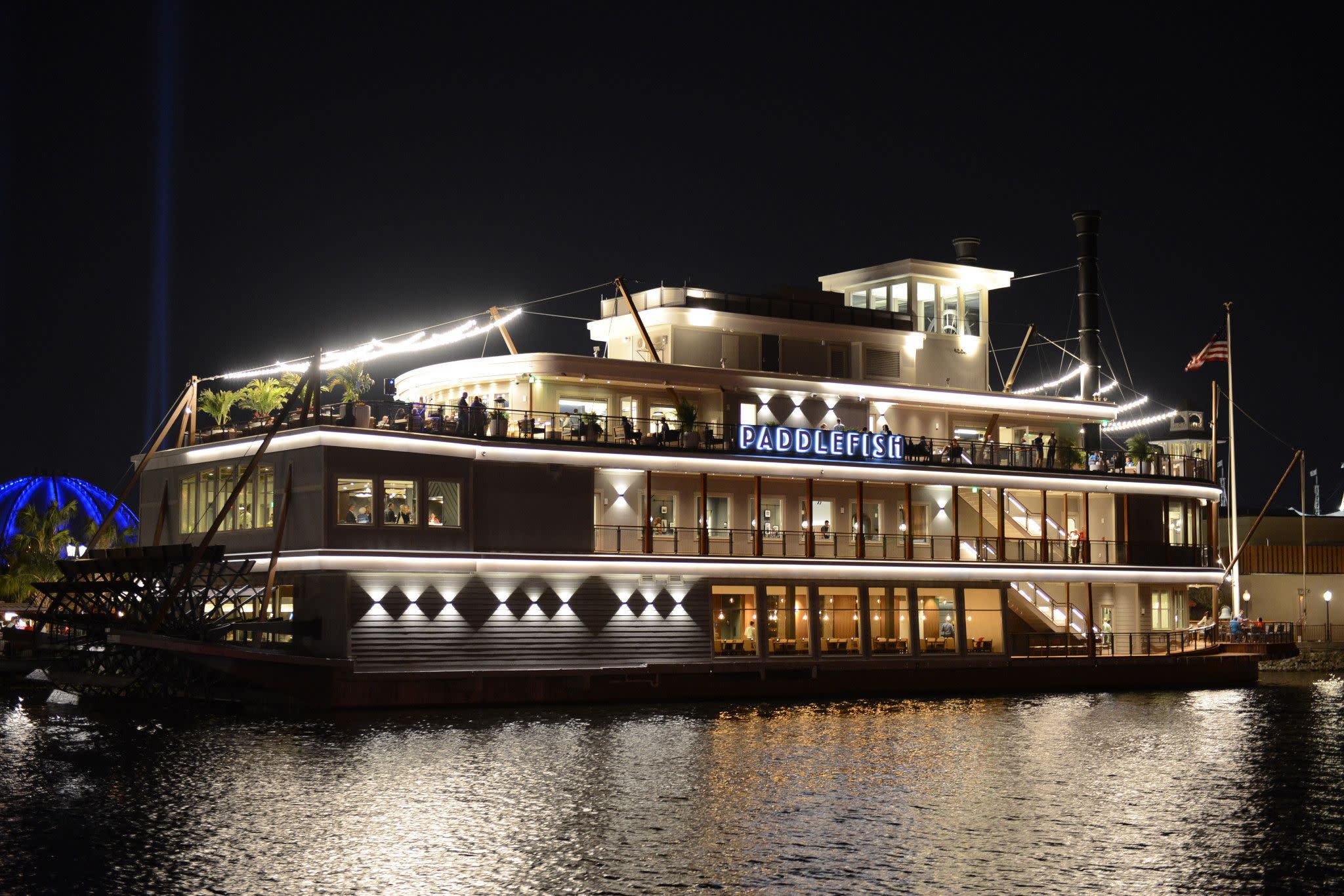 Paddlefish at Disney Springs® at Walt Disney World® Resort in Orlando
Docked at Disney Springs at Walt Disney World® Resort, Paddlefish is a modern riverboat with restaurant seating in the cabin and on the deck. Begin your flavor voyage with the Clam Chowder with a magical helping of bacon, potatoes and cream. The Cornmeal-Crusted Catfish and Half Chicken entrées are both astounding, although the Pork Chops served with asparagus, blue cheese mash and apple cider reduction will really float your boat!
Learn more: Disney Springs
Opt for a lighter dessert, like the Key Lime Pie, because temptations lurk throughout Disney Springs. A full belly or otherwise, nearby shops like Amorette's Patisserie, Erin McKenna's Bakery NYC, Ghirardelli Ice Cream & Chocolate Shop, and Vivoli Il Gelato have a way of luring your sweet tooth.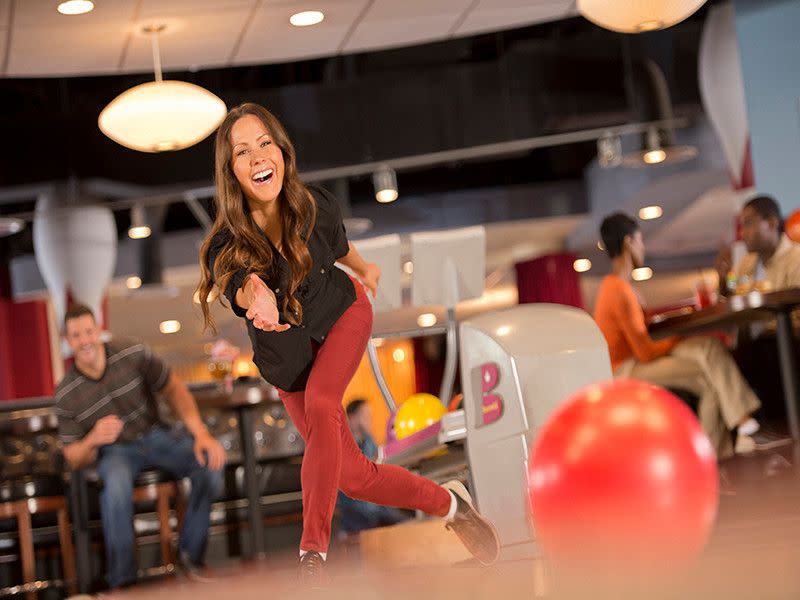 Splitsville Luxury Lanes at Disney Springs® at Walt Disney World® Resort in Orlando
Disney Springs is also overflowing with recreation. Strike up fun at Splitsville Luxury Lanes, embrace movie madness at AMC 24, take things up a notch aboard an Aerophile balloon, or catch a show at The Edison, House of Blues or Raglan Road.
Primo by Melissa Kelly and JW Marriott Orlando, Grande Lakes Staycation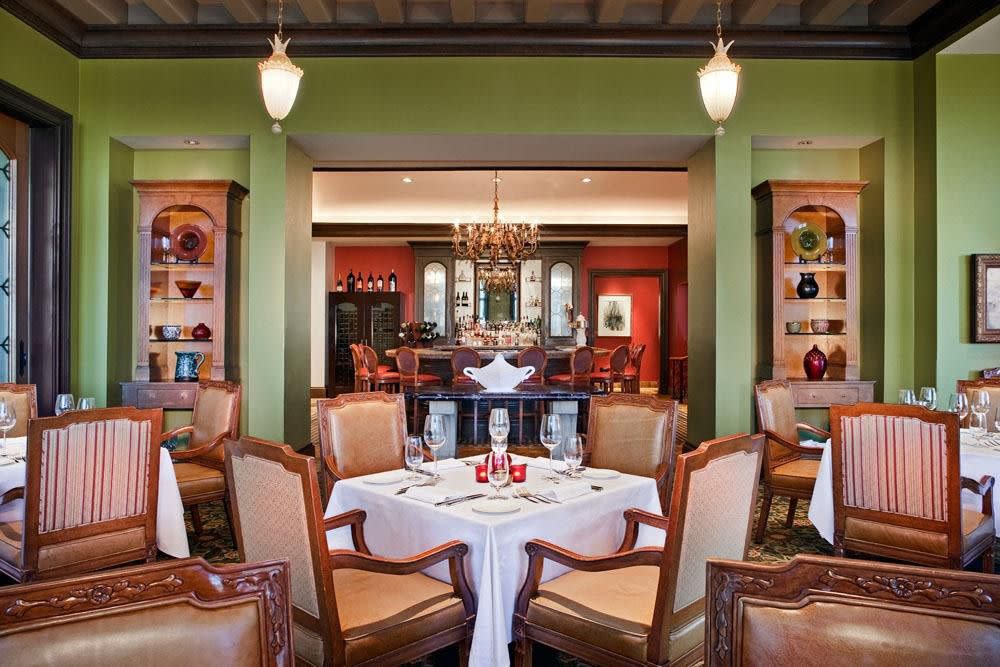 Primo by Melissa Kelly at JW Marriott Orlando, Grande Lakes
Find Primo by Melissa Kelly, a homegrown Mediterranean restaurant, on the grounds of the lavish JW Marriott Orlando, Grande Lakes. Their fare for Visit Orlando's Magical Dining is constructed using harvest from Primo's onsite organic garden, as with the Farmer Salad: fresh lettuce with house bacon, croutons, soft-boiled egg and lemon-Parmesan vinaigrette. Also, expect to go hog wild over the Boar Bolognese entrée with fusilli pasta, shaved Parmigiano-Reggiano and grilled ricotta salata.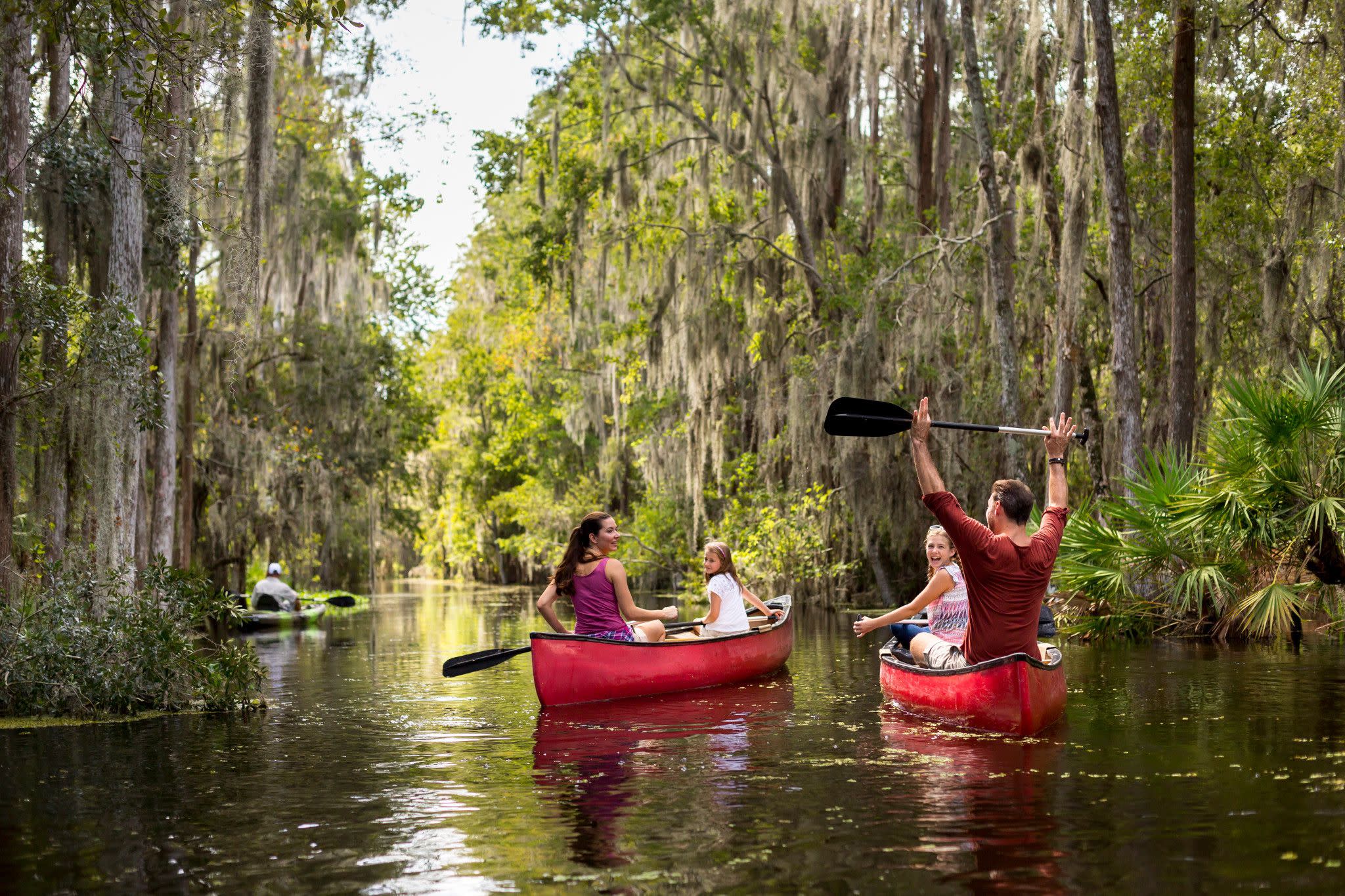 Kayaking at JW Marriott Orlando, Grande Lakes
You do not have to be a resort guest to dine at Primo, but the staycation possibilities are enticing. In addition to a lazy river, AquaCourse 360 water experience, spa services and golf, you can explore Shingle Creek, the headwater of the Florida Everglades, via kayak or canoe. And prepare to be bright-eyed and bushy-tailed for the Sunrise Safari, an all-terrain golf cart eco-tour navigating the resort's 500 acres to discover native wildlife.
Sharks Underwater Grill and SeaWorld® Orlando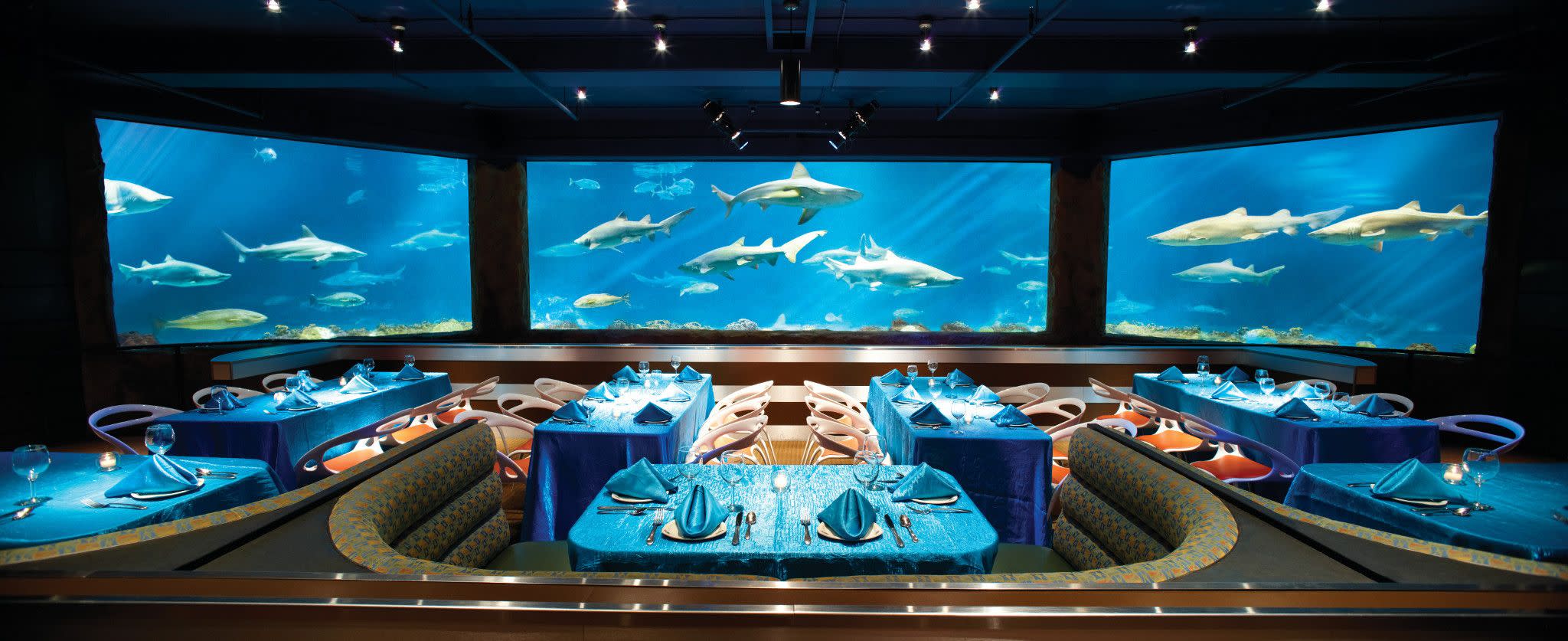 Sharks Underwater Grill at SeaWorld® Orlando
Fearless foodies can chomp down on fresh catch at Sharks Underwater Grill, located within SeaWorld Orlando. Tables nuzzle up to a massive aquarium full of sharks, fish and coral. Research suggests exposure to fish tanks lowers stress so, in spite of the sharks, you'll relish a mellow meal in this upscale, animal-encounter eatery.
Pescatarians will be pleased with the Lobster Bisque, a silky broth swimming with hearty lobster, and the Grilled Swordfish served on a bed of cheese polenta, sautéed spinach and cherry tomatoes with tropical salsa and white wine sauce. Alternative choices, like the Filet Mignon and Chicken Mushroom, are equally satisfying.
Their deal for Visit Orlando's Magical Dining includes complimentary access to the park post-meal! (Earliest seating is 3 p.m.) Be sure to mention Magical Dining when booking reservations. Take the plunge on Mako, located next to the restaurant. Named after the speediest shark, it's 200-feet high and goes 73 mph, making it Orlando's speediest roller coaster!
Tapa Toro Tapas Bar & Paella Pit and ICON Park™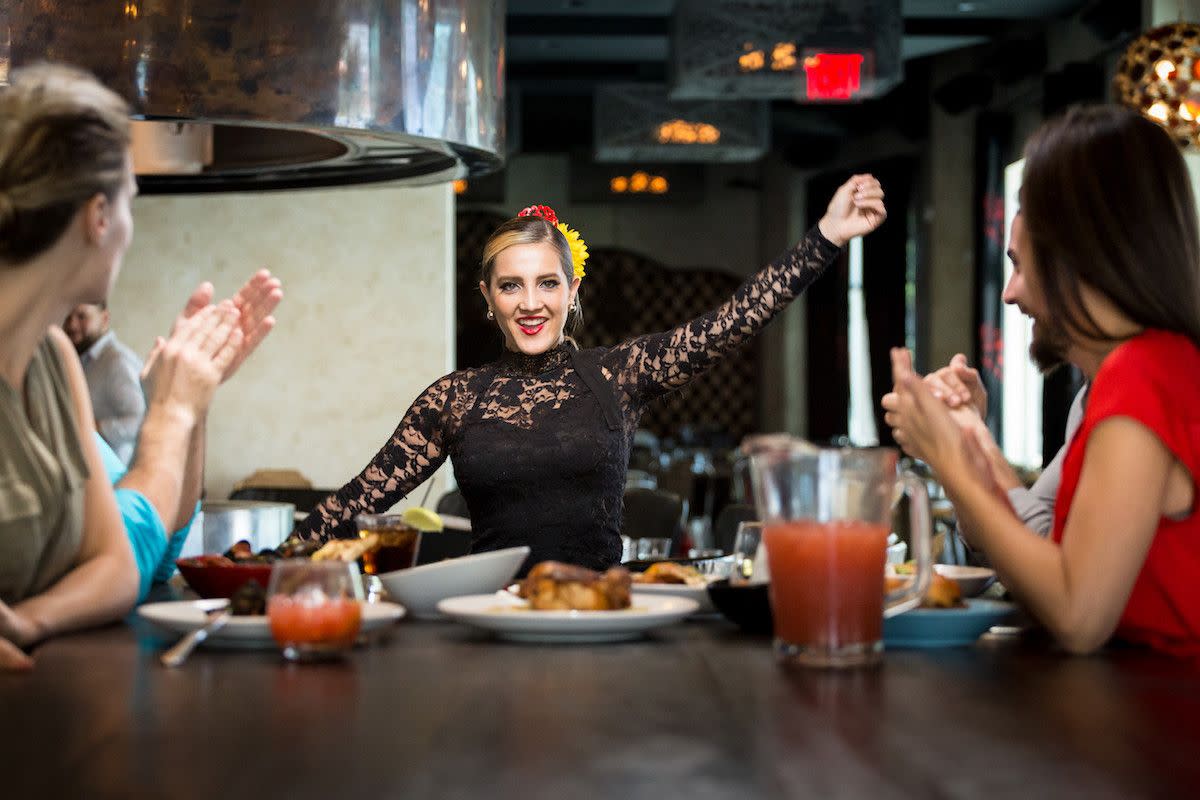 Tapa Toro Tapas Bar & Paella Pit at ICON Park™ in Orlando
Spice things up at Tapa Toro Tapas Bar & Paella Pit, a lively outpost featuring a 12-foot paella pit and flamboyant flamenco dancers at ICON Park on International Drive. The menu infuses Spanish cookery with Florida-fresh ingredients, like citrus and strawberries.
Learn more: ICON Park
My husband is a Spaniard, and the first meal his family served me in Madrid is an appetizer choice for Visit Orlando's Magical Dining: Sobrasada & Boquerones Crostini, with marinated Spanish white anchovies, sobrasada, rustic bread, radish, fennel salad and preserved lemon (authenticity confirmed!). Main course options include Sea Bass, Short Ribs or Eggplant, all of which pack unexpected zests.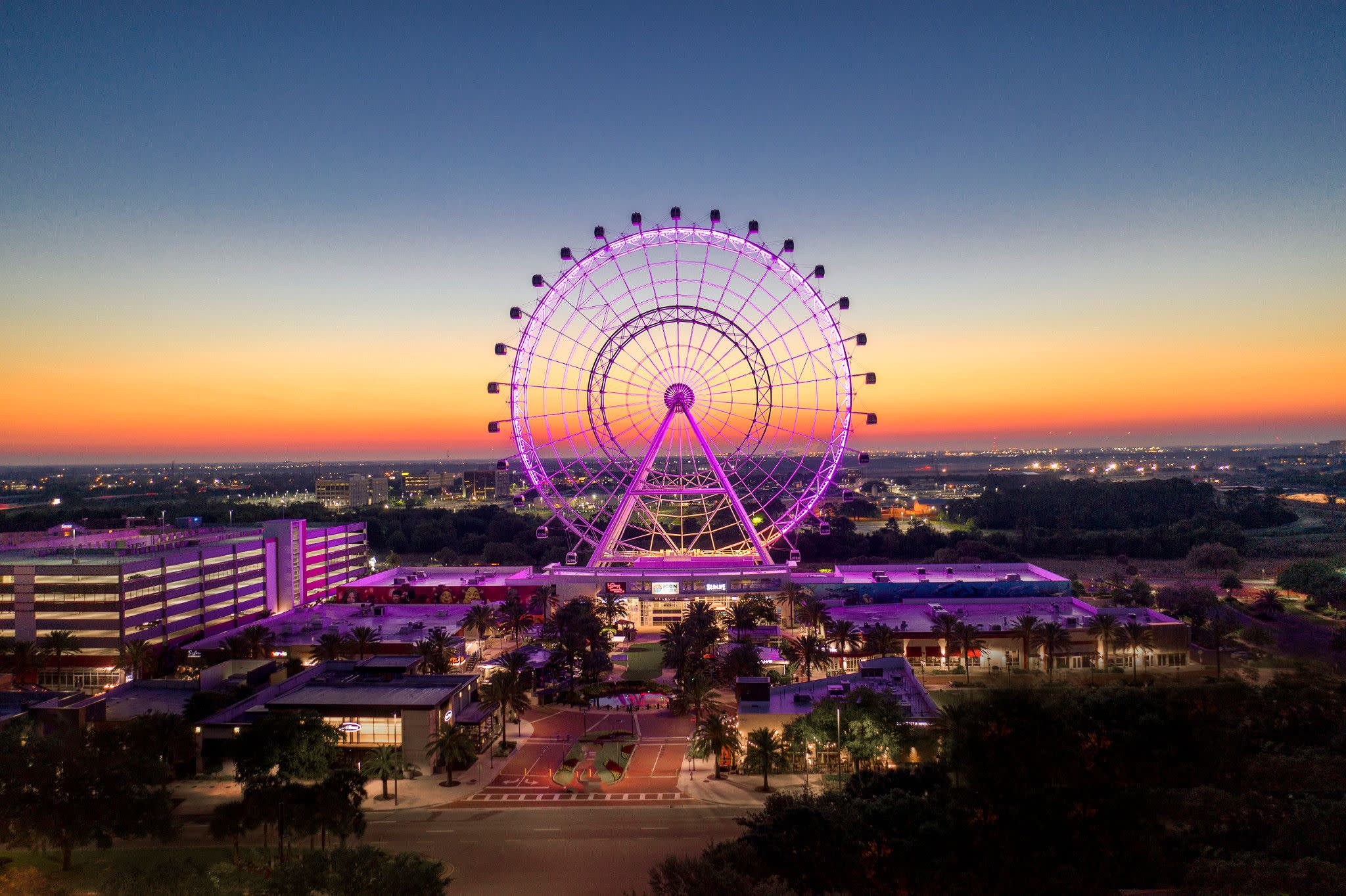 The Wheel at ICON Park™ in Orlando
For more flair, walk through ICON Park, another diverse entertainment mecca, and take a spin on The Wheel. This massive observation wheel glides 400 feet into the sky to bestow breathtaking panoramic views, with ample room to mesmerize groups comfortably. Keep things on a high note by riding the Orlando StarFlyer, the world's tallest daredevil swing ride, inviting you to throw caution to the wind at 45 mph. If you'd rather stay grounded, take selfies with celebrities (well, wax replicas) at Madame Tussauds Orlando before coasting over to SEA LIFE Orlando Aquarium to marvel at ocean wonders.
Nancy DeVault is an award-winning freelance writer/editor contributing to local and national publications, as well as a longtime contributor to Orlando Date Night Guide. Her storytelling spans a wide range of topics, including charity, disability, food, health, lifestyle, parenting, relationships and travel. Married with two kiddos, Nancy describes herself as a lover of the outdoors, fitness, news, traveling and binge reading magazines while sipping coffee.
Cover image courtesy Eden Bar at Enzian Theater.