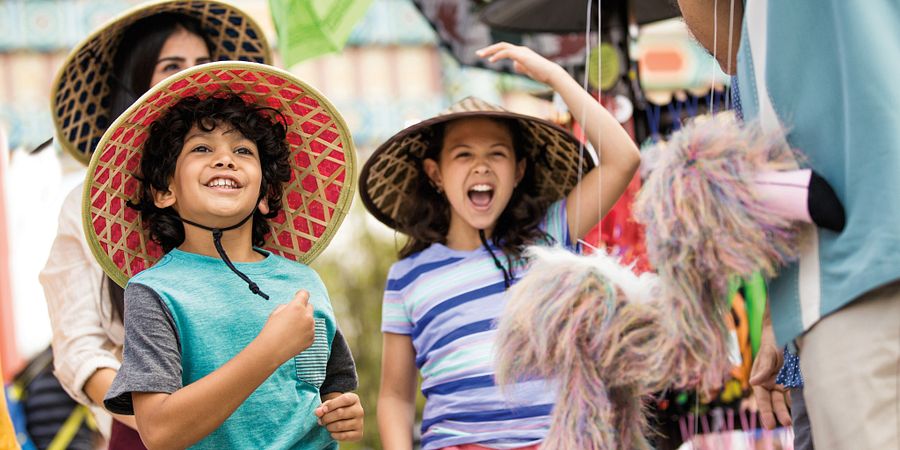 Disney's Epcot International Food & Wine Festival returns on Aug. 30, and we have a sneak peek at some of this year's best features.
By Christopher Cutillar
Autumn is foodie season in Orlando, with acclaimed culinary events like Visit Orlando's Magical Dining® Month sponsored by American Express (Aug. 24 – Sept. 30), Food & Wine Weekends at Waldorf Astoria Orlando (select weekends, Sept. 7 – Nov. 11) and the Walt Disney World Swan and Dolphin Food & Wine Classic (Oct. 26-27) ... but none have been around longer than Walt Disney World Resort's Epcot International Food & Wine Festival, which returns for its 23rd year from Aug. 30 through Nov. 12!
Included with regular park admission at Epcot, and running a record-tying 75 days, 2018's Food & Wine Festival will give you the chance to sample food and beverages at more than 30 Global Marketplaces, including many new additions. Here's a look at the cuisine, concerts, cooking workshops, celebrity appearances and more that we're looking forward to in 2018!
Learn more: Discount Tickets to Walt Disney World Resort
1. Flavors of the World
Most of the festival's Global Marketplaces can be found at Epcot's World Showcase — which is fitting, given how many worldwide cuisines these kiosks represent. All told, food and beverages from more than 20 locations will be available, including fare from Africa, Australia, Belgium, Brazil, Canada, China, France, Germany, Greece, Hawai'i, India, Ireland, Islands of the Caribbean, Italy, Japan, Mexico, Morocco, New Zealand, Spain and Thailand.
At the same time, many of the event's kiosks can't be easily claimed by any one nation. For instance, Active Eats will have energy-packed bites for people on the go, Coastal Eats draws inspiration from Pacific Ocean communities, and Earth Eats will serve hearty health food. Meanwhile, The Cheese Studio and The Chocolate Studio wear their focus on their sleeves, while Brewer's Collection will have a lineup of Europe's best beers. And there are more where they came from!
2. Fun for Families
Even if your kids aren't budding gourmets, they'll find a lot to enjoy at the Epcot International Food & Wine Festival — starting with a dedicated playground area for younger guests.
Children and their families can also look forward to character appearances at the Disney Du Jour Dance Party on Friday and Saturday evenings, and Remy's Ratatouille Hide 'n' Squeak Scavenger Hunt. Plus, kids who are ready to move beyond an Easy-Bake Oven can do so every Sunday courtesy of Junior Chef Kitchen Presented by Krusteaz.
3. Sunday Brunch With the Chefs
Ever wanted to dine with a culinary TV star while learning the secrets to their cooking success? Look no further than this series at World ShowPlace! This year's lineup will start on Sept. 2 with Top Chef's Richard Blais and run through Nov. 11.
Other scheduled brunch guests include Jamie Deen (Sept. 9), Tiffani Thiessen (Sept. 16), Masaharu Morimoto of Morimoto Asia (Sept. 23), Buddy Valastro (Oct. 7), Art Smith of Homecomin' Florida Kitchen (Oct. 14), Geoffrey Zakarian (Oct. 21), Carla Hall (Oct. 28) and Alex Guarnaschelli (Nov. 11). Each session runs from 11:30 a.m. to 1:30 p.m., with a cost of $129 per guest in addition to regular admission. Reservations can be made through Walt Disney World at (407) 939-3378.
Plenty of other celebrity chefs are scheduled to appear at 2018's festival — get the complete list from Disney.
4. Bringing Food to the Future
For the fourth straight year, Epcot's Global Marketplaces will expand from the World Showcase to Future World, including the all-new Taste Track. Located just outside Epcot's Test Track attraction, this fresh option will feature specialty croissant donuts, aka cronuts. Not decadent enough? Add gelato for an extra-sweet treat!
Future World will also have some returning favorites. Flavors From Fire will offer Charred Chimichurri Skirt Steak and Smoked Corned Beef, among other tastes, and Hops & Barley will have a New Brunswick Slider designed to pair perfectly with its all-American craft beer and wines. And wine-lovers won't want to miss Wine & Dine Studio's selection of West Coast vintages and signature dishes.
5. Hands-On Workshops & Culinary Demonstrations
The Epcot International Food & Wine Festival isn't just about eating and drinking. It also invites you to improve your culinary skills with demonstrations and hands-on workshops from pros.
First, the Mix It, Make It, Celebrate It! series returns with 21 sessions from Aug. 30 through Nov. 7, hosted by chefs and beverage experts. For an entry fee of $39 in addition to regular admission, you'll learn how to make a wide range of dishes and drinks while working side-by-side with industry insiders. Sessions are held on Wednesdays and Thursdays from 4:30 to 5:45 p.m.
This year's event will also offer Culinary Demonstrations at the park's Festival Center Stage. Starting at 12:30 p.m., Monday through Saturday, each session runs 45 minutes and costs $17 per guest on top of regular park admission, with attendees learning useful tips and tricks from celebrated chefs.
6. Eat to the Beat
Starting Aug. 30, Epcot will serve a feast for the ears at the American Gardens Theatre, where more than 30 current and classic musical acts will take the stage for a total of 225 shows during the Eat to the Beat Concert Series. All concerts are included with regular park admission, but be sure to arrive early to secure enough seats for your group, as the outdoor venue tends to fill up fast.
Nine acts are scheduled to make their Food & Wine Festival debut, including 98 Degrees, Sheila E, Jim Belushi & The Sacred Hearts, Glass Tiger and Vertical Horizon. Throw in returning favorites like Tiffany, Living Colour, Air Supply, Boyz II Men, 38 Special, Billy Ocean and others, and you have a sonic smorgasbord of genres and eras that music-lovers won't want to miss!
Cover image by Matt Stroshane courtesy of Walt Disney World Resort
Stay Connected to Orlando!
Never miss a second of what happens in Orlando! Follow us on Facebook, Twitter and Instagram for the latest offers, exclusive tips and live feeds from our newest attractions and fun events, and subscribe to our eNewsletter for more information from Orlando: Theme Park Capital of the World®.
Related Posts:

Related Categories: Top Stories , Theme Parks & Attractions , Restaurants , Orlando for Adults