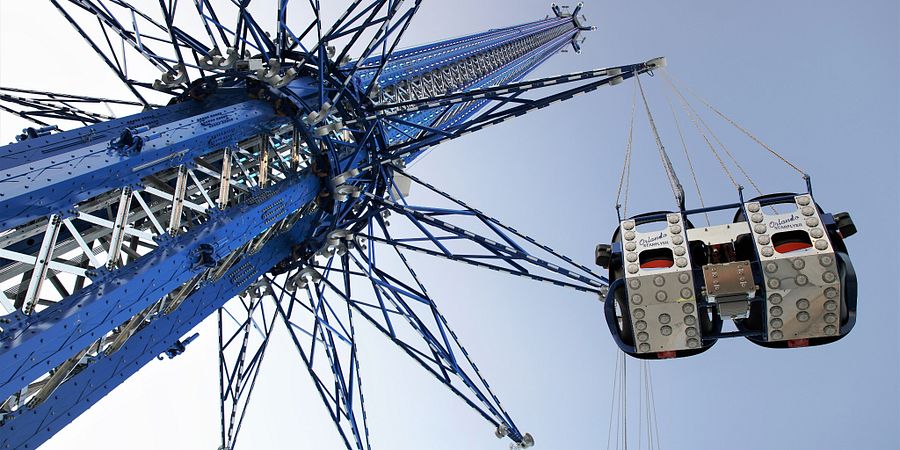 Providing sky-high thrills at speeds up to 60 mph, the 450-foot-tall Orlando StarFlyer has debuted at ICON Orlando 360.
By Cory O'Born
Towering 450 feet above International Drive, the Orlando StarFlyer is now part of the stellar lineup of attractions at ICON Orlando 360! Here's a look at what to expect from the wild ride — the latest of many new experiences on International Drive — as well as the many other reasons to visit the entertainment, dining and shopping hub in the heart of Orlando's tourism district.
Fly High on the Orlando StarFlyer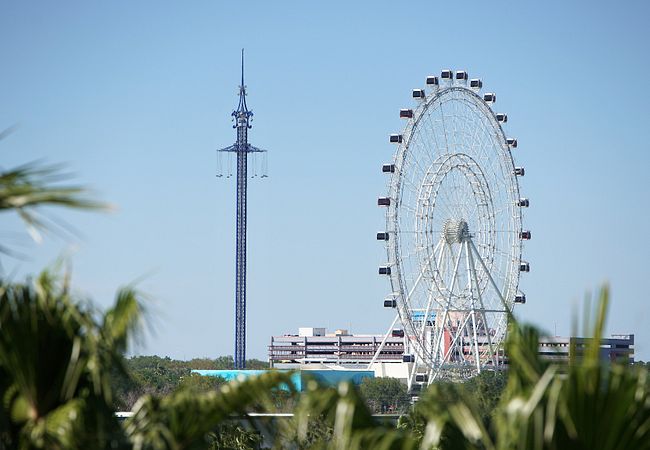 Orlando StarFlyer Is 50 Feet Taller Than ICON Orlando
Taller than the neighboring ICON Orlando observation wheel by 50 feet, the Orlando StarFlyer is officially the world's tallest swing ride. After boarding one of the double seats, you'll be lifted in a flash to a height of 425 feet to enjoy a 360-degree spin that reaches speeds up to 60 mph. With unobstructed views in every direction, the result is tough to beat ... assuming your eyes can keep up with it!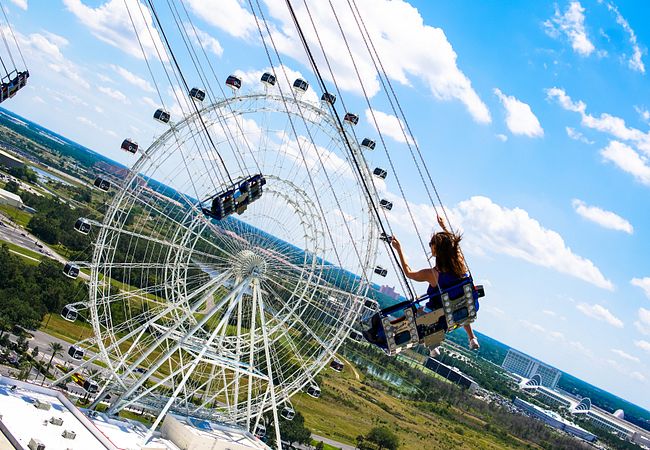 Orlando StarFlyer Rides Last Approximately 3 Minutes
The ride lasts around 3 minutes, which is just enough time to see the sights and feel the thrill of flying before you're gently brought back down.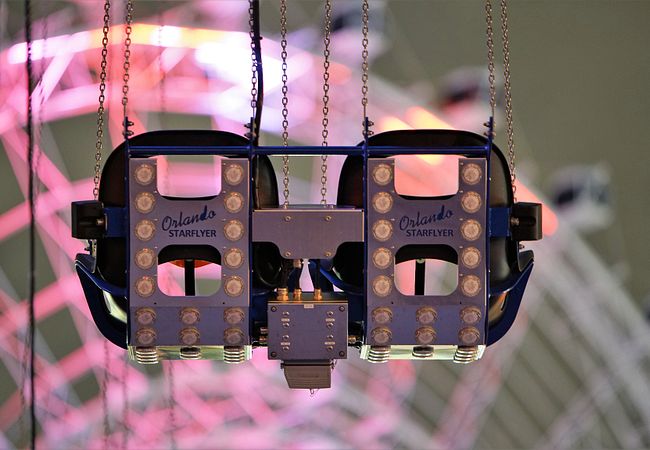 Orlando StarFlyer's Double Seats Feature Seatbelts and Harnesses for Safety
To help ensure that the experience is as safe as it is fun, you'll be secured with a seatbelt, lap bar and a between-the-legs harness, but gravity does all the real work to keep you in your seat, making you feel comfortable and surprisingly safe, even spinning several stories up in the air!
Riding the StarFlyer will only set you back $12, and you can buy a pass for a discounted cost of $10 when you purchase online.
More Adventures Await at ICON Orlando360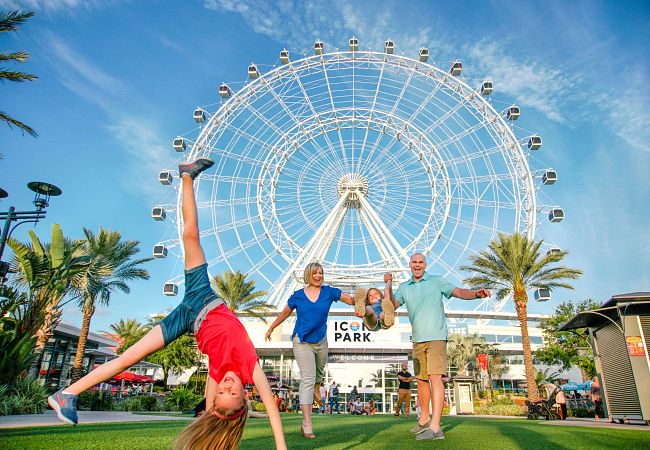 ICON Orlando at ICON Orlando 360
The Orlando StarFlyer is the latest one-of-a-kind attraction at ICON Orlando 360, starting with ICON Orlando itself. Standing 400 feet tall, and formerly known as the Orlando Eye, it's the largest observation wheel on the United States' east coast, providing views of the theme parks, the surrounding landscape and even downtown Orlando.
Learn more: Orlando Eye Transforms Into ICON Orlando
On top of being a great place for Orlando selfies, ICON Orlando is the centerpiece of ICON Orlando 360's nightly light show, and a synchronized display incorporating the complex's courtyard fountains is coming soon. Private parties aboard the roomy, climate-controlled capsules are on the horizon, too, as is complimentary WiFi.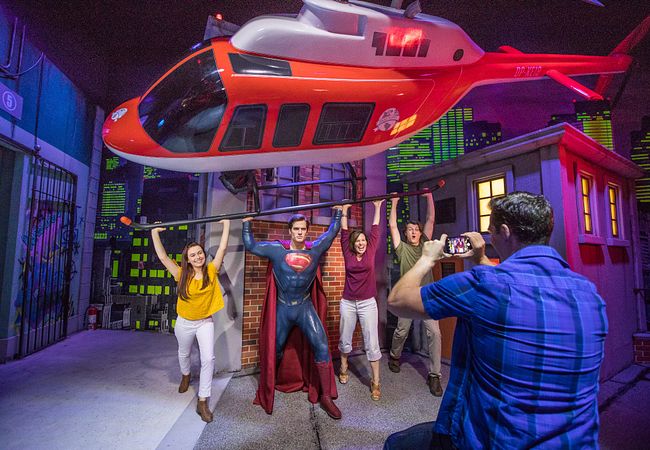 Meet DC Entertainment's Justice League at Madame Tussauds Orlando
ICON Orlando 360 is also home to MadameTussauds Orlando and SEALIFE Orlando Aquarium. Both are operated by Merlin EntertainmentsGroup, which also owns LEGOLAND Florida Resort.
Learn more: Discount Tickets to Merlin Entertainments Group Attractions
At Madame Tussauds, walk the red carpet with some of the world's biggest stars, including top names from music, Hollywood, sports and pop culture, as well as historical icons. And thanks to the attraction's newest addition, Justice League: A Call for Heroes, you can rub shoulders with DC Entertainment's Batman, Superman and Wonder Woman.
Learn more: Justice League at Madame Tussauds Orlando

SEA LIFE Orlando Aquarium
Then, head to SEA LIFE to experience Orlando's only 360-degree, underwater tunnel. As you pass through, you'll witness sharks, rays and other aquatic life swimming overhead and to either side, providing close encounters that can't be beat.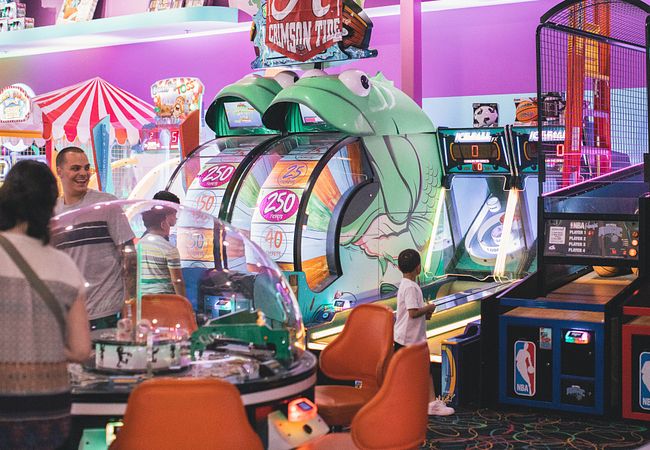 Arcade City Orlando (® FACE Amusement)
Other ways to have fun at ICON Orlando 360 include hundreds of video and prize games at Arcade City Orlando and a virtual journey through seven dimensions at 7D Dark Ride Adventure. The complex also features Skeletons: Museum of Osteology and Pearl Express Train.
Last but not least, ICON Orlando 360 has a wide range of shopping, dining and nightlife opportunities. Top places to grab something to eat and drink while you're adventuring include Tapa Toro Tapas Bar & Paella Pit, Tin Roof and Yard House.
Learn more: Orlando Restaurants
Stay Connected to Orlando!
Never miss a second of what happens in Orlando! Follow us on Facebook, Twitter and Instagram for the latest offers, exclusive tips and live feeds from our newest attractions and fun events, and subscribe to our eNewsletter for more information from Orlando: Theme Park Capital of the World®.
Written by Cory O'Born, Communications Associate Representative at Visit Orlando. She enjoys puns, getting lost in foreign countries, petting every dog she sees and uncovering hidden gems in her hometown of Orlando.
Related Posts:

Related Categories: Top Stories , Theme Parks & Attractions