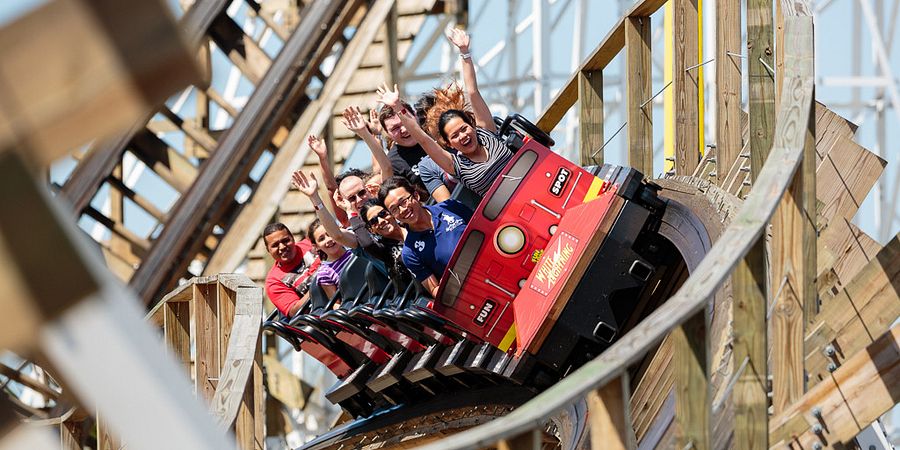 Fun Spot America is celebrating its 20th anniversary in Orlando, and it's bringing the all-new Headrush 360 attraction to the party.
By Nate Shelton
Fun Spot America has premiered Headrush 360, a wild new ride at the family-owned theme parks' original location on International Drive, which is celebrating its 20th anniversary this month. In honor of the milestone, here's a look at their latest attraction — plus the many other ways that Fun Spot brings the fun to Orlando and Kissimmee!
Standing 40 feet tall, the patriotically painted Headrush 360 is the first part of an overall expansion at Fun Spot's Orlando theme park. Climb aboard with up to 11 other people and get turned upside down, sideways and just about every other way imaginable in a fast-paced experience you'll only find in Orlando!
Learn more: Discount Tickets to Fun Spot America
"We are very excited about the continued expansion of our Orlando location," says John Arie Jr., Fun Spot's chief executive officer and son of the company's founder. "Fun Spot America is a staple in this community, and the more enjoyment and fun we can bring to both local families and visitors, the happier we are. Headrush 360 is going to be a great addition to our attractions."
Headrush also marks the start of Fun Spot's second growth spurt in five years, with a 15-acre renovation in 2013 bringing wooden roller coasters to both of its Florida parks. The previous expansion also added the world's tallest and second-tallest SkyCoaster rides to its locations in Kissimmee, which is close to Walt Disney World Resort, and Orlando, respectively.
Fun Spot America: Twice the Locations, Twice the Fun
Although they share a name, Fun Spot's Central Florida locations offer distinct experiences for visitors, and each park has some exclusive rides. However, both parks' attractions are grouped into parallel categories: Thrill Rides, Coasters, Family Rides, Kiddie Rides, Go-Karts and the Arcade Midway.
Besides Headrush 360 and SkyCoaster, Orlando's thrills include the Hot Seat swing ride, the spinning Rip Curl and the gravity-defying Enterprise. At Kissimmee, which also has Hot Seat and SkyCoaster, you can go up and down on Screaming Eagles or spin round and round — and then backwards — on Flying Bobs.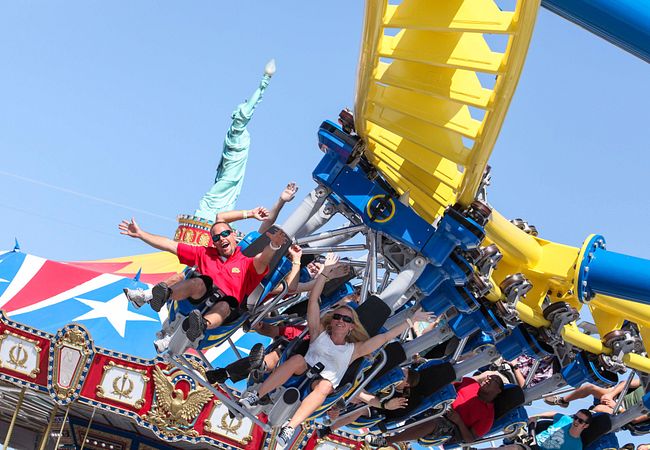 Freedom Flyer at Fun Spot America in Orlando
Orlando's roller coasters are Freedom Flyer, an inverted steel coaster with a virtual-reality option, and the wooden White Lightning. At Kissimmee, you can choose between the Rockstar Coaster or the wooden Mine Blower — which also goes upside down!
Ready for some family fun? At Kissimmee, options include swinging on Yo-Yo or riding the Ferris Wheel, which was imported from Italy. Other family attractions at the Kissimmee park include Tilt-a-Whirl, Screamer and Bumper Kars.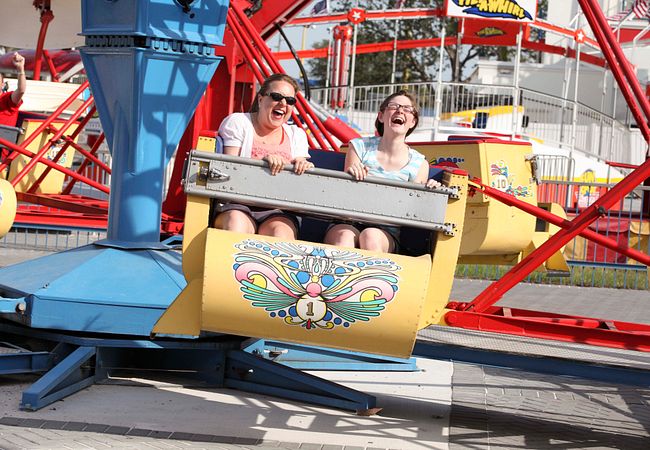 Scramblur at Fun Spot America in Orlando
Orlando's Ferris wheel is called Revolver, and this park's Bumper Kars attraction is joined by Bumper Boats. Orlando also has Tilt-a-Whirl and Screamer, as well as the Scramblur — named as such because everything's a blur while you're spinning!
Fun Spot's Orlando and Kissimmee parks also have gentler fun for younger guests, including the Carousel and Fun Slide at both locations. In Orlando, kid rides include Cadet Track, Frog Hopper, Happy Swing, Kiddie Swings, Sea Serpent, Scooby Boo, Super Trucks and Tea Cups. And in Kissimmee, children can look forward to Baron Planes, Castlemania, Convoy, Fun Slide, Kiddie Bumper Cars and Kiddie Coaster.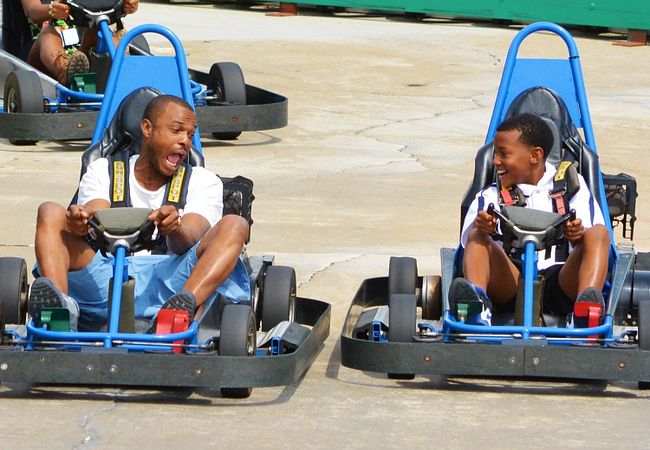 Commander Go-Kart Track at Fun Spot America in Orlando
Last but not least, Florida's Fun Spot locations feature multiple go-kart tracks, including Chaos Track and Vortex Track in Kissimmee, and Commander, Conquest, Thrasher and Quad Helix in Orlando. Both venues also boast classic midway games and expansive video arcades.
Cover Image: White Lightning Wooden Roller Coaster at Fun Spot America in Orlando
Stay Connected to Orlando!
Never miss a second of what happens in Orlando! Follow us on Facebook, Twitter and Instagram for the latest offers, exclusive tips and live feeds from our newest attractions and fun events, and subscribe to our eNewsletter for more information from Orlando: Theme Park Capital of the World®.
Written by Nate Shelton, Consumer Content Writer at Visit Orlando. He's a native Floridian who appreciates the entertainment, historical and culinary aspects of Orlando and Orange County.
Related Posts:

Related Categories: Top Stories , Theme Parks & Attractions