Get top-rated U.K. lifestyle blogger Scarlett London's advice on some of the best ways for adults to have the adventure of a lifetime in Orlando.
Orlando is a destination synonymous with family fun. I can recall my first-ever trip, aged 18, filled with excitement and a 6-year-old sister in tow. We had the most unbelievable two weeks enjoying the Sunshine State and all of the incredible activities it has to offer.
But six years on, I wondered whether I'd have the same experience, the same overwhelming, excited anticipation, and the same childlike, wide-eyed amazement. Is Orlando still "magic" when you're not a kid anymore? Absolutely. Here are five "grown-up" experiences you won't want to miss in Orlando.
Universal Orlando offers a great deal in the way of "grown-up" activities. In fact, their new water park, Universal's Volcano Bay, is probably the most impressive aqua park you'll ever visit — complete with heated outdoor pools and a tropical paradise setting. There's certainly nothing small about it.
Learn more: Discount Tickets to Universal's Volcano Bay
Universal CityWalk is a great place to spend the morning shopping, eating and exploring, with world-class shows such as Blue Man Group taking centre stage. Universal's Islands of Adventure and Universal Studios can be accessed on foot, as they both reside at the same site.
Islands of Adventure is filled with adrenaline-inducing coasters like The Incredible Hulk, which propels brave riders at 67 mph with zero-gravity rolls and a catapult at the beginning. Certainly not for the faint-hearted. Those with a weaker stomach (me included) could opt for the slower, but by no means less impressive, boat and car tours and simulations, which put you right in the centre of your favourite movies.
Learn More: Discount Tickets to Universal's Islands of Adventure

Hogwarts at Universal's Islands of Adventure in Orlando
Harry Potter and the Forbidden Journey is located at Hogwarts, which you can reach after passing through Hogsmeade. After finishing your shopping (stock up on sweet treats from Honeydukes), you can jump on the Hogwarts Express to head to Universal Studios for Diagon Alley.
Learn more: Discount Tickets to Universal Studios Florida
Step off at the very convincing replica of Kings Cross and enter Grimmauld Place. Knock on No. 12, stop by the purple Knight Bus (complete with conductor and talking head), and slip into the Leaky Cauldron unnoticed. Behind the facade is the impressive Diagon Alley, which leaves you speechless for a few moments in the same way that Harry Potter was upon his first visit.
Find your perfect wand, shop for cauldrons and robes and then stop by Harry Potter and the Escape From Gringotts for a spectacular ride like you've never seen before. A mix of CGI, real-life sets, motion effects and coaster technology create an experience you won't forget in a hurry. Just beware of the Hungarian Horntail on the roof. Sometimes he can get a bit ... fiery.

A Lard Lad Donut at Universal Studios Florida
If you're not a Potter fan, there are plenty of other "lands" to keep you occupied. In fact, Universal Studios is not dissimilar to one large set. One minute, you can step in New York with brown brick buildings and stairways, the next L.A. with art-deco theatres, palm trees and the Hollywood Walk of Fame. Then jump from reality into cartoon at The Simpsons' Springfield, which takes up a large space in the centre of the park, filled with giant pink donuts, Moe's Tavern and Krusty Burger.
Learn more: Discount Tickets to Universal Orlando Resort
2. Winter Park

Winter Park Scenic Boat Tour Near Orlando
I recommend spending a day in this scenic city, about 20 minutes from downtown Orlando, where you can really find some hidden-gem activities.
Start your day off with a Scenic Boat Tour, which takes you through the city's winding, interconnected canals and lakes. From the comfort of an 18-seater boat, you'll learn about the history of the city, Rollins College (one of the best in the U.S.) and the many lakeside mansions.

Sidewalk Shopping in Winter Park Near Orlando
From there, you can take a short walk to Park Avenue, the city's main street for shopping, dining and wining. Try blu on the Avenue for lunch. It's a favourite of the locals, and rightly so, with an eclectic mix of cuisines and some very spectacular dishes.

Macy's at The Mall at Millenia in Orlando
Hosted within an expansive and contemporary glass building, The Mall at Millenia is a two-story avenue of stores and restaurants. On one side, you have high-street brands such as Bath & Body Works, Forever 21 and Tommy Bahama. If you're looking to treat yourself, the other side is filled with luxury powerhouses including Tiffany & Co., Bulgari and Gucci. Plus, the mall is anchored by Macy's — a must-see!
Learn more: Spring Shopping in Orlando

Earl's Kitchen + Bar in Orlando
Shopping is thirsty work, though, so in order to refuel make sure you head outside to the very chic and sophisticated Earl's Kitchen + Bar. Relax and unwind with a glass of sparkling wine and browse their extensive menu, which is jam-packed with incredible treats. And if you can't decide on steak or sushi, you can opt for both. It's a popular choice!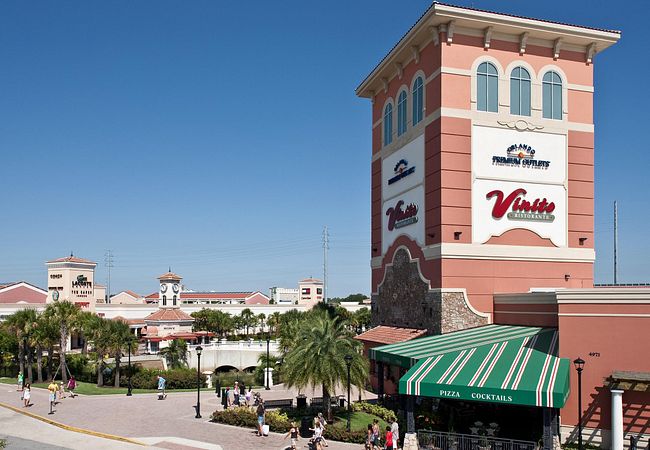 Orlando International Premium Outlets
If you want to shop and enjoy the sun, a spot of outdoor luxury shopping might just be the perfect solution. Orlando International Premium Outlets are decked out to look like a pastel-coloured Mediterranean village. In addition to a food court at the centre, there are over 160 outlets offering 25-to-65-percent off year-round.
The Polo Ralph Lauren is also a "must-shop" — especially for the man in your life — as the staple branded T-shirts are an absolute steal at $9.99! And if you're after a high-street outlet, pop into Bath & Body Works; they have a lot of tempting offers.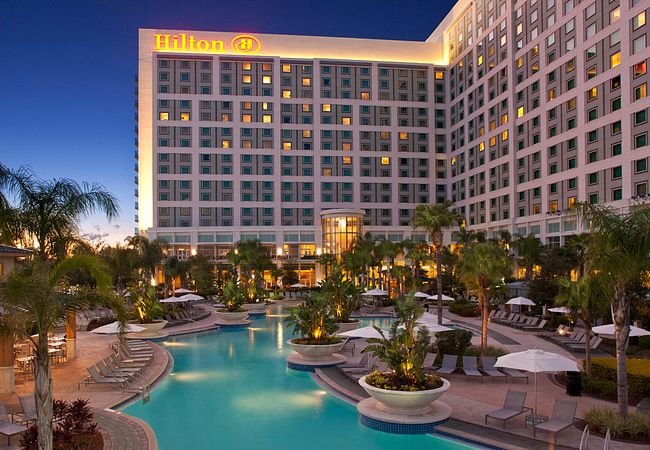 Hilton Orlando
If you enjoy spending lots of time at your hotel while you're on holiday, then you'll want to pick somewhere extra special. Hilton Orlando offers luxurious, modern and spacious accommodation — as well as a few added extras.
Learn more: Places to Stay in Orlando
Laze your afternoons away on their outdoor rapids and heated pool (which you can use until 10 p.m.) and try their array of cocktails from the comfort of your lounger. At your convenience, you can head down with your wooden sticks to the outdoor fire-pit, which is usually bustling with fellow guests in the early evening, ready to share stories of their Orlando adventures over a few toasted marshmallows. It's a lovely added touch!
Location-wise, the hotel is fantastic, as you're a short drive away from Pointe Orlando — where an abundance of bars and restaurants wait to host your evening.
So, wherever you choose to spend your ultimate Orlando adventure, don't forget to still enjoy it with the same childlike, wide-eyed amazement. The magic of Orlando never really goes away, regardless of your age.
All photos provided by Scarlett London with the exception of Orlando International Premium Outlets and Hilton Orlando exterior.
Stay Connected to Orlando!
Never miss a second of what happens in Orlando by following us on Facebook, Twitter and Instagram for the latest offers, exclusive tips and live feeds from our newest attractions and fun events, and subscribe to our eNewsletter for even more ideas.
A trained journalist, Scarlett London is a U.K.-based, full-time lifestyles blogger who focuses on topics pertaining to high-end fashion, beauty, travel, well-being and careers.
Related Posts:

Related Categories: Shopping , Theme Parks & Attractions , Restaurants , Relaxation , Orlando for Adults