Springtime is prime time for outdoor dining at top eateries throughout the Orlando destination. Photo: Soco Restaurant
Spring is magical in Orlando. Flowers bloom, birds sing — and demand for outdoor dining rises exponentially thanks to near-constant sunshine and average temperatures in the high 70s and low 80s! Happily, you'll find plenty of al fresco opportunities while you're in town. To give you some food for thought, here are seven Orlando restaurants with a wide range of price points and cuisines that will be more than happy to seat you outside this spring and all year long.
Outdoor Dining in Orlando's Tourism District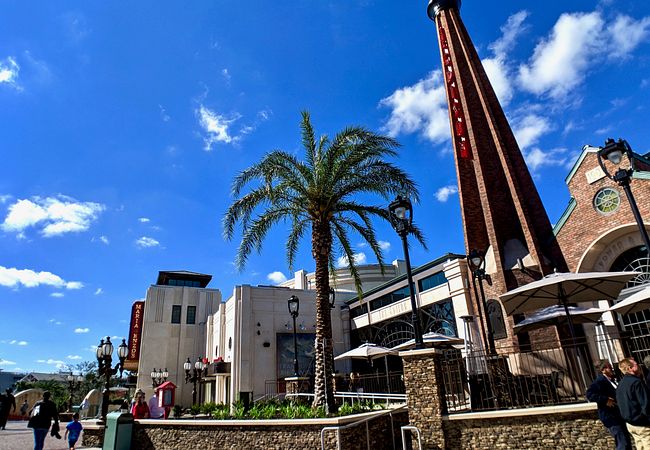 The Edison at Disney Springs in Orlando
The Edison at Disney Springs: One of the newest reasons to visit Walt Disney World Resort's walkable dining, entertainment and shopping district is also one of the most electrifying! Designed to look and feel like a power plant that's been converted into a restaurant, bar and lounge, The Edison has seating outside the front entrance and on the back patio, facing Lake Buena Vista. In addition to serving upscale American comfort food and craft cocktails, among other beverages, the venue features live entertainment nightly. Learn more about The Edison and other new Disney Springs restaurants.
Hot Dog Hall of Fame at Universal CityWalk: Thanks to the Atlanta Braves, spring training is an annual tradition in Orlando, and hot dogs are certainly a storied part of baseball history. This unique venue at Universal Orlando Resort's outdoor entertainment and dining complex pays homage to the best of the best in both regards, starting with hot dog styles from New York, Chicago, Milwaukee and Boston. There's also a heavy baseball motif, including stadium-style seating, ballpark graphics, field lights, trophies and other features.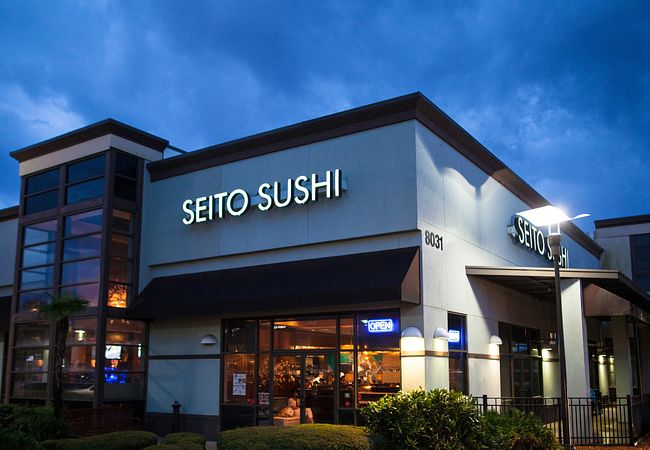 Seito Sushi Sand Lake
Seito Sushi: Located in Orlando's Sand Lake area, and close to Restaurant Row, this restaurant has patio-covered outdoor seating, which will keep you shaded no matter how sunny it happens to be. More importantly, their artisanal approach to sushi incorporates local ingredients as well as more exotic provisions to create dishes reflecting coastal Asian cuisine and modern culinary sensibilities. They have a second location in Baldwin Park, about 15 minutes from downtown Orlando.
Rocco's Tacos and Tequila Bar: This gourmet Mexican eatery on Restaurant Row is big on freshness, to the point of making their own sour mix and preparing guacamole right at your table — and it all tastes even better when you're dining lakeside at their outdoor patio! As the name implies, they're also big on tequila, with more than 33 varieties available. And if you're a music-lover, you'll be glad to know they have a DJ on duty seven nights a week to keep the party going.
Outdoor Dining Near Downtown Orlando
Soco Restaurant: Orlando's homegrown restaurants are practically synonymous with the from-scratch, farm-to-table movement. Chef Greg Richie, who has worked closely with such notables as Emeril Lagasse and Roy Yamaguchi, takes it a step further by blending in true Southern hospitality. The eatery's patio overlooks one of the liveliest corners in Thornton Park, which in turn is one of Orlando's trendiest neighborhoods, being adjacent to Lake Eola Park in downtown Orlando.
Bulla Gastrobar: Located in Winter Park, about 20 minutes from downtown Orlando, Bulla (pronounced "Boo-yah") is in an up-and-coming district that boasts chic architecture, brand-new restaurants and bars, and one of two Trader Joe's stores in the Orlando area. Inspired by Spain's iconic gastrobars, the eatery serves an array of authentic tapas dishes and entrées — including their house specialty, paella — plus a full bar with innovative, signature cocktails.
Hamilton's Kitchen: This option can be found at The Alfond Inn, about 20 minutes from downtown Orlando in Winter Park. Offering a culinary experience with a Central Florida focus, the eatery fuses locally sourced ingredients with rustic charm. It's also worth noting that the hotel and restaurant are operated by Rollins College and feature artwork from the school's acclaimed Cornell Fine Arts Museum, which means you can feed your inner artist too.
Dining Dreams Come True in Orlando
Looking for more foodie adventures while you're in Orlando? Thanks to more than 5,000 restaurants, including more than a dozen from celebrity chefs, your taste buds are in for a thrill at every meal. You can also get the latest Orlando dining developments via our blog, as well as on Facebook, Twitter and Instagram. And if you're coming to town this spring, be sure to snap up our Spring Break Savings, offering an additional 5 percent off Visit Orlando's already discounted theme-park and attractions tickets through April1!
Cover photo credit: Soco Restaurant
Stay Connected to Orlando!
Never miss a second of what happens in Orlando! Follow us on Facebook, Twitter and Instagram for the latest offers, exclusive tips and live feeds from our newest attractions and fun events, and subscribe to our eNewsletter for more information from Orlando: Theme Park Capital of the World®.
Related Posts:

Related Categories: Restaurants , Nightlife & Entertainment , Orlando for Adults