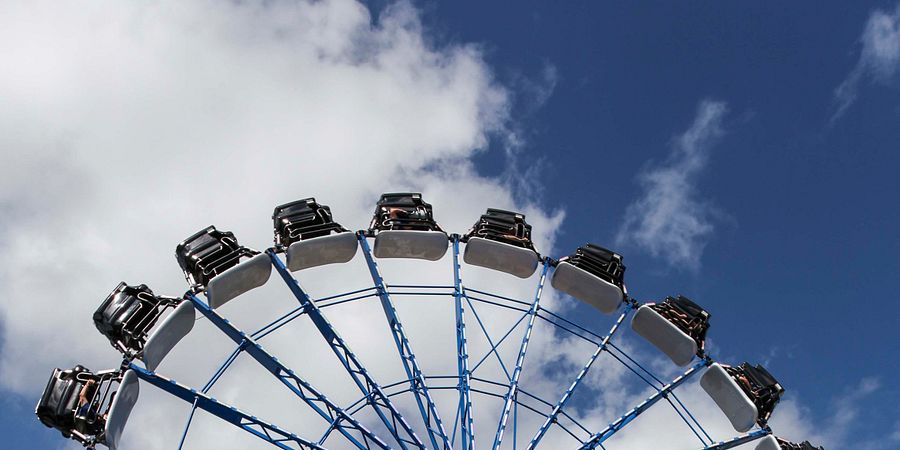 Get ready to celebrate National Ferris Wheel Day with sky-high attractions in Orlando.
By Nate Shelton
We love Ferris wheels in Orlando, which is why we think it's fitting that National Ferris Wheel Day shares Feb. 14 with Valentine's Day. If you love them as much as we do, come celebrate the holiday in style at sky-high attractions throughout the destination!
Family-owned, Fun Spot America has two locations throughout the destination. What's more, it could be said that the Orlando edition on International Drive has two Ferris wheels. The first is Revolver, a traditional take that provides views as far away as downtown Orlando.
The second option, Enterprise, is not for the faint-hearted. It looks like a standard Ferris wheel, but the gondolas stick out instead of hanging down, and it moves fast. After boarding, you'll spin and lift upward at a 90-degree angle, with centrifugal force keeping you in place instead of seatbelts, straps or restraints.
Fun Spot America and Old Town in Kissimmee
Located less than 15 minutes from Walt Disney World, Fun Spot America's Kissimmee location features a one-of-a-kind Ferris wheel. This Fun Spot location is adjacent to Old Town, an entertainment venue offering family-friendly attractions, dining, shopping and events for all ages.
Imported from Italy, the Ferris wheel features 18 gondolas that can carry up to six people to a height of 85 feet, providing a gorgeous view of Kissimmee and Orlando. And at night, it lights up with more than 6,000 LEDs for a completely different kind of view.
ICON Orlando at ICON Orlando 360 is actually an observation wheel, and the tallest one on the United States' East Coast at that. Once you board one of its roomy, air-conditioned, high-tech capsules, you'll experience breathtaking views of Orlando's downtown and tourism district from a height of 400 feet.
Afterward, you'll find a lot more to enjoy at ICON Orlando 360, including attractions like Madame Tussauds Wax Museum and SEA LIFE Aquarium, dining options at Tapa Toro, Uncle Julio's and Sugar Factory, and even some shopping.
Always a Fun Time in Orlando
Ferris wheels and observation wheels are some of countless attractions and other fun experiences waiting for you in Orlando. Get details at VisitOrlando.com, and refer back to our blog for more ways to have fun in the world's most popular destination.
Stay Connected to Orlando!
Never miss a second of what happens in Orlando! Follow us on Facebook, Twitter and Instagram for the latest offers, exclusive tips and live feeds from our newest attractions and fun events, and subscribe to our eNewsletter for more information from Orlando: Theme Park Capital of the World®.
Written by Nate Shelton, Consumer Content Writer at Visit Orlando. He's a native Floridian who appreciates the entertainment, historical and culinary aspects of Orlando and Orange County.
Related Posts:

Related Categories: Theme Parks & Attractions