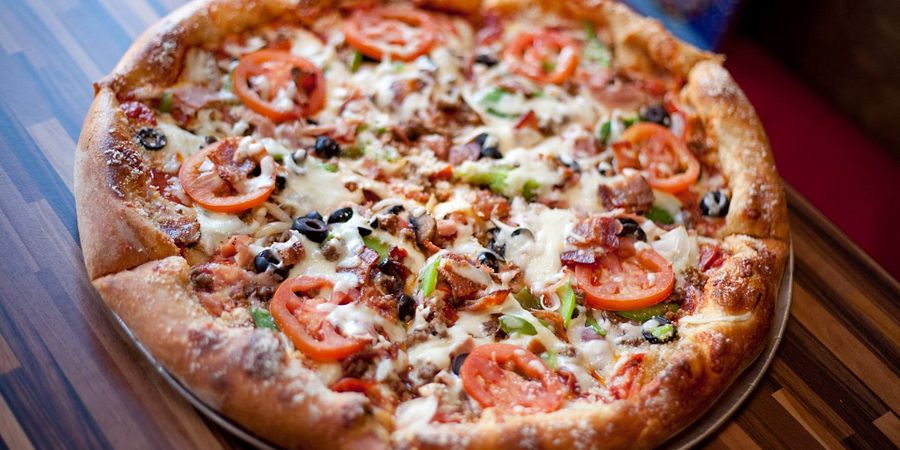 National Pizza Week is Jan. 14-20, and Orlando is home to scores of delicious pizzerias where you can join the celebration in style.
By Nate Shelton
National Pizza Week runs from Jan. 14-20, and Orlando's world-class pizzerias are ready to celebrate! No matter your preferred style — New York, Chicago deep-dish, Neapolitan or even Hawaiian — you'll find it at dining districts all over town, including these 10 incredible pizza parlors.
1. Via Napoli Ristorante e Pizzeria: Inspired by Southern Italy, this family-friendly eatery at Walt Disney World Resort's Epcot serves authentic, wood-fired Neapolitan pizza. Made with fresh mozzarella cheese, San Marzano tomatoes and real Caputo flour, the pies are cooked in wood-burning ovens named after Italy's Mount Etna, Mount Vesuvius and Stromboli volcanos.
2. Red Oven Pizza Bakery: Located at Universal CityWalk, this restaurant features an inventive menu of red and white, Neapolitan-style pizzas, each of which is built from scratch before being cooked in a 900-degree, stone-lined oven. And because of the intense heat, your pizza will be baked to perfection in 90 seconds or less.
3. Mellow Mushroom: This family of restaurants has been part of the local culinary scene for decades, with two locations in Orlando (including one on the International Drive entertainment, dining and shopping district) and a third in Winter Park. The secret to their success is hearty, inventive pies, which are served in fun, art-filled, family-friendly environments.
4. Pizza Bruno: A true hidden gem, this self-described "pizza joint" is in Orlando's Conway neighborhood, about 10 minutes from the heart of downtown. It's the brain child of Chef Bruno Zacchini, who helped open Cask & Larder with award-winning chefs James and Julie Petrakis. Custom orders are accepted, but be sure to try one of Zacchini's signature creations at least once.
5. Flippers Pizzeria: With locations all over town, including several close to the theme parks, Flippers is an original Orlando chain that's enjoyed great success by making amazing pizzas. In addition to mouthwatering pies, their stores offer sandwiches, pasta and other Italian dishes. Better still, they'll deliver right to your hotel, resort or villa.
6. Prato: Located in Winter Park, about 20 minutes from downtown Orlando, this acclaimed Italian restaurant is spearheaded by award-winning chef Brandon McGlamery, who also creates the dishes at Winter Park's Luma on Park and Luke's Kitchen in the nearby city of Maitland. Their savory pizzas are cooked in an authentic, wood-burning oven that was crafted in Naples, Italy.
7. Giordano's Pizza: This Chicago transplant has two locations in Orlando and one in Kissimmee, and all three are close to the theme parks. As their city of origin suggests, they serve deep-dish, stuffed pizza that's picked up numerous honors through the years. If you're looking for something less filling, thin-crust pizzas are also available.
8. Brick & Fire Pizza & Pasta Parlor: An Orlando original, this pizzeria has been wowing locals for the past 10 years, and for good reason. Chef Mark Dollard makes his dough by hand using extra-virgin olive oil and live yeast beer from his neighbors at Orlando Brewing. The result is perfect, brick-fired pizzas with crust that's crispy on the outside and chewy on the inside.
9. Anthony's Coal Fired Pizza: From imported plum tomatoes to the best Grande mozzarella, Anthony's prides itself on using fresh ingredients. What really makes the pizzas stand out, though, is Anthony's signature coal-fired oven. You can find their Orlando location 10 minutes from Universal, with a second spot in Altamonte Springs, about 25 minutes from downtown Orlando.
10. Armando's Cucina Italiana & Pizzeria: With locations in Winter Park and College Park, both about 15 minutes from downtown Orlando, this eatery features authentic Italian cuisine from Napoli and other Italian regions, plus an extensive wine list. You can choose from 12 different house pies, or create your own for the perfect combination.
Your Taste Buds Will Love Vacationing in Orlando
With world-renowned celebrity chefs, acclaimed local favorites, and more than 5,000 restaurants representing every cuisine imaginable, you never have to worry about going hungry when you visit Orlando. If you find a local pizza you love during National Pizza Week, be sure to share it with us on Facebook, Twitter and Instagram. Happy eating!
Stay Connected to Orlando!
Never miss a second of what happens in Orlando! Follow us on Facebook, Twitter and Instagram for the latest offers, exclusive tips and live feeds from our newest attractions and fun events, and subscribe to our eNewsletter for more information from Orlando: Theme Park Capital of the World®.
Written by Nate Shelton, Consumer Content Writer at Visit Orlando. He's a native Floridian who appreciates the entertainment, historical and culinary aspects of Orlando and Orange County.
Related Posts:

Related Categories: Attractions & Theme Parks , Restaurants & Nightlife , Inside Orlando