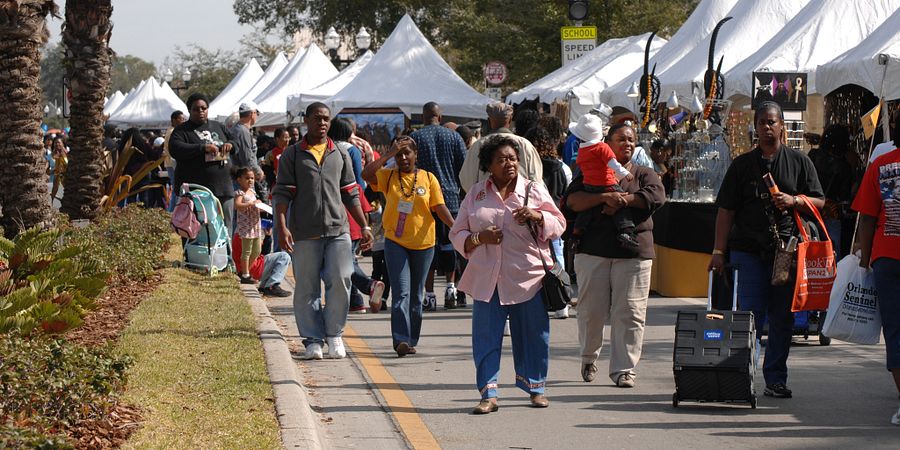 The whole world doesn't just vacation in Orlando — it's also represented at multicultural festivals throughout the area.
By Nate Shelton
Want an easy way to travel the world? Come to Orlando! During the winter, spring and fall seasons, theme parks and local organizations honor a broad range of cultures with festivals featuring authentic art, food, music and performances. From a celebration of author Zora Neale Hurston to the biggest Latin music event in Central Florida, here are our top 11 festivals to broaden your horizons in Orlando.
Winter and Spring Multicultural Festivals in Orlando
1. Mardi Gras at Universal Studios Florida: New Orleans' biggest party of the year comes to Universal Studios Florida every spring. Running in 2018 from Feb. 3 to Apr. 7, and included with regular park admission, this year's edition will include a nightly parade, live concerts by some of the biggest names in music, authentic Cajun cooking, a recreation of New Orleans' French Quarter, and — of course — beads. Learn more about the 2018 festival.
2. Seven Seas Food Festival at SeaWorld Orlando: Inspired by street food from Asia, the Caribbean, South America and the Mediterranean, this culinary festival debuted at SeaWorld Orlando last year, and it looks to be bigger and better in 2018. In addition to the food, you can also enjoy local and seasonal craft brews, as well as live musical performances every Saturday. This year's edition is scheduled to run from Feb. 17 to Apr. 15.
3. Zora! Festival: This event celebrates the works and influences of prominent author Zora Neale Hurston. Held on Jan. 26–28, the annual festival takes place in Hurston's hometown of Eatonville, about 15 minutes from downtown Orlando. Honoring Hurston's contributions to African-American culture, the event features "Zora's Village," which offers arts, culture, heritage and STEM activities and information, plus vendor booths.
4. Central Florida Scottish Highland Games: Presented by the Scottish-American Society of Central Florida, the 2018 Scottish Highland Games is scheduled for Jan 13–14 in Winter Springs, about 30 minutes from downtown Orlando. In addition to promoting Scottish history and culture, the event features traditional Scottish athletics, dance, art, music and food.
5. Florida Puerto Rican Parade and Festival: This April event starts with a vibrant parade through downtown Orlando, culminating at the Dr. Phillips Center for the Performing Arts. The fun then continues at the nearby Seneff Arts Plaza, with food, live music, arts and crafts, and vendors. It's part of the statewide Puerto Rican Parade initiative, which holds simultaneous parades in cities across Florida.
Fall Multicultural Festivals in Orlando
6. Epcot International Food & Wine Festival: Held every fall at Walt Disney World Resort's Epcot, this event celebrates the worldwide diversity of food, wine and other beverages. In 2017, the festival featured 35 global kiosks, running from Aug. 31 to Nov. 13. Appearances from celebrity chefs, live cooking demonstrations and live concerts are also part of the mix. Expect a similar footprint when it returns in 2018.
7. Asian Cultural Expo: Produced in conjunction with the Walgreens International Dragon Boat Festival in October, this free, one-day event showcases the wonders of Asian culture through exhibitions, performances and crafts. Expect to see demonstrations by martial-arts groups, dance troupes, vocalists and musicians. Both festivals are held in Bill Frederick Park, about 15 minutes from downtown Orlando.
For another taste of Asian culture, make plans to attend Shen Yun, the acclaimed stage production that honors traditional Chinese culture. As part of its 2018 tour, the show will be held at the Dr. Phillips Center for the Performing Arts in downtown Orlando on Mar. 27–28, and tickets are available now.
8. Festival Calle Orange: Each October, this massive, one-day celebration of music takes over 10 blocks of downtown Orlando. Dozens of national and international artists perform on four stages, representing musical styles such as salsa, merengue and bachata. Traditional Latin food and beverages are also available.
9. Oktoberfest: Come thirsty and hungry to this festival, which takes place in October (naturally) in the city of Casselberry, a little more than 20 minutes from downtown Orlando. It's presented by the German American Society of Central Florida, which goes to great lengths to provide authentic German beer, food, music and entertainment.
10. Diwali Mela — Festival of Light: In October, the Association of Asian Cultural Festivals presents this one-day event, which is a local take on a worldwide celebration. Held at the Walt Disney Amphitheater at Lake Eola Park in downtown Orlando, it features fun for the whole family, including traditional singing and dancing, vendor booths, and delicious Indian cuisine.
11. Savor the Night Latin Food & Wine Festival: Traditionally held in November, this one-night event in downtown Orlando invites you to enjoy Latin cuisine, spirits and wine designed to delight the palate. Live music is also on tap, as well as a silent auction in which you can win original items, hotel getaways, restaurant certificates and other prizes.
Discover the World in Orlando
The festivals featured here are just the start of Orlando's art, culture and history offerings, which also include museums, art galleries, performance troupes and much more. Get the latest details from our blog, and start making plans now to work these cultural events into your Orlando itinerary.
Stay Connected to Orlando!
Never miss a second of what happens in Orlando! Follow us on Facebook, Twitter and Instagram for the latest offers, exclusive tips and live feeds from our newest attractions and fun events, and subscribe to our eNewsletter for more information from Orlando: Theme Park Capital of the World®.
Written by Nate Shelton, Consumer Content Writer at Visit Orlando. He's a native Floridian who appreciates the entertainment, historical and culinary aspects of Orlando and Orange County.
Related Posts:

Related Categories: Arts & Culture , Restaurants & Nightlife , Inside Orlando