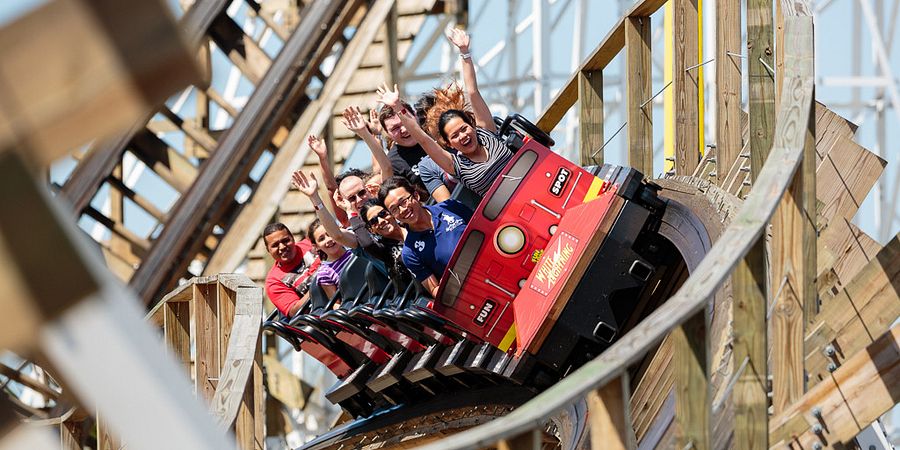 Discover extreme thrills outside of the theme parks in Orlando.
Orlando's themes parks are not the only places where you can enjoy thrill rides and catch panoramic views of the destination. From slingshots and massive swings to an iconic observation wheel, there's a ride for everyone in Orlando's tourism district.
Learn more: Orlando Attractions
The Sling Shot at Magical Midway
An Orlando classic, the Sling Shot's bark is worse than its bite. Vaulting riders 390 feet up with 360-degree flips, you might be surprised to learn that no one, to date, has ever gotten sick on the ride.
It's all fun on the world's largest slingshot, with clear views across Orlando's International Drive on the way down. However, be ready for speed: Riders are catapulted at speeds between 3 to 5Gs.
The SkyCoaster at Fun Spot America
At 300 feet, Fun Spot America's SkyCoaster is the tallest of its kind in the world. The ride is best described as "the closest thing to jumping out of a plane besides jumping out of a plane." Experience freefall, flight and fantastic views while aboard, but be warned: the worst part is having to pull the release cord yourself!
ICON Orlando at ICON Orlando 360
Finally, if you don't want to test your mettle against high speeds and G forces, there's still an option to see Orlando from above: ICON Orlando. Aboard this 400-foot-tall observation wheel, you can take your time enjoying the scenery, spotting iconic features at multiple theme parks, and even Kennedy Space Center on a clear day. With 360-degree views, you can see the destination from all sides, at a leisurely pace of one mile per hour.
Cover image courtesy Fun Spot America.
Stay Connected to Orlando!
Never miss a second of what happens in Orlando! Follow us on Facebook, Twitter and Instagram for the latest offers, exclusive tips and live feeds from our newest attractions and fun events, and subscribe to our eNewsletter for more information from Orlando: Theme Park Capital of the World®.
Written by Cory O'Born, Public Relations Representative at Visit Orlando. She enjoys puns, getting lost in foreign countries, petting every dog she sees and uncovering hidden gems in her hometown of Orlando. (Yes, that's her in the top two videos!)
Related Posts:

Related Categories: Theme Parks & Attractions