Your guide to gluten-free dining in Orlando.
Special diets can make traveling difficult. Luckily, there are plenty of gluten-free options in Orlando. From exotic flavors and comfort food, to fresh and healthy eats, we have a wide variety of gluten-free bites. Check out a few of our favorite gluten-free options before your next visit to Orlando!
Learn more: Orlando Restaurants
Taverna Opa
Go Greek at Taverna Opa, a gluten-conscious restaurant that's part of Pointe Orlando on International Drive. Popular menu items include lamb chops with lemon potatoes, and seasonal vegetables with octopus grilled over a wood fire. The food is so good, you may even want to celebrate and shimmy with the belly-dancers!
Tapa Toro Tapas Bar & Paella Pit
Part of the ICON Orlando 360 entertainment, dining and shopping complex on International Drive, Tapa Toro Tapas Bar & Paella Pit seamlessly blends classic and contemporary Spanish cuisine, including many gluten-free options. Check out the menu for their gluten-free symbol, located next to dishes like their mouth-watering lamb chops and beef-stuffed peppers.
Artisan's Table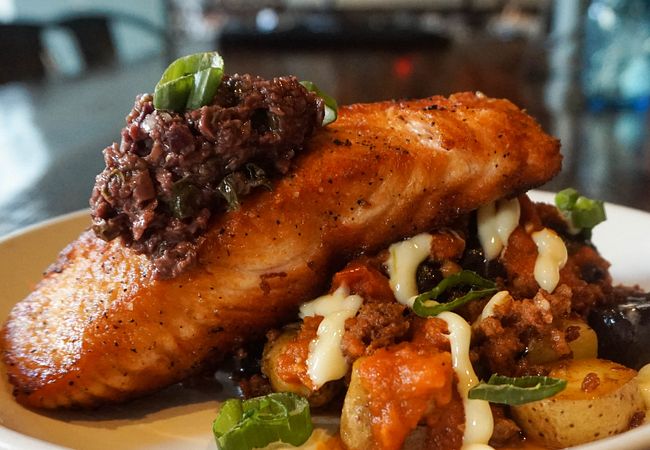 Located in downtown Orlando, Artisan's Table is a breakfast-lover's dream, and they also serve superb lunch and dinner. Their creative American cuisine gives you the morning boost you need to enjoy a day full of Orlando adventures. For gluten-free, check out their Japanese breakfast bowl, with sticky rice, eggs, bacon, sweet chili sauce and togarashi (a Japanese spice mix), or stay simple with the Greek yogurt bowl.
Big Fin Seafood Kitchen
Voted best seafood restaurant in Orlando by the Orlando Sentinel, Big Fin Seafood Kitchen's menu is 80-percent gluten-free by nature. Treat yourself with some of the freshest seafood around, like their delicious steamed Maine lobster, served with corn and potatoes.
Outpost Neighborhood Kitchen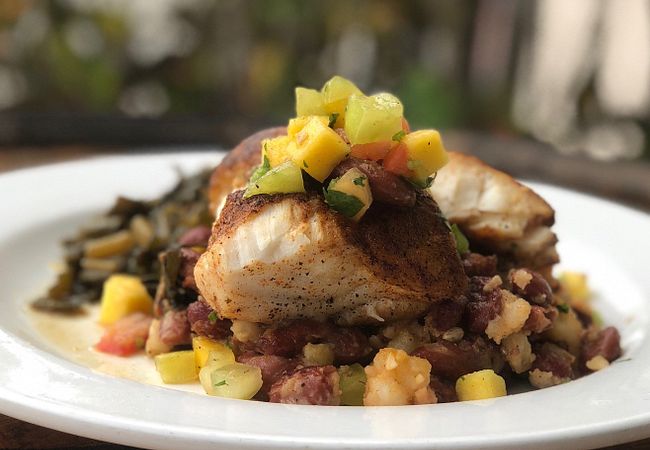 Outpost Neighborhood Kitchen is a casual neighborhood hotspot with seasonal fare, featuring more than 10 gluten-free entrees. From shrimp and grits to braised short ribs, there always are delicious options on the menu. But if you're craving something special, the chef can even prepare a meal just for you.
Toasted
Toss out your idea of a typical sandwich: Winter Park's Toasted takes gluten-free seriously, with delicious sandwiches on gluten-free toast. The restaurant has a strict separation rule, ensuring there is no cross-contamination between their gluten-free items and nongluten items. This means you can dig into their pesto chicken sandwich filled with pulled chicken, mozzarella and pesto, totally worry-free.
New Moon Market
If you're craving fresh juice blends and desserts, then College Park's New Moon Market is the spot for you. This family-owned business creates recipes with organic, locally sourced ingredients, many of which are gluten-free. Stay healthy with their beet happy juice, made with pineapple, ginger and, of course, beets, or treat yourself to their gluten-free and vegan strawberry cheesecake.
Raglan Road
Get a taste of Ireland at Raglan Road, an Irish eatery and pub. Located in Disney Springs, their gluten-free meals include fish and chips and braised beef, complete with horseradish mashed potatoes and roasted carrots.
Hot Krust Panini Kitchen
The team at Hot Krust Panini Kitchen is dedicated to their gluten-free patrons, separating bread to prevent cross-contamination and even changing gloves whenever notified of an allergy. Thanks to the restaurant going the extra mile, you can safely dig into their paninis, like the Razzle Dazzle, with slow-cooked steak, strawberry jam, Sriracha barbecue sauce and provolone cheese, or the Gobble Gobble Turkey, featuring bacon, red onions, cheddar cheese and cranberry sauce.
Nile Ethiopian Restaurant
Finally, don't forget to take your taste buds on an adventure at Nile Ethiopian Restaurant on International Drive. They offer authentic dishes, including East Africa's popular, sourdough-risen flatbread, injera. If you call ahead of your visit, they'll make sure to bake you your own gluten-free version!
Stay Connected to Orlando!
Never miss a second of what happens in Orlando! Follow us on Facebook, Twitter and Instagram for the latest offers, exclusive tips and live feeds from our newest attractions and fun events, and subscribe to our eNewsletter for more information from Orlando: Theme Park Capital of the World®.
Related Posts:

Related Categories: Restaurants & Nightlife , Top Stories