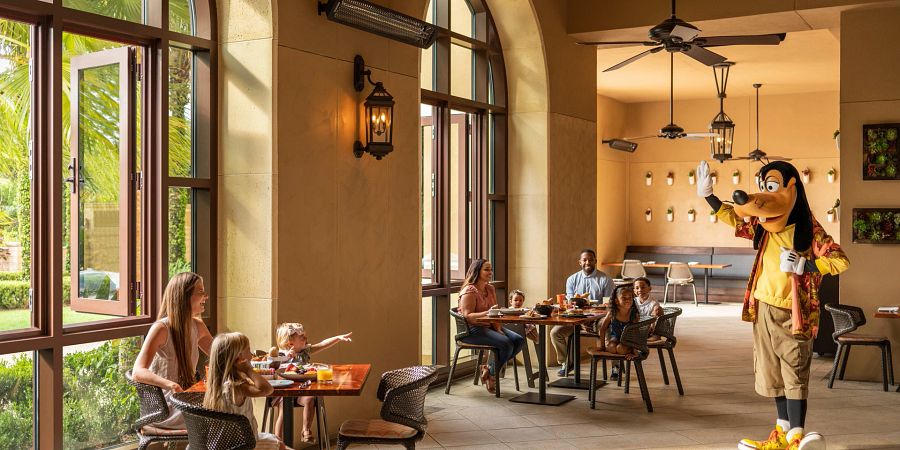 Grab a meal with princesses, superheroes and even real-life astronauts with character dining in Orlando.
By Genesis Tirado-Santiago
Updated April 2018
With more than 5,000 restaurants to choose from, dining in Orlando is always an adventure — especially when beloved characters join your table! Here, the young and the young-at-heart can eat with storybook princesses, comic-book superheroes and even living legends at dozens of character-dining locations across the destination, including these 10 standouts.
1. Princess Storybook Dining at Akershus Royal Banquet Hall: At the Norway Pavilion in Disney's Epcot, step into a medieval castle where the queen invites the entire family to enjoy breakfast, lunch and dinner with Norwegian cuisine. Disney Princesses such as Snow White, Cinderella, Belle, Aurora and Ariel are among the special guests who are available for meet-and-greets and photo opportunities.
Learn more: Discount Tickets to Disney's Epcot
2. Winnie the Pooh Buffet at The Crystal Palace: There's no need to travel to the Hundred-Acre Wood to eat with Winnie the Pooh and his friends — just head to this iconic Magic Kingdom restaurant, which is inspired by Victorian greenhouses of the 1800s. While you dine on delicious American cuisine, Pooh, Tigger, Piglet and other favorites will come by for autographs, photos and laughs.
Learn more: Discount Tickets to Disney's Magic Kingdom
3. Best Friends Breakfast at 'Ohana: Located at Disney's Polynesian Village Resort, 'Ohana brings the family together for a breakfast that pairs Hawaiian flavors with Lilo and Stitch, who are happy to pose for photos and sign autographs. The family-style feast includes scrambled eggs, Island-style fried potatoes, Hawaiian pork sausages, Hawaiian-style ham, and a variety of fresh fruits and bread.
Learn more: Hotels & Resorts in Orlando
4. Supercalifragilistic Breakfast and Cinderella's Happily Ever After Dinner at 1900 Park Fare: This restaurant at Disney's Grand Floridian Resort & Spa has two unique character experiences. Breakfast includes appearances by characters such as Mary Poppins, Alice in Wonderland, The Mad Hatter, Tigger and Winnie the Pooh. Then, come back for dinner with Cinderella, Prince Charming, Lady Tremaine, Anastasia and Drizella.
Learn more: Discount Tickets to Walt Disney World Resort
5. Fun Time Buffet at Chef Mickey's: Arguably the most recognizable place of lodging at Walt Disney World, Disney's Contemporary Resort is also home to this fun, family-style buffet restaurant. More to the point, it's a great place to see everyone's favorite classic Disney characters, including Mickey Mouse, Donald Duck, Pluto and others. Also of note is the 90-foot-tall mural by legendary Disney artist Mary Blair that overlooks the eatery.
Bonus Tip: You'll also find Disney character-dining opportunities at Ravello at Four Seasons Resort Orlando at Walt Disney World Resort.
6. Marvel Character Dinner: Superheroes not only live in comic books and movies — they also like to spend time on Marvel Super Hero Island at Universal's Island of Adventure, where their mission is to help you have a super meal. Find Captain America, Spider-Man, Wolverine, Cyclops, Storm and Rogue at Cafe 4 and prepare for the ultimate Marvel character experience, which is available Sunday through Thursday beginning at 5 p.m.
Learn more: Discount Tickets to Universal's Islands of Adventure
7. Despicable Me Character Breakfast: Every Saturday, the Cayman Court pavilion at Loews Sapphire Falls Resort hosts a mischievous breakfast experience starring fan-favorite Despicable Me characters. During the delicious buffet, you can look forward to visits from Gru, Margo, Edith, Agnes and the Minions. You will also receive one free digital download photo when characters stop by your table.
Learn more: Discount Tickets to Universal Orlando Resort
8. The Grinch & Friends Character Breakfast: During the Christmas season, the star of Dr. Seuss' How the Grinch Stole Christmas takes over Circus McGurkus Cafe Stoo-pendous at Universal's Islands of Adventure for a one-of-a-kind holiday feast. The Grinch stops at every table to pose for photos, but look out — in keeping with his selfish nature, the Green One has been known to steal bacon!
Sea Life and Character Dining at SeaWorld Orlando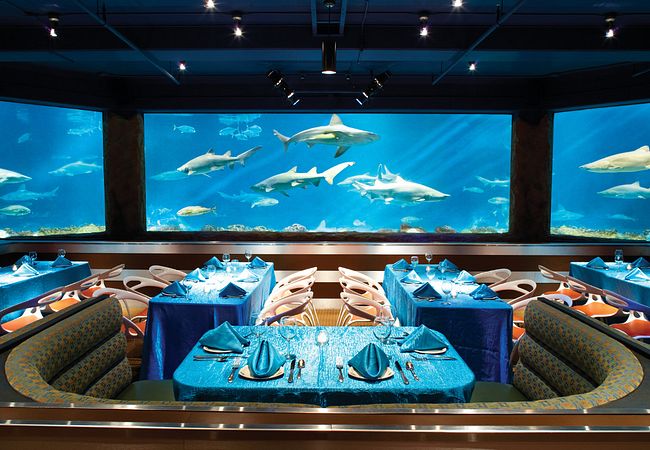 Sharks Underwater Grill at SeaWorld Orlando
9. SeaWorld Dining: SeaWorld offers meals with aquatic creatures and timeless characters. First, Dine With Shamu is a family feast where you can see and learn about the park's beautiful whales. And at Sharks Underwater Grill, you'll get an incredible view of sharks while enjoying an upscale dining experience. Last but not least, Christmastime brings the opportunity to dine with Rudolph the Red-Nosed Reindeer!
Learn more: Discount Tickets to SeaWorld Orlando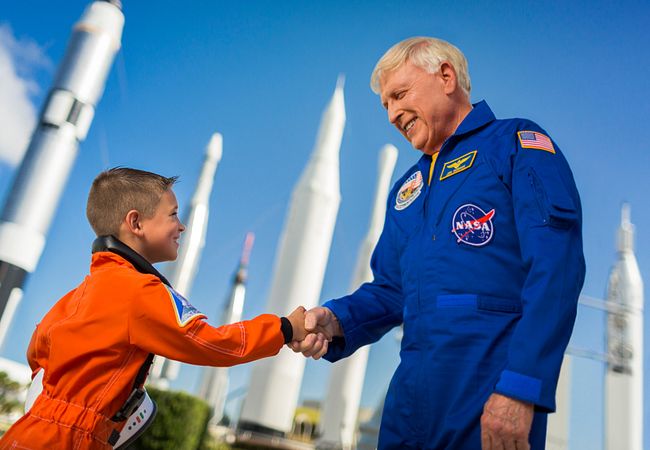 Lunch With an Astronaut at Kennedy Space Center Visitor Complex Near Orlando
10. Lunch With an Astronaut: Not all characters are fictional, as this out-of-this-world dining opportunity proves! Offered daily, this experience invites you to enjoy a chef-prepared buffet while an actual astronaut speaks about his or her time in space. You'll also be able to meet the astronaut, ask questions and pose for a photo. KSCVC is on Florida's east coast, about an hour from downtown Orlando.
Learn more: Discount Kennedy Space Center Packages From Florida Dolphin Tours and Gray Line Tours
Cover image courtesy Ravello at Four Seasons Resort Orlando at Walt Disney World Resort.
Stay Connected to Orlando!
Never miss a second of what happens in Orlando! Follow us on Facebook, Twitter and Instagram for the latest offers, exclusive tips and live feeds from our newest attractions and fun events, and subscribe to our eNewsletter for more information from Orlando: Theme Park Capital of the World®.
Related Posts:

Related Categories: Top Stories , Orlando with Toddlers , Places to Stay , Theme Parks & Attractions , Restaurants , Orlando for Kids