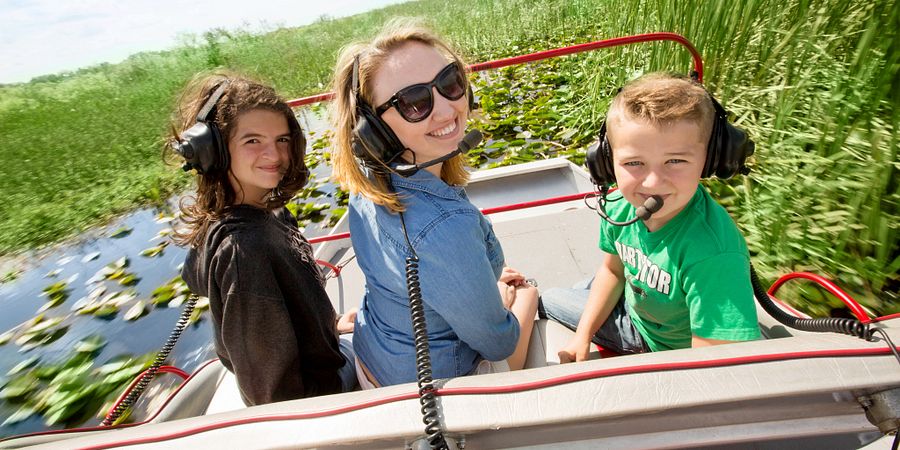 On land, in the water and through the air, a wide range of eco-friendly adventures are waiting for you in Orlando.
Few destinations offer more opportunities for ecotourism than Orlando. Whether you're interested in kayaking through spring-fed lakes, hang-gliding above orange groves, hiking down tranquil trails or enjoying an airboat excursion, here is your nature-lovers' guide to Orlando.
Learn more: Orlando Sports, Recreation & Outdoors
Eco-Friendly Thrills in Orlando
Orlando's flora and fauna offer a relaxing escape, but our natural beauty can provide plenty of thrills too. Dune buggies, zip-line courses and even parachutes are just some of the ways to adventure with Mother Nature the next time you're in town.
Buena Vista Watersports: You can rent jet-skis from this location, which is close to Disney on the 450-acre Lake Bryan.
Revolution Off Road: Just 30 minutes from Disney, take the wheel of an all-terrain vehicle, Hummer, dune buggy or rally car for pulse-pounding, off-road fun.
Skydive Space Center: About 45 minutes east of Orlando, this location offers the world's highest tandem jump from 18,000 feet.
Airboat Tours in Orlando
Central Florida has miles of pristine waterways, and airboat rides provide an up-close look at the native wildlife and dazzling views as you glide across tranquil wetlands. These options are 40 minutes or less from Walt Disney World.
Spirit of the Swamp Airboat Rides: This attraction specializes in small and private tours on six-passenger airboats, which feature headsets so you can speak with other guests and the captain.
Wild Florida: Book a ride on one of their airboat tours, and you'll also gain complementary access to the on-site wildlife park.
Kayaking and Canoeing in Orlando
Tranquil and enchanting, Orlando's kayaking and canoeing opportunities are not to be missed. In addition to the following options, keep in mind that resorts such as JW Marriott Orlando, Grande Lakes, and The Ritz-Carlton Orlando, Grande Lakes, offer canoe and kayak packages for guests.
BK Adventure Eco-Tours: This attraction has a variety of kayaking options close to Orlando, and some include a picnic lunch and pick-up/drop-off from Disney and International Drive.
Brevard Zoo: About an hour east of Orlando, this is the only zoo in the country to offer a guided kayak tour around an animal exhibit.
Natural Springs in Orlando
Crystal-clear waters make for perfect scuba-diving, snorkeling and swimming. Happily, you can experience all three at our natural springs, each less than an hour's drive from Orlando.
Blue Spring State Park: With opportunities for camping, birding, canoeing, kayaking, fishing, swimming and more, this park offers year-round adventure.
De Leon Springs State Park: In addition to showcasing Florida's natural beauty, the park is home to Old Spanish Sugar Mill Grill and Griddle House, which operates inside a 100-year-old replica of an 1830's sugar mill.
Kelly Park: This park features free-flowing natural springs and Rock Springs, which is a clear, swift creek.
Wekiwa Springs State Park: The massive park has trails, canoe rentals, untouched vistas and family-friendly play areas, as well as the namesake springs.
Nature Trails in Orlando
For hiking, biking and other outdoor activities, Orlando's nature trails and preserves can't be beat. These examples all offer great opportunities for exploration.
Cady Way Trail: Stretching from downtown Orlando to Winter Park, this 7.2-mile paved corridor features water fountains and sheltered rest stops.
The Nature Conservancy's Disney Wilderness Preserve: About 40 minutes from Disney, the 11,500-acre nature sanctuary has a hiking trail where you can take a closer look at the area's natural communities, plants and animals.
West Orange Trail: This 20.8-mile paved trail goes from Winter Garden (about 25 minutes from Disney) to the banks of Lake Apopka.
Wildlife and Birding in Orlando
As migration patterns send scores of wildlife south in colder weather, Orlando's temperate climate becomes a haven for them. The result is a paradise for nature photographers and bird watchers alike.
Gatorland Bird Rookery: Every morning from early February through June, bird enthusiasts and photographers can gain early access to this theme park's preserves.
The Great Florida Birding & Wildlife Trail: A great resource for viewing a wide variety of wildlife, this trail has 17 locations throughout Orange County.
Cover Photo Credit: Spirt of the Swamp Airboat Rides
Stay Connected to Orlando!
Never miss a second of what happens in Orlando! Follow us on Facebook, Twitter and Instagram for the latest offers, exclusive tips and live feeds from our newest attractions and fun events, and subscribe to our eNewsletter for more information from Orlando: Theme Park Capital of the World®.
Related Posts:

Related Categories: Top Stories , Inside Orlando , Sports, Recreation & Outdoors , Theme Parks & Attractions