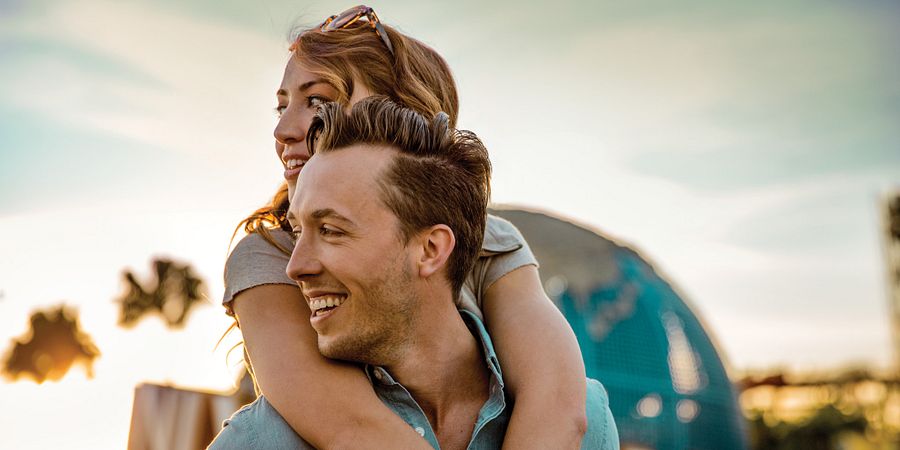 Universal Orlando Resort's Mardi Gras celebration is back in February 2018.
Are you ready to celebrate? You'd better be, because Universal Orlando Resort's Mardi Gras returns to Universal Studios Florida every night from Feb. 3 to Apr. 7, 2018! Included with regular park admission, this blowout event is billed as "Florida's Biggest Party," and for good reason. Here's an early look at six of the sights, sounds, food and fun you'll find at this all-ages extravaganza.
Learn more: Discount Tickets to Universal Orlando Resort
1. The Nightly Parade
Every night, you can thrill to the sight of New Orleans-style floats, dancers, stilt-walkers and performers as they parade through the streets of Universal Studios. Additionally, kids can get an unobstructed view of the festivities at the Little Jester's Parade Viewing Area, which is located just in front of the Brown Derby Hat Shop. Access is available one hour before the parade starts.
2. Can't-Miss Concerts
On select nights during Mardi Gras' run, the Music Plaza stage will feature some of the biggest names in music, with details on 2018's lineup to be announced soon. Music-lovers will never run out of entertainment as the French Quarter Courtyard will host live performances every night.
3. Authentic Cajun Cuisine
It isn't Mardi Gras without true Cajun delicacies, and you'll find them in spades at Universal Orlando. Spicy jambalaya, shrimp gumbo, red beans and rice, and other Big Easy mainstays will be available for purchase at the French Quarter Courtyard, along with sugary temptations like beignets.
4. Relaxation Cajun-Style
Also throughout the event's run, Universal Studios' New York area transforms into the French Quarter Courtyard, bringing a slice of New Orleans to Florida. Here, you can relax, dig into authentic Cajun cooking and enjoy the sweet sounds of Southern music.
5. Beads!
There's no fear of going home emptyhanded at Universal's Mardi Gras, as performers throughout the celebration will be throwing beads to everyone who wants them. We don't know if the person who collects the most wins anything, but here's your chance to find out!
6. Rides and Other Attractions
Perhaps the best part about making plans to attend Mardi Gras at Universal is that you'll also be making plans to enjoy the theme park's world-famous attractions! With experiences like Harry Potter and the Escape From Gringotts, Transformers: The Ride 3-D, Despicable Me: Minion Mayhem and many others, you'll never run out of adventures when you're at Universal Studios.
Stay Connected to Orlando!
Never miss a second of what happens in Orlando! Follow us on Facebook, Twitter and Instagram for the latest offers, exclusive tips and live feeds from our newest attractions and fun events, and subscribe to our eNewsletter for more information from Orlando: Theme Park Capital of the World®.
Related Posts:

Related Categories: Inside Orlando , Theme Parks & Attractions , Nightlife & Entertainment , Orlando for Adults