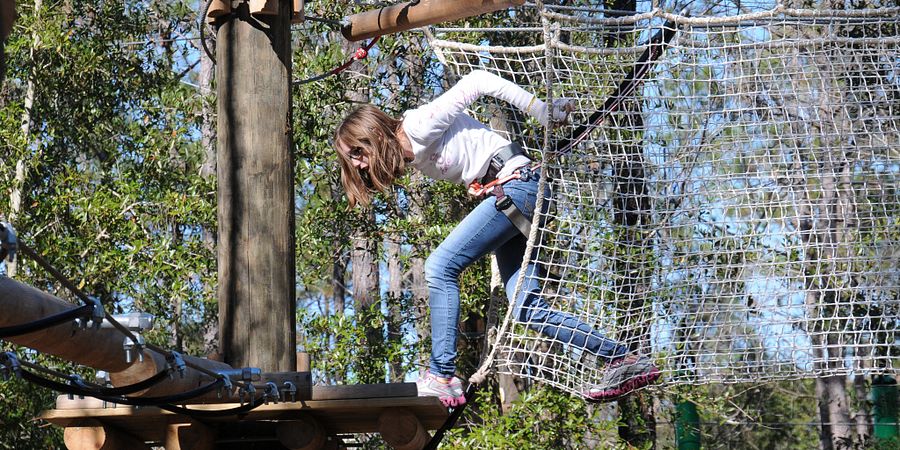 Stay cool while pursuing the coolest outdoor attractions and activities in Orlando this fall and winter.
As the warmer season starts to disappear and cooler temperatures roll in, there's an entire world of unique outdoor experiences for you to discover in Orlando. Whether you're interested in adventures on land, sea or air, here are the top 20 ways to make the most of Orlando's gorgeous environment during fall and winter (and even into spring!) — from high-octane thrills such as zip-lining and off-roading, to mellower pursuits like horseback riding to bird-watching.
Outdoor Action in Orlando
1. Buena Vista Watersports: For fun on the water, rent jet-skis from this attraction located close to Disney on the 450-acre Lake Bryan.
2. Orlando Tree Trek Adventure Park: Just 15 minutes from Walt Disney World in Kissimmee, Tree Trek offers an aerial adventure with six courses, 97 games and two massive zip lines. Get discount tickets.
3. Revolution Off Road: Operate ATVs, dune buggies and ARGO amphibious vehicles through 200 acres of tracks and trails 30 minutes west of Disney in Clermont. Get discount tickets.
Airboat Tours in Orlando
4. Spirit of the Swamp Airboat Rides: About 30 minutes from Disney in Kissimmee, board a six-passenger boat with a high-tech headset that allows clear communication with your fellow passengers and the captain.
5. Wild Florida Airboats and Gator Park: Travel through 100,000 acres of the Florida Everglades, with a starting point about 40 minutes from Universal Orlando in Kenansville. Get discount tickets.
Kayaking in Orlando
6. BK Adventure Eco-Tours: This operator provides numerous kayaking options close to Orlando, some of which include a picnic lunch and pick-up/drop-off from the Disney and International Drive areas.
Natural Springs in Orlando
7. Wekiwa Springs State Park: Located 30 minutes north of downtown Orlando, this park encompasses 7,800 acres with a natural spring for swimming and canoeing.
Nature Trails in Orlando
8. Forever Florida — Ziplines & Adventures in the Wild!: Although they're primarily known for zip-lining, they also have a guided horseback ride that takes you through a historic trail.
Zoos and Gardens in Orlando
9. Central Florida Zoo & Botanical Gardens: Experience hundreds of animal encounters, including cheetahs, elephants, leopards and exotic snakes, plus more than 800 plant species. They're in Sanford, about 30 minutes north of downtown Orlando.
Bird-Watching in Orlando
10. Winter Park Scenic Boat Tour: This is a great way to see local birds — not to mention the beautiful waterways and homes that wind through this charming city 20 minutes north of Orlando. Get discount tickets.
Cover photo courtesy Orlando Tree Trek Adventure Park
Stay Connected to Orlando!
Never miss a second of what happens in Orlando! Follow us on Facebook, Twitter and Instagram for the latest offers, exclusive tips and live feeds from our newest attractions and fun events, and subscribe to our eNewsletter for more information from Orlando: Theme Park Capital of the World®.
Related Posts:

Related Categories: Sports, Recreation & Outdoors , Theme Parks & Attractions