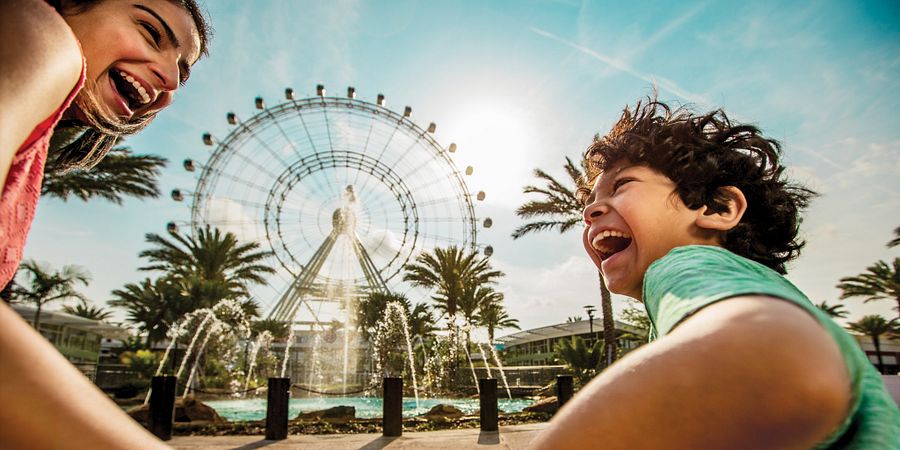 Your guide to finding Pokémon in Orlando.
By David Sibila
True to our long history of creativity and family fun, Orlando has become a thrilling haven for Pokémon Go players who want to experience the hit game in the theme park capital of the world. From our walkable entertainment districts to our world-famous theme parks, players can find countless PokéStops and Gyms across the destination.
Learn more: Discount Theme Park & Attractions Tickets
Hotspots like SeaWorld and Fun Spot America have already held meetups with dozens of lure modules activated around their parks, and our walkable entertainment complexes are jackpots for players who want to get the Orlando experience without the cost of a theme park ticket.
We've compiled a list of locations to get you started as you play around Orlando.
Free Areas to Play
ICON Orlando 360: Featuring restaurants, bars and affordable attractions, ICON Orlando 360 on International Drive has four Pokéstops clustered together. Hang out in the middle for maximum advantage and maybe even become the next gym leader of the area.
Disney Springs: There are over 30 PokéStops inside Walt Disney World Resort's entertainment district, in addition to new shops and delicious restaurants.
The Mall at Millenia: Hit the mall for new clothes, shoes and pick up a few Pikachus, all indoors.
Fun Spot America: This International Drive attraction has eight Pokéstops, as well as a gym and 14 acres of park to walk around. A great place to hatch those eggs, and walking around is free.
Universal CityWalk: Keep your app open as soon as you arrive. There are a few PokéStops waiting once you walk out of the parking garage.
Lake Eola in Downtown Orlando: Spend some time at the lake with more than 20 Pokéstops and nearly a mile of paved walking area. The PokéStops frequently have lures to summon more Pokémon, and there's even a rumor that a Pokémon is located at the center of Lake Eola, only accessible by one of the park's iconic, swan-shaped paddleboats.
Theme Park Hot Spots
SeaWorld Orlando: There are tons of water-type Pokémon, and you can hit over 20 different Pokéstops while spending a day here.
LEGOLAND Florida Resort: The Pokémon craze has hit LEGOLAND with plenty of chances to play throughout the park, but officials ask that you be safe and not play while riding attractions.
Disney's Epcot: The World Showcase is the ultimate destination to catch Pokémon all around the world. Take some screenshots as well — maybe you'll see a Charmander on top of Spaceship Earth.
Disney's Magic Kingdom: PokéStops and Pokémon are everywhere. We suggest you bring along your phone charger and sunscreen!
Disney's Animal Kingdom: From the moment you walk up to the park entrance, you'll find Pokémon around almost every tree and ride in this animal-themed park.
Universal Orlando: The two theme parks at Universal Orlando Resort are also a great place to play and discover Pokémon.
How many have you caught? Share all of your Pokémon Go conquests with us at Twitter, Facebook and Instagram . Whether you're on team Valor, Mystic or Instinct, stay safe out there and enjoy Orlando.
Stay Connected to Orlando!
Never miss a second of what happens in Orlando! Follow us on Facebook, Twitter and Instagram for the latest offers, exclusive tips and live feeds from our newest attractions and fun events, and subscribe to our eNewsletter for more information from Orlando: Theme Park Capital of the World®.
Related Categories: Sports, Recreation & Outdoors , Theme Parks & Attractions , Orlando for Kids