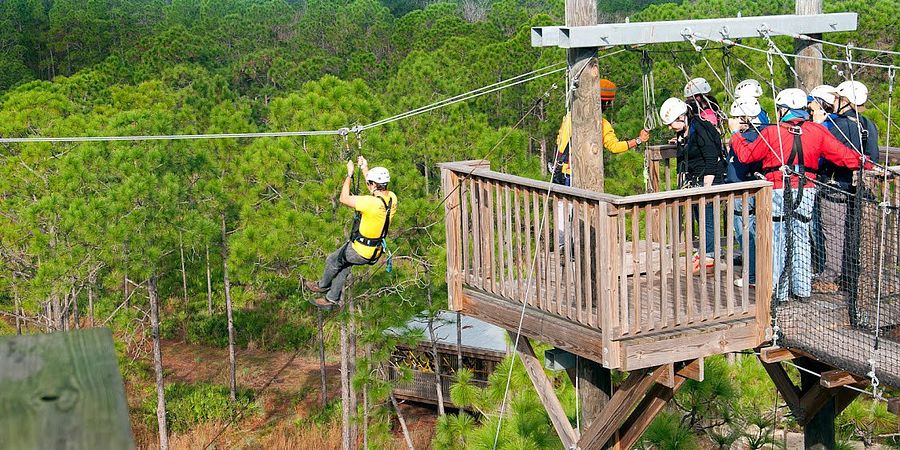 An Orlando travel expert tackles the thrills at Forever Florida.
By Sarah Sekula
Forever Florida — Ziplines & Adventures in the Wild!, south of Orlando, is 4,700 acres of fun. Not only is it a quiet respite for nature-lovers, it is also a magnet for thrill seekers. Either way, you will likely enjoy every minute of it. It's an outdoor adventure — among the treetops near Orlando.
First, hop into the safari buggy; a swamp mobile made of recycled car parts. To one side, you'll spot the largest herd of Cracker Cattle in the state of Florida, a critically endangered breed that the Forever Florida team is committed to protecting. On the other side: bromeliads above and neon-green duckweed crowd the ponds below.
It's Old Florida at its best. Wide-open spaces abound, and you will easily slip into relaxation mode. After the nature ride, it's time to gear up and climb the tower to the first "zip" at Florida EcoSafaris.
Minutes later, you're hurling yourself off the launch pad and soaking up the scenery. The surrounding lush and rugged landscape is a treat. Scan the treetops for bald eagles and look around on the ground for deer. There are also alligators, roaming wild turkeys and even peacocks.
It's truly the wild side of Florida that you don't see every day. You are inside of a wildlife conservation haven, after all. This perfectly preserved parcel of land actually includes nine beautiful ecosystems.
Forever Florida has a significant focus on minimal disruption to the environment, and the whole zipline system was built and is maintained with that focus in mind. Not coincidentally, some of the profits from Florida EcoSafaris' offerings are donated to the conservation effort.
The owners, Dr. William and Margaret Broussard, lost their son to Hodgkin's disease nearly 20 years ago. The last wish of the 29-year-old, who dearly loved wildlife and the environment, was that they protect the surrounding ecosystems. In turn, the couple slowly amassed the Forever Florida property, parcel by parcel.
As you go through the series of ziplines, you become more and more comfortable with it. In fact, even if you're afraid of heights, you can still give it a go. They've seen all types try it, from 8-year-olds to grandmothers. Once you're back on the ground, you'll be walking along the Florida Trail, one of eight national historic pathways running from Miami to Pensacola.
If ziplining isn't your cup of tea, never fear, there's plenty to keep you busy. Consider taking a horseback ride that takes you through a creek and along a historic trail, enjoying a home-cooked meal at the visitor center or bringing a tent and setting up camp. It's the perfect getaway, whether you're after adrenaline or just seeking a heavy dose of R&R.
Sarah Sekula is a national travel correspondent who lives in Orlando and regularly contributes to USA TODAY, CNN.com, NBCnews.com, FOXnews.com, ISLANDS, Scuba Diving and Destination Weddings & Honeymoons.
Stay Connected to Orlando!
Never miss a second of what happens in Orlando! Follow us on Facebook, Twitter and Instagram for the latest offers, exclusive tips and live feeds from our newest attractions and fun events, and subscribe to our eNewsletter for more information from Orlando: Theme Park Capital of the World®.
Related Posts:

Related Categories: Sports, Recreation & Outdoors , Theme Parks & Attractions