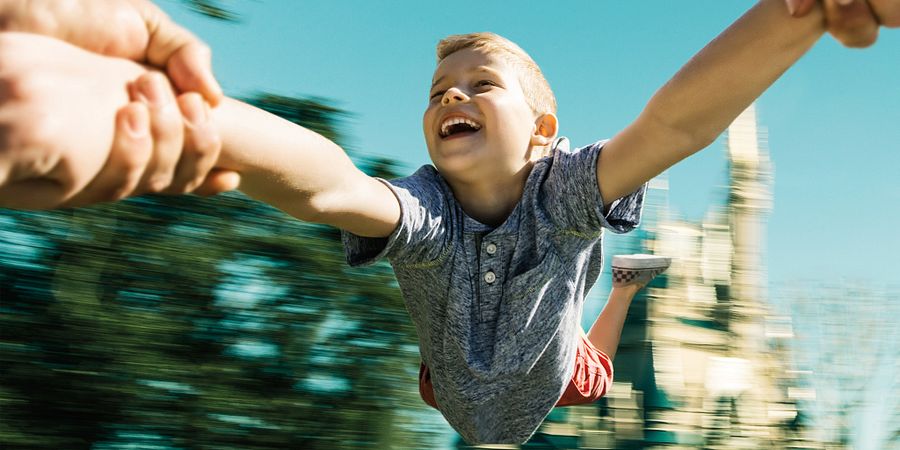 Family travel expert Kendra Thornton recommends experiences for younger children in Orlando.
Often to the dismay of families traveling with little ones, there are height restrictions for most theme park rides. But in Orlando, the "You must be taller than…" sign can actually be a milestone moment given all of the theme park rides designed just for toddlers. Family travel expert Kendra Thornton shares some great tips that will answer that most anticipated question, "Am I tall enough?"
Orlando's area theme parks make that an easy question to answer with entire areas completely devoted to preschool-age children. In these "lands," both kids and adults can enjoy making memorable vacation moments, together.
Kendra's Toddler Tips
#1. At Walt Disney World Resort, little ones can spend the day flying on Dumbo and enjoying other classic Disney fairytales magically brought to life in the newly expanded Fantasyland area located in the Magic Kingdom. You can also enjoy many other toddler-friendly experiences in each of the four Disney theme parks.
Learn more: Discount Tickets to Walt Disney World Resort
#2. At Universal Orlando Resort, little ones can monkey around with Curious George in Curious Goes To Town inside Universal Studios Florida and go for a spin with The Cat in the Hat himself through the imaginative and playful storybook world of Seuss Landing in Universal's Islands of Adventure.
Learn more: Discount Tickets to Universal Orlando Resort
#3. Kids can be little adventurers while discovering all the wonders of the world around them at SeaWorld Orlando and tackle the sizable Shamu's Happy Harbor, which centers around a four-story net climb with a series of winding tunnels and slippery slides.
Learn more: Discount Tickets to SeaWorld Orlando
#4. The area's newest theme park, LEGOLAND Florida Resort, has a new area entirely dedicated to young children. DUPLO Valley is the ideal place for toddlers to play with farm-themed attractions, an air-conditioned indoor play area, and a water play area.
Learn more: Discount Tickets to LEGOLAND Florida Resort
Watch a Toddler's Take on DUPLO Valley
Kendra's tips for traveling with young children will help you make the most out of this special time together. Check out our Activities and Tips for Toddlers in Orlando for more information, ride height requirements and theme park planning tips.
Stay Connected to Orlando!
Never miss a second of what happens in Orlando! Follow us on Facebook, Twitter and Instagram for the latest offers, exclusive tips and live feeds from our newest attractions and fun events, and subscribe to our eNewsletter for more information from Orlando: Theme Park Capital of the World®.
Related Categories: Theme Parks & Attractions , Orlando for Kids