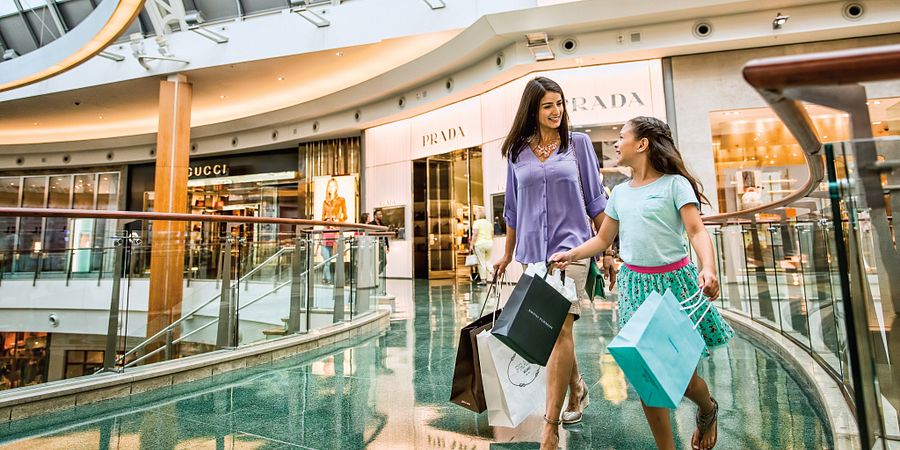 Get our expert advice before you go shopping in Orlando.
Buying gifts while on vacation doesn't have to mean settling for a roadside t-shirt or drugstore postcards. Shopping in Orlando is about retail therapy that is never far from reach from designer fashions to name brands for less, all within a convenient 15-mile (24 km), radius. And with the holiday season approaching, our insider tips will help you make the most of your Orlando shopping fun.
Our shopping sleuths have bagged up ten insider tips to help you get everything on your holiday shopping naughty and nice list.
Ten Orlando Insider Shopping Tips
#1. Shop and Stay Packages
Satisfy your craving for shopping with a getaway to Orlando. Many of our major retail centers have partnered with area hotels to offer special packages that include exclusive amenities and plenty of ways to save.
#2. Shopping Coupons Booklets and Vouchers
Visit the Simon Guest Services Booth at The Florida Mall to receive your Style Savings Booklet containing over $900 in savings at many of your favorite retailers and restaurants.
#3. Get 10% Off at Macy's and Bloomingdale's
Show your passport or out of state ID for a 10-percent discount to Macy's and Bloomingdale's. Called the Visitor Savings Pass, it gives shoppers a 10-percent discount off their purchases valid for three days for domestic visitors and up to a 30-day span for international visitors.
#4. Complimentary Package Check
The Florida Mall is offering a new amenity. Customers can drop off their shopping bags at Guest Services and continue to shop with the convenience of enjoying package free shopping. Package Check is offered Monday — Sunday during mall hours at Simon Guest Services in front of the Florida Hotel and Conference Center and near the East Wing.
#5. Let the Children Play
Take a rest and let your children burn some steam in the children's play area at The Florida Mall. This contained area near Macy's includes slides, interactive elements and plenty of places for adults to sit.
#6. Avoid The Wait With a Pager
During the dinner rush, waits at most of the malls' popular table service restaurants can be up to an hour. Well, don't let that cramp your shopping time. Give your name to the host in exchange for a pager and enjoy more shopping! The pager will alert you as to when your table is ready.
#7. Free Shopping Shuttle
The Lake Buena Vista Factory Stores provides a free scheduled shopping shuttle to and from select area participating hotels. Special scheduled free VIP group shuttle service is available (restrictions apply).
#8. Macy's Orlando Millenia Shopping Package
Purchase an exclusive package available only at Macy's Visitor Center inside The Mall at Millenia. The $35 package Includes: $25 Macy's Gift Card, Macy's Exclusive Tote Bag (bag style may vary), 10% Macy's Visitor Savings Pass, One I-Ride I-Drive Trolley one-day pass, Assortment of discount/free offers at local restaurants and attractions.
#9. Currency Exchange
The information counters at most of the shopping malls and outlet centers offer onsite currency exchange through Travelex. For more currency options, you can visit the Travelex Currency Exchange Store at the Lake Buena Vista Factory Stores.
#10. Ship Your Treasures Home
Why carry your gifts home when you can ship them? A full-service U.S. Post Office is located inside The Mall at Millenia on the lower level. This location can handle of your postage and shipping needs.
Stay Connected to Orlando!
Never miss a second of what happens in Orlando! Follow us on Facebook, Twitter and Instagram for the latest offers, exclusive tips and live feeds from our newest attractions and fun events, and subscribe to our eNewsletter for more information from Orlando: Theme Park Capital of the World®.
Related Posts:

Related Categories: Hotels & Resorts , Top Stories , Shopping