Promoting our entire destination is a key component of Visit Orlando's mission to inspire and grow global travel to our destination.
That's why we partnered with the City of Orlando to update Visit Orlando's neighborhoods landing page.

The website features Orlando's Main Street districts — City District, Ivanhoe Village, Parramore, Mills 50, Audubon Park Garden District, West Lakes District and more — as well as Orlando neighborhoods and nearby cities including historic Eatonville, Lake Nona, Winter Garden and Winter Park.

The page also spotlights Visit Orlando member companies, welcomes viewers to explore our shared backyard and provides information about each area's culture, dining, nightlife, shopping and entertainment.

Highlighting Orlando's diverse neighborhoods is also a key component of our now award-winning marketing program with Tripadvisor.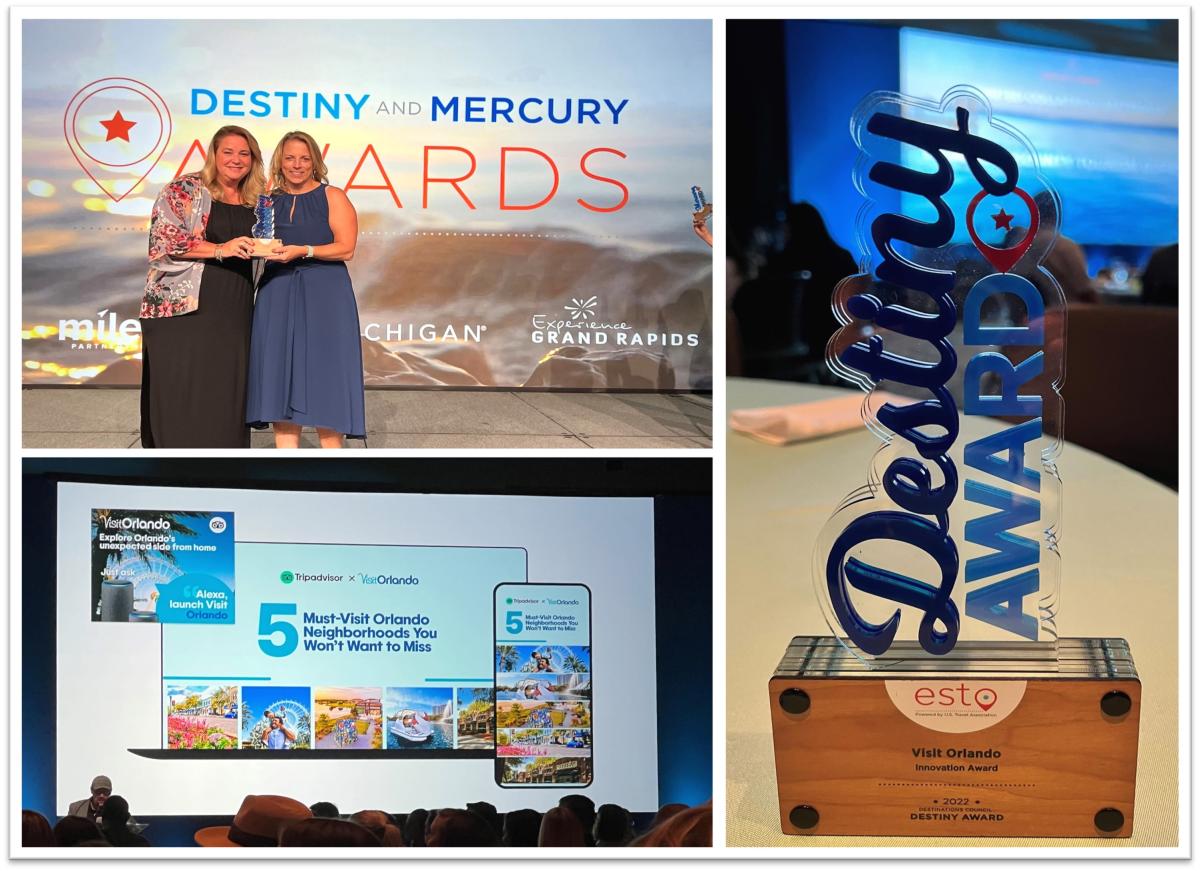 Earlier this week, Visit Orlando was awarded Destinations Council's Destiny Award — which recognizes U.S. Travel destination members for excellence and creative accomplishment — in the "Innovation Award" category at U.S. Travel's Educational Seminar for Tourism Organizations (ESTO). 
Launched in November 2021, this immersive audio experience displays community content and helps travelers learn about Orlando's noteworthy neighborhoods, unique eateries, boutique hotels and must-sees.

The successful campaign delivered 36 million impressions, 103,551 total interactions with Orlando custom content and nearly five minutes of average dwell time engaging with Orlando content on Amazon's Alexa technology. Notably, the campaign metrics surpassed all of Tripadvisor's benchmarks.

The second iteration of the program will be integrated into Amazon Fire TV through August to promote Orlando's neighborhoods to explore beyond the parks.
 


Visit Orlando's Signature Luncheon

We're anticipating a successful Visit Orlando's Insights Luncheon & Economic Forum, Aug. 23 at Hilton Orlando. The event will include an in-depth analysis of the major factors shaping economic outcomes, Orlando's current position and outlook into 2023, topics relevant to our travel and tourism community and a keynote address on "How to Be an Inclusive Leader. Continue to register for this signature event.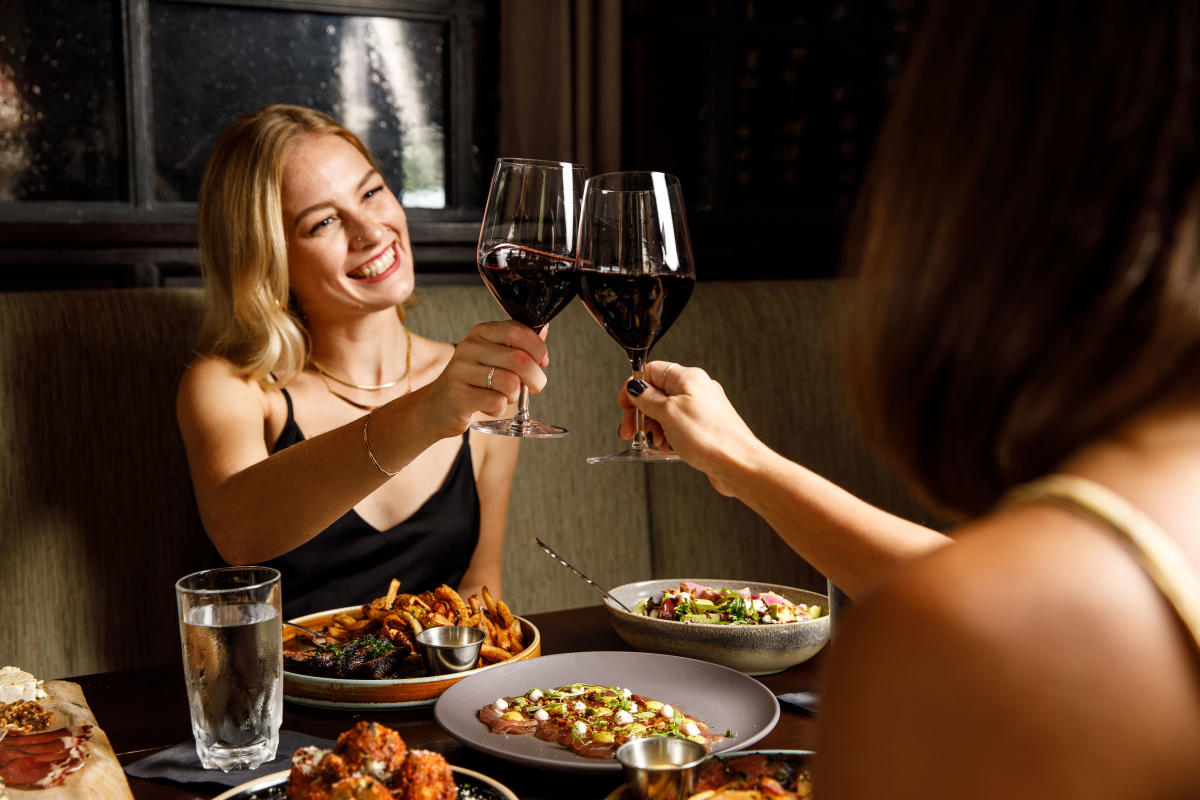 Visit Orlando's Magical Dining

In just two weeks, the 17th annual Visit Orlando's Magical Dining begins. This year, more than 100 restaurants are offering three-course, prix-fixe dinner menus for $40 and over 20 hotels are featuring special deals through Visit Orlando's Magical Nights. Visit OrlandoMagicalDining.com to make reservations, view menus and explore hotel deals.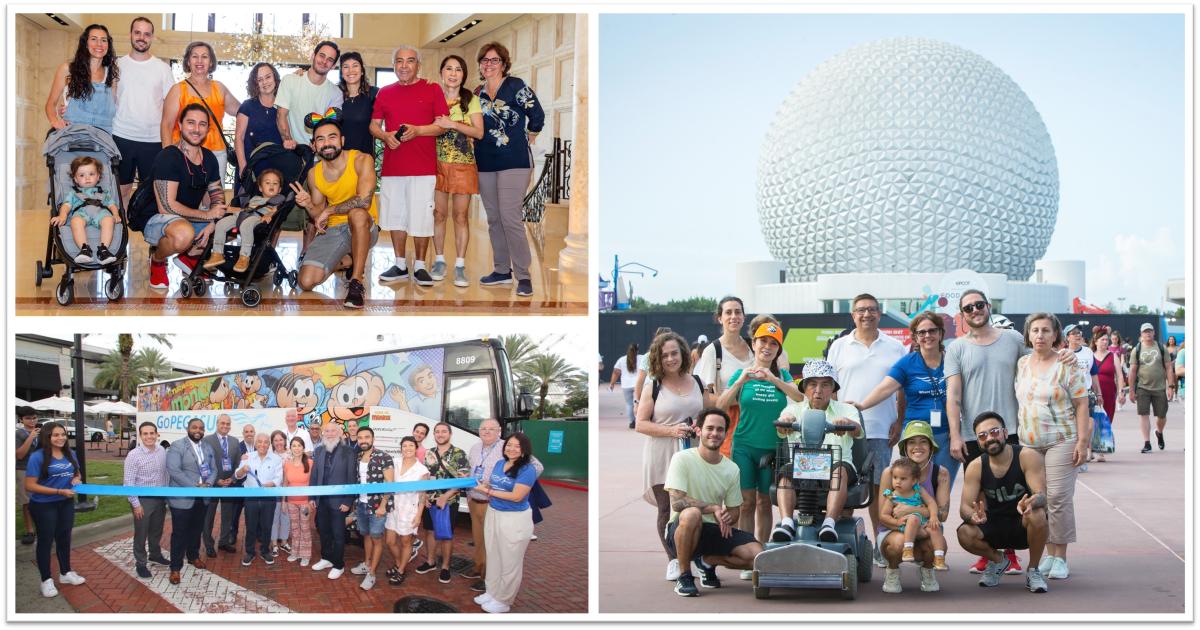 Brazilian Cultural Icon Explores Orlando

Brazilian cartoonist and creator of popular children's books "Turma da Monica" (Monica and Friends), Mauricio de Sousa, visited Orlando to announce a new Art on Wheels bus installation featuring his beloved characters. To enhance his visit and garner media coverage in Brazil, Visit Orlando facilitated experiences for Mauricio and his family at Walt Disney World Resort, Universal Orlando Resort, Discovery Cove, Kennedy Space Center, ICON Park, shopping malls and more. Visit Orlando also hosted two journalists from QUEM, a top national Brazilian publication, to document Mauricio's visit and publish articles. 
Key Tourism Inidicators

For the week ending August 6: Metro Orlando hotel weekly occupancy was 74.5%, on par with last week's 74.9% and just shy of the same week in 2019 (75%). Demand surpassed the same week's performance in both 2021 (up 9.9%) and 2019 (up 3.5%).

Average daily rate averaged $130.46, down $5.62 from last week, yet still up significantly from 2019 ($106.66).

Industry Employment: Orlando MSA Leisure and Hospitality sector gained 700 jobs from May to June and is currently at 92% of pre-pandemic levels (February 2020). The sector is comprised of three areas:
Food services and drinking places grew 1.1% to reach 102% of February 2020 employment.
Arts, entertainment and recreation fell 1.1% (88%).
Accommodations grew 0.5% (81%).
The state labor report for June showed a slight decrease in jobs in Orlando from May's report for total nonfarm employment, but the Leisure and Hospitality industry recorded a slight increase.
Around the Destination

Board of County Commissioners: At the latest Board of County Commissioners (BCC) meeting, Jay Leonard, general manager at Wyndham Lake Buena Vista Resort, was appointed to the Tourist Development Tax (TDT) Sports Incentive Committee and Jon McGavin, area general manager at The Ritz-Carlton Orlando, Grande Lakes, was appointed to the Tourist Development Council.

Also, Phil Diamond, Orange County comptroller, presented on TDT collections, which is anticipated to reach $300 million this year, and encouraged the board to keep $300 million in TDT reserves to protect unknown future events, assist Orange County with existing commitments and more. View the full BCC meeting here.

International Convention of Allied Sportfishing Trades: The International Convention of Allied Sportfishing Trades (ICAST), recently returned to Orlando for their annual convention. Watch this testimonial as Glenn Hughes, president at American Sportfishing Association, shares what makes the Orange County Convention Center the perfect location to host ICAST.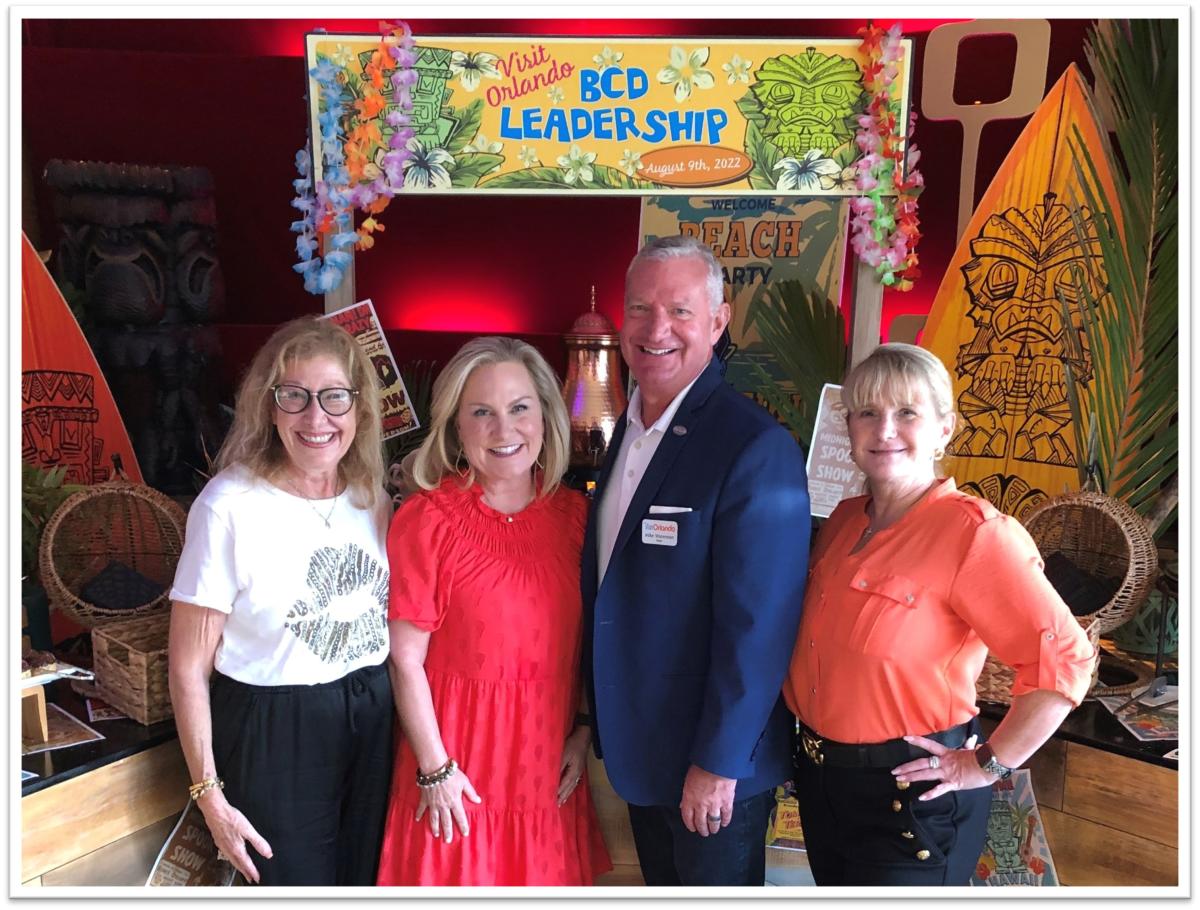 BCD Meetings & Events: In partnership with Rosen Shingle Creek and Universal Events, Visit Orlando hosted BCD's leadership team in Orlando. Their team was able to learn what's new in Orlando and become aware of the benefits of working with a destination marketing organization.

Asian American Chamber of Commerce: Kristin Westover, director of community relations and external affairs, and I met with Vi Ma, president at Asian American Chamber of Commerce, to discuss our continued partnership and ways we can work together as part of our diversity, equity and inclusion efforts.

Advocacy: Stan Rubins, VP of external affairs and legal counsel, and Kristin Westover met with Rep. Daisy Morales whose district includes Orlando International Airport. During the meeting, we discussed the outlook of our industry and its impact on Central Florida residents. Rep. Morales is running for the newly drawn District 44 which would include important tourism assets such as Universal, I-Drive and SeaWorld. Thank you to Rep. Morales for her continued support!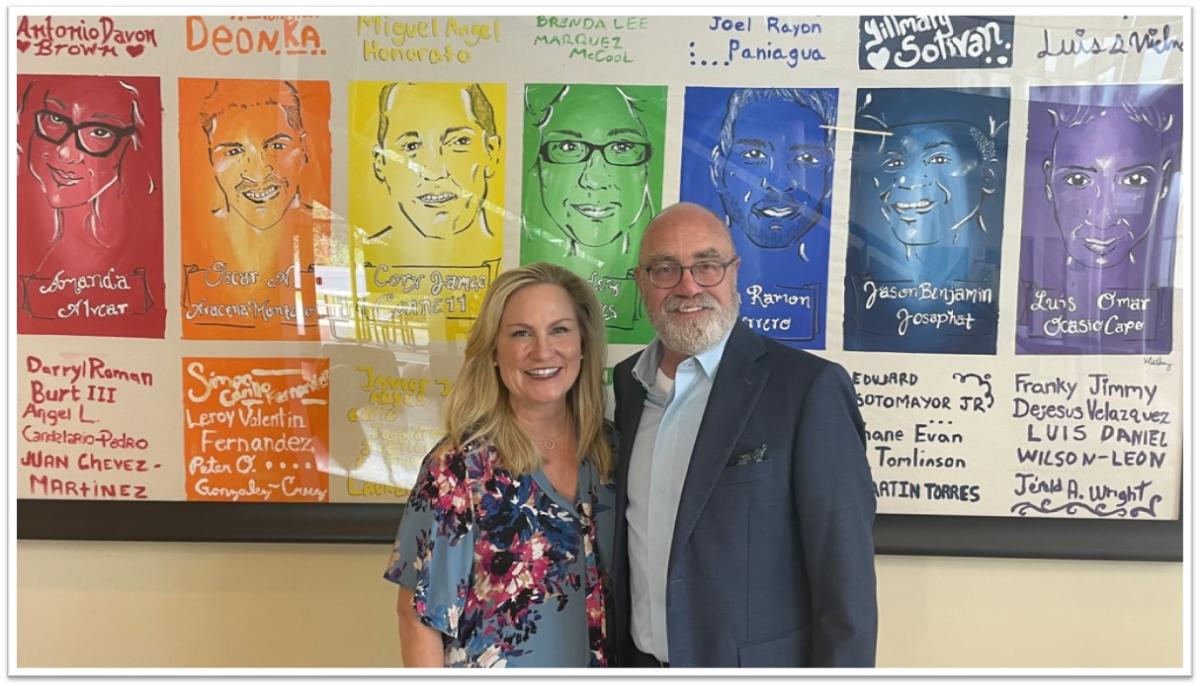 Valencia College Kickoff Meeting: This week, I spoke to Valencia College's Office of Public Affairs and Advancement sharing insight on our region's new global brand, Unbelievably Real, and how we can shape the future of our destination together.